It's time to take a look at game of genre blending fantasy adventures in 12 Realms!
We started doing Tabletop Spotlights to highlight all the new games that companies are producing and to find products we might not typically get exposed to. Our friends at Dragon's Lair Comics & Fantasy were gracious enough to partner with us to show off their huge selection of games they carry and their constant flood of new ones. 12 Realms is one of those games that I probably would not have known about had it not been for this Tabletop Spotlight:
The basics of this game are that 1-6 players take the role of heroes from fantasy stories that must band together to fight the tyranny of the Dark Lords. Each character has slightly different abilities that make playing them unique. The main game is a highly scalable cooperative experience. That said, this game also has a couple of different game modes so you can even have one player assume the role of the "Shadow NPC" and work against the players. It's got a surprising amount of replay value because of the many characters, different modes and easy of learning to play.
At it's core, it's a very easy to understand system of resources management. Each character starts a turn with token markers. For example a swiftness marker can be used for moving from one area to an adjacent one. If you have 4 swiftness, you get 4 moves – simple as that. There are also invaders in the 12 Realms that must be defeated. To defeat an invader, a player must spend a token with a matching symbol. Some of the tougher invaders require multiple tokens. Players can also head to different towns to spend tokens to draw cards that might aid them in the adventure. They can also travel from one town to another town in a different realm. Plus there are relics around the board that must also be collected.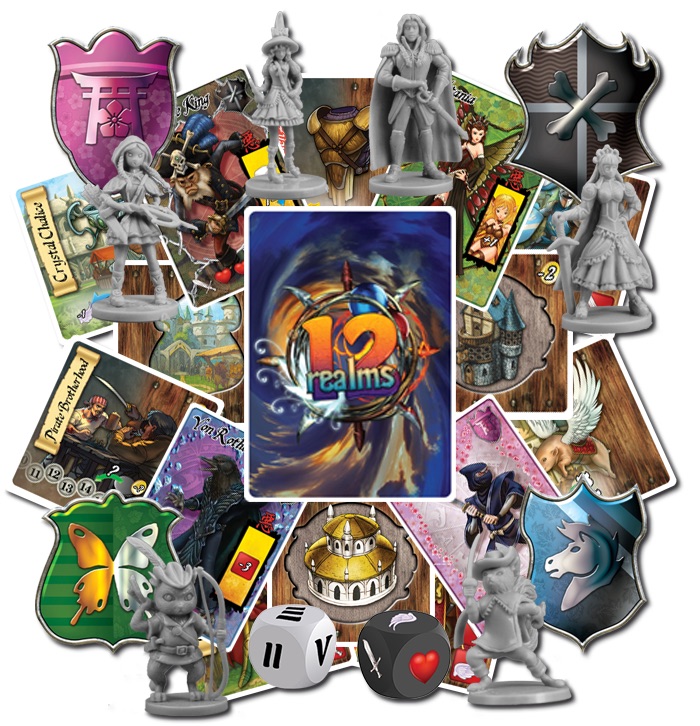 Once the Player (or players) are strong enough, they can attempt to defeat the Dark Lord of the realms and save the day. However, each Realm has an invasion counter track and if the invasion reaches the end of the track, the players lose! So you're also racing against the clock to gather your strength to win.
The Core Set comes with 4 realms and a handful of heroes to play the game with – and there are future expansions already on the way that add more Realms, heroes and miniatures to the game. Overall, this game is a neat game that all ages can play cooperatively. If you're finding the game to be too easy, then you can add more realms to defend or more baddies. If you're having trouble, you can scale down the number of threatened realms or baddies. Games only take 45-90 minutes depending on your skill level and difficulty so it's fast enough that you can get a game or two in for an evening. 12 Realms is shipping to FLGS everywhere so go check it out and save the day with your favorite fairy tale characters and fictional heroes!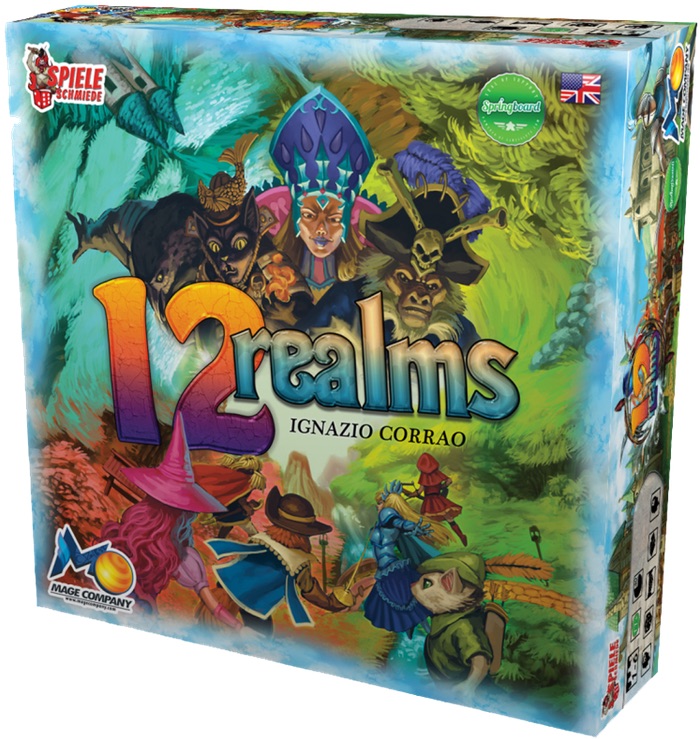 Siegfried, Snow White, D'Artagnan, Red Riding Hood, and the other heroes of the twelve realms are being reunited for one last great adventure. The Dark Lords have joined forces to completely conquer and subjugate all the known Lands, and only the combined efforts of all the greatest heroes can halt their nefarious plan.

12 Realms is a fast, lighthearted cooperative miniature game for 1 to 6 players. All players must band together to stop the Dark Lords' overwhelming hordes from pillaging the 12 Realms. Individual invaders can be defeated by using each hero's different talents, but to vanquish the Dark Lords you must claim a powerful artifact.

In their quest to stop the invasion, the heroes can travel together between different lands, or they can try to single-handedly defend a Realm. Each of the 12 Realms is an individual land, with different treasures and events, and populated by unique creatures.
Can you save the 12 Realms?