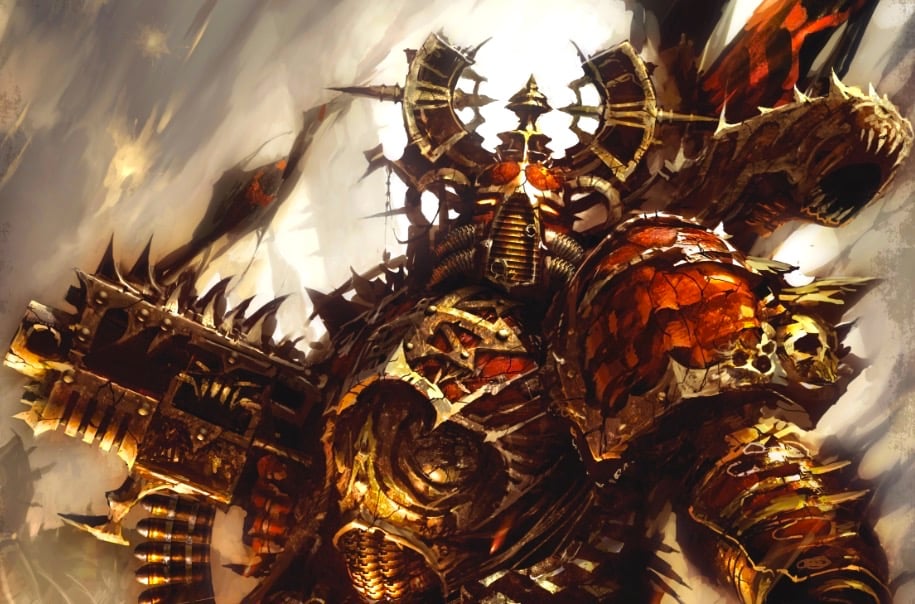 Today we take a look at two support characters you won't to finish off your warband without.
The CSM codex came with a shiny new unit, that has strangely had models for years – The Exalted Champion.  At last we get a dedicated assault hero to buff your Heretic Astartes. But before you get all excited, he's quite similar to an old favorite – the Dark Apostle.
In a dark mirror of the loyalists, this pair is vaguely similar to a Marine Chaplain and a Lieutenant. But there are enough differences that we need to go over them both, so you can pick and choose what goes best with your warband.
First the Rules
Ok basics of both characters: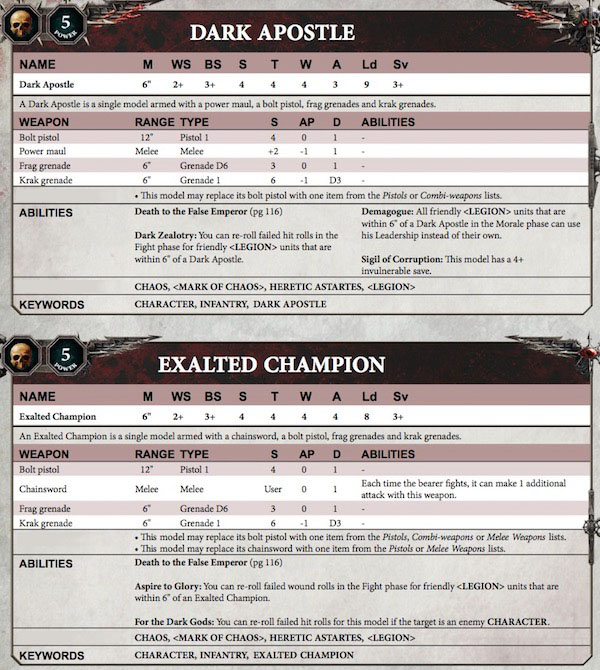 Dark Apostle
If you like Chaplains, you'll love the Dark Apostle as he's effectively the same. You get the 6″ legion reroll of failed to hits in the fight phase. He's more survivable than the Exalted champion with his 4+ invulnerable, but not as kill-y. He grants his impressive 9LD to nearby units as the final cherry on top. He's never going to put down his power maul, so if you upgrade his bolt pistol he's only got ranged options.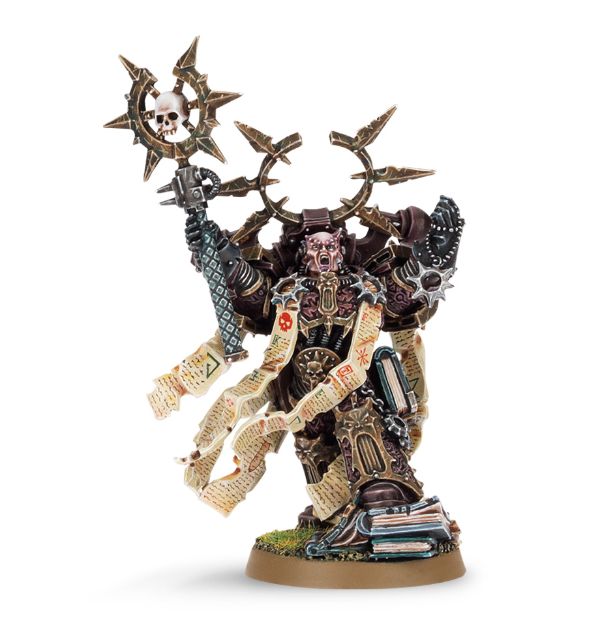 "Hit Them MORE – for CHAOS!"
Exalted Champion
Here we have an inspiring killer. He gets a beefy A4 but a slightly lower Ld8 compared to the Dark Apostle. His Aspire to Glory, allows rerolls of failed to-wounds as opposed to the Dark Apostle's failed to-hits.  He also is superior at killing bad guys himself with rerolls on failed to-hits versus characters. He's basically an assault counterpart to the shooting based Marine Lieutenant, and can handle himself quite well in the fight phase.  With his base two weapons and full access to the melee weapons list you can charge him up with all kinds of mean combos like pairs of lightning claws, power fists and more.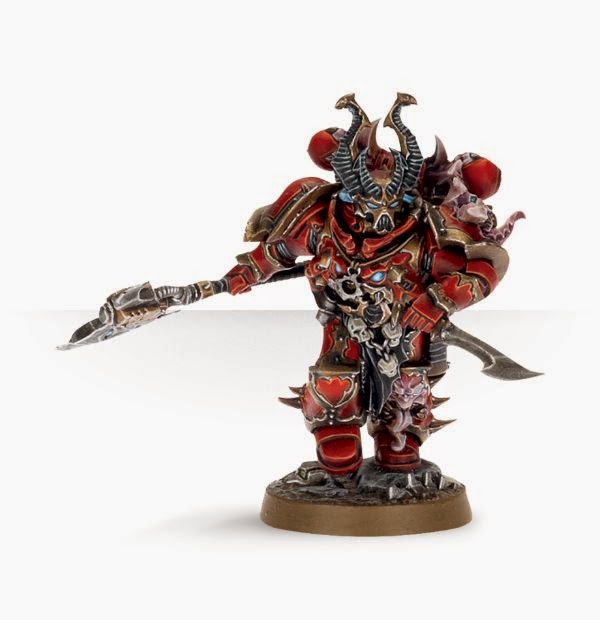 "Hit them in the naughty bits – for CHAOS!"
Who's The Best?
Really the answer is – BOTH. But there are some subtle differences. As with the Space Marine heroes you should break down what you intend to match these dark characters with. The Dark Apostle is better paired with units who have mediocre WS, but high strength weapons in melee. He's also great at shoring up low LD units to prevent heavy losses.  I'm looking at Spawn and Cultists respectively. On a side note am I the only who finds it strange that spawn have the legion keyword? I always thought them as mindless beasts, but apparently in the CSM codex they represent fallen CSMs who must still have some attachment to their brethren – funky!
The Exalted Champion is best paired with guys who hit well with a decent WS, but have a harder time wounding their standard targets.  He also can get in there himself and knock out minor enemy characters effectively.  But with his lack of an invulnerable save, he won't last long under any kind of serious pressure.  I like to use him to buff CSM infantry who strike with lots of S4 attacks to push them over the top, or with low strength units who can maximize the rerolls on to-wounds.  I'm looking at Berzerkers and Cultists respectively.
You'll note that both of these guys really help Cultists so you really cant go wrong, but the effect will be subtly different. I think the Dark Apostle will keep the cultists in the fight longer due to his Demagogue ability.
On balance I love them both, but find the Exalted Champion more suitable to my personal aggressive assault based CSM armies.  If I was going with a more non-marine style list using heavy cultist and spawn then the Dark Apostle would be my man.
~Which one will you pick for your army?