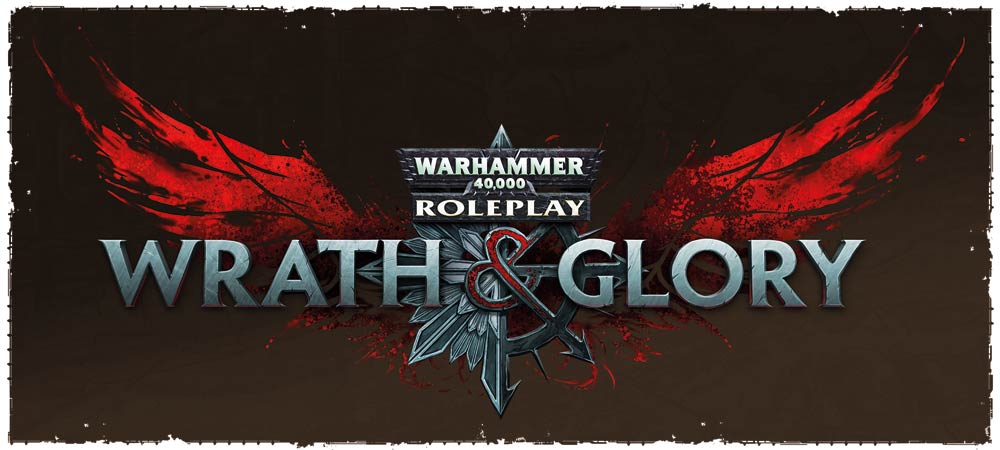 The newly announced 40K will set players loose  in the Dark Imperium.
Wrath and Glory, the upcoming 40K RPG is set smack dab in the Dark Imperium. This opens up entire worlds of adventure, both in terms of the planets that players can travel to, but also in terms of narrative possibilities. One of the big takeaways from the Gen Con panel announcement was that the developer isn't sure how players would role play Tyranids.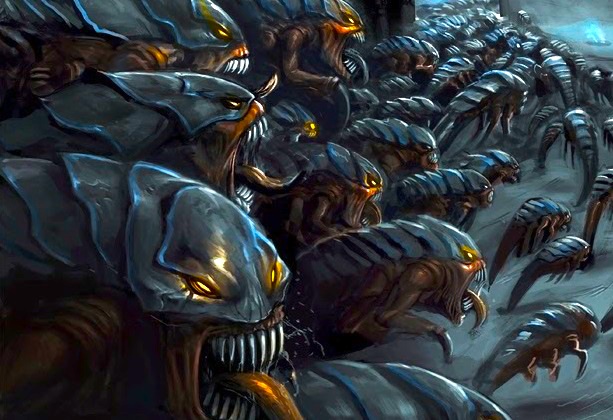 But the other, much more relevant takeaway is that the 40k team will be working to help the developers at Ulisses expand the storyline. While GW themselves will be driving the story, the RPG will act as another window on the guided tour of the Dark Imperium that is 8th Edition. Especially since we know that one of the very first adventures they'll develop is an anthology tour of the galaxy that provides a closer look at the story touched on in the codexes so far.
And, given that Wrath and Glory is going to be "Broad and Inclusive," meaning players can play as guardsmen or marines or Eldar or orks, for instance, we'll get a unique perspective on certain events around the galaxy. So with that in mind, here are some stories that have the BoLS crew excited to dive in.
Big Trouble in Little Terra
One of the classic tropes of 40k are the grim, dark lives of the inhabitants of a hive city. Being anyone who isn't either a planetary lord or a Space Marine in the Imperium of Man, by and large, is a terrible decision. Being born on a huge world, though, may be the absolute worst decision you can make. Overrun with the worst parts of unsustainable industry and filled with pollution, corruption, and grime, one can only find safety in the gangs that populate these hives like rats.
Now you already have Necromunda to help lay the groundwork for what these skirmishes look like–and it's already partly an RPG with its advances, etc. And this kind of campaign hews closely to Necromunda's ideas, with players taking on the role of hive gangers, trying to do jobs and survive. Now for added excitement add some literal chaos to the Underhive of the city,  and you've got a recipe for daemons, mayhem, wind, fire, all that kind of thing.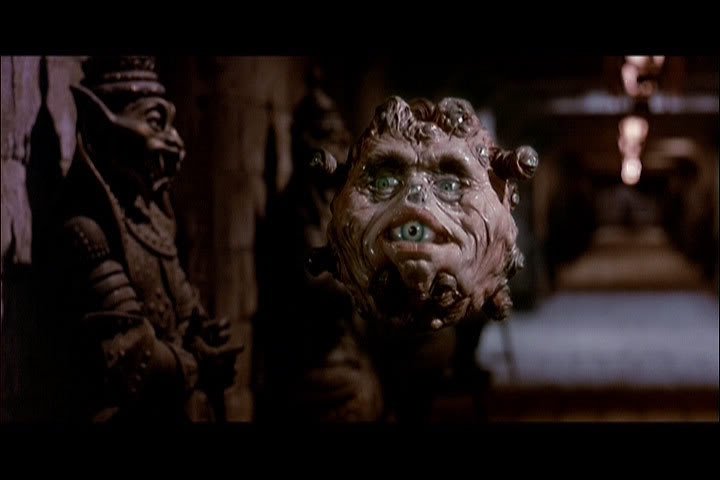 The Waaaghrriors
One of the races repeatedly mentioned in that "I'm not saying specifically that Orks are in the game, but Orks are in the game," talk that Ross Watson gave was Orks. And with that in mind, we tried envisioning what an Ork campaign would look like and, well, Warriors just fits.
With players making up a mob of boyz, and getting up to mayhem and looking for a good scrap, it's easy to see them taking on things like a mob of lootaz who run around in a rundown bus battlewagon, while trying to find their own turf.
Or, if that's too many gangs for you the other big Orky possibility we want to play around with is the A-Team, but with Orks. The campaign writes itself, and the Orky "ingenuity" that renders functional all manner of contraptions that shouldn't otherwise work: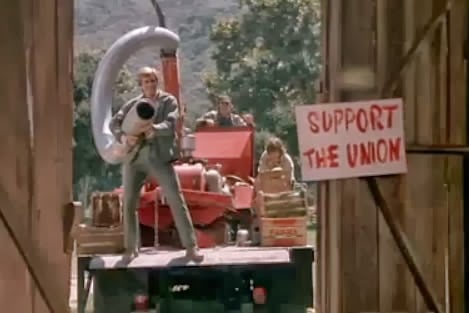 If that isn't an Ork weapon, I don't know what is.
Harlequin Romance
The Eldar were the other big "not-mention" from the panel, specifically a campaign involving the Doom of the Eldar. Figuring out how to deal with that could be tricky–after all, that stuff seems relegated to Farseers and other movers and shakers, but big galaxy-shaking conflicts like that are often the source of big multi-book campaigns, so I'm intrigued to see how Ulisses handles this.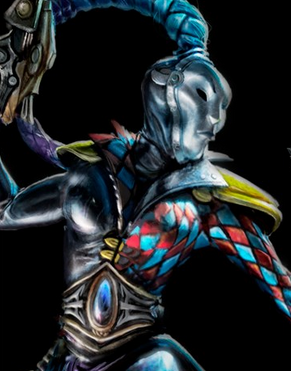 But also, let's talk about Harlequins. They are practically a pre-built adventuring party, working as they do in troupes and acting out their deadly plays. An RPG would be an excellent way to bring that concept to life–a article adventure could be an "act" and the whole thing can just lean into that theatrically and swordplay.
Hapless Guardsmen
This one is a classic. Stories of heroic guardsmen stepping up to challenges beyond their pay grade (and dying in droves) are a staple of 40K.
Whether you're playing guardsmen in a regiment getting to succeed on a commando raid, guardsmen who have been dragged into a cultist plot and have to solve it the only way guardsmen know how (det-packs), or guardsmen who are an Inquisitorial retinue, an All-Guardsman Party is a thing of beauty.
Chaos Cultists
The Imperium may be home to humans, and Space Marines hunting aliens might be a sci-fit classic that's elven into the very DNA of the genre, but Chaos is just cool. Whether their sorcery, or all their dealings with daemons, or the chance to roll on the single greatest table in GW history, Chaos mutations, Chaos has a lot to offer.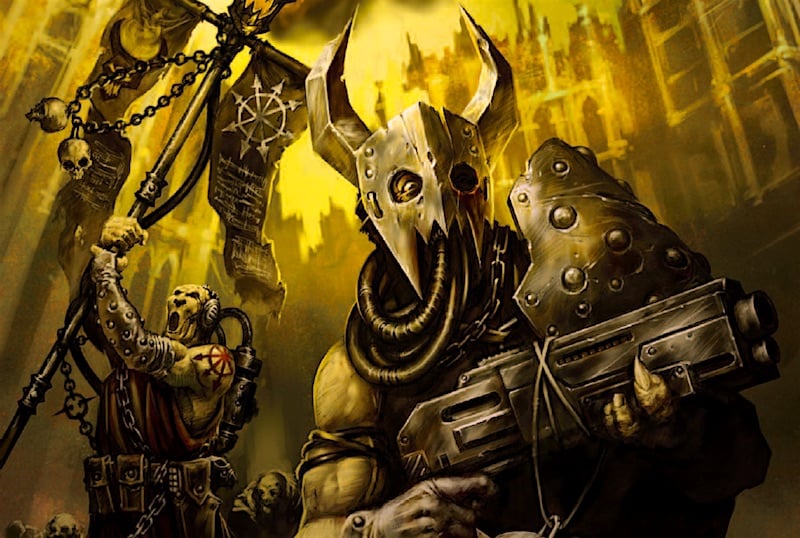 Doubly so if you're a chaos cultist. Your life expectancy is already about on part with a guardsman, and the narrative structure is already incredibly strong. You work for a ruinous power and are given a task that must be accomplished. What price will you pay to get it done? How much blood can you harvest? Was the sorcerer becoming a daemonhost really all that bad?
All these questions, and more, would make for a memorable gaming session. But wait, we've got one more bonus for you:
Bonus: Tyrants
But the Tyranids are all hive minded creatures who are living weapons and aren't really what you'd call individuals.
Maybe. But they clearly have personalities, you just gotta broaden your horizons a little. Maybe you're the crew of an understaffed hiveship, and you've been told to take over a planet, but that means using resources wisely–sending down infiltrators to try and take care of the leadership, drawing out military forces with carnifexes. Basically the "character" the players control would be a particular branch of the Hive mind. In RPGs, the adventuring party often takes on a character all it's own–and essentially here the players would be playing the "party" but might swap out what their characters/tools are from session to session. After all, if you're different parts of a Hive mind, it's easy to see personality traits coming to the foreground, Herman's Head or Inside Out style. So one player might be the sneaky part of the hive mind, one the genestealer part, and so on.
Anyway, after suggesting this one, the rest of the office looked at me like a crazy person, so, I guess that's a good place to turn things over to you, BoLS fans: what kinda campaigns are you looking to run in the 40Kverse?