Games Workshop is back with more info on the General's Handbook 2017 – Open Play is getting an overhaul!
Open Play is one of the 3 ways to play Age of Sigmar. It's not as restrictive as Matched Play and it's less "narrative forging" as Narrative Play. However, like the name implies, it's a very Open and free-form version of the game. Not everyone likes to play without limits or at least a framework to play within – that's okay! Open Play isn't just about taking your entire collection and dropping it on the table – it's also about Multiplayer games, randomly generated scenarios, new game modes, and trying your hand at things that are outside the box.
Open play in Warhammer Age of Sigmar is fun, flexible and varied. With the new open play rules in the General's Handbook 2017, you'll be able to create pickup games in minutes and have fun with friends with new and exciting multiplayer game modes.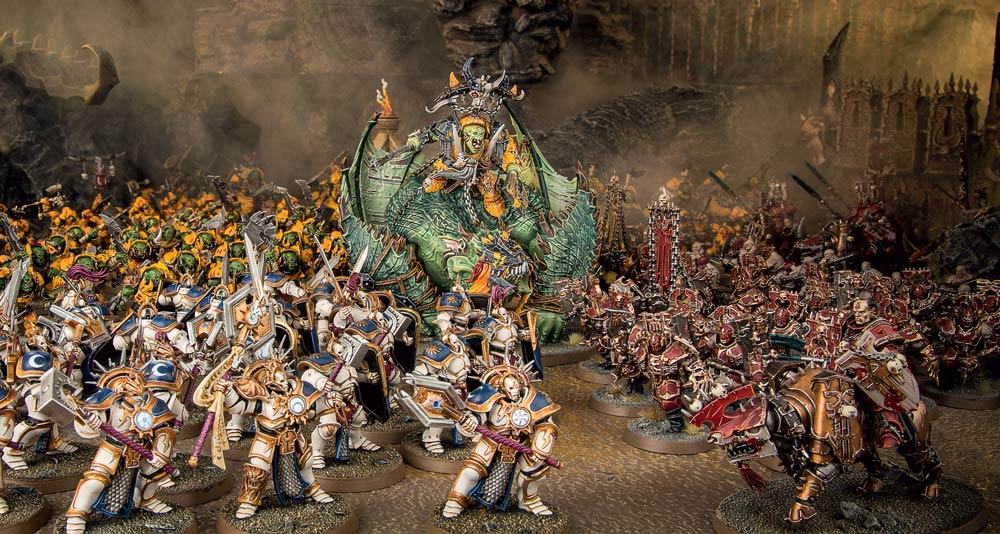 Multiplayer Gaming
The new multiplayer rules are great if you're looking for ways to play with your gaming group (or betray them). You can play Coalition of Death with any number of models, but we think it's best for those epic, day-long games that every hobbyist loves – the times when your friends, or your group, or your club gather up everything they own and pit them against one another in an epic clash. As well as unique battleplans, there are game effects like Divine Intervention to keep things interesting for the losing side – a Death army, for instance, can see all its generals suddenly restored to "life", while an Order army can suddenly defend itself against a devastating assault with Shield of Fate.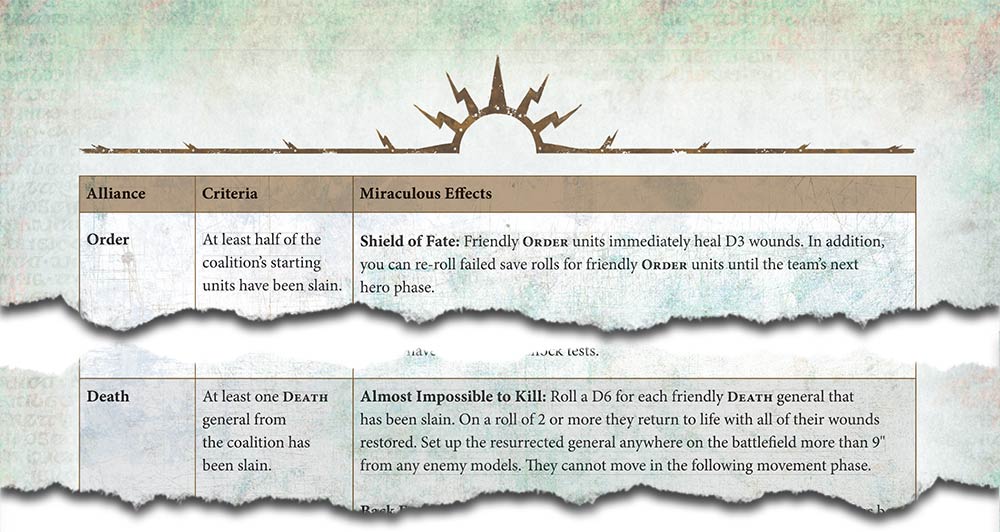 Game Workshop also mentions there are other rules that can impact your multiplayer games – for example if you're using the Fog of War rules, one of the changes is the "Messengers" rule. Messengers only allows players to discuss strategy and tactics if their generals are physically next to each other! If they aren't you have to pass notes back and forth. I have personally played in games like this and let me just say that in the moment they can be extremely chaotic, but my friends and I still talk about those games years later.
The Return of Triumph & Treachery
Triumph & Treachery brings three or more players together in a multi-sided battle and allows you to outsmart your foes and betray your friends. In Triumph & Treachery, only one player can win, but to do so, you'll need to forge temporary alliances – and know when to break them.
Not all multiplayer games have to have just 2 sides – in fact, that's just one way to play with the Open Play rules. You can also have multi-sided battles and Triumph & Treachery allows for a framework to play those style games. From this teaser it's plain to see the TP (Treachery Points) are coming and they look like they function similar to how Command Points (CP) work in 40k. You can spend them to alter the battle. I'm guessing you get a limited pool of these to use during your game. No word yet on how those are generated however (I'm guessing it's variable based on the army comp, game size, and the number of players…but that's just speculation).
Open War Cards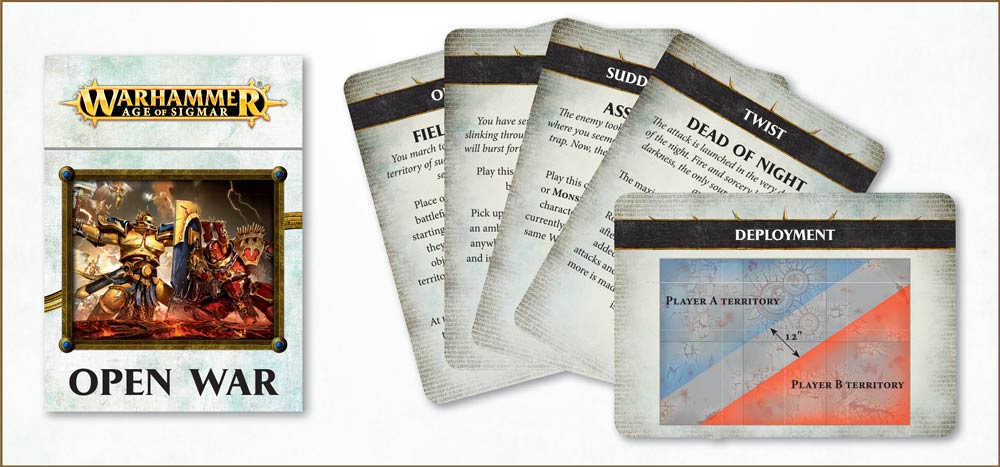 Also coming to Warhammer: Age of Sigmar are the Open War Cards. If these are similar to the ones available in 40k(which they are), then they should be a welcome addition to Open Play. They are a perfect set of cards that allow you to randomly generate a custom battlefield plan in minutes. Random Objectives, new deployment styles, and of course those Twist cards. We're also going to see the addition of Ruses and Sudden Death Cards to help balance out those mismatched games that you can have in Open Play.
"With 62,208 possible combinations, every game should feel fresh – you'll never have to worry about picking a battleplan again. These cards aren't just for open play and are really useful for matched play and narrative games too. The deck can be broken out to make a Tree Campaign with a variety of battleplans, or used by tournament organisers to create unique challenges for their players. Open War cards are perfect for Warhammer Age of Sigmar players who desire fresh, fun challenges every time they play with minimal planning."
We've been using the Open War cards for our games of 40k and they really do add some new and interesting ways to generate your games. I'm really glad to see them come to AoS! We've really enjoyed bringing two armies created with the Matched Play rules and then randomizing the rest of the game with the Open War cards. Maybe we'll try the lopsided games so we can add in those Ruse and Sudden Death cards next…
Are you bold enough to try out Open Play? Let us know what you think in the comments below!