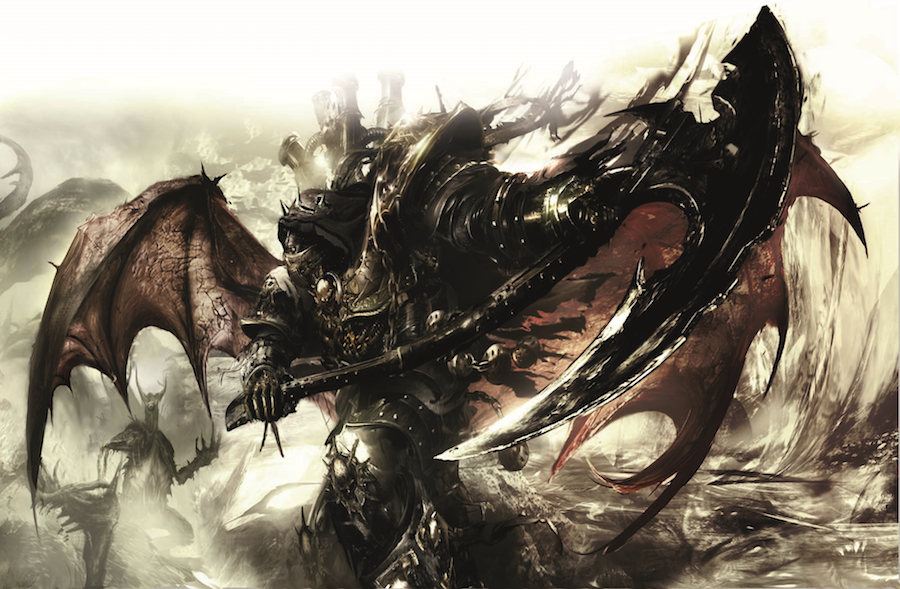 We've been keeping close tabs on the traitor primarchs and GW is advancing their stories.

The Chaos Marine codex is here and GW is following up on the plot from Rise of the Primarch regarding the traitor-primarchs.  Here's the story of what happened to each Primarch updated up to the new codex. Some of these stories are vague, and many of these stories are quite old.  In any case, I have a feeling that with Guilliman and Magnus making their return GW is keen to return as many of the brothers to the tabletop one way or another.  I'll mark the dudes who are dead in italics.
Welcome to Traitorville: Population 6 (maybe 7 – Alpharius is a snake)
Horus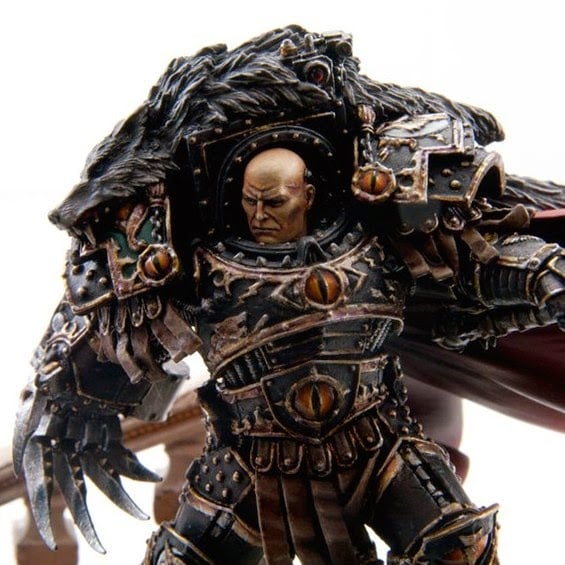 Horus – Heresy Era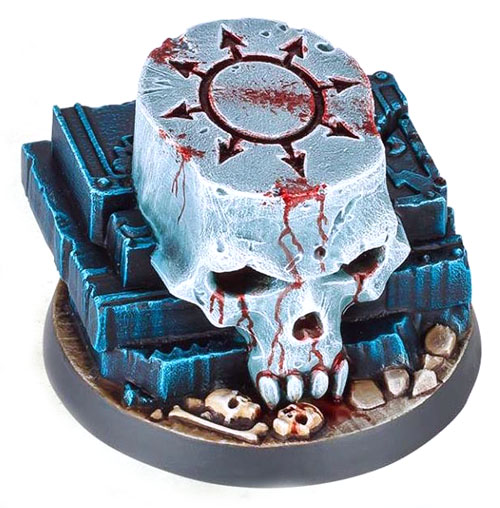 Horus – now…
Horus was killed by the Emperor of Mankind, and his soul was obliterated. His corpse was completely destroyed by Abaddon the Despoiler, who also took over his place as overall leader of the Chaos Space Marines.
Magnus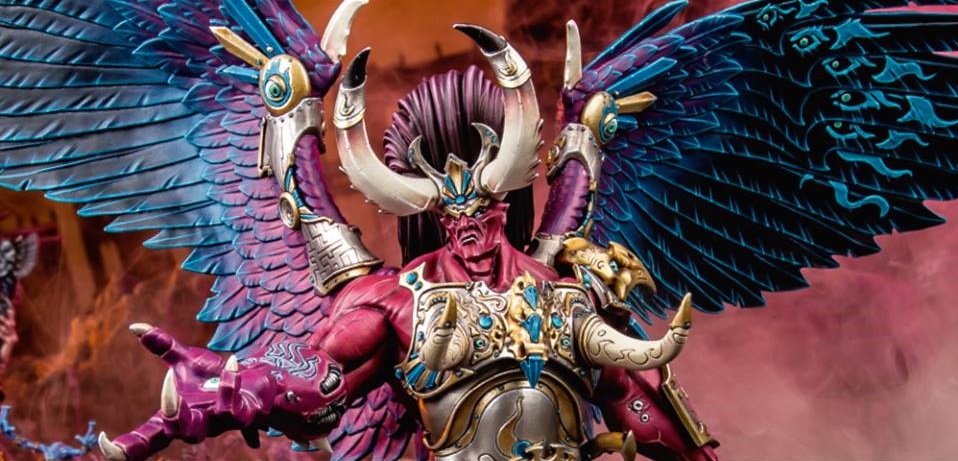 Daemon Primarch – alive and kicking, plus he got his old house back!
Magnus rose to the rank of Daemon Prince of Tzeentch. He's gotten his vengeance on the Space Wolves, made peace with Ahriman, and moved out of the Eye of Terror back to his original home on Prospero. He's tried to kick Roubuttes ass on Luna and most importantly, has the first Daemon Primarch mini.  All Hail Magnus!
Angron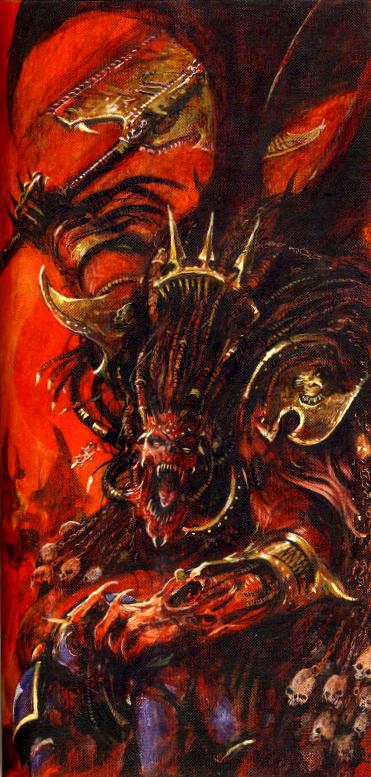 Daemon Angron – SPOILER – He's MAD!
Angron rose to the rank of Daemon prince of Khorne. I think we can assume that after his scantily clad EPIC days Daemon Angron has gotten some fancy clothes aside from a necklace. I think we can assume the light gladiator armor, insanity-dreads and and axe will all be there.  I would expect a Magnus sized mini that is even angrier than Skarbrand with a lot more gold trim.  It BETTER have a bunch of dead dudes/skulls on it's scenic base. He's been busy of late – this is what Codex CSM says about his recent activity: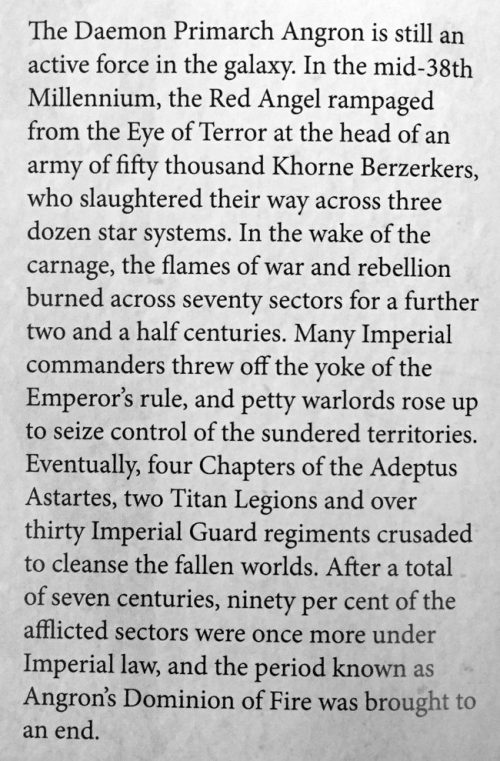 Mortarion
Mortarion rose the rank of Daemon Prince of Nurgle. He's not too hard to put your finger on; we have multiple images to use as a guide. The top one is from the Horus Heresy Card Game, the middle from EPIC, and the lower one is from the post heresy "Mortarion's Heart" novel from Black Library.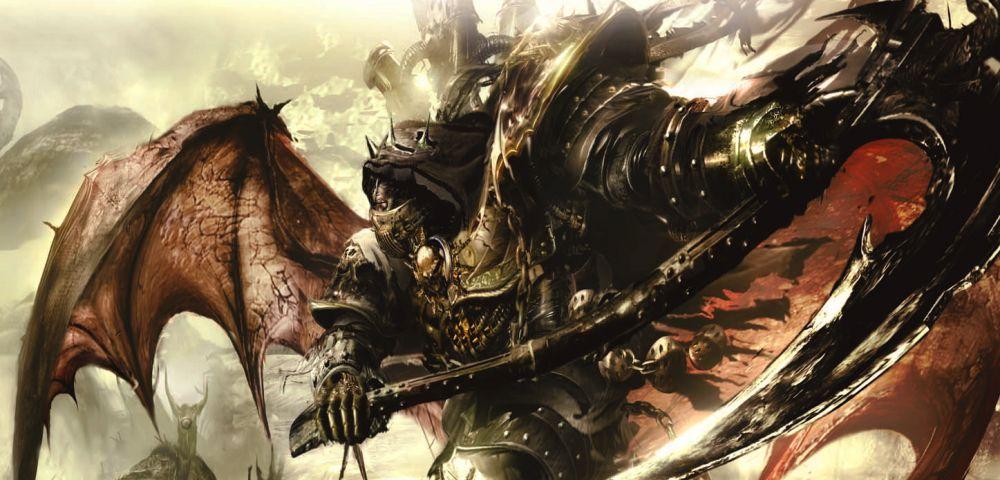 Daemon Mortarion – Black Library novel cover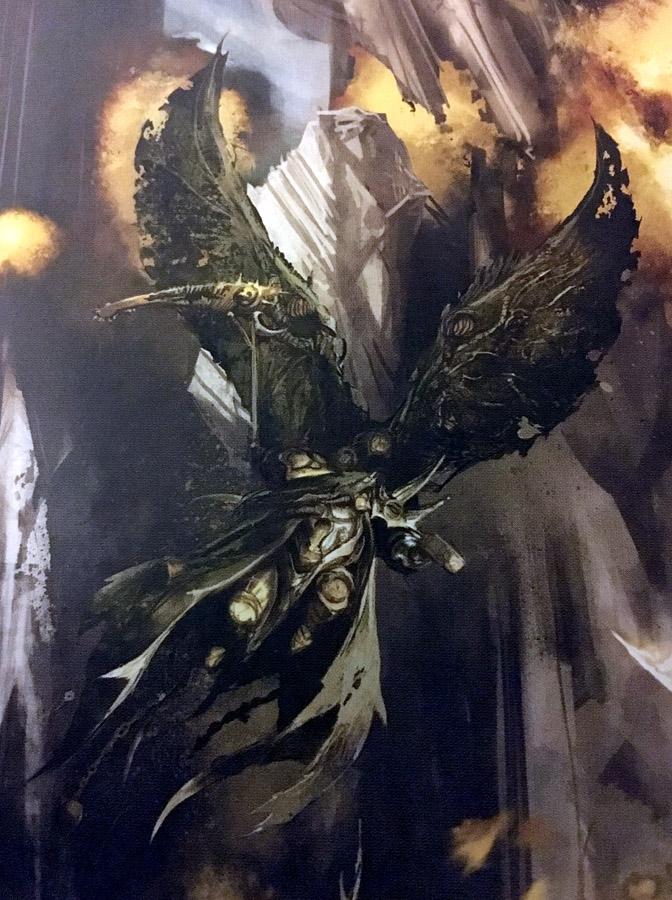 Mortarion, 8th Edition artwork.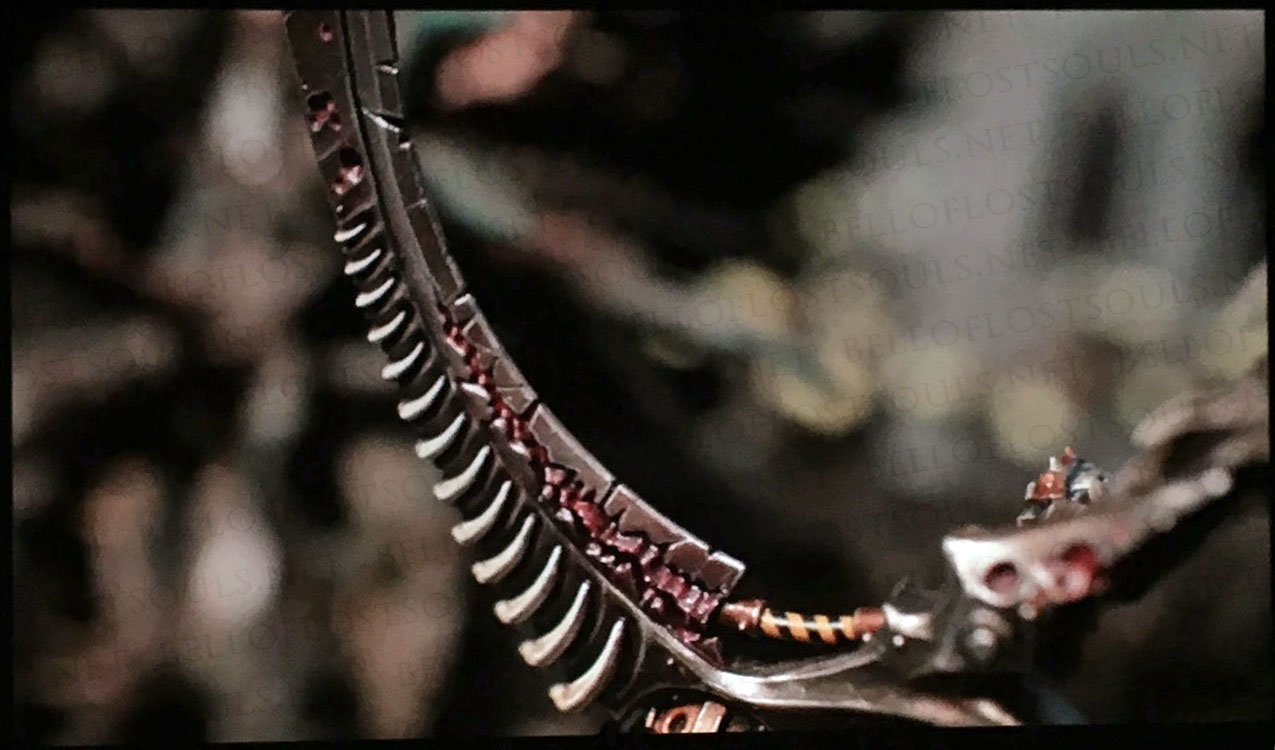 Almost certainly Morty's giant scythe.
I would expect him to be of Magnus' size, with membranous wings, the giant scythe, and lots of Plague censors atop his ornate if corroded armor and possible tattered cloak. We last heard Mortarion plotting with Fulgrim in Rise of the Primarch and personally dueling with Guilliman during his 8th Edition invasion of Ultramar.  I have a feeling Morty is right around the corner with the Death Guard codex and his mini should be amazing based on that artwork!
Fulgrim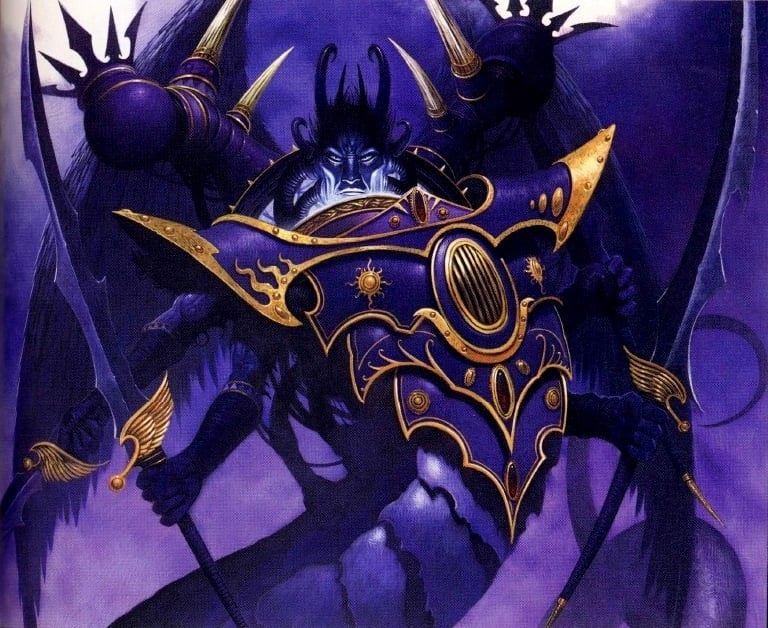 Daemon Fulgrim
Fulgrim rose to the rank of Daemon Prince of Slaanesh. Luckily we have very good art of exactly what the serpent of Slaanesh looks like…
He's a 4 armed serpent with wings, 3 swords, 1 whip and a totally arrogant face. What's not to love? His armor is perfect and extra ornate – just like he'd want. If they just made that image in plastic at the same scale as Magnus it would be awesome! Last time we saw Fulgrim he was whispering sweet nothings into Guilliman's ear and was sighted mowing down Astra Militarum in Rise of the Primarch.  I think we can safely count him in the "getting a mini" club.
Lorgar

Lorgar – Daemon Prince
Lorgar rose to the rank of Daemon Prince of Chaos Undivided. Here it starts to become a detective case because the official information is very scant. The only official artwork shows that Daemon Lorgar keeps his mace; and has four large horns sprouting from the four cardinal points of his head, almost like a crown. In one piece of artwork he has has large grasping daemonic hands. The Aurelian was never the largest or most potent of Primarchs on the battlefield, and I would not expect him to be as a Daemon Primarch. I would expect a slightly smaller than Magnus mini looking like an upright proud Daemon Prince. I would expect his mace and armor coated head to toe with Colchisian runes, books and tattered scrolls flowing in the wind.
Codex CSM updates his story and is sounds like Guilliman's arrival is heralding his return as a player.  Read this: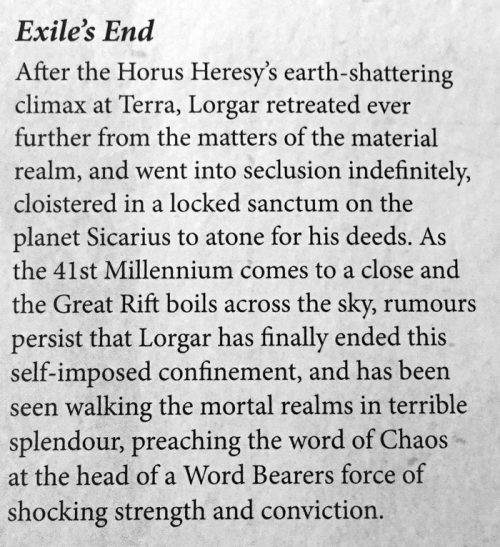 That sounds like a LOT of cultists headed Guilliman's way!
Perturabo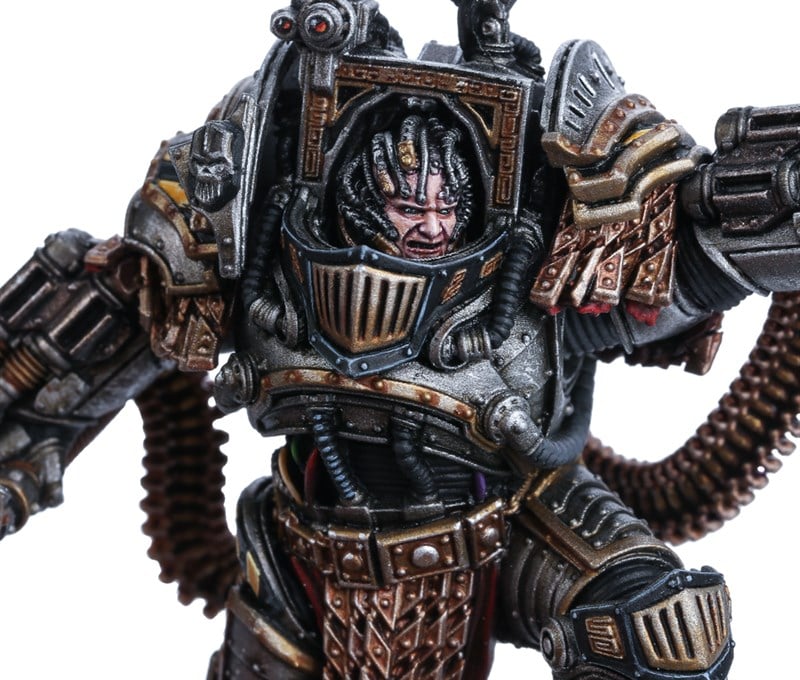 Perturabo – Heresy era
Perturabo rose to the rank of Daemon Prince of Chaos Undivided. Here is the greatest mystery of all, as there are no images of Perturabo post Deamon Prince. He was pretty much a "man in the machine" when he was mortal and I would expect to see GW take that theme and amp it up to 11 on a Daemon Primarch mini. GW could go almost anywhere with Perturabo, but I would expect to see a Magnus sized part-man-part-daemon-engine flowing with gears, hydraulics, mechadendrites, his giant hammer, and plenty of firepower.
Codex CSM gives us this little bit on Perturabo, the first new writings on him in years: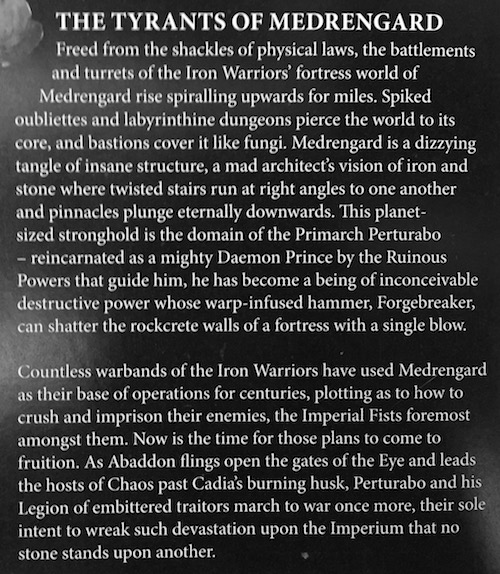 So two key points – He's still got his hammer and like Lorgar, Perturabo is now out of his house and on the warpath.
Night Haunter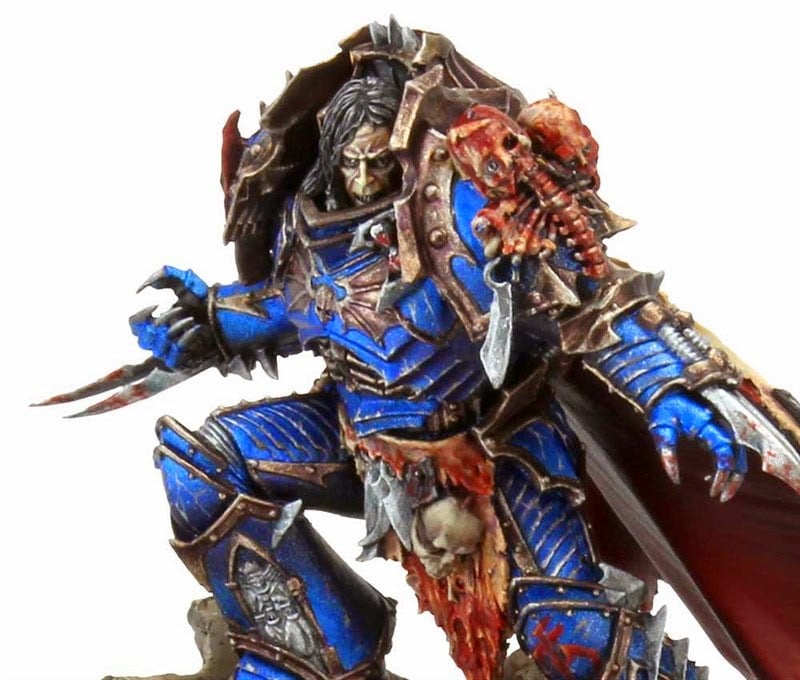 Night Haunter Heresy Era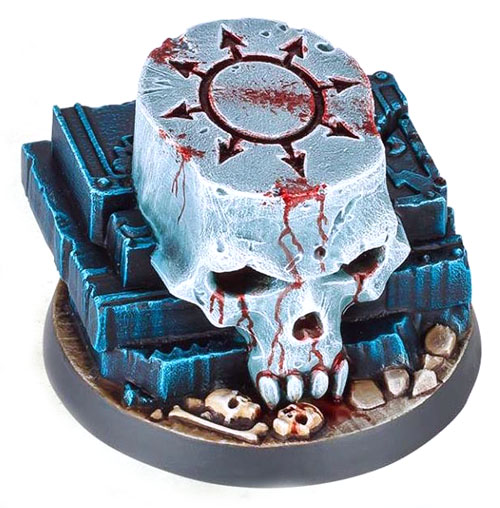 Night Haunter – Now…
Konrad Curze, aka Night Haunter, was assassinated by Callidus assassin M'Shen. He allowed her infiltration, apparently wanting to die.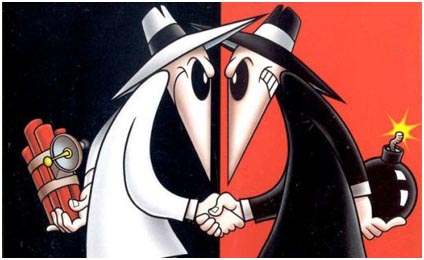 Alpharius Omegon, Alpharius was apparently killed by Rogal Dorn during the Battle of Pluto, and Omegon assumed his title afterwards. After the Heresy, Alpharius (or perhaps in reality Omegon) was reported killed by Roboute Guilliman on Eskrador. But the source which reported his death may have been manipulated. It is not known if Alpharius or Omegon is the Primarch killed in the report. Due to the report's unreliability, neither may have been killed.  
Good luck on this one.  I for one thing think he should never be given a mini and stay lost in the shadows of legend and folklore forever. Even better how about a set of rules with no model to reflect *his presence and attention* on the battle at hand, with no model. I AM ALPHARIUS!
What's GW Up To?
I think it's hard to read that and not think that GW is priming the pump for the return of all the known Daemon Primarchs. In fact I'm starting to get a suspicion that with 8th Edition, GW has seen the success of the Horus Heresy setting and is trying to re-bottle the magic. What if 8th ends up being the conclusion to the Heresy with all the living Primarchs on both sides returning to continue the conflict?
~What do you think GW is planning with the primarchs?