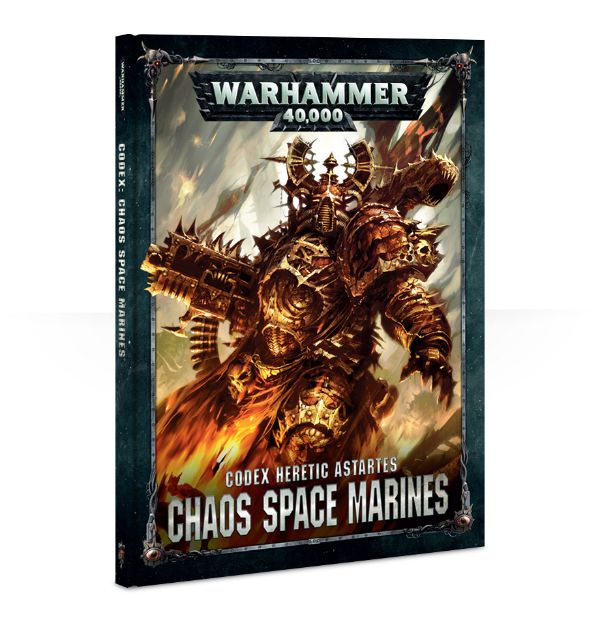 Goatboy here with a review on my favorite army – Codex Heretic Astartes –  Chaos Space Marines!
I am patiently waiting for the Thousand Sons and Death Guard books to come out and let me complete my favorite set of genetically/daemonically enhanced jerks.  Overall I really like the book as it feels perfectly poised to do some damage to the Imperium and any other race that gets in the way.  The book has enough assault elements, a decent mix of shooting, and good powers to help make up for any "technological" short comings it might have.  Let's go through some of the highlights.

Marks & Banners
First of all the Marks themselves don't seem to do anything other then allowing certain things to interact with them.  Spells, auras, etc will interact as long as the unit has the proper Mark.  There are some Strategems and Spells that need to have the proper mark.  They also activate the ability to take a different banner as needed.  The Banners themselves didn't change from the index so the overall good ones are known with some specific Mark Combos within the Traitor legions themselves.  We'll talk about that a bit more when we go into some of my favorite legions.  They also get the Troops totally truly score ability all the books will have at some point.

The New Guy
The book has one new unit involved and it is a pretty powerful one.  The Exalted Champion has had a model for a long time without any true set of rules.  This new book adds him as a good counterpart to the Dark Apostle.  Where the Dark Apostle allows you to reroll hits, the Exalted Champion allows you to reroll wounds.  If your army is planning a plethora of Khorne Berserkers then this is the unit you will want to at least take one of.  In fact any army that loves to have someone help punch your enemy will need to take this cheapish psuedo Chaos Lord/Leader for your blood crazed jerk faces.

The Brimstone Solution
The book also showcases what is most likely the Brimstone Horror update that is coming for the Daemon book in the coming weeks.  It looks like Brims all went up by a point and their Smite went down to 1 wound unless the unit has 10 or more Pink Horrors.  I feel this is right where I wanted them to change these guys as they continue to be the speed bump the Daemon armies need and won't be the Mortal wound monsters that can sometimes happen with the Goatboy Dice get all crazy with the five's and six's.

Look Who's Missing
The book matches the Marine book in that anything that doesn't have a direct model is not in the book.  There aren't any Chaos Lords or Sorcerers on bike.  Luckily they are still around as you can use the Index book for now.  Will see if it stays that way in the coming months or with the "chapter approved" book heading or ways at the end of the year.  The Plague Marines did get a small update with some added on options.  Two hand to hand weapons show up with the Word Plague in it plus the added ability that wounds carry over to the next model like a mortal wound.  They all do more then 1 damage and thus the reason for the wording.  I don't know how good they are yet – but it is something interesting to look at and most likely a precursor to what will see in the Death Guard book.
Typhus, Ahrihman, and Magnus are not a part of this book as their force org and unit choices are going to be a lot more robust with their own books.  It does make me sad as the Pox walkers are no longer an option in the Legion Detachments.  The Legions themselves range from being a bit meh (Word Bearers) to being pretty dang awesome (Emperor's Children).  I am currently in love with the idea of a World Eaters force to supplement my Chaos Daemon brick.  Lucky for my my Lord of Skulls got updated with a cheaper point cost as well as a lower Power Level.  This lets me play it again in some ITC events as well as give me more room for cooler things in my army.  I love that dang Blood Crazed Tonka Truck and any chance I get to play it, double move it, and throw it into my opponents units is a good day for the Goatboy.

Legions & Renegades
I think the basic Renegade legion rules are pretty dang awesome with the ability to Advance and charge.  It makes me think there are some fun options involved in there utilizing some Mauler Fiends and other big robots – charging forward and getting mixed in quickly and deadly like.  The Daemonforge Strategem gives the Daemon engine units that ability to reroll its hits and wounds which could be very powerful on a Lasher Tendril Maulerfiend.

Strategems, Relics & Spells
Speaking of the Strategems, there are few I find pretty interesting.  As usually they got some spell casting help options, a cool way to move some cultists around, and even a neat Mortal Wound option utilizing a Daemon Shell.  Its very Chaos like as you can cause 1d3 mortal wounds, but if you miss you take 1d3 mortal wounds as the bullet comes back and bites ya in the butt.  The Chaos boon table is simplified and uses the Command Point usage as a trigger when your character kills another character in combat.  The best one is making the model into a Daemon Prince while the worst set it up as a Chaos Spawn.  Overall it has some overlap with the marine options that tweak it to sound more chaos like and evil.
The Relics themselves are pretty neat with a ton of weapon options.  I really like the Slaanesh Elixir that gies you +1 Str and Att on a crazy murder lord.  You mix that with some Stratgems and some spell and you got a murder ball waiting to happen.  The Black Mace seems interesting as well – with every model you kill giving you a chance to roll a 6+ and cause another mortal wound.  There are the other older Relics like the Murder Sword and the Axe of Blind Fury.  There are even some Spell options as well to help you get that extra spell needed to throw that much needed Smite or Warptime.
Speaking of Spells we have seen a lot of the ones already.  Chaos gets a cool anti Invulnerable save option called Death Hex.  It targets a unit and turns off all those ++ saves you get mad about.  The Diabolic Strength spell gives you a +2 to your strength and +1 Attack.  I could see that being pretty gnarly on a Daemon Prince coming in and getting ready to put the hurt on an enemy.  The Nurgle spell is pretty neat as it gives a blessing to a unit that makes enemies hit it at a -1.  I am sure you can easily stack that with some Night lords to create a pretty annoying army to deal with.  The Slaanesh ability to get FNP will be pretty powerful as well.  I can see Slaanesh Daemon Princes having a blast being protected and swigging down some of that Crazy Elixir.
Overall I am pretty happy with the book as it fixes some points issues (powerfists, updated Brim, lowering my Lord of Skulls points) and giving a ton of flavor to the army.  I don't think it is broke and comparing it to the other two books gives me hope we have a fairly balance edition coming.  It is exciting as half of my army has locked in rules now so i can have more hope in building a list and having it not change on me completely with a new book/FAQ.
~DEATH TO THE FALSE EMPEROR!