GW: New Releases August 12th "Pricing & Links"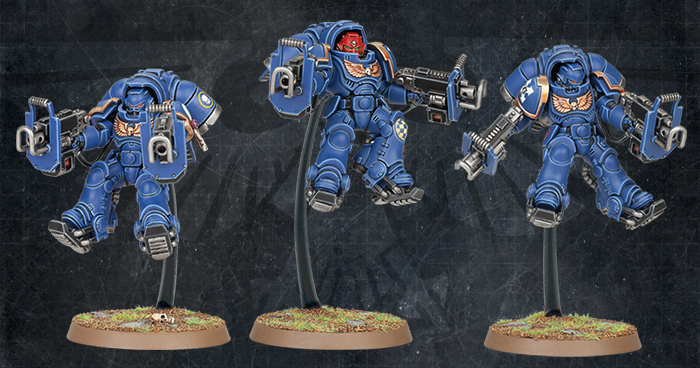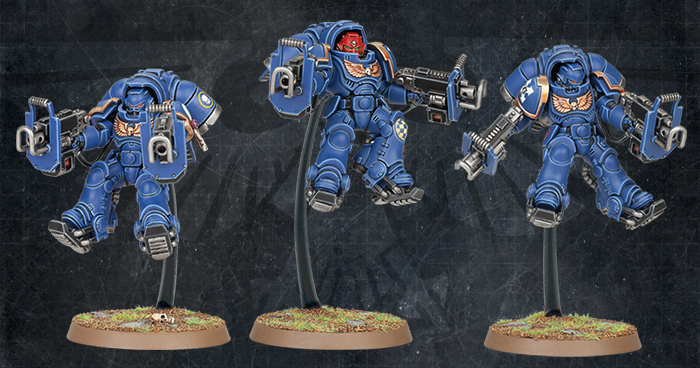 Primaris Inceptors Ahoy! It's time to lock-and-load for the Emperor! Come see what else GW has out this weekend!
via Games Workshop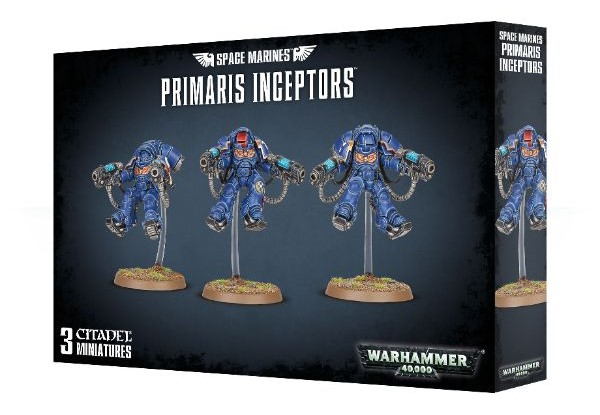 The swiftest of the Primaris battle-brothers, Inceptors fill the role of spearhead troops. They hit the enemy in one sudden and overwhelming blow, leaving them reeling as follow-up waves of Space Marines drive home the attack. Equipped with jump packs and reinforced armour, Inceptors can be dropped from the very edge of a planet's atmospheric envelope, weaving and twisting through the skies before slamming down into the enemy's midst.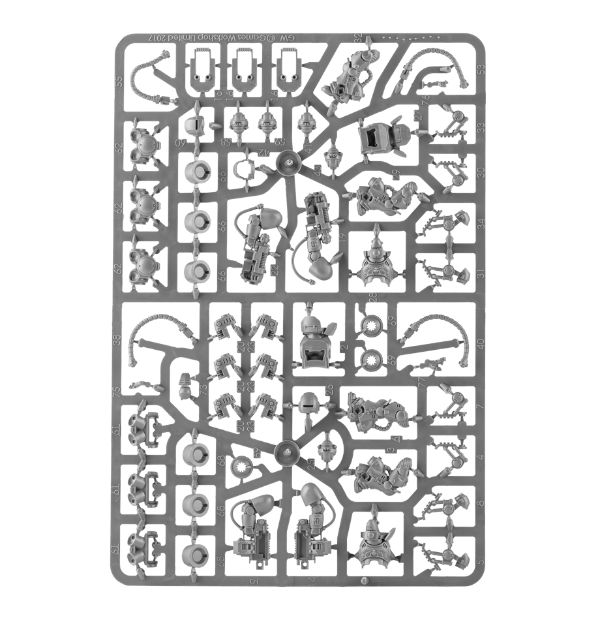 This multi-part plastic kit contains the components necessary to assemble a set of 3 Primaris Inceptors. Clad in Mk X power armour featuring a bulky jump pack – thrust-vectoring rocket engines mounted on the Space Marine's back, enabling fast, bounding leaps to close on the foe at dizzying speed – they present a unique, easily recognisable silhouette. The jump pack itself and the blast shield cowl that protects the Inceptors' heads from the immense heat of the pack's rockets dominate the miniature, with posable fins, shock-absorbing devices attached to the boots and extra cabling and vents unique to this kit. The Inceptors can be armed with either 2 plasma exterminators each or 2 assault bolters each – the plasma exterminators are heavily shielded to provide protection against heat discharge and the assault bolters feature distinctive box magazines.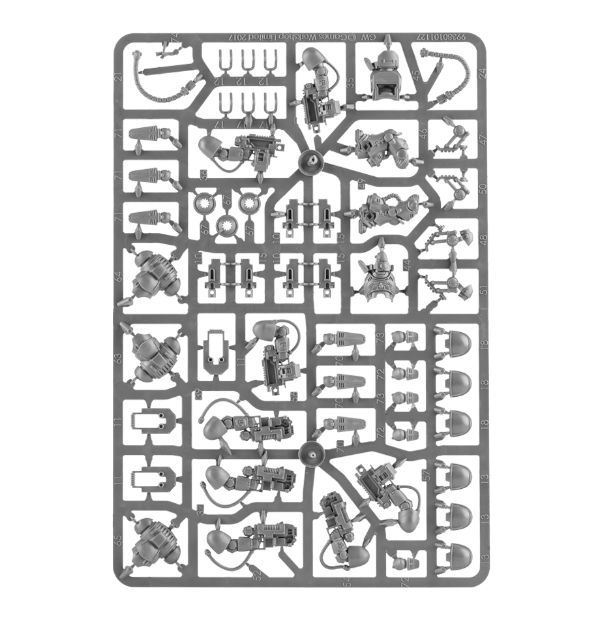 5 helmets are included, designed to be used with the blast shield cowl – no bare heads here, obviously! 3 blast shield helms are included and 4 purity seals – this includes 1 double seal used to distinguish the Sergeant.
The Primaris Inceptors come as 117 components, and are supplied with 3 Citadel 40mm Round bases, 3 45mm flying stems and a Primaris Space Marines Infantry transfer sheet.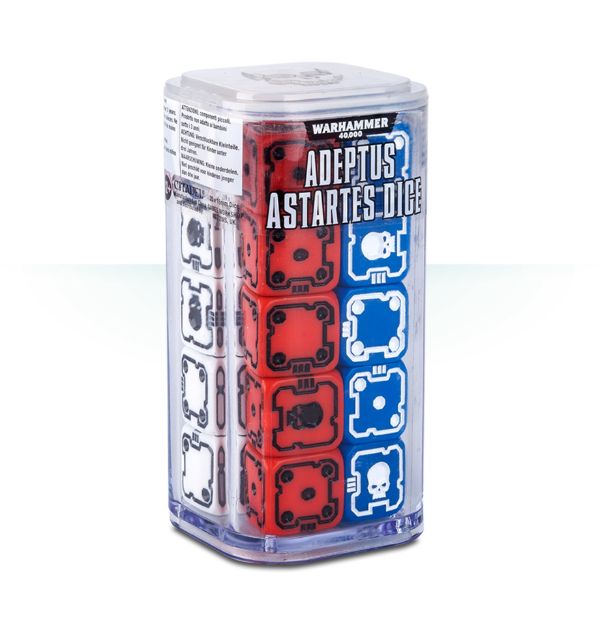 The perfect set of dice for your games of Warhammer 40,000, this set of 20 dice is split into 4 colours, each with a symbol representing a different specialist role within a Space Marines army. Included:
Subscribe to our newsletter!
Get Tabletop, RPG & Pop Culture news delivered directly to your inbox.
5 x Black dice with Chaplain icon on the 6.
5 x Red dice with Techmarine icon on the 6.
5 x White dice with Apothecary icon on the 6.
5 x Blue dice with Librarius icon on the 6.
Of course, each die features a skull on the 1 – it wouldn't be right not to include that!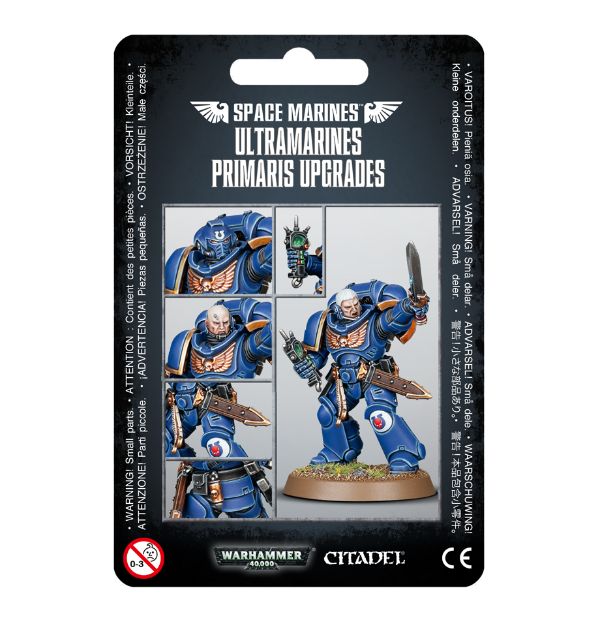 This pack of plastic components can be used to upgrade a variety of Primaris Space Marines with iconography and details specific to the heroic Ultramarines Chapter. 20 components in total are included:
– 5 Ultramarines Mk X power armour shoulder pads, for use with Hellblasters and Intercessors;
– 3 purity seals;
– 2 Ultramarines Mk X Gravis power armour shoulder pads for use with Aggressors;
– 2 bare heads (one with hair, one without);
– 1 Ultramarines helmeted head;
– 1 Marksman's honour;
– 1 Mk X power armour shoulder pad, designed for Sergeants/characters from Hellblaster and Intercessor squads;
– 1 Mk X Gravis power armour shoulder pad, designed for Sergeants/ characters from Aggressor squads;
– 1 Sergeant/character arm holding a gladius (and a scabbard for said gladius);
– 1 Sergeant/character arm with an auspex;
– 1 grenade pouch.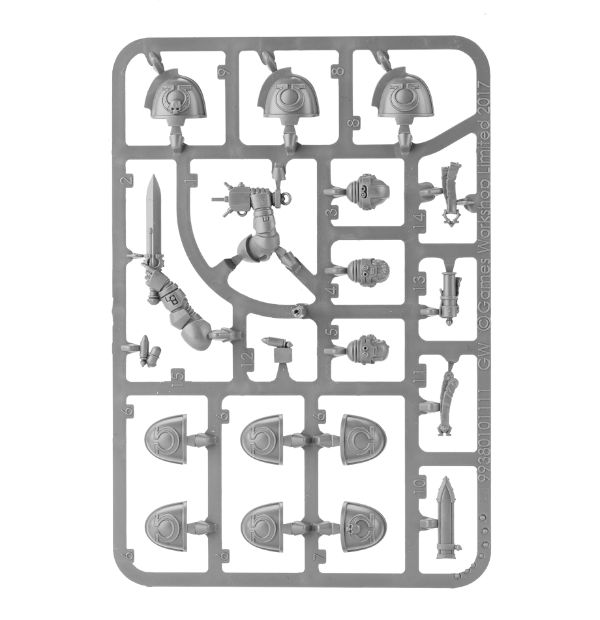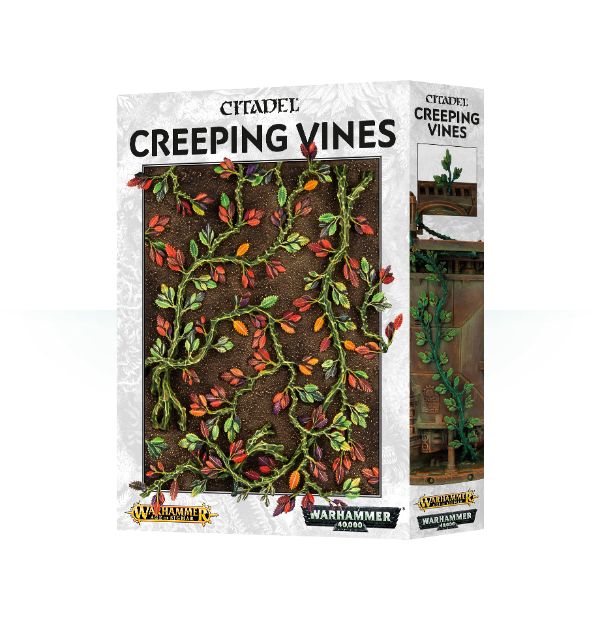 Detailed, flexible plastic scenery designed to be wrapped around scenery pieces and model bases to add that eerie sense of age and disrepair, this is a set of 12 Creeping Vines.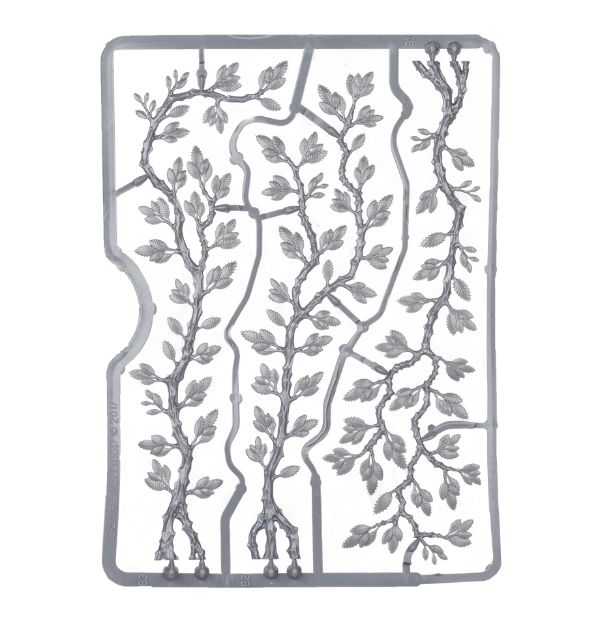 Flexible enough to be wrapped around virtually anything before being sealed into place with super glue, these vines can be spray painted – the paint won't flake or chip, meaning every little detail will be kept.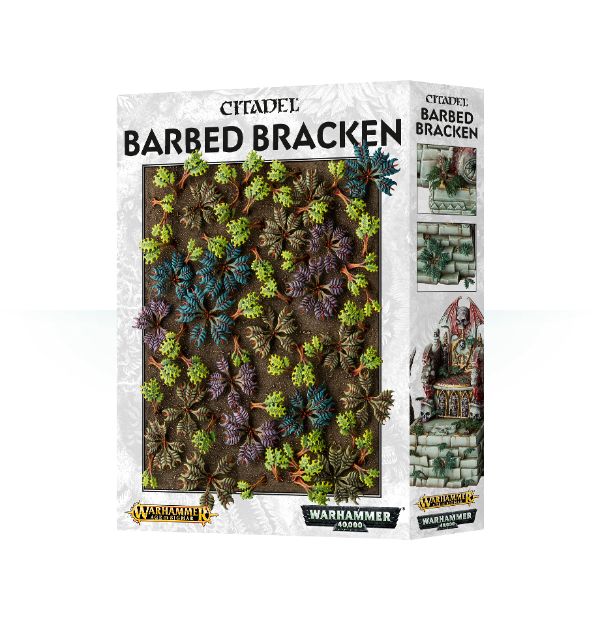 Incredibly detailed, designed to make your scenery pieces stand out on the gaming table by adding extra layers of detail to their bases, Barbed Bracken is flexible plastic scenery with myriad uses. In total, you get 144 pieces of bracken in this kit – plenty for adding to the bases of an entire army, or decorating a Realm of Battle set – with 48 large pieces, 32 medium pieces and 64 small pieces.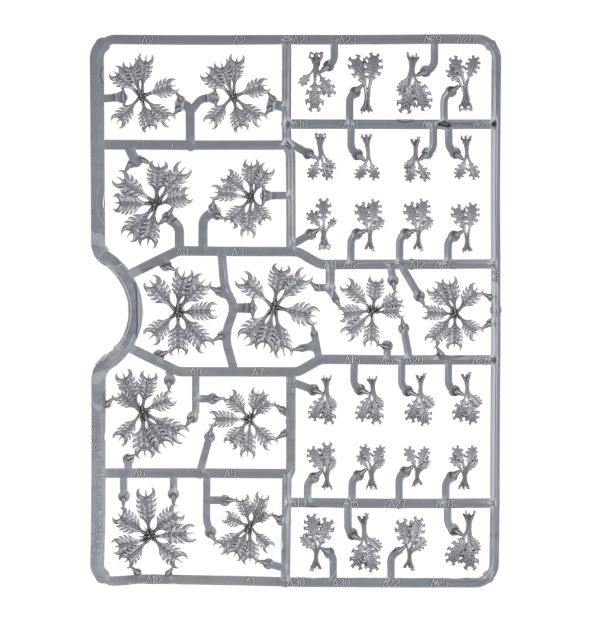 This scenery can be attached to virtually anything you wish to create thick fields of bracken, and is held firmly in place with a dash of super glue. It can be sprayed with Citadel spray paints – the paint won't chip or flake off when the bracken is flexed into place, meaning the incredible details will be kept!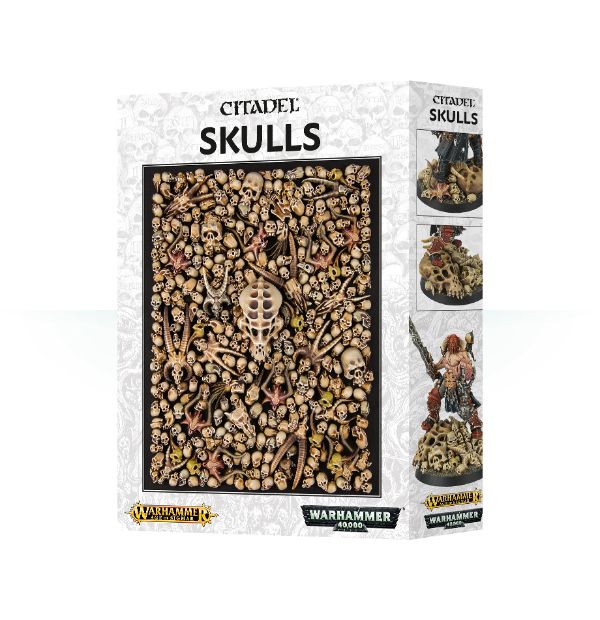 You may have noticed a common theme amongst models and scenery pieces from the Warhammer 40,000 and Warhammer Age of Sigmar ranges – skulls. They're everywhere, decorating the walls of Khornate keeps and hanging from the belts of fearsome warriors. But we don't think there are enough skulls out there…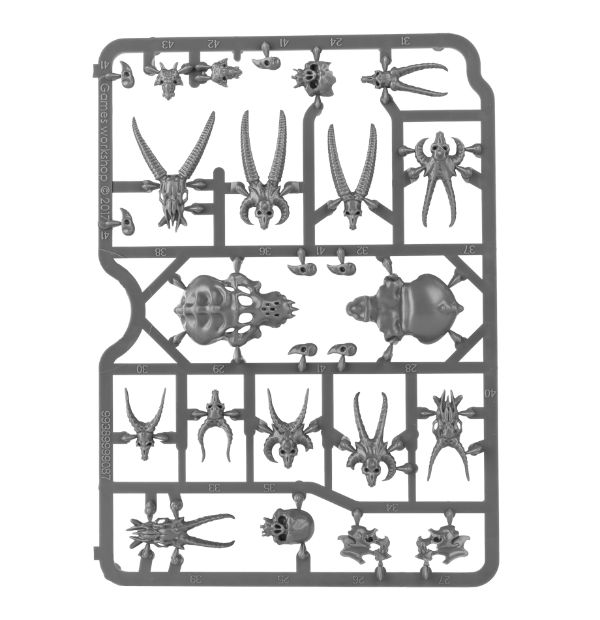 Enter the Citadel Skulls. This is a box of 340 (yes, three hundred and forty!) plastic skulls, designed for the hobbyist to decorate scenery, bases and models as they see fit. There are even 20 extra jawbones!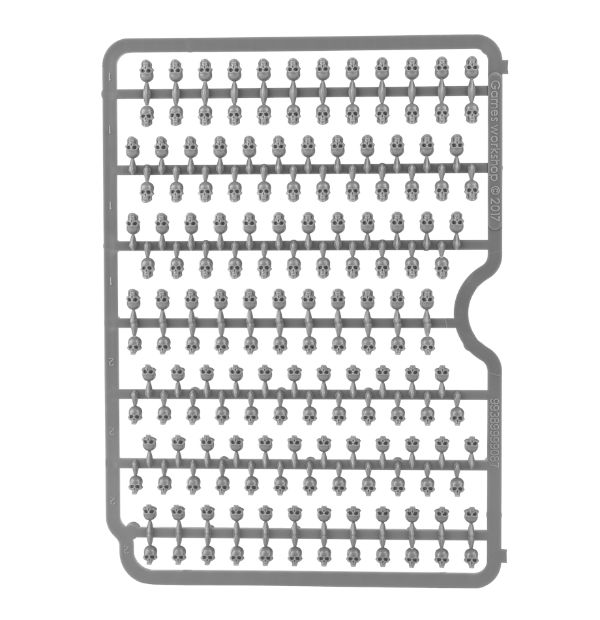 Here's a breakdown of the number and type of the 340 (!) skulls in the box:
– 82 human skulls with jawbones;
– 86 human skulls without jawbones;
– 15 human jawbones;
– 60 assorted damaged human skulls;
– 2 giants' skulls;
– 1 Morghast skull (in 2 components);
– 1 beast skull (in 2 components);
– 4 small horned skulls;
– 4 medium horned skulls;
– 3 large horned skulls;
– 7 bird skulls;
– 2 Chaos beast skulls;
– 6 plaguebearer skulls;
– 6 Bloodletter skulls;
– 10 T'au skulls;
– 5 Kroot skulls;
– 6 alien skulls;
– 21 Genestealer Hybrid skulls;
– 20 Ork skulls without jaws;
– 5 Ork jawbones;
– 7 Ork skulls with jaws open;
– 7 Ork skulls with jaws.
– as well as 15 human jawbones;
– 5 Ork jawbones.
Skulls!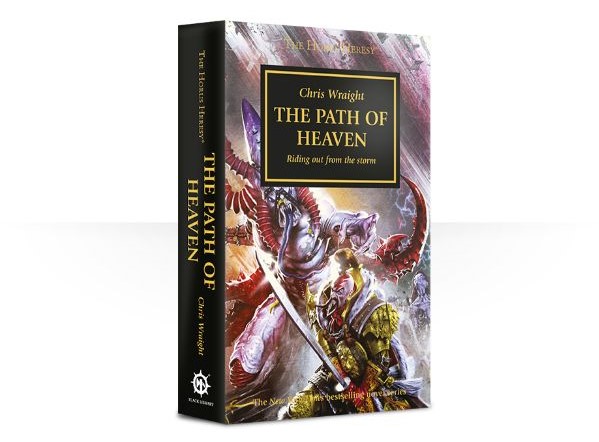 A Horus Heresy novel
The Khan returns! After the events of 'Scars', the White Scars Legion have chosen their loyalties. Now, after years of battle against the traitors, it's time to return to Terra and prepare for the inevitable invasion. But first, Jaghatai and his warriors must brave a gauntlet of enemies and the terrors of the warp…
READ IT BECAUSE
It's a brand new chapter in the Horus Heresy and begins the march to Terra – though perhaps not in quite the way you'd expect.
THE STORY
For too long had the Vth Legion ranged out beyond the sight of the wider Imperium, remaining ignorant of the Warmaster's rebellion and the war that inevitably followed. Only once their primarch, Jaghatai Khan, had satisfied himself that the path before them was just and true did the White Scars choose a side, taking the fight to the traitors on every front. But, four years later, the Legion's unfettered spirit has been broken by relentless attritional warfare against the Death Guard and the Emperor's Children – the Khan's Stormseers must find a clear route to Terra if they are to take part in the final, apocalyptic battle.
Written by Chris Wraight.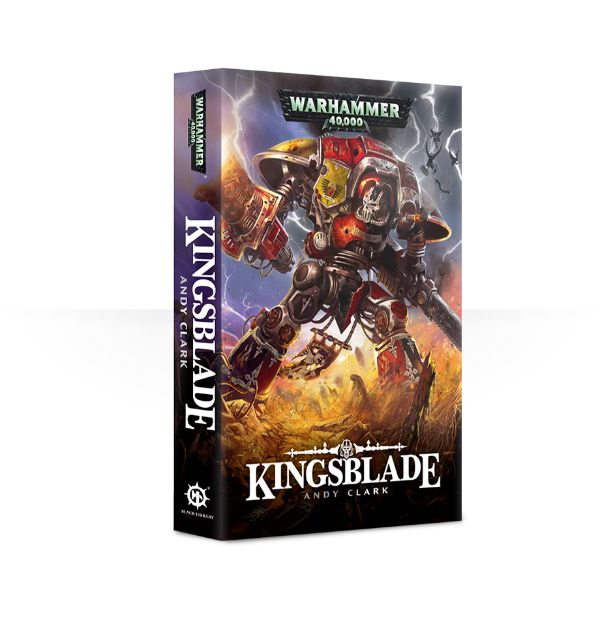 An Imperial Knights novel
When a tragedy occurs and an Imperial retribution force is shattered, two young Imperial Knight pilots must work together and learn the ways of war if they – or the world of Donatos – are to survive.
READ IT BECAUSE
It's war on a larger scale – Imperial Knight scale! Two novice Knight pilots against an entire world of enemies – sounds like a story for the ages.
THE STORY
The Knight Houses of Adrastapol are both noble and righteous, and when the Imperial world of Donatos falls to the heresy of the Word Bearers, they are foremost in the vanguard to retake it. Led by High King Tolwyn Draconis, the Knights are peerless in battle and strike deep into the enemy's ranks. But the war soon turns when a terrible tragedy strikes, casting the Imperial campaign into anarchy. As desperation grows, unblooded Knights Errant Danial and Luk must quickly learn the ways of war to prevent an unholy ritual or Donatos will be lost and all the noble Houses of Adrastapol with it.
Written by Andy Clark.
That's a LOT OF SKULLS!
Latest News From BoLS: