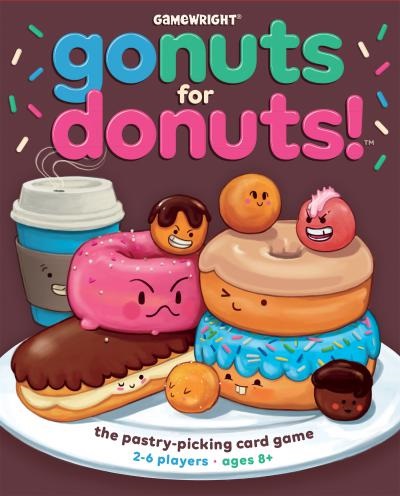 Who doesn't love a good strategy game…with Donuts!
Yes – you read that right! This is a stratgey game that involves donuts. Our friends at Dragon's Lair Comics & Fantasy brought it over and it's down right delightful!
Go Nuts For Donuts! is all about choices – which donut do you want? Which one will your opponent want? What's your master plan to score the most points and win the game?! That's really what it all comes down to in this game. It's a simple concept: There are multiple donuts available each round, and you can only choose 1 – however, if you pick the same one as someone else, then NOBODY gets it. But if you don't go for it, then you'll miss out on the big points. Decisions, decisions…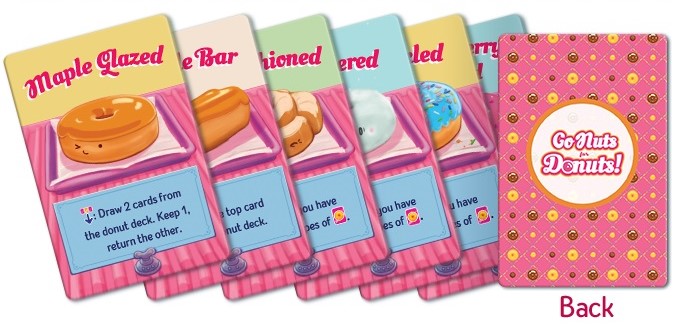 Gameplay is super easy to learn because a lot of the rules are actually on the cards. And speaking of the cards, they look fantastic. Anthropomorphic Donuts never looked this good! The art is fun and lighthearted and the colors are bright and inviting. Players of all ages will like this game. If you're like me and you have more than a few non-gamer friends and you're looking for something they won't be intimated by, then you should check this game out. At the same time, more veteran gamers will appreciate the gamesmenship of trying to out think your opponents. Each draw of the donuts creates new options and iterations – it's surprisingly deep!
Gamewright has a pretty solid track record when it comes to publishing games – so if you're in the market for a new game that doesn't take a ton of time to learn or play, but will have you coming back for more, then pick-up a copy of Go Nuts For Donuts!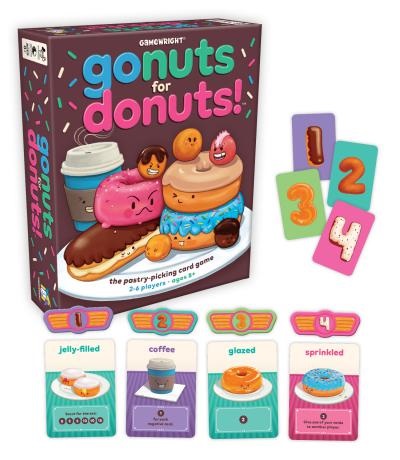 Strategy…Choices…Tension… Three essential ingredients to any great game. All of them play a vital role in this easy-to-learn and instantly engaging card game from first-time inventor Zachary Eagle. Together with the team at Daily Magic Games, Zachary created a unique twist on set collection card games. In addition to the whimsical variety of donuts inside, part of what makes Go Nuts for Donuts! stand apart from the crowd is the secret bidding. This adds a delicious layer of tension that will surely tempt you to come back for another round!

Time to take the donuts! A tray of tempting treats awaits your bid in this freshly baked card game. Will you go for a stellar cruller or grab a glorious glazed? A double chocolate is sure to score, but in the long run Boston cream may be worth more! Choose carefully – if two or more players go for the same donut, nobody gets it! End with the highest score and victory will taste sweet!
All the fun, none of the calories!