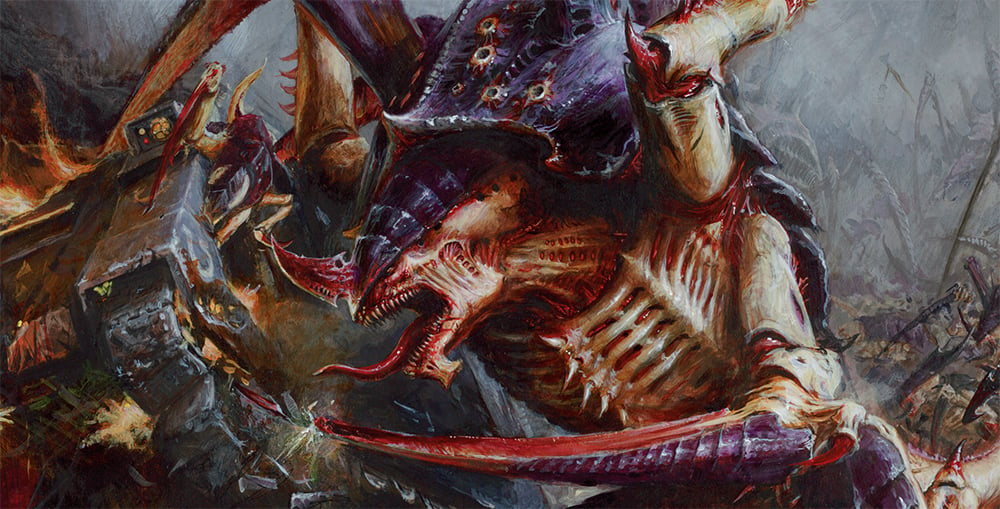 The Screamer-Killer was teased by GW and now a clean version of it's rules have been spotted!
Tyranid Players, I hope you're as excited as I am! The Screamer-Killer is back and it's looking MEAN and ready launch Bio-Plasma at a deadly new range:
pic via teodo (thetyranidhive 10-30-2017)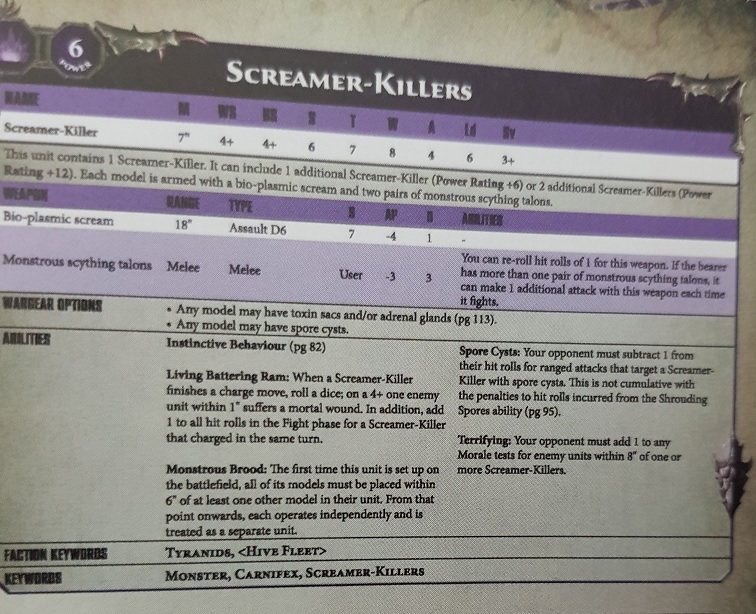 This picture is apparently take of the rules from White Dwarf
For comparison sake, here's the old (current?) Carnifex rules from the index: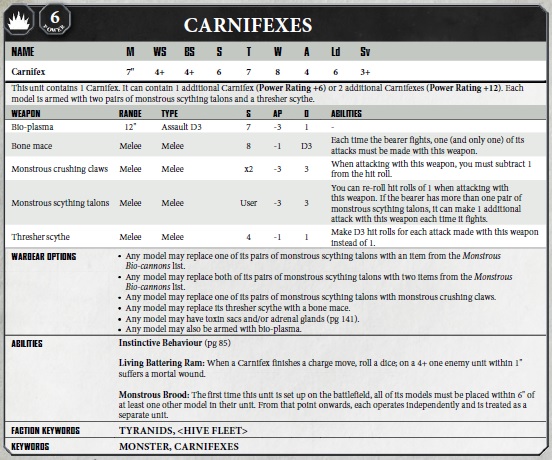 So let's break this one down.
It's got the same statline/powerlevel as the previous Carnifex rules.
New Bio-Plasmic Scream 18″ vs 12″ range, Assault D6 vs D3, Same Strength, and -4 AP vs -3, 1 damage.
Monstrous Scything talons – same
May take Toxin Sacs/Adrenal Glands
May have Spore Systs
Spore Cysts opponents are -1 to hit with their ranged attacks that target a Screamer-Killer with Spore Cysts. This in not cumulative with Shrouding Spores (Venomthrope ability).
Still has Instictive Behaviour
Living Battering Ram – Still causes a Mortal Wound on a 4+ on the charge. In addition, it also adds +1 to hit rolls in the Fight Phase for a Screamer Killer that charged that turn.
Monstrous Brood is the same
Terrifying – Add 1 to any morale tests for enemies within 8″ of one or more Screamer-Killers.
Wow! -1 to be shot and +1 on the charge!? AND it can spew it's Bio-Plasma 18″ and it's deadlier!? Sure, it's only BS 4 so if you're advancing and shooting you're only hitting on 5's. Still, it's nice to at least have the option and it's D6 shots. But really you just want to get this Carnifex in there and rip it's target to shreds.
On the charge this thing is getting 5 attacks that hit on 3+ and at S6, -3 AP and each does 3 damage. I'll take it! I just hope the Tyranids will have a better way to get these guys across the board besides running…but even if they do, that -1 to hit really will add up.
Things are looking up for the Carnifex – now I'm curious about the OTHER options…
Who's ready to say hello to our new Alien Overlords? The 4 Armed Emperor is coming…