Arkham Horror: New Novella & Bonus Cards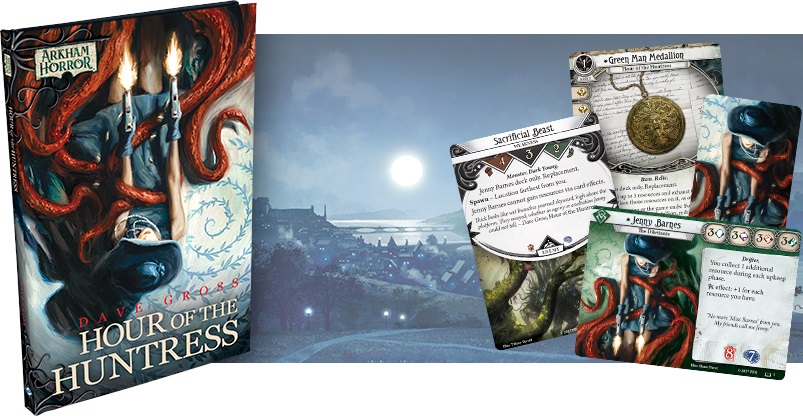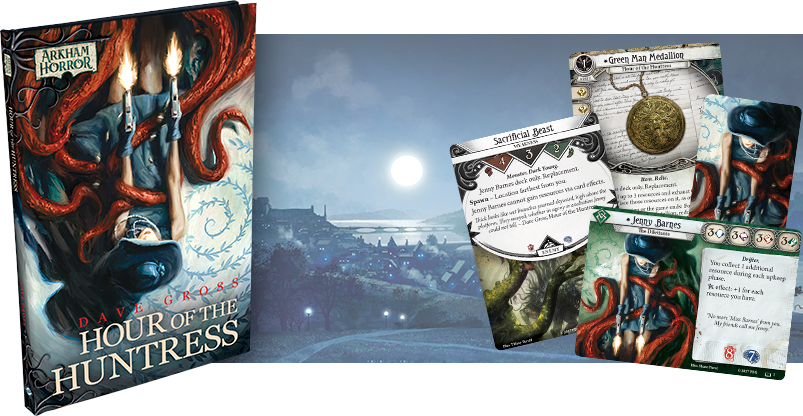 Fantasy Flight Games has a new Novella that comes with some bonus cards you can use in Arkham Horror: The Card Game!
Hour of the Huntress is a new Novella that sheds some light on one of Arkham Horror's most well know investigators, Jenny Barnes. This is the first book from Fantasy Flight Games that delves into the backstory of the character and gives players a deeper look into what drives these unlikely heroes forwards to face the unspeakable horrors in the Arkham Horror Files.
via FFG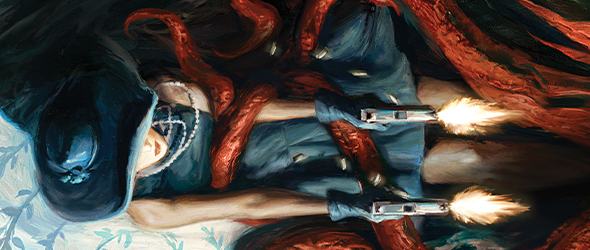 Find your favorite Arkham Horror investigators springing into action and confronting unknowable horrors. Beginning with Hour of the Huntress—available now—our new Arkham Horror novellas bring your investigators to life like never before!

You've stepped into their shoes. You've accompanied them for battles with cultists, monsters, and Ancient Ones. And you've steered them through the multi-layered mysteries of Arkham Horror, Eldritch Horror, Elder Sign, Mansions of Madness Second Edition, and Arkham Horror: The Card Game. But you've never seen them like this—grappling with their choices and uncertainties, pitted against unthinkable evils, and fighting for their lives as they unravel the mysteries that forced them to come face to face with the Mythos for the first time!
There is no doubt that the Arkham Horror Files universe is heavily influenced by the Lovecraft Mythos. But, one of the biggest differences between the two is that the investigators of the paranormal in Arkham Horror aren't the terrified protagonists driven to maddness from Lovecraft – these folks are straight-up action heroes.
They are ex-gangsters, flappers, bootleggers, drifters, ex-cons, ex-cops, ex-military – but they are also shamans of magic, artists who've seen too much, academics who've delved too deep, and the occasional humble grave digger who just happens to be good with a shovel. And more. The investigators of Arkham Horror cover a vast spread of different archetypes. Many of them were mentioned in the Arkham Horror Artbook. But even those entries pale in comparison to these Novellas.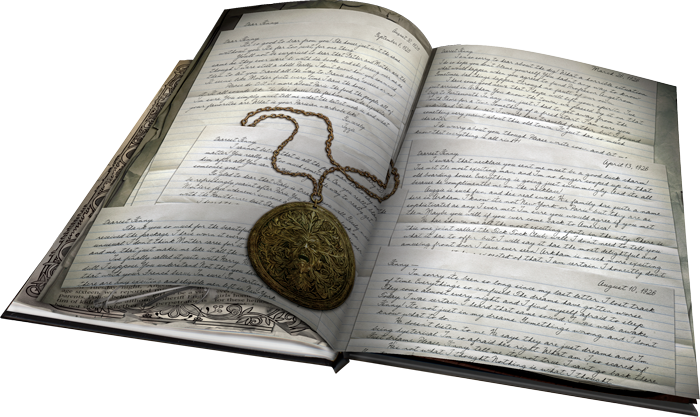 On top of the depth that you'll get to explore by reading the novellas, you'll also get to take a look at the "full-color insert of notes, fliers, newspaper clippings, book excerpts, letters, and more of the in-universe artifacts and text in which the story's investigator finds his or her clues." Personally, I can't wait to dig into these "world building" notes.
Also included with the Novella is something for all you fans of Arkham Horror: Card the Game – some new alternate card art and replacement starting cards!
Subscribe to our newsletter!
Get Tabletop, RPG & Pop Culture news delivered directly to your inbox.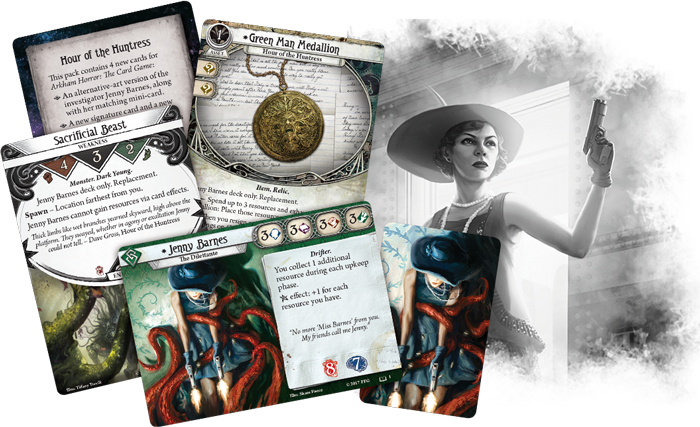 The cards include:
One rules card
One alternate art investigator
The investigator's alternate art mini-card
Two never-before-published signature cards for the investigator
The signatures cards have the Replacement keyword so you can use them instead of their standard starting cards. All of these are a nice touch and just one more incentive to pick this Novella up.
Jenny Barnes – the Dilettante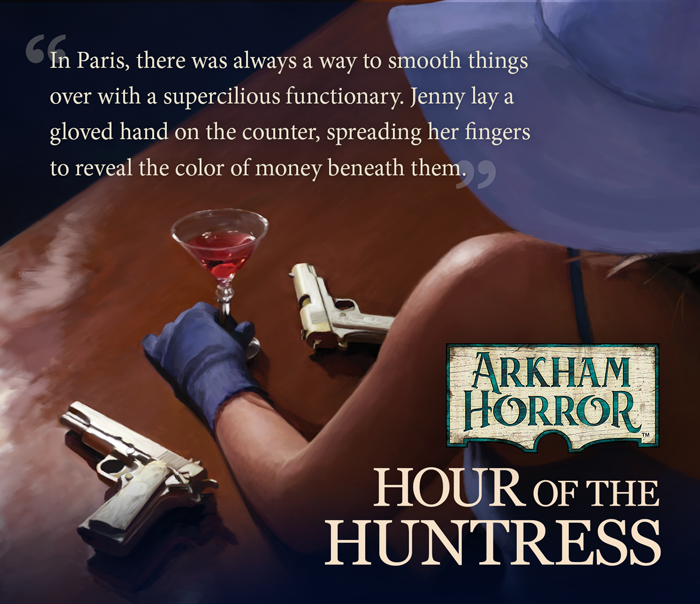 The story itself is focused on the .45 wielding Jenny Barnes. It focuses on her backstory and why she has returned to America from Paris, France. Her sister's letters became more and more troubling and eventually she went missing. Now on the case, she's not afraid to sling some lead to get the answers she seeks. Unfortunately, her missing sister Izzie isn't the only person missing and there is an arcane undercurrent to this entire plot.
Jenny will have to face down cultists, mobsters, and monsters from beyond – all of which you can read about in the Hour of the Huntress from FFG!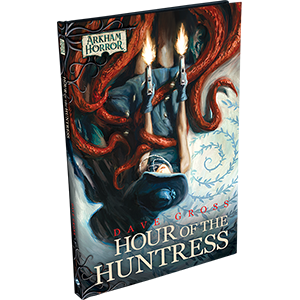 Over the course of 109 action-packed pages, Hour of the Huntress follows beloved investigator Jenny Barnes as she searches frantically for her missing sister—only to uncover some of the darkest secrets hidden in the shadows of Arkham, Massachusetts. Written by Dave Gross, this Arkham Horror novella offers new insight into one of the best loved characters from the Arkham Horror Files universe. You'll first meet Jenny on the train as she returns from Paris to learn why her sister stopped writing, but it won't be long before you'll see her delving ever deeper into layers upon layers of mystery, arming herself with her signature pistols, and disarming others with her incisive wit and charm.

Additionally, the hardbound version of Hour of the Huntress features a full-color insert of sixteen-pages that draw you deeper into Jenny's investigations with—excerpts from old letters, journals, and forbidden tomes. And it comes with five new cards for Arkham Horror: The Card Game—alternate art versions of the Jenny Barnes investigator and mini cards, a rules card, and two optional signature cards that provide you new ways to incorporate Jenny into your Arkham LCG® adventures.
There is a reason we nick-named her Jenny "Double-tap" Barnes. *BANG BANG*