Rail Raiders Infinite: Is Great Chibi Heist Fun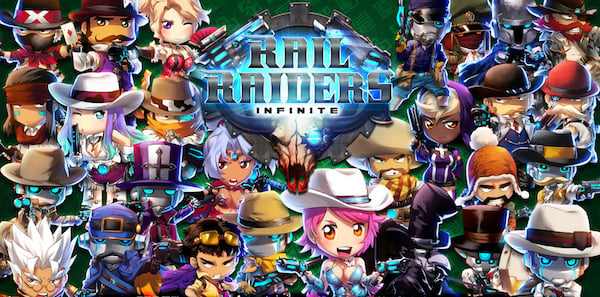 It's a sci-fi train heist on the chibi express. ALL ABOARD!
Ninja Division has a new game coming after a successful Kickstarter –  Rail Raiders Infinite. The Old West meets the Far Future in this Sci-fi Western mash-up!
Rail Raiders Infinite is a dice rolling, point to point movement game set in a sci-fi western theme with a chibi style. Players each take control of a single Raider with a unique power, intent on looting the Interstellar Express. Players move from train car to train car, flipping over Train Car cards to reveal how much loot is ripe for the taking, but also how many Lawbots are protecting the car. When a Raider finds a Lawbot, they must Showdown before they can pilfer any valuable goods.

The Long Arm of the Law cards tell the players what type and how many Lawbots are in each car. Players roll custom poker dice to get a "hand" of cards to determine the winner of each Showdown. Raiders can team up for an uneasy truce, until one inevitably double-crosses the other. Each round, a High Noon card is drawn which may affect that turn's game play. Once the High Noon deck is empty, the train has reached the station. Then the Raiders jump off the train to find out who got the biggest haul of double dollars and wins the game!
via Ninja Division Publishing

Rail Raiders Infinite is a chibi sci-fi western board game for 2 to 4 players engaged in a shakedown of the Interstellar Express space-rail. Featuring beautifully illustrated, double-sided traincar tiles and stunningly whimsical chibi Soda Pop Miniatures, Rail Raiders Infinite draws the eyes as players draw their guns in this space-age western stick up. Mixing quick card mechanics and dueling dice battles, players bum-rush the rail to take away the biggest haul of double-dollars in the wildest heist this side of the galaxy!
2 – 4 Players
60 – 90 Minutes
Ages 14+
It's a rootin', tootin', beep boopin' good time!
Subscribe to our newsletter!
Get Tabletop, RPG & Pop Culture news delivered directly to your inbox.