Tabletop Spotlight: Rhino Hero Super Battle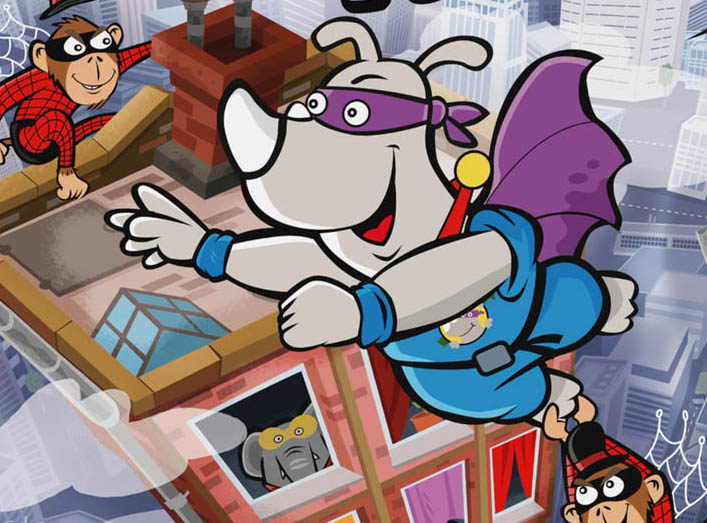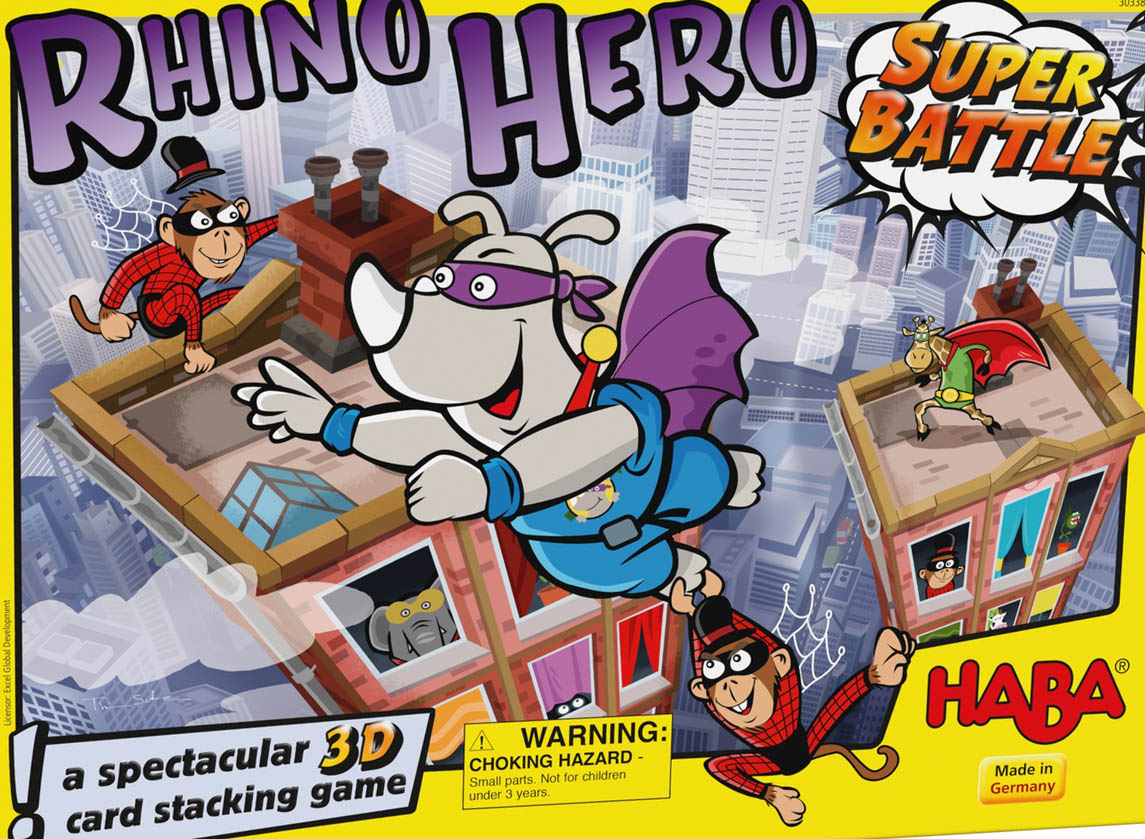 Buckle-up for greatness! It's Rhino Hero Super Battle!
Our buddies at Dragon's Lair Comics & Fantasy have a new one from HABA that is great for kids of all ages – Rhino Hero Super Battle is a fun test of your Dexterity and engineering. Can you capture the criminals without toppling all the buildings?
In Rhino Hero Super Battle players take turns adding tiles to a skyscraper. They also have to move their hero up the different levels without knocking things over. Anytime a hero lands on the same level as someone else they have a battle to see who's going to get to stay and who's going to get the boot. Along the way you've got to strike a balance between climbing, building, and fighting if you want to stop the criminal monkeys along the way.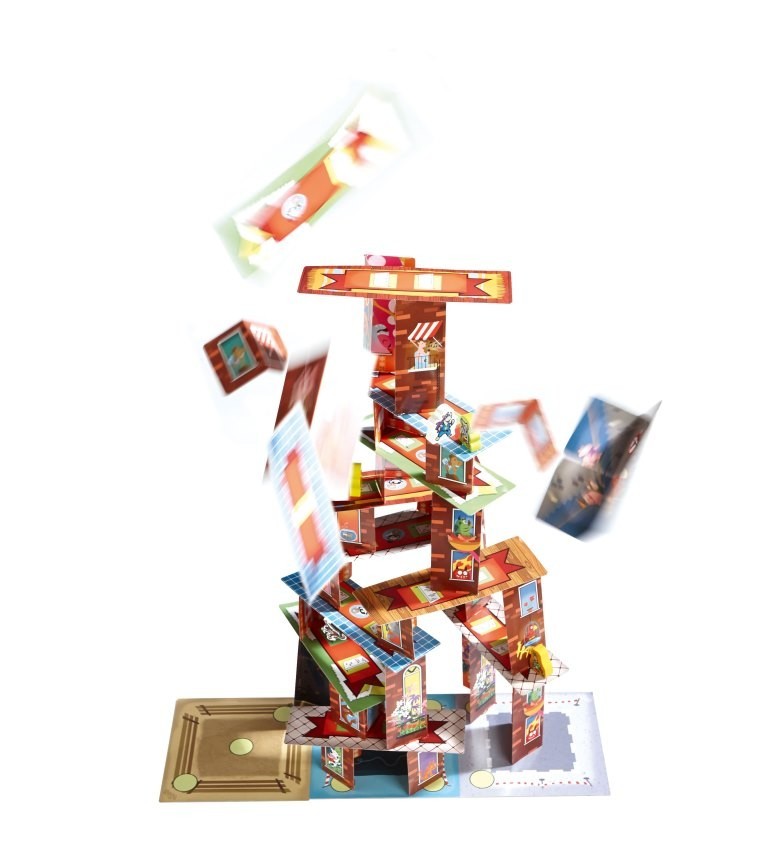 Now, this is designed as a game for smaller children so the rules aren't really complex. However, that also means adults are going to find the rules easy to grasp after having a few adult beverages. I think you know what we're getting at… Also, the components are designed for lots of use which is perfect for a game where you're constructing a building only to have to fall down spectacularly later on. Balancing the figures starts off pretty easy but as more and more floors and layers are added, things get trickier too. Plus you've also got some pesky spider-monkey to deal with – so watch out for those before they get on your back!
I've got to say that Rhino Hero Super Battle is a surprisingly entertaining game. It's combines elements of Janga with a kid-friendly theme that adults can also enjoy. So if you're looking for a game ti help keep the little ones entertained and won't break the bank check out Rhino Hero Super Battle!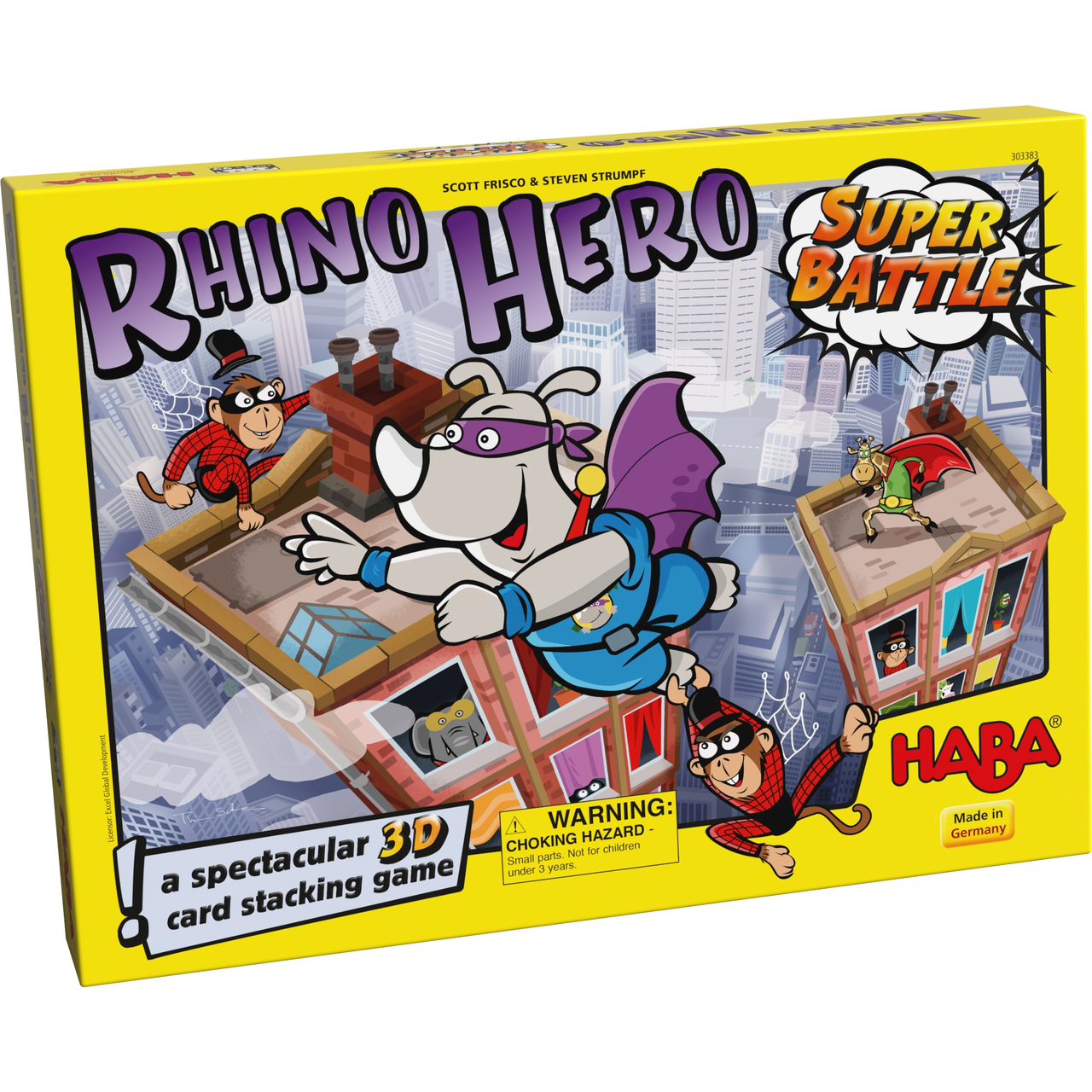 Rhino Hero is back on the job! And this time, not only does the wobbly skyscraper need to be climbed, but there will be fierce battles between four superheroes: Rhino Hero himself and three new additions: Giraffe Boy, Big E. and Batguin. Who will win the battles and successfully fend off the mean spider monkeys? A turbulent 3D stacking game for 2-4 players ages 5+.
Stop those Spider Monkeys!
Subscribe to our newsletter!
Get Tabletop, RPG & Pop Culture news delivered directly to your inbox.