40K RPG: Wrath and Glory Core Rules Spotted



Seen in a designer diary released from Ulisses, check out the Core Mechanics from the 40K RPG.
Wrath and Glory is the upcoming 40K RPG from Ulisses, poised to send players across the Dark Imperium. Developer Ross Watson has been working closely with the 40K lore team to really flesh out the galaxy as they develop this "Broad and Inclusive(tm)" system that should allow for a range of characters from Rogue Traders to an Inquisitor's retinue and even Orks and Eldar.
That's the preamble to today's Designer Diary, as seen on DakkaDakka, which gives us a look at the core mechanics for the upcoming games. Find out about why Wrath and Glory are poignant to the dice.
via Ulisses
Designer Diary

Greetings, Wrath & Glory fans! I'm very pleased to talk about one of the main features of our game: the dice system. When I first began work on the design for Wrath & Glory, I knew that I wanted something that would work well for an Imperial Guardsman facing down a Genstealer Cultist, and at the same time provide a framework for the Rogue Trader performing a delicate negotiation with an Eldar Farseer. I wanted a system that would be easy to learn and provide a good amount of depth without plunging into a well of complexity.

You may have seen some of the videos or heard some of the interviews where I've spoken about Wrath & Glory as a "d6 dice pool system." And that is exactly what it is, inspired by some great examples of other systems from the past that I've enjoyed, by other elements of modern game design, and by my own tweaks and innovations.

The basics: to accomplish most tasks in Wrath & Glory, you assemble a dice pool of d6s (commonly adding an attribute and the appropriate skill) and make a roll. Any dice with a result of 1-3 are considered "failures," any dice with a result of 4-5 count as one success (an "icon") and dice with a result of 6 count as two successes (an "exalted icon"). You count up the icons you achieved on the roll and compare it to the test's DN, or Difficulty Number, to determine if you passed or failed the test.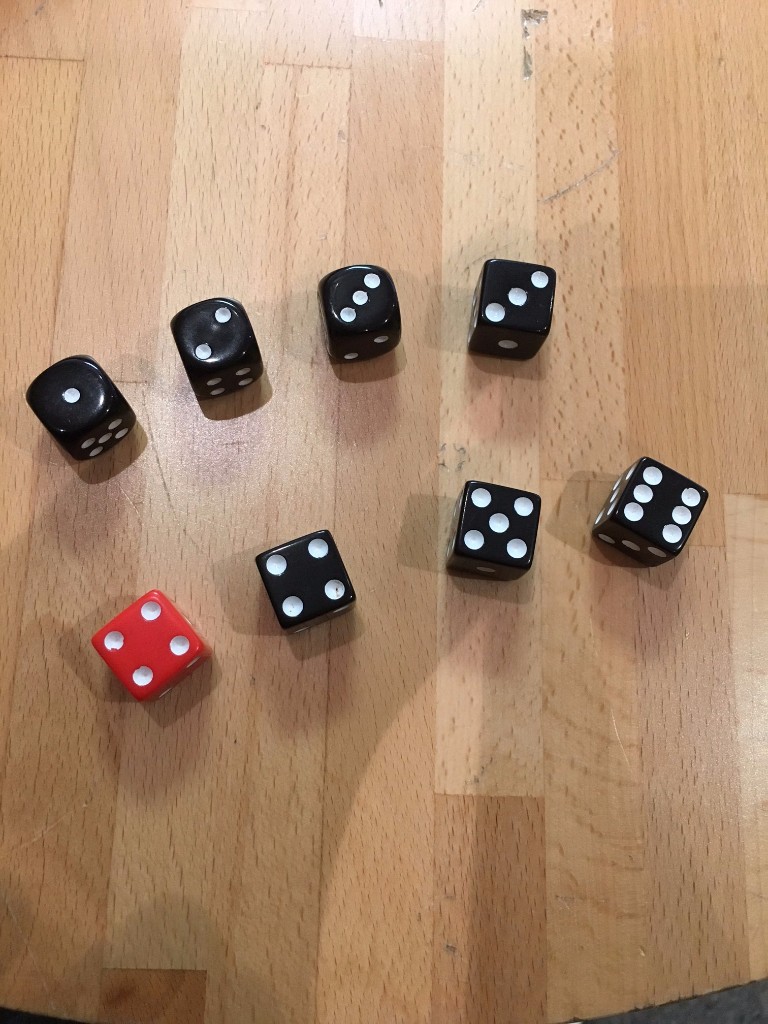 In this image, you can see that I rolled four failures, three icons, and one exalted icon. That's a total of 5 icons (2 for the exalted icon from the dice result of 6, plus one each for the dice that made a result of 4 or 5). A standard test in Wrath & Glory has a DN of 3, so this roll would be a success for most rolls.

Remember that a result of a 6 is special – this is called an exalted icon, and counts for two regular icons. In Wrath & Glory, you can also "shift" your exalted icons (the dice that roll a 6) from the initial test to enhance the effect. You can gain more information, improve the quality of your success, or even speed up the time required to achieve the goal for which you rolled the test in the first place. Shifting dice from an attack roll grants you more dice for damage.

Subscribe to our newsletter!

Get Tabletop, RPG & Pop Culture news delivered directly to your inbox.

The Wrath Dice

For all of these images, you'll note that one of the dice is a different colour. In Wrath & Glory, all tests include one dice that is somewhat special: this is called the Wrath dice. The Wrath dice is rolled just like a regular d6 in your dice pool, but the Wrath dice has special effects that occur if it rolls a result of a 1 or a 6. For these rolls, I used a red-coloured d6 to represent the Wrath Dice.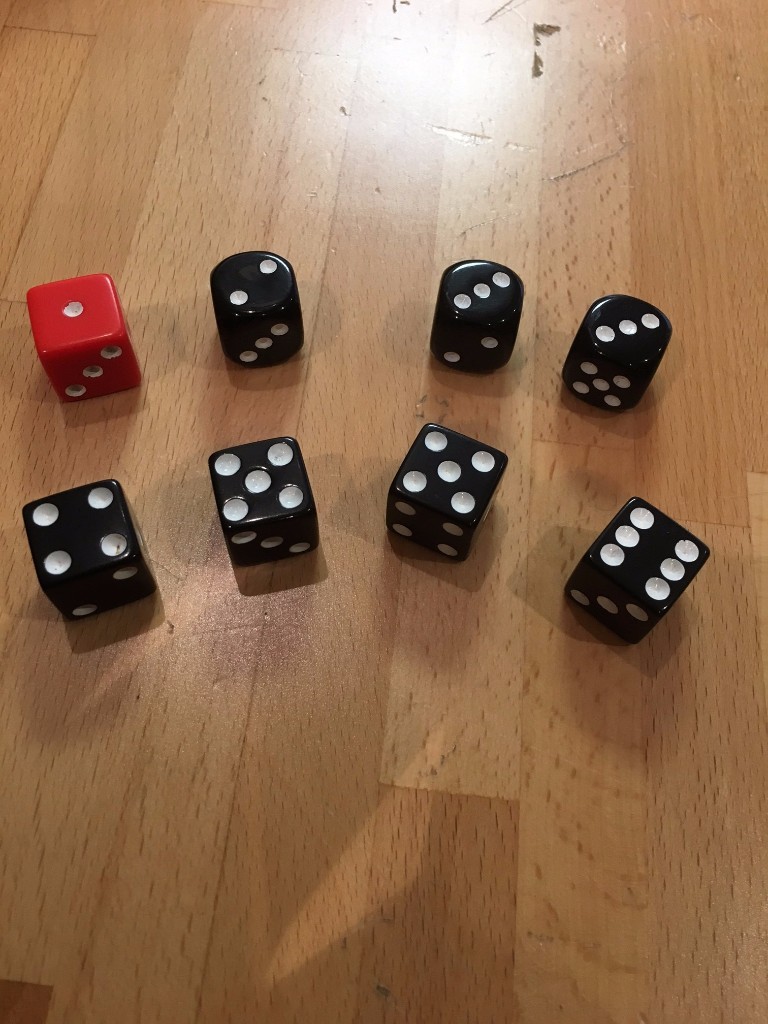 In this image, the Wrath dice has rolled a 1. This is known as a "complication," and it means that something has happened during the test (regardless of whether the test succeeds or fails!) that creates a negative situation in the player character's current scene. If this was a Persuasion test to impress an Imperial Governor, for example, the complication might mean that while your character made a good impression overall, the Governor's most trusted aide harbours a grudge against outsiders. Complications are not meant to be punitive, but rather to create an interesting plot point.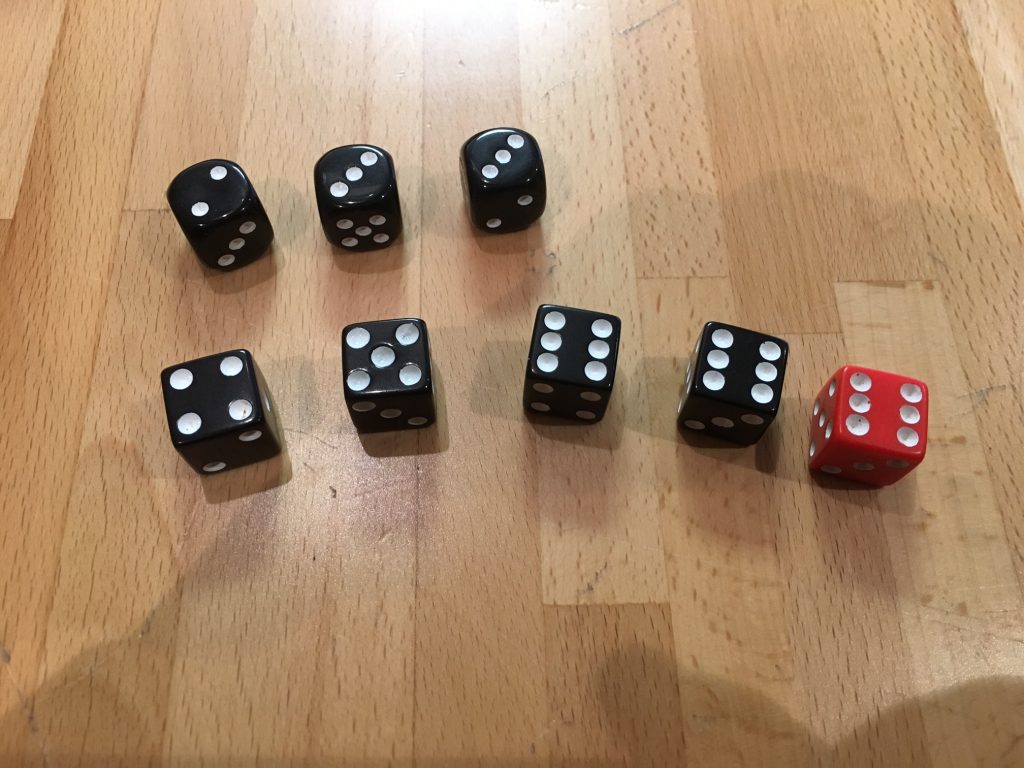 In this next image, the Wrath dice has rolled a 6. Like other results of 6, this counts as an exalted icon and provides two icons towards the success of the test. Also like other results of 6, this exalted icon may be shifted to enhance the effects of the test. However, a Wrath dice result of 6 (again, independent of the test's success or failure) is also a moment where the player characters shine, either in victory or defeat, and the group gains a point of a resource called Glory – which is something we will discuss at another time.
We'll keep you informed with more wrath and glory news as it comes.  For now, what do you think?