Tabletop Spotlight: Geek Battle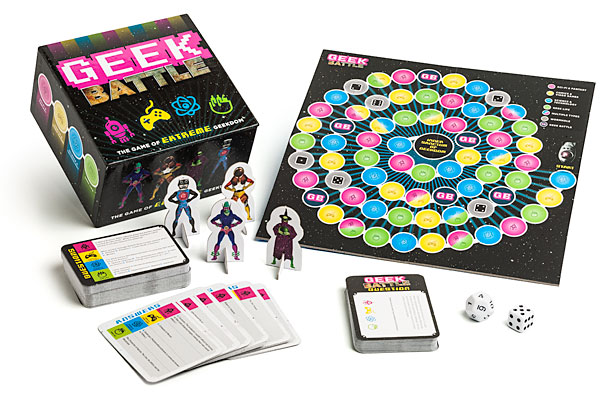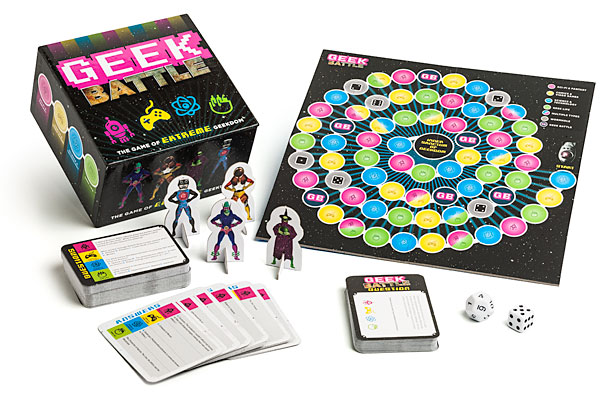 Think you're good at Trivia for Geeks? Challenge your friends to the ultimate Geek Battle!
Our friends at Dragon's Lair Comics & Fantasy know a think or two about Geekdom. So when they brought over Geek Battle I knew this was going to be good…
Geek Battle is basically Trivia Pursuit with slightly different mechanics and focused on all things nerdy. Players form up to 4 teams and are attempting to get to the center of the board first. To advance, players have to answer questions correctly based on the 4 different categories. However, there are challenge spots where multiple teams can compete to see who can answer with the most number of correct answers. It's perfect as a party game or if you just need to flex your geek cred. Check out the Rules HERE.
Geek Battle has been out for a while but it's back in stores and it's perfect for the upcoming holiday season. If you're going to be spending time with your family what better way to pass the time then to crush them at a geeky trivia game?! It's super-easy to learn the rules to (they are about a page long) and the game plays long enough to be interesting, but not too long as to get boring. The components are cool and each of the 125 geek cards has 4 questions. That combined with the 50 geek battle cards leads to a LOT of replay value. So what are you waiting for? Get out there and challenge your friends and family to a GEEK BATTLE!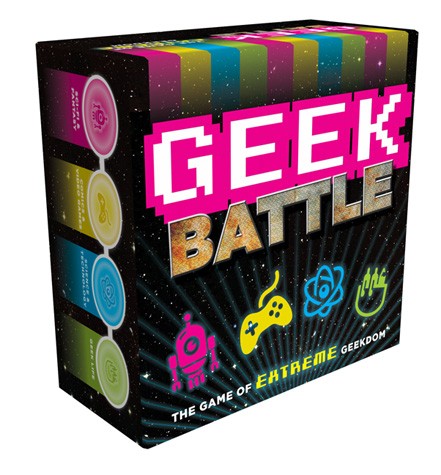 This game presents the ultimate challenge for all nerds, from D&Ders to techies. Players divide into teams to battle their way through rigorous trivia categories, including sci-fi, fantasy, comics, video games, science, and technology.
The goal is to reach the Inner Sanctum of Geekdom, the crowning glory for every geek!
Challenge your friends to a Geek Battle and be crowned Geek Champ (until the next game at least…)