Tabletop Spotlight: Nomads


Gather 'round the fire and listen to the tale of the Nomads – the next game in the Legends of Luma series!
Dragon's Lair Comics & Fantasy just got in the next leg of the trip for the Legends of Luma franchise. Nomads is a game all about collecting stories:
In Nomads players are attempting to collect stories to chronicle the Legends of the Nomads. Your goal is to collect different story fragments from the different stacks on the board. The player with the most complete collection wins – however, isolated story fragments are worthless…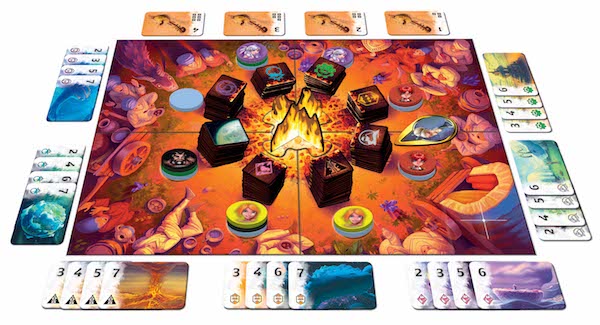 Mechanically, this game is a really neat mix of "moving" around the table like a mancala board with the different stacks. You're also trying to gather the corresponding tiles which you can trade in for cards. The more tiles you have that match the higher-rated card you can exchange it for. You can also exchange a tile of each color to get a song which is worth points as well – but you can only do that once per game. At the end of the game, the player who has the highest score wins!
The artwork really blew us away – it's the same style as their previous game Oh Captain! which is to say it's colorful, fun and cartoony. This game makes for a great addition to any gaming collection and we're excited to see what the next leg of the adventure will be with the Legends of Luma. Nomads is out now so get out there and collect those stories!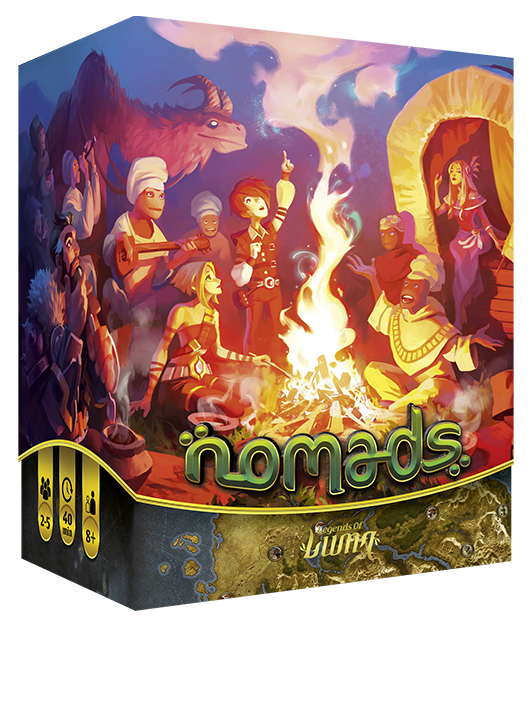 By collecting story fragments, you try to chronicle the Legends of the Nomads. The adventurer with the most complete legends is the winner.

But be careful: isolated fragments are worthless. They can even cause some confusion and make you lose points.

After rummaging through the Nukha's den and meeting the Nomads, the six adventurers have explored the city of Kokota. Now the Nomads are guiding you on this journey through the mountains of Luma.

Subscribe to our newsletter!

Get Tabletop, RPG & Pop Culture news delivered directly to your inbox.

At night fall, the Nomads set up camp and gather around the campfire for storytelling. The great shaman invited our heroes to taste a strange potion that makes you feel like you are in two distinct places at the same time.

Listening to captivating songs, they will be involved body and mind in the inconsistent stories that are told around the camp fire…
A long, long time ago…