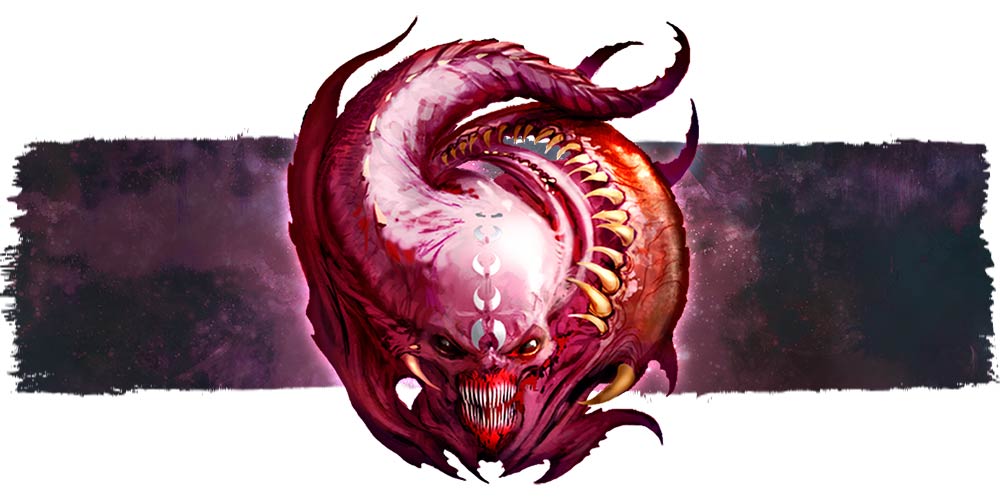 Goatboy here, and today I want to talk Chaos Daemons, some army list nonsense & upcoming GW releases.
First of all the biggest thing to come out is the initial Daemon discussion and how Keywords and Stratagems interact with each other.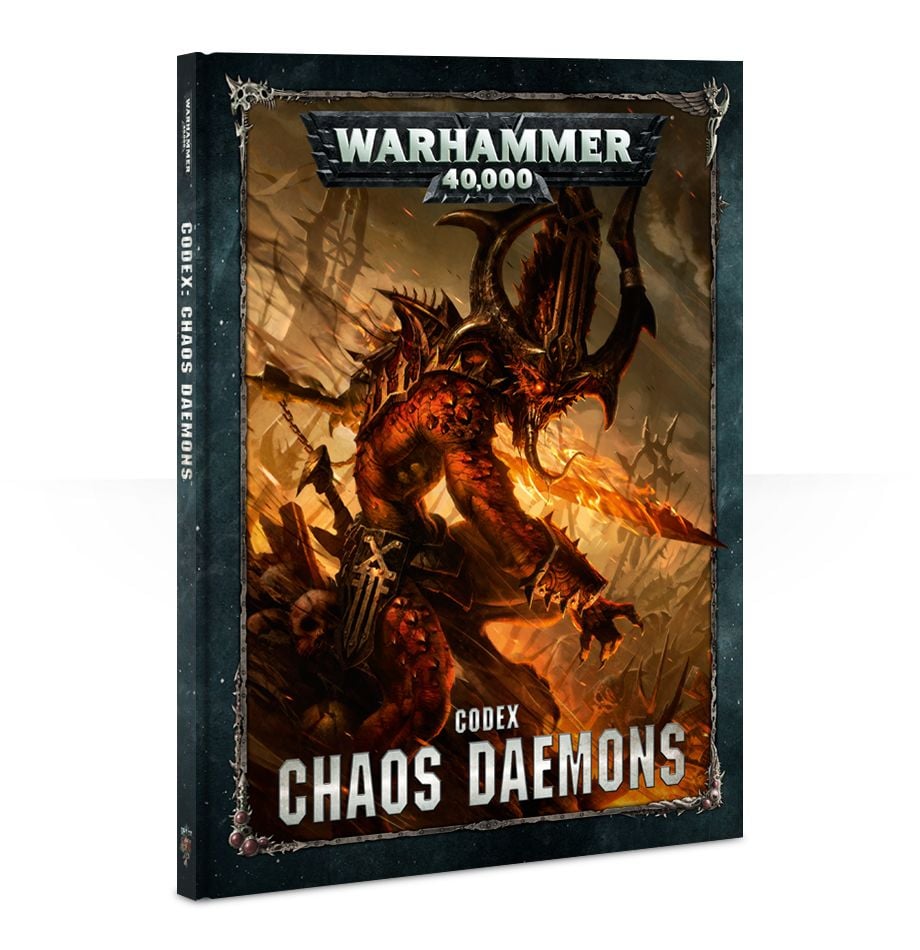 Chaos Daemons Caution
If you are living under a rock – this leaked bit of Daemon information seemed to indicate that you could deep strike some of the greatest Heroes of Chaos onto the battlefield.  Every big Smash Bros player let out a cheer as dreams of giant jerk faces falling from the sky, getting close, and never fearing the alpha strike.  I even wrote up some things about it last week with my terrible list of 3 Lord of War hitting the table top, causing issues, and just being a pain the arse.  Of course I didn't feel it was very fair as it was probably too good.  Yes a few armies had answers to it – but a lot of players would be left out in the wind as these guys came down, activate their wonder twin powers, and crushed your opponent.  After that initial batch of discussion some more information popped up with a feeling that this will most likely get FAQ'd a few days after release.  I am pretty confident this will be happening as you know anything you feel is a bit too strong for 40k – most likely will get a tweak/change/nerf at some point.
Of course this leads me to think we might see the other "strong" stratagem get turned off for non Chaos Daemon armies as well – Warp Surge for 2CP seems pretty powerful in keeping your Morty alive.  As it sits at 2CP and Daemons/Chaos without ways to regain CP it might be ok to leave as is.  It has a built in limiter with not being able to reroll the save so it could be ok.  Of course we could see this all get taken away and as my buddy Nick says – they get the Genestealer Cult treatment.  I think the +1 to the Invulnerable save is ok to leave in while the Deep Strike needs to go.  I wish we had a few more strong Stratagems – but being able to deep strike something big, beefy and mean from the Chaos Daemon book is still pretty dang good.  I expect a ton of 30 man Bloodletter squads to be the norm when needing a bit of Murder for the god of Skulls.  I also expect a lot more players to look at some Warp Talons to help complement any deep striking nonsense you need to do.

A Goaty List for You
But enough about that – lets look at a list idea I had.  I showed a Khorne army last week and this time I want to look at the Slaanesh side of things.  That god still has gotten the shaft from GW – but I think their rules are actually pretty powerful.  They have some decent spells, a very fast approach, and with some CSM options they even have some powerful abilities.  I like that their Locus is extremely powerful and synergistic with this wave of Creepy jerks waiting to pink your bottom with one of their sharp claws.  Of course this army also mixes in my favorite unit from CSM – the Maulerfiend.  Every Chaotic release always has me looking at the 3 I have painted up and wondering when these jerks can hit the table top.
Whips, Tendrils, and Walks of Shame
Chaos Space Marine Spearhead Detachment – Iron Warriors
HQ: Daemon Prince, Mark of Slaanesh, Wings, Malefic Talon X 2, Warp Bolter, Flesh Metal Exoskeleton – Warlord Cold and Bitter – 183
Troops: Cultists X 40, Autoguns X 40 – Mark of Slaanesh – 160
Heavy: Maulerfiend, Lasher Tendrils – 152
Heavy: Maulerfiend, Lasher Tendrils – 152
Heavy: Maulerfiend, Lasher Tendrils – 152
Chaos Daemons Slaanesh Battalion
HQ: Daemon Prince, Mark of Slaanesh, Wings, Malefic Talon X 2 – 180
HQ: Herald of Slaanesh – 66
Troops: Daemonettes X 30, Instrument, Icon – 235
Troops: Daemonettes X 30, Instrument, Icon – 235
Troops: Daemonettes X 10 – 70
FA: Seekers of Slaanesh X 20, Instrument, Icon – 405
1990 pts
The list has a decent amount of bodies and some tricks.  The Maulerfiends run around the middle and just help Bully your opponent.  They usually have friends that can give them reroll 1's to hit and +1 strength if the Herald is nearby.  The 60 Daemonettes can hit hard and the Seekers can be used to hit like a break if needed.  The Instrument seems pretty strong to use with them and it just feels like a big army full of bodies etc.  I went with Iron Warriors as I really like the 2+ save Daemon Prince to come and help things out as needed.  Plus being able to keep the Cultists around as needed is a pretty good thing especially with Tide of Traitors used as way to clear out some bubble wrap.  I do wonder if it would just be better to run some noise marines in here and forget the Maulerfiends but they look so said on the shelf right now.
Next week will look at a Nurgle Army that I am slowly breaking down in my head.  That tree has some definite uses with the ability to deep strike its stinky feet into someone's business as needed.  But will save that one for later on next week or in the week – depending on the mood I am in.  Oh and if you are playing Chaos

Hello Thousand Sons!
Finally let's look at the new Thousand Sons release.  That will finish off the current Group of Chaos books and will finish out all the rules for the Primarchs.  I expect Magnus to lose Warp Time, ignore Perils (won't go into how many games where I either had 6 wounds done to mine or an opponent had 6 done to his), and probably get some kind of sweep attack.  I have no clue what kind of Spells beyond just looking at the current Tzeentch book and some of the old spells from the last Codex for them. I am so stoke to see the Tzaangors finally showing up as I have a ton of the disks guys for a current on hold AOS army.  It is looking like a really fleshed out army and matching to the way the Death Guard feel like a true army.  The Custodes looks good too – but I think the upcoming client army has me not wanting to think about painting any gold for myself currently.
Alright that is it for now – I got some more planning to do for my LVO army.  I had a good round of testing with a bad version of it at a local event.  It feels like it will work out well and be a good showcase for an underused model for the true Heroes of Chaos.  Hopefully you read this and I survived my 40th Birthday weekend with my crazy kid, lovingly patient wife, and a 3 day weekend away from work.
~When do you think the Slaanesh big wave will arrive?