IDW: Masque of the Red Death KS – Final Hours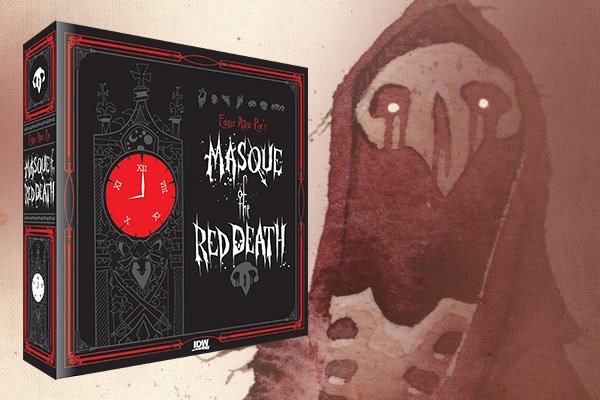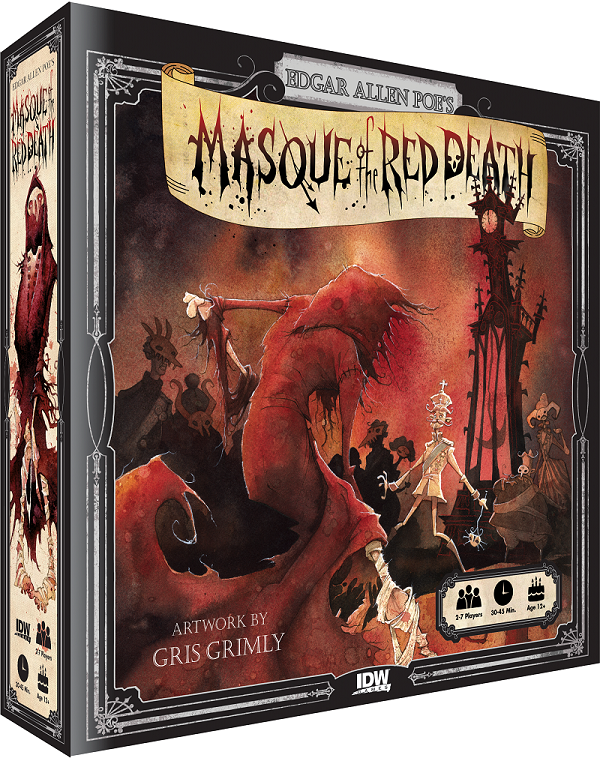 Less than 24 hours to go – make sure you get a copy of this fantastic Edgar Allen Poe inspired board game from IDW!
Masque of the Red Death is a fun game that's easy to pick up, and has just the right amount of strategy. Its components are high-quality and will definitely hold up to hours of play, which you'll want to do. The play time makes it ideal for game nights and parties – you'll be able to get several games in during an evening. It's overall a great choice for folks that enjoy games that require a good memory, planning, and some backstabbing.
The Board Game Bonanza crew partied like it was 1842 last week and had a ball, take a look…
This game is a Kickstarter exclusive –  if you want one, you need to act now because the campaign ends at 7:00 pm CT today!

Masque of the Red Death is a deduction and movement programming game set in the grim world of the short story by the Edgar Allan Poe. Players are nobles attending an extravagant masked ball while a plague ravages the country. Players are trying to do what nobles do – feast, dance, celebrate –become as popular as they can. But rumors swirl as the night goes on, and everyone feels oddly nervous each time the clock chimes. The nobles might be wise to spend some time listening to these rumors. It is becoming increasingly clear as midnight approaches that something sinister awaits.

At midnight, a horrible figure in the guise of the Red Death appears at the masquerade! It stalks amongst the rooms of the abbey, killing the nobles it comes across. The most popular noble wins… but that only matters if you survive the night.
The game is easy to pick up, but still has a lot of strategy involved. Here's a quick run through the rules…
Subscribe to our newsletter!
Get Tabletop, RPG & Pop Culture news delivered directly to your inbox.
In addition to the standees with art by Gris Grimly, Masque of the Red Death comes with 10 plastic miniatures that are ready to paint and customize. It even includes a special Edgar Allen Poe miniature.
Players: 4-7
Play time: 30-90 minutes
Includes:
Masque of the Red Death with limited edition packaging
Abbey board
1 Prince board
7 Player boards
7 Popularity trackers
14 Prince tiles
42 Movement tiles
63 Action cards
10 Personality cards
54 Rumor cards
7 Noble standees
1 Prince standee
1 Red Death standee
1 Clock standee
1 Rulebook
1 Gris Grimly art print
10 Miniatures
7 Popularity Meeples
 7 Guest Invitations (featuring Gris Grimly art)