Survive Waves Of The Brood in 'XenoShyft: Dreadmire'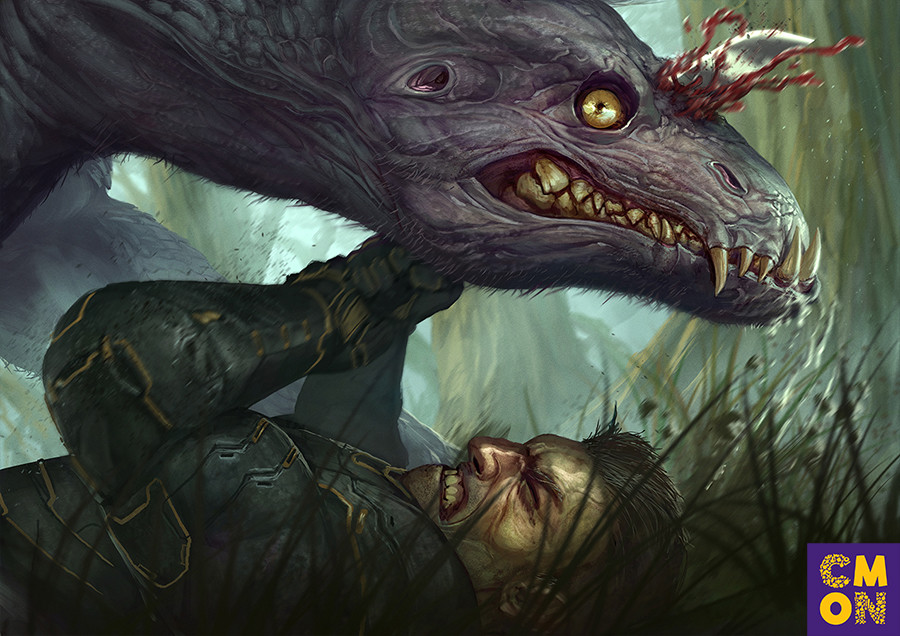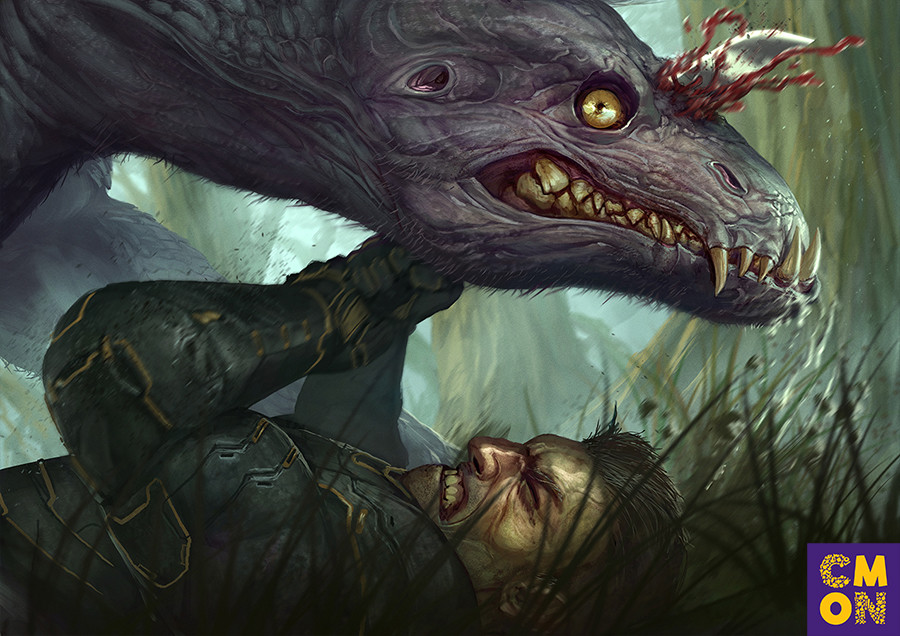 Survive waves of horrific aliens in a deck-building, base defense game!
XenoShyft: Dreadmire is a cooperative deck building game with tower defense mechanics set in a sci-fi alien survival theme. Each player takes the role of a Commander of a division of a private military tasked with defending a mining outpost from horrific alien threats that seek to butcher its inhabitants. The players win the game by surviving 3 waves of enemies and lose if their base takes too much damage before Wave 3 is complete. XenoShyft: Dreadmire is a standalone expansion which can be played on its own or combined with XenoShyft: Onslaught.
At the start of the game, each players will be given a deck of 10 cards. It is from these cards that the players will purchase new cards to improve the quality of their deck.  On each turn, players will use their 'Xenosanthem' cards to purchase new troops and items.  After each players has completed their purchases, they will each choose where to position their troops and items around the base, in order to defend it from the oncoming attack. Once the team's defenses are ready, the combat begins. During this phase, each player is dealt a number of enemy cards based on the current Wave. Players go one at a time, revealing one of the enemies dealt to them then all fights begin. Troops and Enemies compare strength scores to determine who wins the fight. Strength can be modified by any items equipped to the troops and some Enemy reveal abilities.  If the Troops fall to the Enemies attacking them, any surviving enemies attack the base. If the base is destroyed before 3 Waves, the base of operations has been overrun and is destroyed and the players lose.  If the players can survive the 3 Waves of enemies, the mining operations has completed their work and the players win!
via CMON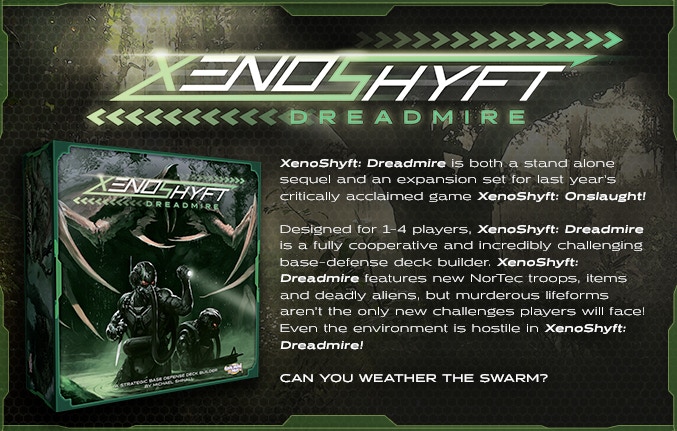 XenoShyft: Dreadmire brings players back into the NorTec Corporation as they strip mine another planet for the highly sought-after Xenosathem! Players will have to make strategic decisions and work together as they face off against The Brood, a monstrous horde of all new alien foes! But it isn't just The Brood that players will have to worry about this time. Weather effects will drastically change the game each round! You and your teammates must work together to survive the continuous onslaught of powerful alien threats and horrors. The goal of the mission is not to wipe out these threats, but merely to outlast them! Survive through nine rounds of combat with these horrors and the base will have succeeded in its mission, and you and your allies will have survived to fight another day!

Contains:

471 Cards
30 Damage Tokens
30 Ability Tokens
4 NorTec Boards
4 Dreadmire Boards
1 Item Dashboard
1 Base HP Dashboard
1 Wave Dashboard
1 Rulebook
1 – 4 Players
30 – 60 Minutes
Ages 14+
Have we tried reasoning with the monstrous aliens?