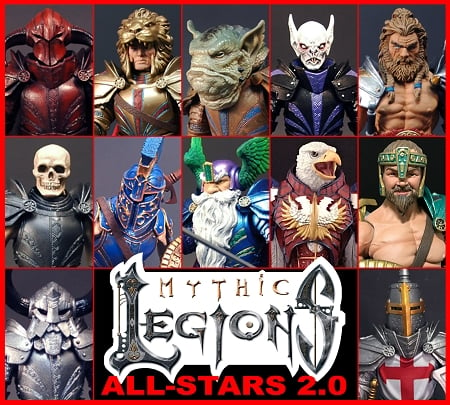 Four Horsemen Studios have made another great collection of 6″ fantasy action figs – act fast, pre-order ends Friday.
Four Horsemen was started in the late 1990s – they designed DC, Masters of the Universe, and Thundercats toys for Mattel; and have done work with NECA and Toy Biz. When they're not working on other company's IP they produce their own lines of action figures. Mythic Legions, a line of fantasy heroes and villains, was Kickstarted in 2015 and is going strong.
All of the figs are 6″ scale and comes with character specific accessories in a collector friendly blister card. You can buy them individually, or you can pick all 12 up in on bundle for $350. Either way, hurry pre-orders end this Friday, February 9th. 
A few of the characters in the set…