Mantic: Spring Open Day "Get Your 3-Ups"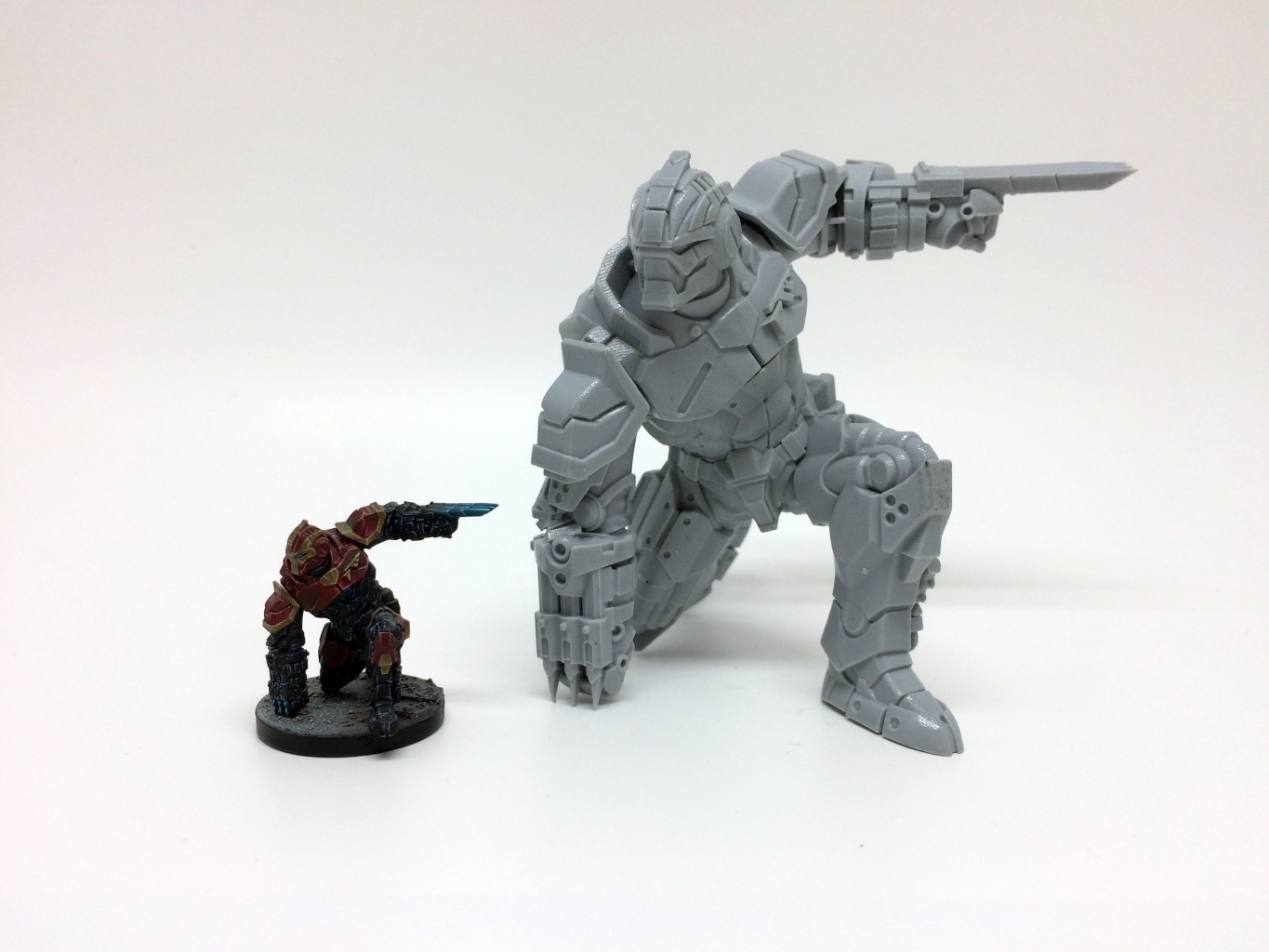 Mantic has some BIG news for their Spring Open Day – 3-Ups are making a comeback!
via Mantic Games
---
As with the Autumn Open Day in November 2017, we are continually evolving the format.
As part of Events Week we're having a preview of the Spring Open Day – single tickets and group-of-4 tickets are on sale now.
This is not a render – it's resin!
Spring Open Day
There were three drafts of this text. I was going to lead you into this gently, then it struck me: come out swinging!
After discussion here at the Mantic Bunker we unanimously decided that we want to lead with a big hitter for our Open Days. We would resurrect the 3-Ups which our long-term friends will remember fondly – and add some verve!
So we commissioned a 3-Up print of the rather epic Sgt. Howlett model from our Warpath Universe and, what they heck, we'll be placing this gently into your goodie bag for attending! Yes, that's right: your attendance secures you a 3-Up as a thank-you from us for joining us on the day. (Your ticket allows you entry – your presence grants you the model.)
But there's more…
If you prefer fantasy over hard sci-fi then truly we are resurrecting this second 3-Up from the grave for you! This is a full-size cast of the original 3-Up sculpts of one of our Undead Revenant models. Traditionally sculpted, this model had to be three times taller than 'actual size' so that the metal mould could be created for the plastic sprue.
So we did what any excitable fledgling company of creatives would do: created resin moulds of it!
Subscribe to our newsletter!
Get Tabletop, RPG & Pop Culture news delivered directly to your inbox.
3 times the height – 27 times the volume! (now that's loud)
On the day it's your choice as to which one you want to take away with you. Good luck deciding!
Tonnes of Activities and Content, Too
Phew! Now that's been said I'll quickly blast through the activities going on throughout the day:
Painting and terrain tutorials, and model production seminars – and more of them!
Special guest interviews, including James Hewitt (Hellboy) of Needy Cat Games
LOADS of games to play – and more volunteers to help you
Our focus will be on DreadBall and the GCPS, so expect DreadBall, DreadBall Ultimate, Warpath: Firefight, and the return of jetbike racing!
Previews, Studio Models, and another inspiring mega-display
Pre-releases, exclusives, and jaw-dropping deals at the Mantic Store
We'll be covering these in more detail as we draw closer to the day. In the meantime: secure your single ticket or group-of-4 ticket before they disappear.
Hang on, I can't make it – How Can I Get The 3-Up?
We'll be sad that you cannot join us on the day. Whether you were too slow getting your ticket, were unable to attend due to Real Life getting in the way, or if you simply live too far away.
The 3-Ups will be available to pre-order online on 5th May.
I'll say that again: you will have the chance to buy one of each on 5th May (time slot to be confirmed). These will also be made available at other Mantic Events during 2018 – at which time they will again be made available online.
Don't say we're not nice to you.
Will we be seeing you at the Spring Open Day? Let us know in the Comments.
The post Events Week: Spring Open Day appeared first on Mantic Blog.
---
 I hope other companies take note – there are more than a few hobbyists out there that would jump at the chance to get 3-ups!