Tabletop Podcast Review: April 15th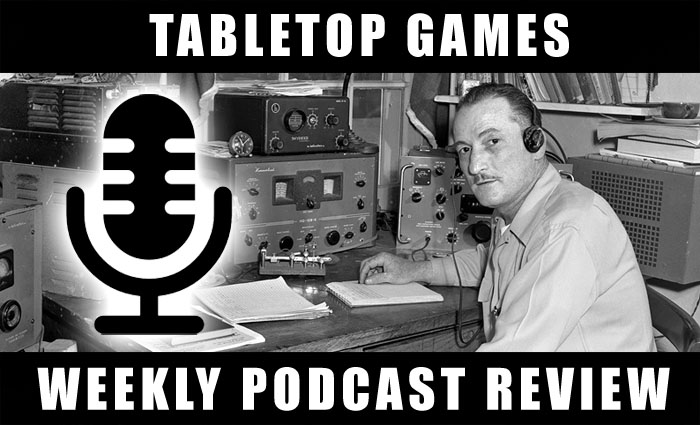 Adam here for another week of tabletop podcast reviews! More Adepticon recaps, codex reviews, game reviews & more!
Hey all, Adam here, from TFG Radio, for this week's reviews! This week there a lot of Adepticon discussion still going on, a state of the game address, a game review, and more! So, let's get on with the reviews!
Garagegamer Episode 2 – This episode focuses on the game Star Trek Ascendancy. They go over how the game mechanics work, the feel of each race, and how the game plays/feels. If you are a Star Trek fan, or just looking for a new game, give this episode a listen.
Muse in Minis 2018 State of the Game – This special episode focuses on the state of the game for Warmachine. Interesting listen as the game has changed a lot from the initial release of Mark 3. If you play the game, or just curious on how the game is doing, give this a listen.
Cubic Shenanigans Episode 10 – An interview with Graham McNeil
TFG Radio Twitch Stream Episode 17 – The main topic if this episode is about developing a set of guidelines for TO's/Judges to use for their events.
TFG Radio: This week in the ITC Episode 3 – This episode focuses on the top ten teams, at the time, in the ITC
Signals from the Frontline – Always a good listen for new and rumors on 40K. This week, especially, they discuss how Las Vegas Open went for them and talk about some of the issues that occurred.
Also Out This Week
Allies of Convenience Season 2 Episode 20 (40K)
Best General Episode 23 (40K)
Canhammer Episode 128 (Shadespire)
Canhammer Episode 129 (40K)
Subscribe to our newsletter!
Get Tabletop, RPG & Pop Culture news delivered directly to your inbox.
Chain Attack Season 2 Episode 95 (Warmachine)
Combat Phase Episode 239 (AoS/40K)
Crippled Systems Episode 233 (Warmachine)
Exterminatus Episode 33 (40K)
Fear the Swan Episode 3 (Warmachine)
Fully Boosted Episode 78 (Warmachine)
Heroic Intervention Episode 62 (40K)
Inches & Cubes Season 2 Episode 14 (40K)
Independent Characters Episode 170 (40K)
Long War Episode 144 (40K)
Mayacast Episode 176 (Infinity)
Meta Episode 5 (Warmachine)
MoM Podcast Episode 338 (Warmachine)
Mynock Squadron Episode 114 (X-Wing)
Ohiohammer Episode 247 (KoW)
Pro Painted Episode 10 (AoS Hobby)
Radio Free Istvaan Episode 98 (30K)
Signs & Portents Episode 8 (Warmachine)
Splintermind Episode 45 (40K/Dark Eldar)
Tactical Tips Episode 6 (Warmachine)
Veteran Gamers Reenlisted Episode 36  (40K)
Veterans of the Long War Episode 46 (40K)
As always, check out our blog, at TFG Radio, and give the podcast a listen. We talk 40K mainly but delve into other game systems.This week Adam and John talk about their recent tournament showings, the local league John is running, and first takes on the Dark Eldar and Necron books. They then go on to the main topic of developing a set of guidelines for TO's/Judges to use for their events.
Have a different opinion? Post in the comments below or email me at [email protected] and let me know!