Finally we get a look at the new Armiger and the now confirmed Terrain kit to repair Imperial Knights.
It looks like there is a leaker lurking on imgur:
New Armiger
Here's the first image of a new ranged weapon on an Armiger chassis.  That looks an awful lot like a jousting lance made out with an autocannon (eww)…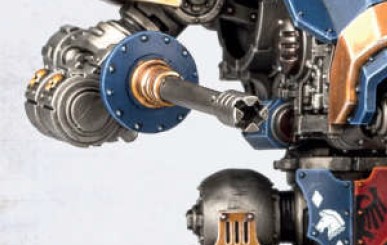 Repair Terrain Kit
Here's two shots of what looks like a repair facility for Imperial Knights. This looks like a combo kit made out of 2-3 previous terrain pieces from GW. Unknown if this is just a scenery picture, or if GW plans on bundling this into a specific release.
~ Looking good on the Armiger! What do you think folks?