Goatboy's 40k: Harlequins SAFETY DANCE!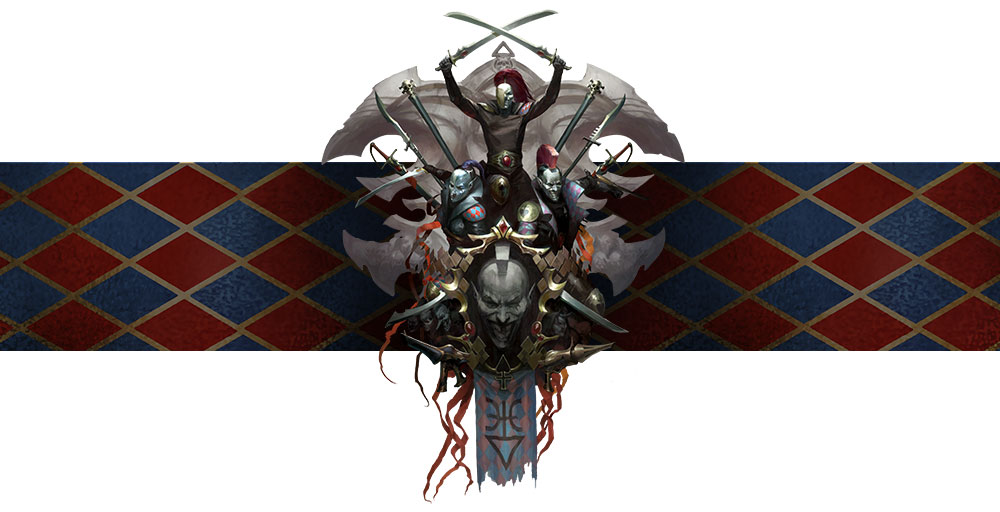 Goatboy here again and let's talk about how the Harlequin clowns of 40k might actually be a decent playing force.
Harlequins always fit a weird niche in 40k.  There were whispers & tales of superheroic characters chewing through multiple units.  They danced, whirled, and just became a total pain in the butt during those heydays of multiple dice, old skool artwork, and the fever dreams of some British blokes.  Of course, as the years went on they just sorta became a random unit in the Eldar race books.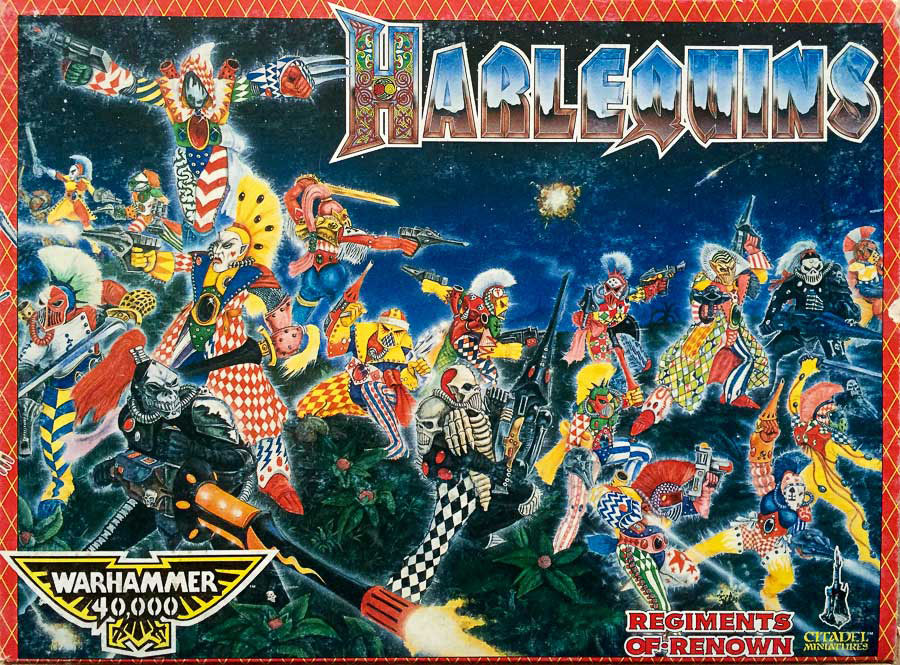 Sometimes they got good in the heyday of combining units into other units.  Other times they were just kinda meh as their toughness 3 and allergy versus bolters were a known thing.  I remember when the first "new" book for them came out and how everyone and their mom were confused on how you made the army work.  The release felt like an experiment and while interesting it never really caught fire beyond some painters creating some beautiful miniatures.
Now with the new edition and the new motto of making most armies work through "testing," the new Harlies are here.  You can play them as a stand alone army, but they feel like a nice combination to throw in.  They have some interesting rules, good units, great powers, but the overall lack of depth in their choices seems to throw them into the ally detachment slot.  This is fine as I think that is the purpose of their design.  They are meant to be a bit of glue for that Aeldari/Druhk… Dark Eldar army you have in mind.  Their fluff matches this as they dance through the Webway, dodging those pesky Thousand Sons, and bring some kind of "joy" to the Eldar races.

Good Stuff
Let's look at the good of this book.  The biggest (and most expected) thing from this book is that almost everything got cheaper.  The only things that stayed the same are the two vehicles, and somehow the Haywire Cannon got more expensive.  Lots of things had massive drops so overall we are going to see more dancing space Elves on the table.  This is a good thing as the army always felt a little light on the table top so adding a few more models here and there will be a big help.  I think that should be the motto for any new book right now – Hey Guys things got cheaper so buy more stuff!  Here is a coupon for a fancy new pin when you order online!
It is pretty exciting to see what was normally a side player army get a ton of faction rules.  I think as usual we have a real winner and then a bunch of other meh Masque forms.  I think the best one is the Midnight Sorrows for sure as being able to consolidate 6″ with a model that ignores units/terrain/etc. is pretty frigging amazing. That Masque form is going to be all over your business stabbing you in the eye/knee/no-no place.  The bonus of moving an addition d6″ on fallback moves is amazing too as we know Harlies have the true old-school hit and run and will come in, punch you a bunch, get stuck in combat, and then bounce out when the check comes.  The only thing that is meh from them is their Masque locked in Relic is just ok.  Lucky for us the Relic that is built for Solitaires doesn't care about the Masque Form at all.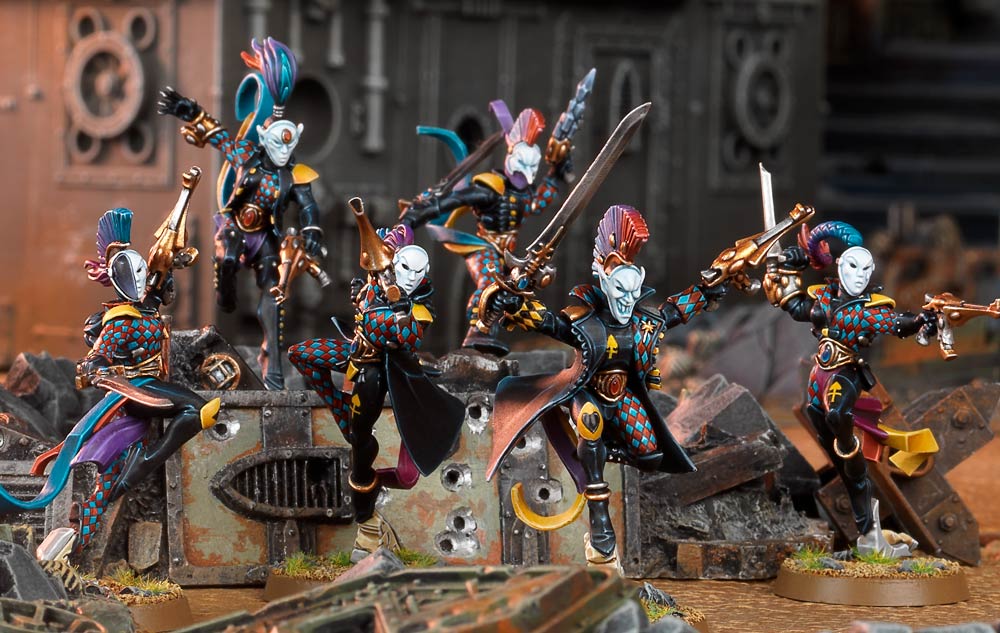 Speaking of Relics – they are kind of all over the place.  There is a must have one the Death Jesters that turns their Character targeting ability into overdrive.  It is a Dreaming Shadow only Masque form so if you got an extra Detachment option this might not be a bad thing if you plan on taking 3 of these guys and a Shadowseer.  The Weapon has a longer range and one additional point of strength plus if you mix it with a Stratagem they are suddenly throwing out a strength eight shot that does d3 wounds.  Could be very powerful in doing that last bit of damage to some utility character hanging out.  The Dreaming Shadows Masque form is ok as well.  Only losing 1 model to morale can be ok – but as this army doesn't have large units this power isn't nearly as impressive.  The ability though to shoot/attack on a 4+ if they die is something interesting to look at.  But again – I think this Masque Form only comes about if you heavily invest in a Death Jester Character killing force.
Their psychic powers are pretty neat as they get some utility in a "Warptime" power and two options to get either -1 to shoot at a unit or make a unit have -1 to shoot.  The Warptime power is pretty cheap at WC 6, and I see some dumb things where you can probably Twilight Pathways them and then maybe Ynarri Soul Burst them again?  They would lose their Masque form, but it feels like something Eldar players would love to do.  Get a bunch of dancing guys stuck into combat.  Especially since the new Ynarri HQ choices don't remove the whole "soup" issue, Eldar could have.  They also get access to another Targeted Mortal wound option at WC 7.  D3 mortal wounds at 18 inches are legit, and the bonus of -1 to Leadership could be interesting.  The final one that I think is pretty good is the Webway Dance that gives all friendly Harlie units near the caster a 6+ FNP.  It works on Vehicles too so any kind of bonus to stop a wound going through is pretty neat.
Stratagems are all pretty good.  Normal stuff like – +1 to inv saves, attack again, etc etc., etc.  I like the Death Jester murder bullets that do more damage.  Overall it is a nice set of stratagems that are reasonably useful on a small army.  But overall they are pretty good for sure.
Subscribe to our newsletter!
Get Tabletop, RPG & Pop Culture news delivered directly to your inbox.

Meh/Bad Stuff
The only new unit in the book is the Webway portal.  I was hoping to see some of the other Flyers added in as it could give the Harlies some depth.  While the codex isn't bad, it does feel like a quick rework to get them up to speed on some of the newer armies out there.  I do not like the Webway as pre-matched play updates it could be good – but as of right now it is hard to get use out of it until turn 2+.   This means an opponent can kill it and leave your guys stranded.  Yes, you can burn some Command Points to pop out – but I don't think it is worth killing one of your detachments to get a fancy portal to saunter out of.
I don't like this continued thing I have seen in books where we have one or two obvious factions to pick from than a bunch of meh stuff.  I would like to see more things that match some of the Chaos Space Marine stuff where you have a chance to use most factions if you wanted too.  The power in each is there and either utilize a great set of relics/warlord traits or is just powerful on their own.  I know it is hard to try and appease everyone, but we all know the game is played from a Matched play perspective so having "weaker" rules for different types of armies limits the amount of "interesting" things you get to see on the tabletop.
Overall I think the army isn't too bad.  It seems like both of these new releases have some interesting stuff in them – but don't feel like a full army you can take and do entirely well with.  They need their friends to help them out.  Of course, this is fine as I think that is their designed purpose.  A lot of the time these side armies are just meant to be diversions in your own main army.  Do you want to build an Aledari, Harlie, and Dark Eldar force?  The Harlies can be the glue between them as their create a model design unity between them.  Just like the Deathwatch can be used as a "helping" force for your Imperium buddies.

List Time!
Let's look at a list like that.  Just to see how many Dancers we can fit in.
Dark Eldar – Coven – Prophets of the Flesh – Battalion
HQ: Haemonculus – 75pts
HQ: Urien – 90pts
Troops: Wracks X 5 – 45pts
Troops: Wracks X 5 – 45pts
Troops: Wracks X 5 – 45pts
Elite: Grotesques X 10 – 350pts
Harlequin – Masque of Midnight Sorrows – Battalion
HQ: Shadowseer – 125pts
HQ: Troupe Master, Harlequins Caress – 76pts
Elite: Solitaire – 98pts
Troops: Harlequin Troop Squad X 5, Caress X 3 – 86pts
Troops: Harlequin Troop Squad X 5, Caress X 3 – 86pts
Troops: Harlequin Troop Squad X 5, Caress X 3 – 86pts
Dedicated Transport: Starweaver – 99pts
Dedicated Transport: Starweaver – 99pts
Dedicated Transport: Starweaver – 99pts
Alaitoc Flyer Wing
Crimson Hunter – 160pts
Crimson Hunter – 160pts
Crimson Hunter – 160pts
I think that works out points wise.  Hopefully haha.  I wanted to utilize the Harlies and then some hard-hitting Eldar Flyers.  The Grots are there as a bully unit and a mid-range threat to push up as the Harlies move around the side and get involved in punching/kissing/embracing things.  The list probably doesn't work but it at least looks weird on the table top.
~What do you think?
Also, you've earned this for reading the whole thing!
STAND UP AND DO  THE DANCE!