Pawns For A Pact World, Pawns For Your Doom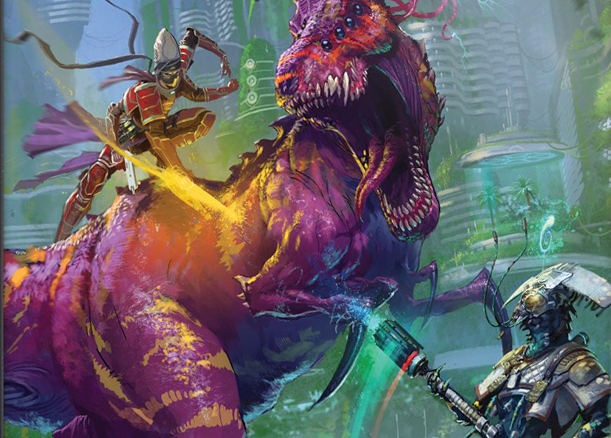 Fill out your fight with pawns for all creatures great and small in Starfinder. The Pact Worlds are full of perilous powers and dangerous denizens. Represent them on your tabletop easily with these new pawns from Paizo.
via Paizo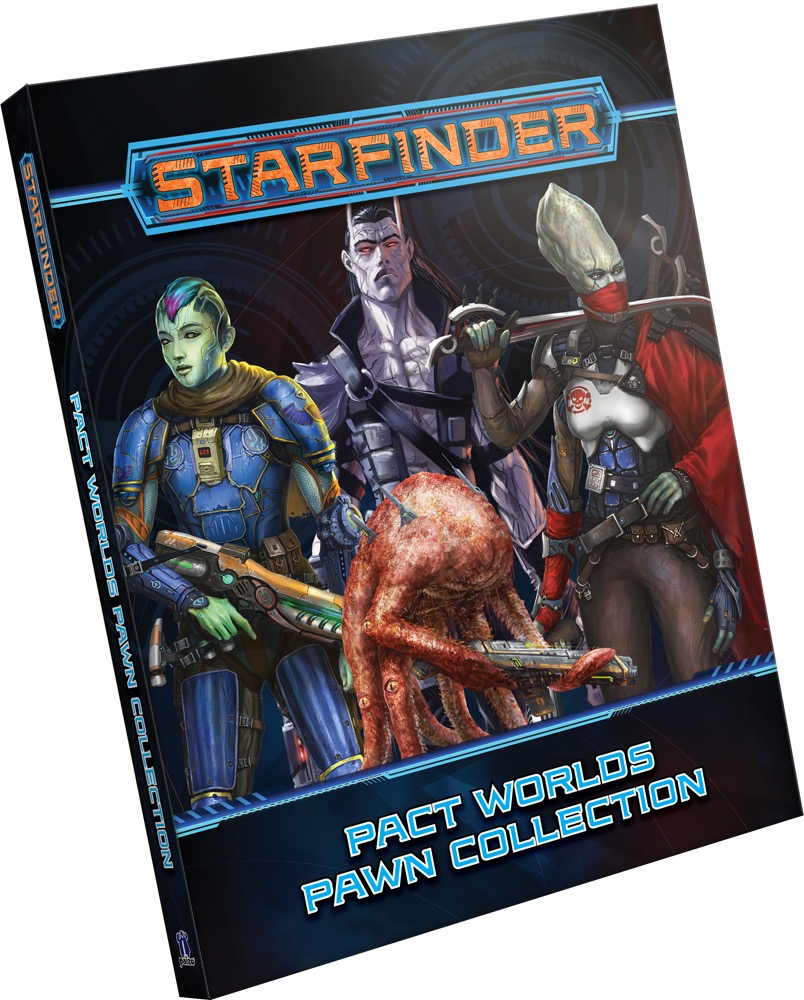 The characters, villains, and starships of the Pact Worlds come alive on your tabletop with this collection of more than 200 creature and starship pawns for use with the Starfinder Roleplaying Game or any tabletop science fantasy RPG! The Starfinder Pact Worlds Pawn Collection presents beautiful full-color images of characters, alien creatures, and starships, perfect for representing your next character or deadly extraterrestrial foes! Printed on sturdy cardstock, each double-sided pawn slots into a size-appropriate plastic base from the Starfinder Pawns Base Assortment, making them easy to mix with traditional metal or plastic miniatures. With multiple pawns for commonly encountered creatures, NPCs, and starships, the Starfinder Pact Worlds Pawn Collection is the best way to ensure you've got the perfect characters to bring your Starfinder campaign to life!
The Starfinder Pact Worlds Pawn Collection includes pawns suitable for representing player characters, allies and enemies, aliens, starships, and more! While creature pawns are broken out by base size, all starship pawns use medium bases, from the tiniest fighter to the largest warship. Inside this set, you'll find:
Small Creatures
Bantrid (2)
Gang Pusher
Gnome Dream Prophet
Mercenary Technomancer (2)
SRO (2)
Ysoki Arcanamirium Sage
Ysoki Gladiator
Medium Creatures
Android Roboticist (3)
Android Steward Officer (3)
Arkanen Technomancer (3)
Astrazoan (4)
Barasul Naedarin Allar
Borai I (2)
Borai II (2)
Burning Archipelago Trader (2)
Carsai the King
Ceris Hightower
Chop Cycle (4)
Cult Initiate (6)
Cult Killer (4)
Cult Leader (2)
Detective (2)
Drow Matriarch (2)
Dwarf Death-Touched (3)
Free Captain (4)
Fullbright Shirren (3)
Gang Machinist (4)
Gang Tough (6)
Half-Elf Biotechnician (3)
Half-Orc Xenoarchaeologist (3)
Hellknight Armiger (6)
Hellknight Commander (2)
Hellknight Signifer (4)
Human Corporate Agent (3)
Human Cultist (3)
Human Divine Champion (3)
Human Hellknight (3)
Human Space Pirate (3)
Kalo Fashionista (2)
Kasatha Starfinder Data Jockey (3)
Kasatha Tempered Pilgrim (3)
Khizar (4)
Kumara Melacruz
Lashunta Wild Warden (3)
Lin Camulan
Luwazi Elsebo
Mercenary Commando (4)
Mercenary Rookie (6)
Pirate Lord (2)
Ryphorian Dragonblood (3)
Ryphorian Skyfire Centurion (3)
Security Guard (6)
Security Specialist (4)
Shirren Knight of Golarion (3)
Space Pirate (6)
SRO (2)
Strix I (2)
Strix II (2)
Tier-38-Mentor
Vahal Ayos
Verthani Cyberborn (3)
Vesk Solar Disciple (3)
Zo!
Large Creatures
Drakelands Dragonkin (3)
Morgebard
Starships
CompEnt AEV (4)
CompEnt Group Defense Frigate (3)
Infernex Burning Nail (4)
Infernex Interdictus (2)
Infernex Keep Diabolical (2)
Inheritorworks Brightsword (4)
Inheritorworks Cathedral Ship (2)
Inheritorworks Shieldcraft (4)
Multifold Seedship (2)
Opulos Drift Cruiser (2)
Redshift Pleasure Sail (4)
Terminator Star Drake (4)
UC Arkship (2)
UC Gardenship (2)
UC Pod (4)
Latest News From BoLS: