Tabletop Podcast Review: May 13th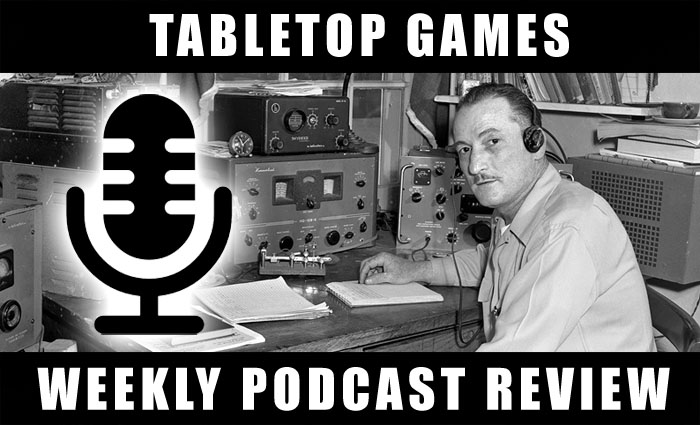 Adam here for another week of tabletop podcast reviews! We continue with Adepticon, tournament talk, awkward interviews, & more!
Hey all, Adam here, from TFG Radio, for this week's reviews! Still a lot of talk about the 40K FAQ, explaining AoS fluff to a new player, bad interviews, and more! So, let's get on with the reviews!
Garagehammer Episode 192 -This episode features a return of an old host, Chris Barnett, to the show. Chris had been away from the game for a while and is just starting into the world of Age of Sigmar. This episode is a good one in that it show the process of someone new to the game and is learning, and trying, to wrap their head around this new version of fantasy. If you are just starting out in Age of Sigmar and have questions, some of them may be answered in this episode, or you may learn a few new things.
Chapter Tactics Episode 65 – An interview with Team USA Captain, Sean Nayden. It is also, probably, the most painful interview I have ever heard on a podcast.
Signals from the Frontline – Always a good listen for new and rumors on 40K. This week, especially, they discuss how Las Vegas Open went for them and talk about some of the issues that occurred.
Also Out This Week
Age of Sigmar Shorts (AoS)
Battle Brothers of the GCWA Episode 10 (40K)
Battle Driven Season 3 Episode 5 (Warmachine)
Best General Episode 27 (40K)
Blight Bringers Episode 1 (Warmachine)
Blight Bringers Episode 2 (Warmachine)
Chain Attack Season 2 Episode 99 (Warmachine)
Subscribe to our newsletter!
Get Tabletop, RPG & Pop Culture news delivered directly to your inbox.
Chapter Approved Episode 25 (40K)
Combat Phase Episode 242 (AoS/40K)
Combined Arms Episode 12 (General Wargaming)
Crippled Systems Episode 236 (Warmachine)
Cubic Shenanigans Episode 11 (AoS/40K)
Exterminatus Episode 37 (40K)
EoH:Heresy Reanimated Episode 11 (30K)
Forge the Narrative Episode 237 (40K)
Fully Boosted Episode 80 (Warmachine)
Heralds of War Episode 33 (AoS)
Honest Wargamer (AoS/40K)
Inches & Cubes Season 2 Episode 17 (40K)
Long War Episode 148 (40K)
Mayacast Episode 180 (Infinity)
Meta Episode 13 (Warmachine)
MoM Podcast Episode 341 (Warmachine)
MoM Podcast Episode 342 (Warmachine)
Mynock Squadron Episode 119 (X-Wing)
Ohiohammer Episode 255 (KoW)
Ohiohammer Episode 256 (KoW)
Personal Flash Paper Xtra Burst (Infinity)
Preferred Enemies Episode 173 (40K)
Radio Free Istvaan Episode 101 (30K)
Rolling Bad Episode 45 (AoS)
Signs & Portents Episode 10 (Warmachine)
TDH60M Episode 107 (Warmachine)
TFG Radio Twitch Stream Episode 18 (40K)
Veteran Gamers Reenlisted Episode 40  (40K)
Veteran Gamers Reenlisted Broadside Bash Day 2  (40K)
As always, check out our blog, at TFG Radio, and give the podcast a listen. We talk 40K mainly but delve into other game systems.  This week we have Adam, John, Danny, and Tom on discord again to talk about a number of subjects. We talk about the results of the 40K league John has been running, how not to announce any changes to an event, and a look at Necrons!
Have a different opinion? Post in the comments below or email me at [email protected] and let me know!