We took the new Imperial Knight Codex for a spin by playing a custom scenario. Now you can try out the Freeblade Free-For-All!
With the new Imperial Knights in stores this weekend, we figured it was a perfect time to throw down with a bunch of Knights. We were thinking of how to show off as many of the different Knights as we could at once but instead of just playing a regular game of 40k, we came up with the idea of a "Knight Joust." That quickly morphed into a Freeblade Free-For-All and it was a ton of fun!
These rules were created to be flexible and aren't official in any way. These were just what we used for our game and they worked. This format is not meant to be "srs bsns 40k." It's just about getting some friends together and smashing giant robots!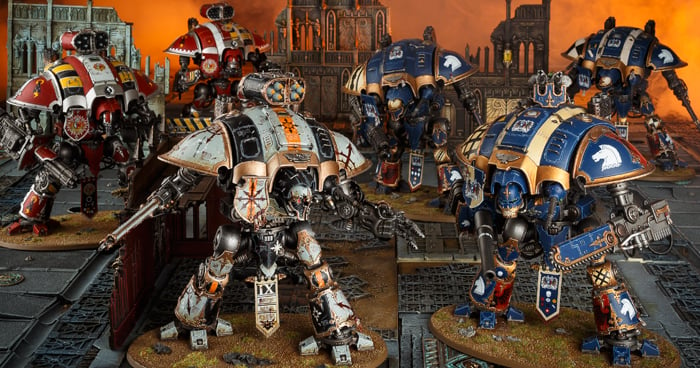 The Rules:
Players – Recommended 4-8 players (or more – table size is the limit)
Each Player Picks a Knight or a pair of Armigers
Roll randomly for your Qualities (you get 2 – if you roll doubles, the second roll does NOTHING as per the rules).
Roll randomly for your Burden (you get 1)
If they are playing Armigers, Qualities and Burdens apply to BOTH.
Deploy in the corners randomly (if you're playing on a 6×4 with 4 players). If you have more than 4 players split the table up as equal as possible and deploy on a table-edge and try to stay at least 18″ apart.
At the start of each round, players roll off to see the turn order. Highest roll goes first. In the case of a tie, those players roll off between each other.
You cannot fire into a close-combat you are not involved in – Knights still have a sense of honor.
You can CHARGE into an existing close-combat. This will trigger a new round of melee for all parties. Resolve the fight phase a normal based off initiative order.
Last Knight standing is the winner.
If you wanted to hand-pick your traits or even pick a specific house and load-out, we're not here to police that. But the spirit of the game is meant to be fun and light-hearted. In fact, we encourage table-talk and attempting to make alliances with your fellow Knights…Just remember at the end of the day, there can only be one champion.
Also, there are some traits that might only apply if you are targeting a character or enemy warlord – just assume those still count when you're fighting against another player. We're here to encourage metal-on-metal destruction and not limit it!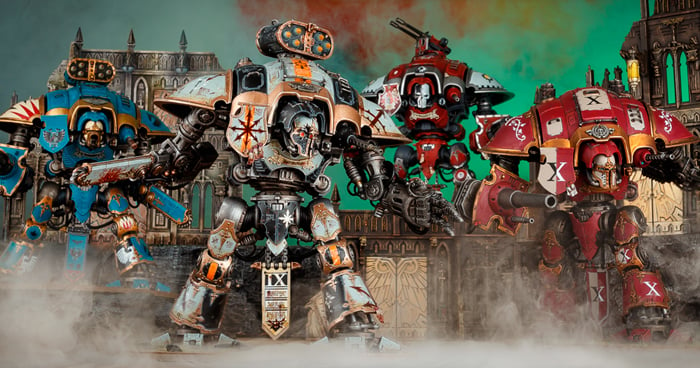 For some extra fun, make Knights auto-explode when they die! Games should be quick and brutal. After a round or two if you want to experiment with different Relic options or even allowing stratagems – go for it.
While this structure isn't as formal as a game of Renegade is, we think it's a great way to play. It's a perfect excuse to finish up a Knight and throw down – or to try a different load-out if you want. Not all Knights are created equal – that's part of the fun! Plus, it's a dice game so who knows how it's going to go down. Embrace the fact that your Knight might not be the most optimal build and roll with it.
Freeblade Free-For-Alls are my favorite way to play Knights now. Give it a shot!