One of the biggest things about the new edition of Age of Sigmar is the preponderance of predatory spells. Packing powerful eldritch might in a hungry, almost sapient package, these spells can rampage across a battlefield, causing havoc with friend and foe alike. Here are our favorites.
Don't get me wrong, all of these spells are fantastic. But there are a few that we want to see unleashed on the battlefield, even if they might blow up in our faces, because man–what a way to go. So without further ado, here are our favorite spells from Malign Sorcery.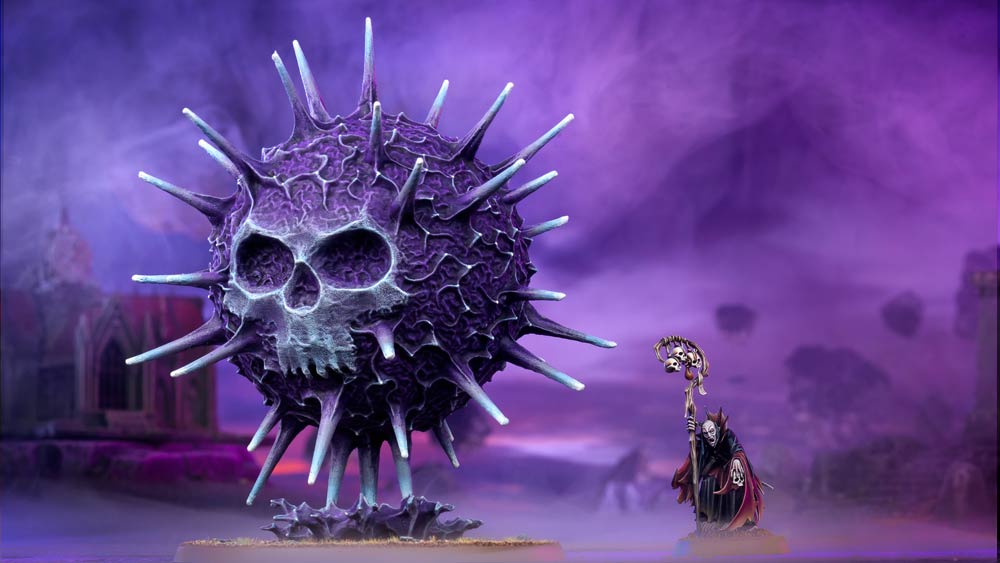 Malevolent Maelstrom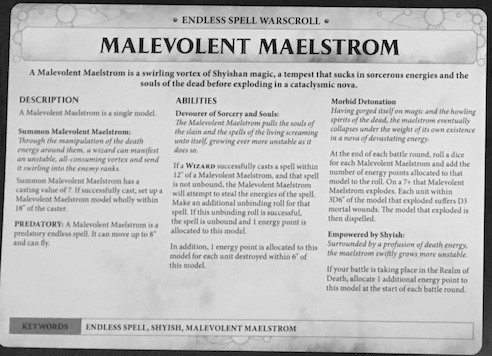 This spell is great because it's like a hot potato that you charge up–when it goes off it hits everyone within a huge area–but it's only a d3 mortal wounds. It hurts, and depending on your luck could be utterly crippling, but with an area that size, you know something on the battlefield is going to change.
Umbral Spellportal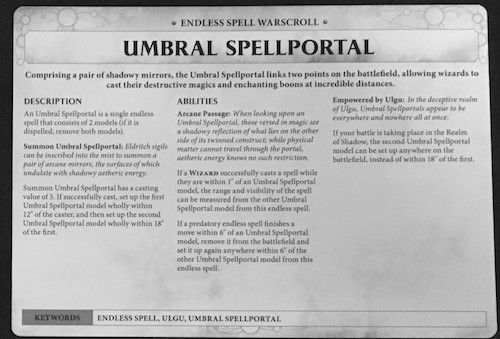 This one is exciting for how it enables your Wizard. Enemy Wizards too, sure, but it gives you an increase range to target your magic spells. Or, if you want to bring along multiple endless spells–Umbral Spellportal enables some shenanigans. For maximum chicanery, though, play on Ulgu and then park your Wizard somewhere where they can be safe and drop your Umbral Spellportal behind enemy lines and blast 'em up good.
Emerald Lifeswarm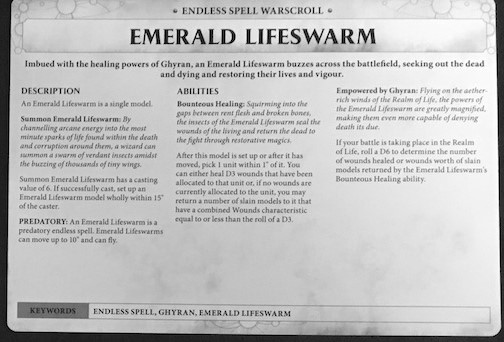 The Emerald Lifeswarm is great because it flies around healing everythingn in sight. Even Undead units, which is a little weird, but I guess everything gets restored and put back in the fight when rampant life magic is involved. For best results cast it near a fragile unit and watch as your units get knocked down, but then get up again until they're sued by Chumbawumba.
Geminids of Uhl-Gysh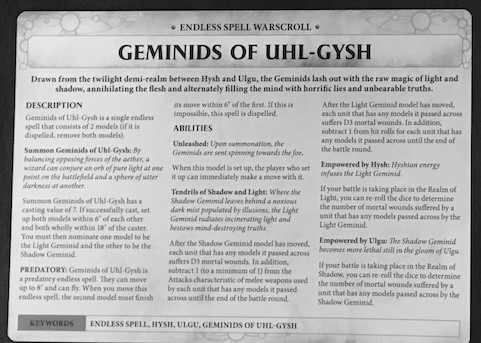 Of the various "kill some dudes when the Endless Spell passes near them" spells out there, this one is interesting because it not only deals damage twice (once from shadow, once from light) but also carries with it two powerful debuffs–removing an attack and a penalty to hit can be incredibly clutch. Watch an army melt away after being caught in the light and shadow of the geminids.
There seems to be NO END to these Endless Spells.