Age of Sigmar is bringing us special rules for battles in the different realms. Today, we're taking a look at the Realm of Battle rules for Shyish, the Realm of Death. Plus we're also going over the different Spells, Weapons and Relics you can get access to while you're battling there.
With the new edition of Age of Sigmar one of the largest changes to the game is the addition of the Realms of Battle rules. Each of the different Mortal Realms has a unique set of options you can add to your games. Today, we're looking at the rules of Shyish, the Realm of Death.
If you choose to fight your battle in this realm then you'll get access to the Realm of Battle Rules below – You can find these rules in the new Core Book. Alternatively, if you just want to build a theme force from the Realm of Death then you'll get access to the Weapons and Artifacts from the new Malign Sorcery book.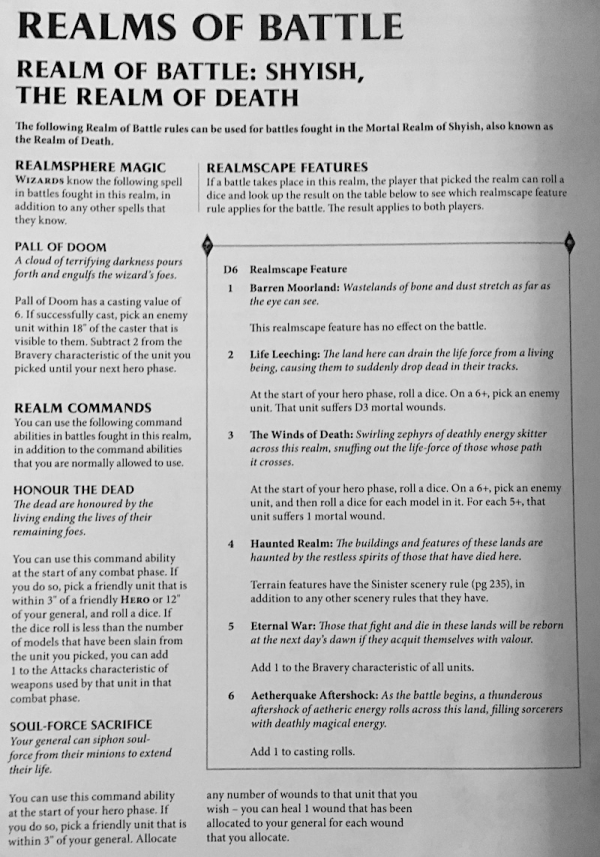 The first section you'll get access to is the new Magic Spells. Each wizard battling in the Realm of Shyish gets access to Pall of Doom. On top of that, if you have access to the Malign Sorcery book, you'll also be able to use the ENTIRE spell list of Shyish: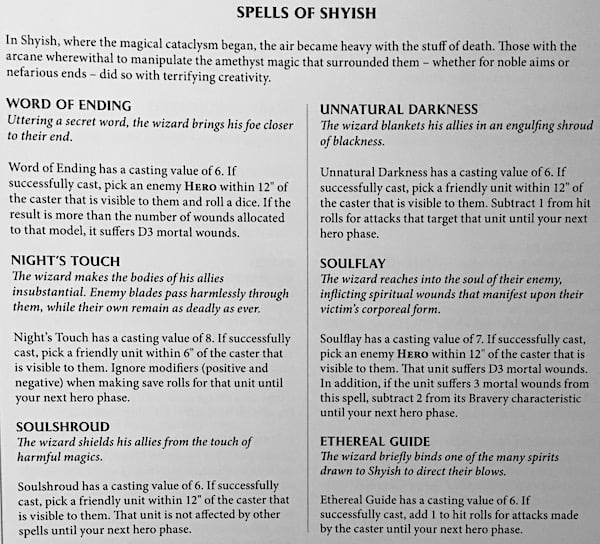 That's right – just for saying you're battling in Shyish, wizards get 7 bonus spells to use!
Next up, we can see new Command Abilities your heroes will have access to. Just a quick note: Only Shyish has 2 abilities, most other realms only have 1. Both of these Command Abilities can lead to some pretty strange and interesting things happening. And finally, if you're battling in the Realm of Death, you'll also have to deal with the different Realmscape Features. Some of those abilities are pretty deadly – which makes sense considering you're in the Realm of DEATH.
Weapons and Relics of Death
These next two charts showcase the new Weapons and Relics that are available in the game. According to GW:
"When you're writing your army list, you have the option to pick a Realm for your army to be from….As well as providing you with loads of opportunities for roleplaying (not to mention painting and converting), you'll be able to replace one of your normal Artefact picks with a special artefact from your chosen realm."
So just by claiming Shyish as your home, you can swap out your artefact picks with these new relics – and they are available to all armies!

The weapons are, unsurprisingly, pretty good at death-dealing. Lifebane and Blade of Ending both seem pretty mean. And if you're looking for some ranged threats, the Wraithbow and Splintertooth can help you out. If you'll notice each weapon is also numbered – if you wanted to roll randomly you can opt to do that, too. But we have a feeling for Matched Play, most folks are going to go in with a fixed list.

The Relics are also rather useful as well – you can see how the spells, weapons and relics all have a theme as well. It's a neat way to make your army and your games a bit more thematic.
What I really like about all these new options is that these are available to ALL armies. Some armies might favor one realm's options over another, but there are no limits on that. You could build a Nurgle Daemon army that uses these weapons and artifacts. You could build a Idoneth Deepkin army that uses rules from Aqushy (the Realm of Fire). Build the army of your dreams or your opponent's nightmare – the choice is up to you, the player.
What do you think of all these new rules? Are you looking forward to exploring the different realms? What about those Spells/Weapons/Artefacts/Command Traits?