So you've got your Pre-order for Soul Wars and you're waiting to start your Nighthaunts? We've got some tips on how you can get a jump on the army before you get your copy of Age of Sigmar Soul Wars.
We got our copy of Age of Sigmar Soul Wars early and I took on the task of getting the Nighthaunts ready to rock and roll for action on the tabletop. I've always wanted to do a Ghost Army and I've decided to jump in with both feet on the new Nighthaunts. I've got some tips that will be coming later about painting and modeling, but today I wanted to focus on what you can do RIGHT NOW if you want to play Nighthaunts.
"But the model range is pretty limited – what do you mean?" That is a fair point, but using the General's Handbook (which has all the Nighthaunt Units) I can share with you the units that are available today from Games Workshop. And I can also point you in the direction of the units that I think are going to be the most useful no matter where you take your army thematically.
Available Models
This lists is all of the currently available models from Games Workshop that fall under the Nighthaunt army lists from the General's Handbook:
It's only 5 units and you an ally in other options – but for now, let's just focus on Nighthaunt specific options. Of that list of 5 units, I think there are some pretty good units that you can pick-up to at least hold you over until you get your box set: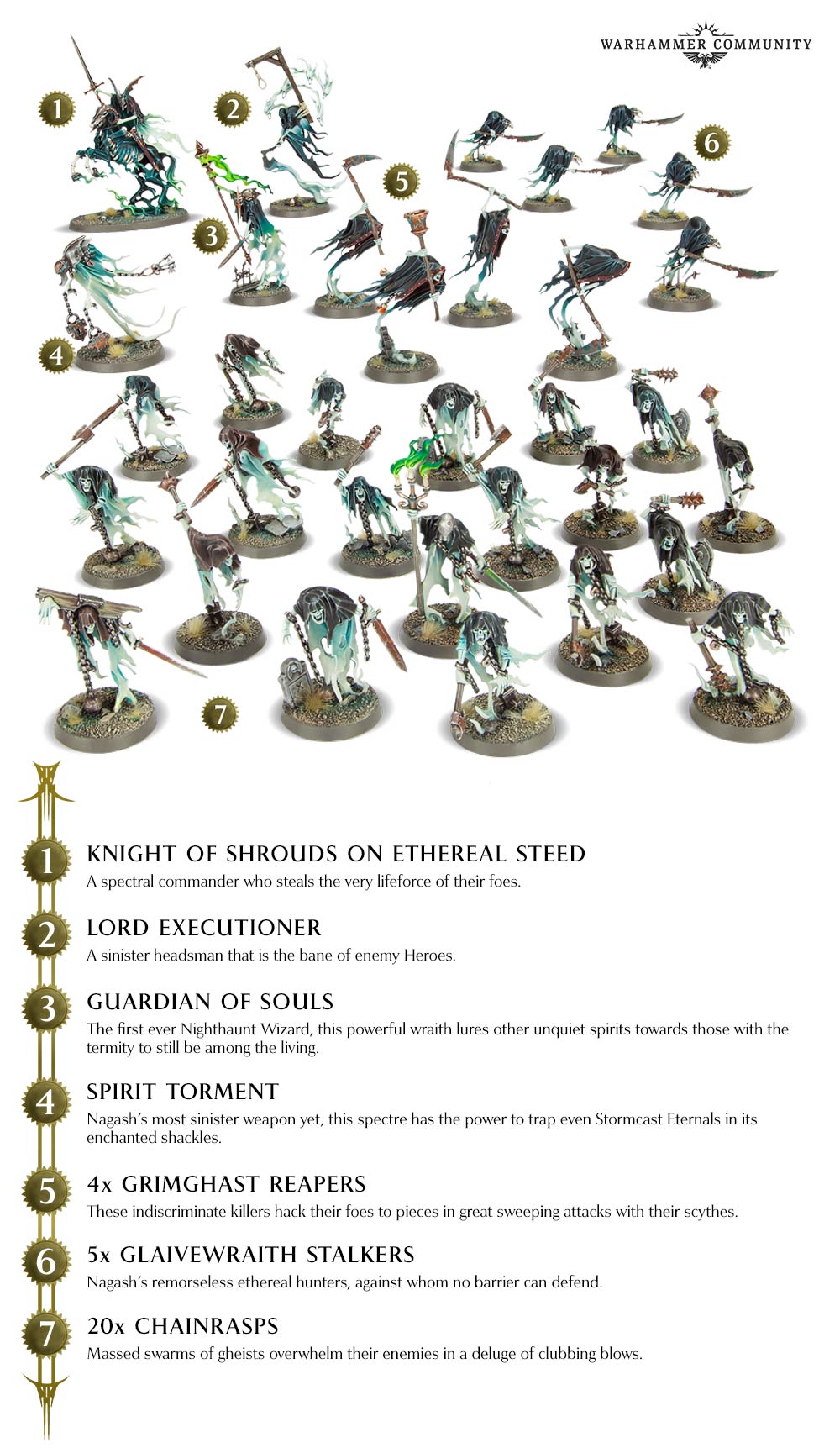 In the image above you can see all the units you're getting. The thought process is that we're planning out the army and we've got a little over 2 weeks if the June 30th shipping is accurate on GW's website for Soul Wars. So what can you build and paint right now that is going to be useful to this list?
Spirit Hosts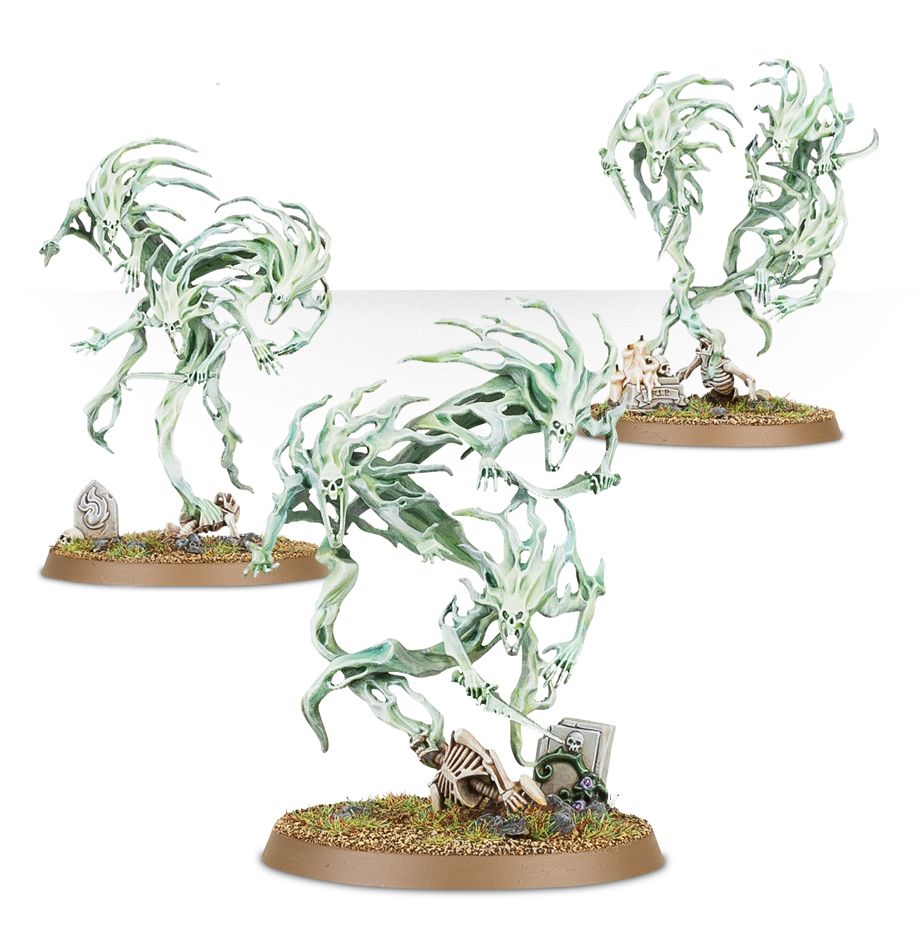 These are not only crazy good looking models they count as Battleline in a Nighthaunt army! Minimum size is 3 to a unit up to 12. On top of that they are surprisingly durable and can be quite a pain to deal with. You can read their rules HERE.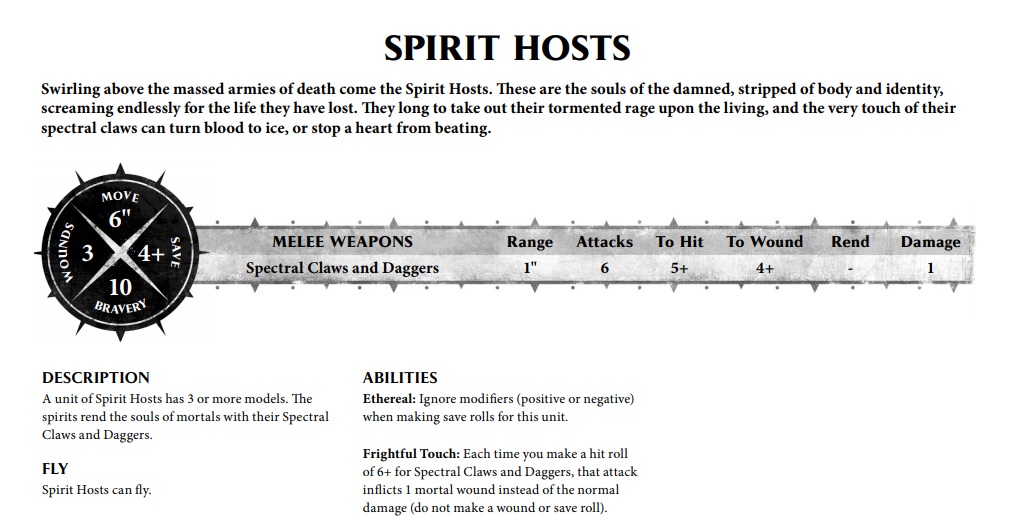 The combination of Fly and Ethereal is nice. Plus their Frightful Touch triggers on the to-hit roll. With 3 wounds and a bravery of 10 they tend to get stuck in and are hard to dislodge. Not a bad unit to add by any means – on top of that, you can also test out your paint scheme on them while you wait.
Hexwraiths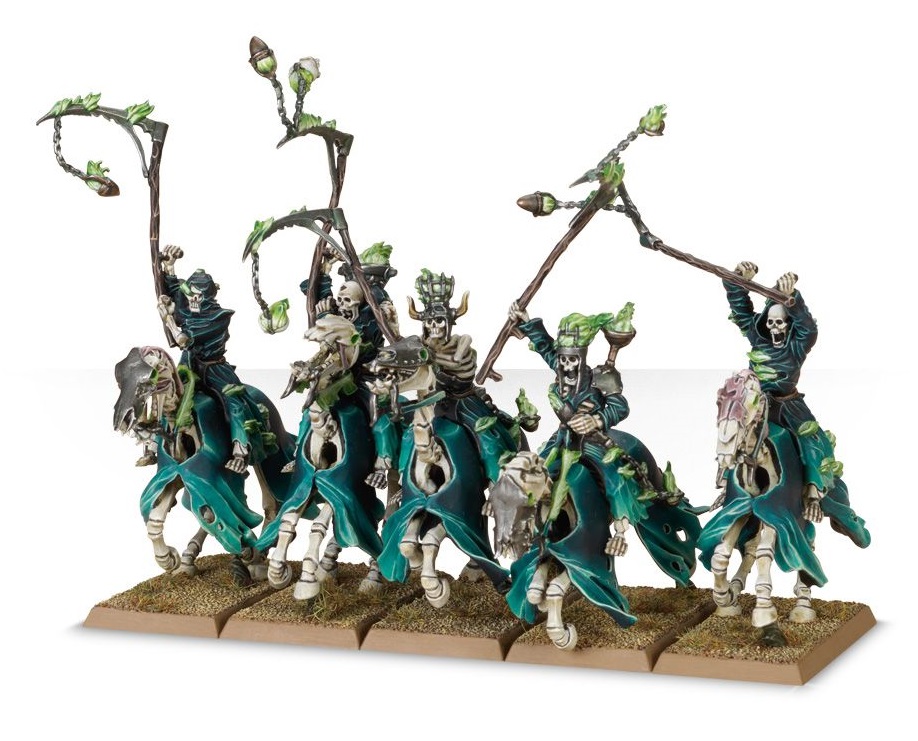 Don't let those square bases fool you – the Hexwraiths are pretty a pretty solid option to add. You could go with the Black Knights when you buy a box of these, but they aren't Nighthaunt (which defeats the point of this exercise). The are fast with a 12″ move, can Fly, are Ethereal, and have a nasty bonus attack. Read their rules HERE.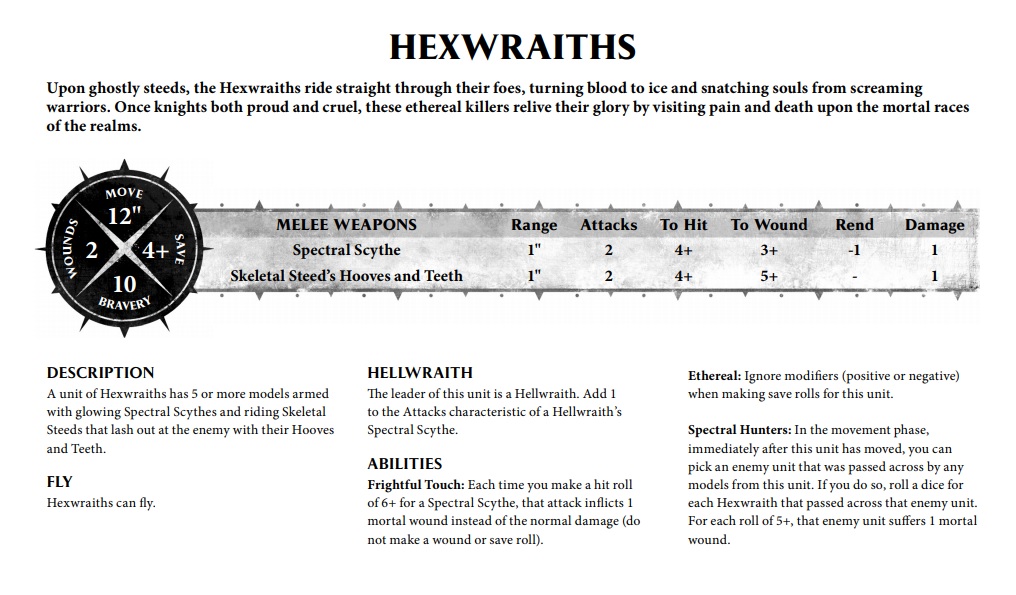 Oh – and best of all, they are ALSO Battleline in a Nighthaunt Army.
Carin Wraith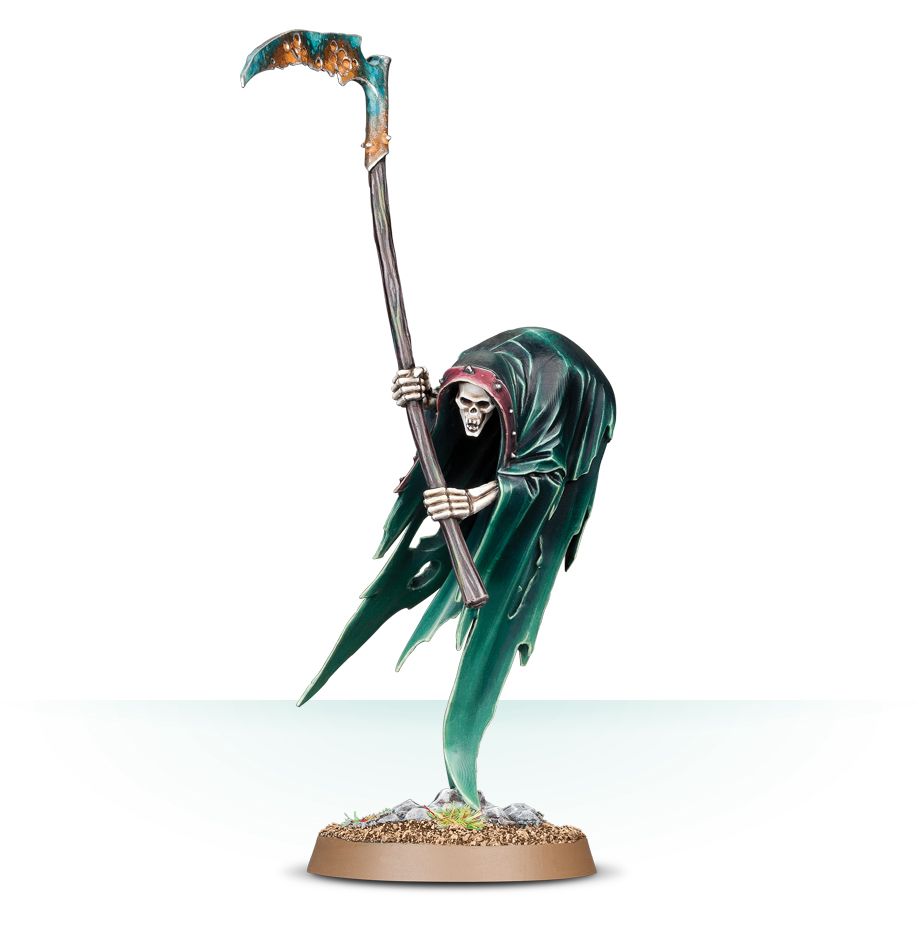 Cairn Wraiths are my final suggestion. Why them and not Keldrek or a Tomb Banshee? Well all three of these options are Leader units. Keldrek is great and all, but you're already getting a Knight of Shrouds on a Steed. And while the Tomb Banshee totally adds some range threat to the army, she's also a leader option in an already cramped slot. Feel free to add them later – but it just depends on how YOU want to expand. For now I suggest the Cairn Wraith – here's why:
These rules are from the Nighthaunt Tormened Spirit box (which, btw has all three of these units and is a pretty good deal). What makes this unit option different is the Summon Wraith Spell. Remember: Unit Summoning works differently in AoS now. Reinforcement points are a thing of the past. Bringing in a Cairn Wraith seems like a pretty solid option to me!
One note about the Cairn Wraith before you go out an buy 30 of them to spam away – We know the Nighthaunts are getting a Battletome soon. We also know that they are getting quite a few MORE units, 2 of which have already been teased by GW.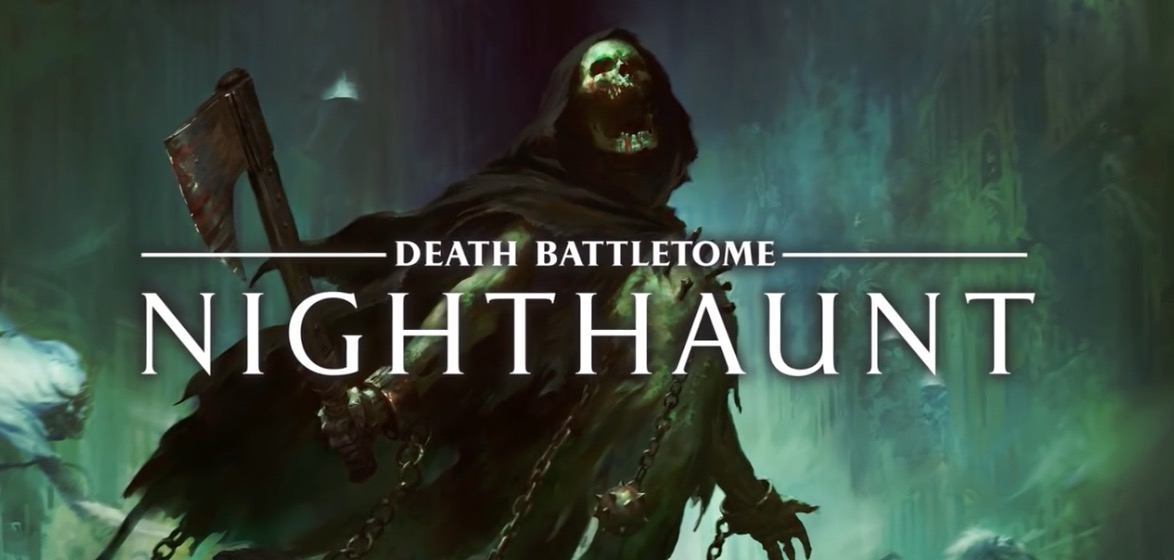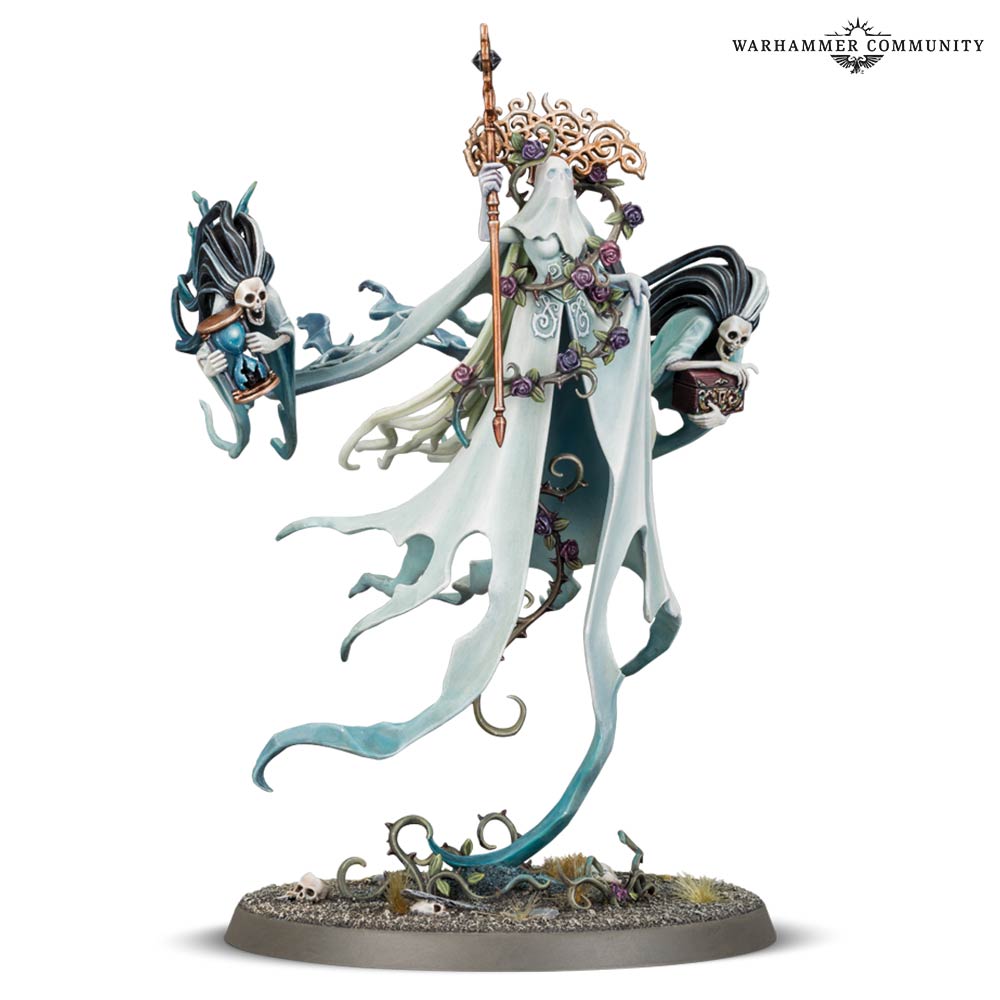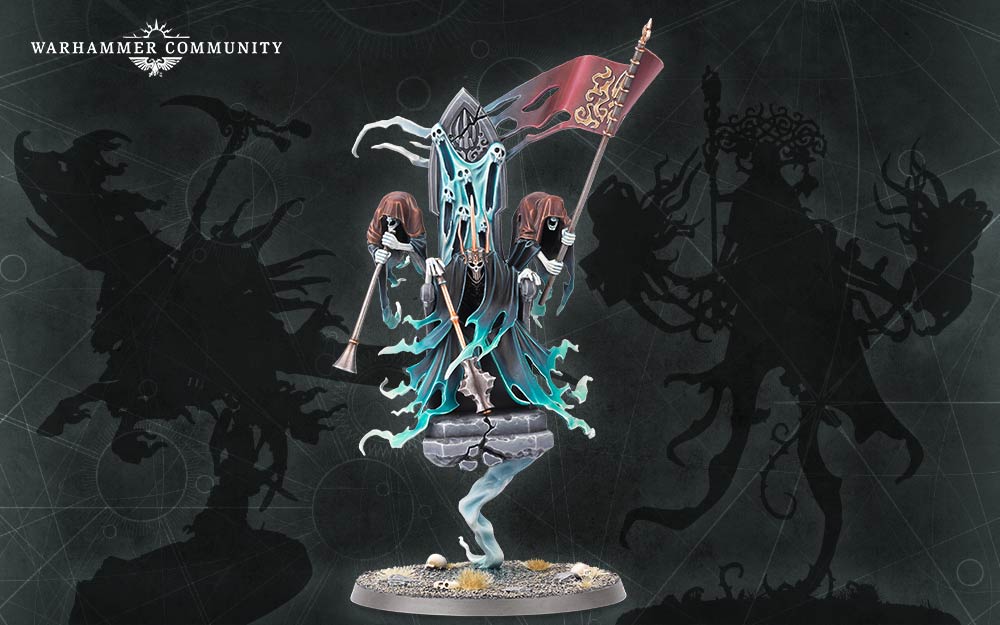 I'm leaving room in my Army and budget to put these models in my list, too. Plus, I want to see the Nighthaunt book and their special rules before I load-up on Cairn Wraiths or any other units. That said, I think if you're looking to work on SOMETHING while you wait I think these three units should fill your hobby time. Think of them as an appetizer before the main course.
I hope you found this helpful – If you're like me and waiting for more, pick-up a box or two of these units and practice your paint scheme while you wait!