It's a new Rumor Engine from Games Workshop and this one has that Retro Futuristic vibe. It's time to turn on, tune in, and Grimdark out!
What does a display, a switch, a button, and some tubes have to do with the Grimdark? You tell me! Here's the latest Rumor Engine from GW:
With new releases and reveals coming at us left, right and centre, you'd think the Rumour Engine would be taking a rest this week – but it's still working to provide us with glimpses of the future. Glimpses like this one…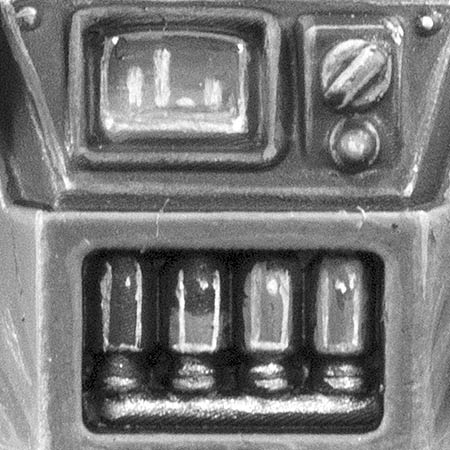 When I see this, I can't help but think of the consoles that are seen on Space Marine vehicles. Bikes, Storm Talons, Land Speeders, etc – all of them have similar displays. What's neat about this particular Rumor Engine is the paint job – If this was just bare plastic, it would be a lot harder to tell what every thing is. But the paint job, even though it's been desaturated, adds a lot of depth to this one. Maybe this console is for fuel levels, a void shield monitor, or any number of things from the Grimdark.
My gut tells me it's some type of Imperial thing. It could be Ad Mech, Astra Militarum, Space Marine or other. But maybe it's a red herring and that's just what GW wants you to think! What if it's some fancy new AoS kit? Aesthetically, I don't recognize anything visually that would point to that but what if that's because it's a new faction? I don't know – but GW does!
Take a stab at it – what is your wild guess for this interesting new console?