Following our article on the villains of Waterdeep: Dragon Heist, today we've got a look at some of the NPCs and Allies that you can run into while racing through the streets of Waterdeep, chasing down an inordinate amount of treasure.
Dragon Heist takes players through Waterdeep trying to find a cache of treasure–Dragons, as gold coins are known in the City of Splendors. Of course, such a heist is bound to attract the attention of powerful figures. Yesterday we had a look at the Rogue's Gallery of villains that might threaten the players. Today we've got a look at some of the other powerful shoulders they might brush against–movers, shakers, and people who might, if they're lucky, just help our heroes.
First up is Mirt the Moneylender, who is so-called because of his opportunistic and profiteering ways. If there's a pie in Waterdeep, he's got a finger in it, so to speak, and it's all because of a fortune he brought up from Undermountain. But all that was centuries ago–far longer than a human should live–whatever strange magics exist in Undermountain granted him longevity. And fortune enough to buy his way to the top of the city. With a watchful eye on every chance for profit, Mirt is bound to notice when a bunch of adventurers start tangling with some of the villains that haunt the darkened streets of his city.
Durnan, like Mirt is a retired adventurer who stumbled into Undermountain and returned with a pile of treasure and unnaturally long lifespan. They have lived well beyond their years, and ever since, Durnan has set up shop over the famous dungeon. Like Mirt, he's got an eye for profit–though he's turned his from the Yawning Portal that gives his Inn its name. It's a taproom where Adventurers gather to hobnob and share stories of harrowing adventure and deadly traps, but also to brave the dungeon of Undermountain. And Durnan has monetized it, charging adventurers to go back down, and then, charging more for people to return. Fewer people pay this fee–but all of this is immaterial, to Dragon Heist at least.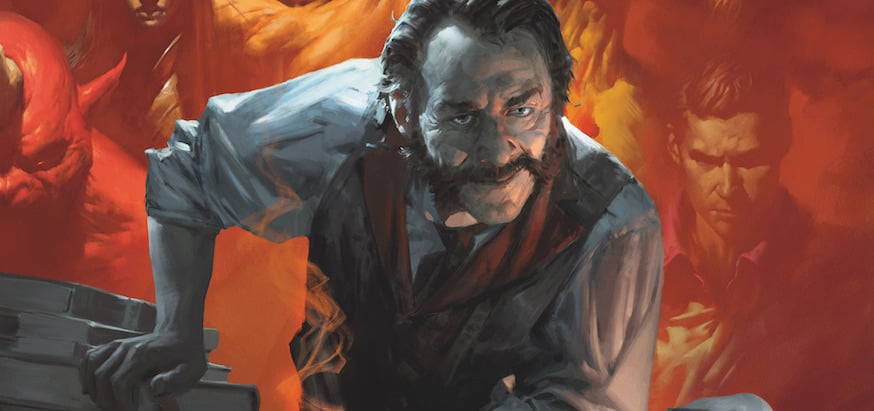 Like many adventures, it all begins in a Tavern. And what Tavern better to start a heist in Waterdeep than the Yawning Portal. Under Durnan's watchful eye and next to the portal that leads to further adventure, it all begins.
Where it begins, so shall it end. Happy Adventuring folks!