When it comes to getting you where you need to go there are lots of ships that can do it – but only one can do it in style! Say hello to Lando's Millennium Falcon, coming to X-Wing 2.0.
In the Star Wars Universe, there are few ships as iconic as the Millennium Falcon. And even fewer that have gotten a refit that actually made it look LESS beat-up. This ain't a hunk of junk, it's the Falcon in it's prime.
via Fantasy Flight Games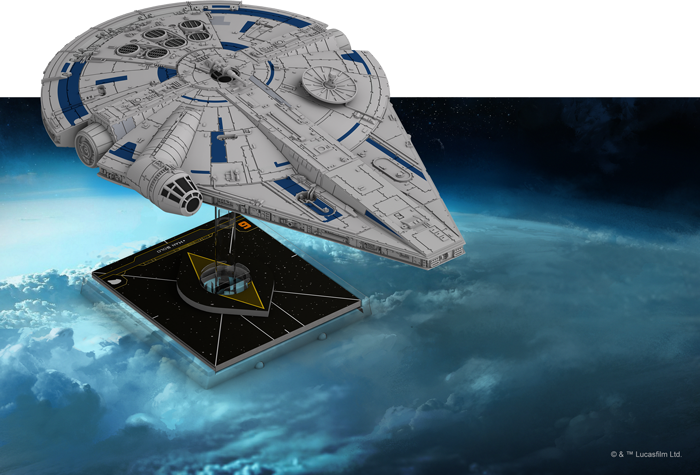 But long before Han Solo owned the Millennium Falcon and made his own brand of special modifications to the ship, it belonged to infamous gambler and smuggler Lando Calrissian. With the recent release of Solo: A Star Wars Story, we finally got to witness some of the Millennium Falcon's early exploits and see how it inevitably came into Han Solo's possession. Soon, you'll have the opportunity to experience this classic ship in an all-new way during your games of X-Wing™ Second Edition.

Fantasy Flight Games is proud to announce the Lando's Millennium Falcon Expansion Pack for X-Wing Second Edition! This expansion pack will join the rest of Wave I for X-Wing Second Edition, releasing on September 13th, 2018!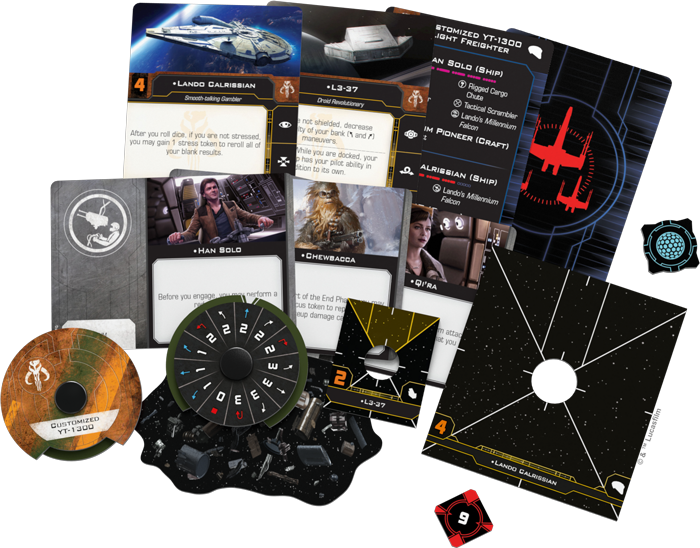 This new version of the classic YT-1300 design has been updated with the new ruleset in mind. The ship doesn't just have a new look, it's got an entirely new set of…well, everything! It's also part of the Scum and Villainy faction. Surprise!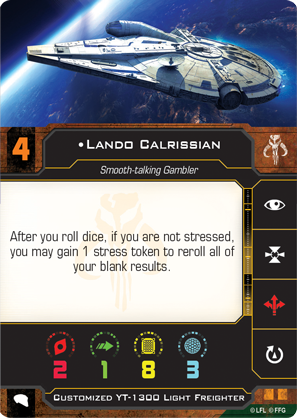 First off we get a look at Lando Calrissian, Smooth-talking Gambler. He's clocking in at PS 4, which under the new system is above average. Lando's ability also allows you some flex in your dice rolls. For the cost of 1 stress you're allowed to reroll all of your blanks. Not too shabby!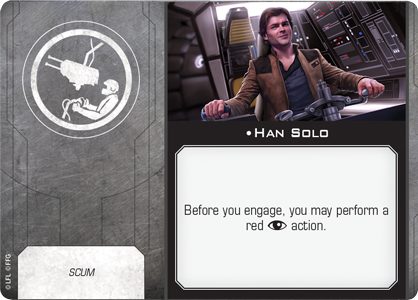 Our first upgrade teaser is Han Solo – a SCUM version, naturally! This Han fits into the Gunner Slot. He allows you to get a preform a red focus action before you engage. This basically means that you can Target Lock or position your turret on your activation and still get a focus.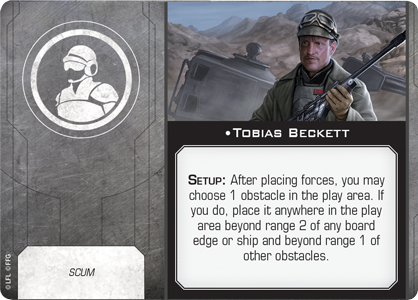 Tobias Beckett allows you to move an obstacle in the already in the play area AFTER you place your forces. This can lead to you forcing your opponent into some space debris or clearing the area for yourself.
And finally we see the return of Rigged Cargo Chute. While it's not quite the same result as dropping a bomb and letting your opponents fly into it, this still creates more obstacles for your opponents to deal with.
That's not all – you can read the full preview of this ship on FFG's website HERE. This ship also comes with the new double turret arc primary:
That's right – it's a whole new world for turrets out there! Eagle-eyed readers might have also noticed that L3-37 comes as a pilot for another ship that is also included. Just like in the Solo Movie, Lando's Millennium Falcon includes the Escape Craft!
You can expect to see Lando and the new-old school Falcon the same day that X-Wing 2.0 drops: September 13, 2018.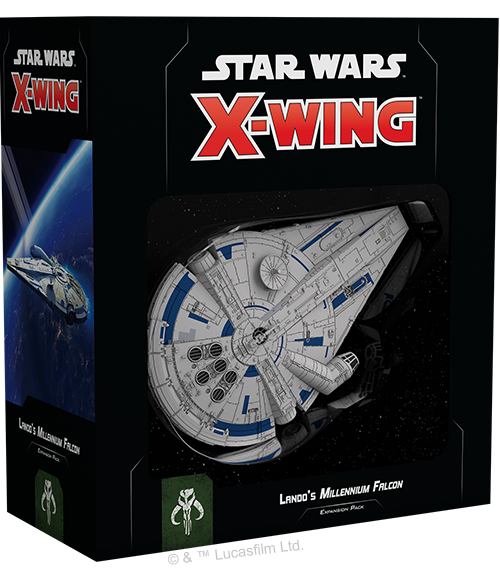 From its first appearance, blasting its way out of Mos Eisley spaceport in A New Hope to its triumphant arrival at the Battle of Crait in The Last Jedi, the Millennium Falcon has been an iconic part of the Star Wars saga, transporting us and our heroes to many of the fantastic worlds of a galaxy far, far away. But long before Han Solo owned the Millennium Falcon and made his own brand of special modifications to the ship, it belonged to infamous gambler and smuggler Lando Calrissian. With the Lando's Millennium Falcon Expansion Pack, you can relive these exploits while adding this iconic ship to your Scum and Villainy squadron.

The Lando's Millennium Falcon Expansion Pack contains a fully-assembled, pre-painted customized YT-1300 light freighter miniature, including a detachable Escape Craft miniature that can be piloted as a separate ship. In addition to these miniatures, you'll find eight ship cards featuring classic characters like Han Solo alongside new faces like the droid revolutionary L3-37, as well as thirteen upgrade cards to further customize your version of the Falcon or your other second edition ships. Rounding out the pack are all the tokens, bases, and maneuver dials you need to add the Falcon and its Escape Craft to your squadron.
"Buckle up, baby."