Cthulhu comes to Pathfinder by way of the designer of Call of Cthulhu. So grab this book and put the Great back in Great Old Ones. The Stars are Right, what are you waiting for?
Under the light of a wan and eldritch moon, whose alabaster rays illumine a sickly, squamous countenance doing hurried, terrible work, the secrets of Great Cthulhu can be revealed. Horror! Pathfinders! How will these two disparate entities interact? Will there be a buddy cop style moment where the horrors from the darkness between the stars learn that maybe not all humans are both worthless AND delicious? Will those adventurers understand that the madness-inducing visages of Shoggoths and Elder Polyps are just their way of expressing themselves?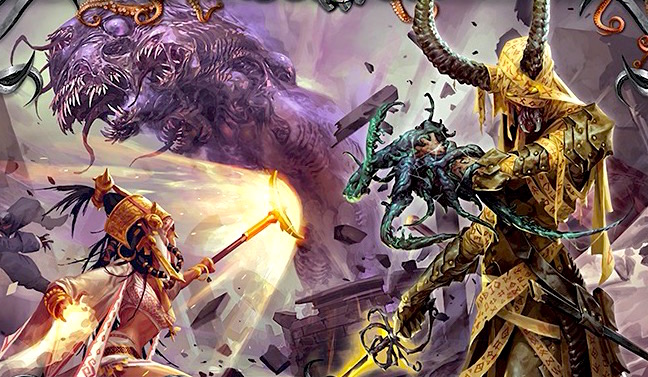 …I guess not. But! This is a pretty exciting book, it's Cthulhu done by one of the people who knows Cthulhu best:
We've talked about this before, but never this in depth. There's a lot to dive into in this book, including rules for playing as a cat–which seems like the true purpose of any RPG altogether. Dreamland Cats shift between the real world and the dream world (where you might find Unknown Kadath, say). And that's just one example of what they include–there's a ton of lore, you can think of this book as both an introduction to the Mythos (or a deeper dive into the lore) as well as a bunch of rules for playing as part of the Mythos.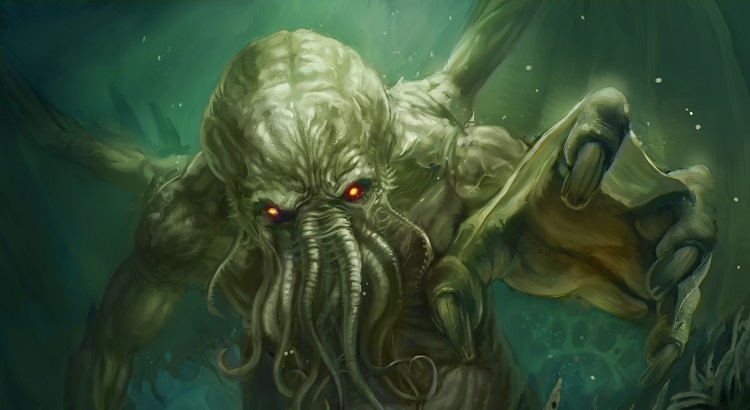 That is really the intriguing bit to me–because one of the big sources of horror is the unknown, and by providing you with a framework to explore the unknown and alien mythos, it gives…understanding. But this might also be a good source for horror–figuring out what you have in common with a monster of the Mythos, after all, is a little dehumanizing.
At any rate, the book is chock full of spells, classes, and other rules, items, and abilities that will help you add some Mythos to your adventures.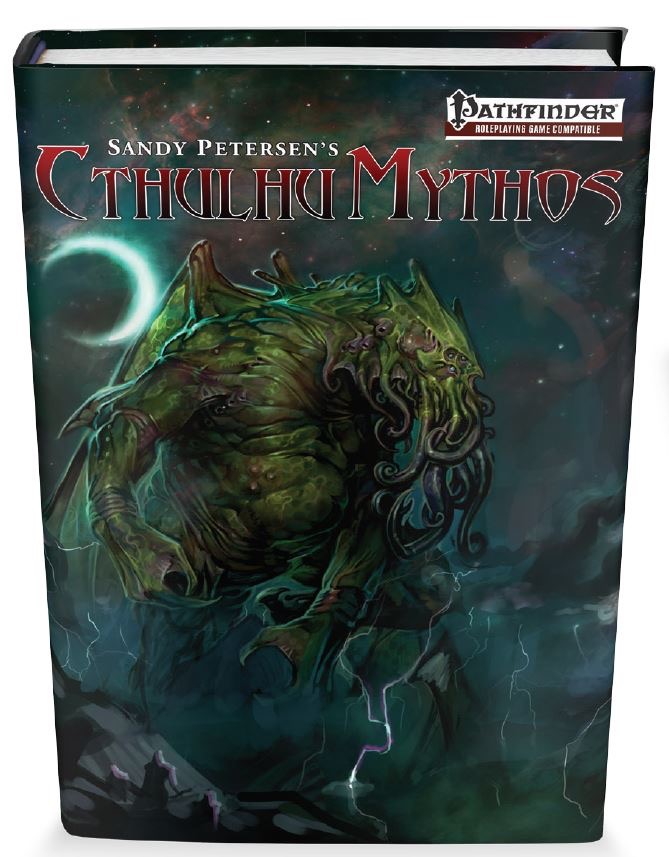 Sandy Petersen is the undisputed authority on the Cthulhu Mythos in games as the author of the groundbreaking game Call of Cthulhu, the first game ever to bring H.P. Lovecraft's work to the gaming world. He now proudly presents the definitive and ultimate guide to bringing Lovecraft to the high fantasy, sword and sorcery worlds played using the Pathfinder rule system.

Here, your band of heroes can now fight (and maybe even defeat) monstrous horrors and bizarre, inhumanly advanced races in adventures featuring these unique entities, their magics, and the alien technologies accurately portrayed from Lovecraftian works!

This core rulebook features a bestiary with over 100 creatures, monstrosities, and Mythos Entities authoritatively revised and updated for use with Pathfinder, plus Plot Hooks and Campaign starters, information on Mythos Alien and Bizarre Technology, new expansive Insanity Rules, and details on Cults of Cthulhu and the Necronomicon and other blasphemous Tomes, as well as new Rituals, Spells, Archetypes, and Class Options.

Content Includes:

A bestiary with over 100 entries, almost half never before seen in a Pathfinder book before.
Over 25 Mythos Entities: Creatures in the Paizo's Pathfinder Bestiaries now authoritatively revised & updated in this book. Additionally, the original entries as found in the Bestiaries are also included for easy reference and comparison.
Over 50 NEW Mythos Entries: Creatures from the Cthulhu Mythos that have never before been published in any Pathfinder Bestiary.
Over 40 'Unusual Suspects': Creatures that could (and maybe should) be in the Cthulhu Mythos, found in the pages of the current Pathfinder Bestiaries. Some have been updated to reflect our new rules.
Adventures: Plot Hooks and Campaign starters by Sandy Petersen and others.
How to run horror in a heroic sword and sorcery setting by Sandy Petersen.
Mythos Alien and Bizarre Technology
New Expansive Insanity Rules
The Necronomicon and other Tomes
New Rituals and Spells
Archetypes and Class Options for Base Classes
Cults of Cthulhu and Other Great Old Ones
Mythos Magic Items and Artifacts
Aklo Language Essay
Mythos Ghouls as Player Characters
Mythos Eidolons, Familiars and Animal Companions
Tcho-Tchos
Gnorri as Player Characters
Advanced Adversaries
Zoogs as Player Characters
Mythos Cats and Mythos Cats as Player Characters
I want to play as a Mythos Cat right meow. This is also why I will never be allowed to play one.