The TIE Reaper is coming to X-Wing Tables before 2.0 launches – but don't worry, it's got all the new stuff for 2.0 ready for you in the box!
Death never rests and the TIE Reaper doesn't either! When X-Wing 2.0 drops September 13th, your Reapers will be ready. Today, Fantasy Flight Games is showing off a preview of the goodies you'll find in the box.
In addition to adding a new starfighter to the Imperial ranks, the TIE Reaper Expansion Pack will help usher in X-Wing Second Editionby including components that are compatible with both the first and second editions. The beautifully painted TIE reaper miniature included in this expansion will be accompanied by second edition versions of all the ship cards and tokens you need to incorporate one of these terrifying ships into your Imperial squadrons, as well as its own complement of ten upgrade cards.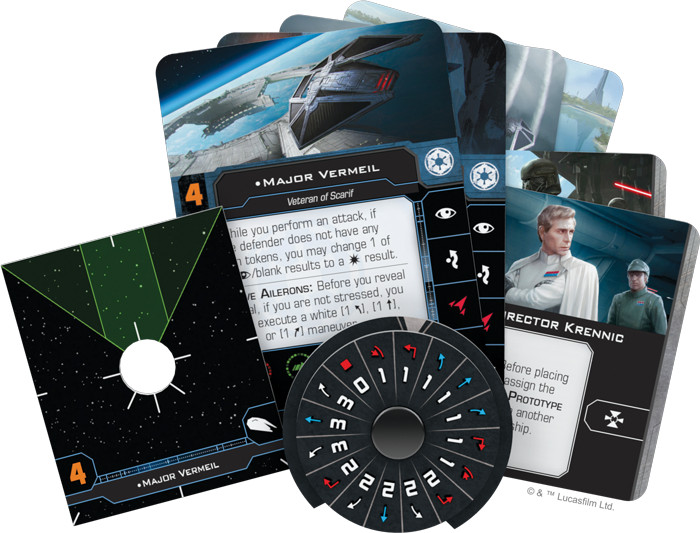 The Pilots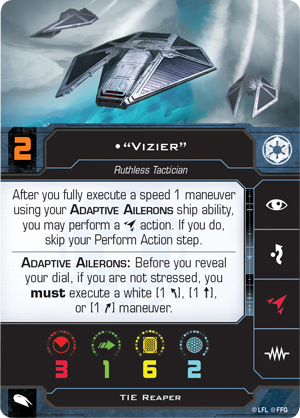 First up, we get a look at Vizier, but we also get a look at the new way Adaptive Ailerons functions. It used to be an upgrade card but now it's built into the TIE Reaper as a ship ability. According to FFG:
"[Ship] abilities represent systems built directly into ships, rather than the abilities of the pilots who fly them. "
This is the first instance we've seen of them showcased in X-Wing Second Edition. These abilities may or may not synergize fully with the pilot abilities. In Vizier's case, they do to create a potent combo of maneuverability and coordination.
Let's also take a moment to appreciate the stats on this ship, too – it's a fairly nimble ship with a solid hull and a 3 die primary attack. Not too shabby for a TIE!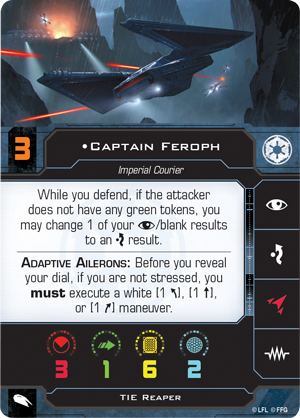 Next up we have Captain Feroph. Her ability works really well with Jam as it can remove an enemy green token at range 1 (or break a lock). That will help ensure you will be able to swap out focus/blank for an evade result on defense.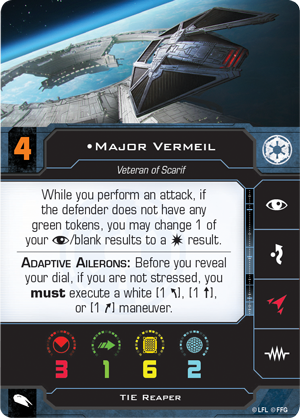 Major Vermeil has the offensive version of that ability – after you jam someone, (if they don't have any green tokens) you'll be able to convert a focus/blank into a hit.
The Upgrades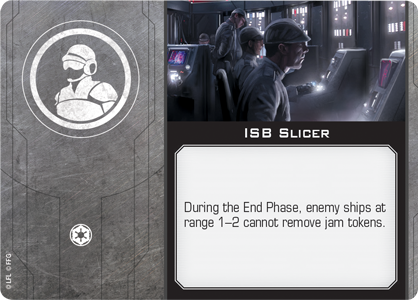 ISB Slicer is super handy for a ship that can Jam. Prevent your enemy from removing those Jam tokens? Yes please!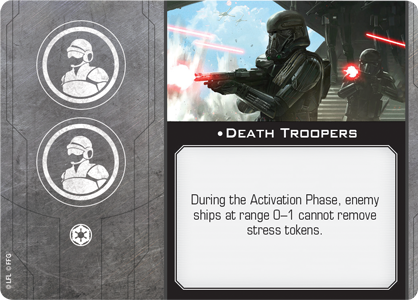 How about piling on the stress with Death Troopers? With these guys on board, your opponents can't remove stress tokens – ouch!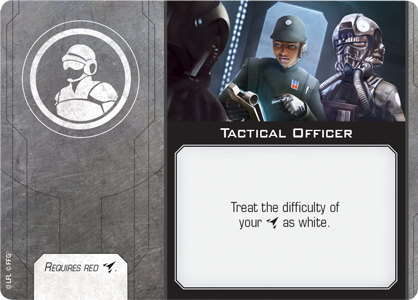 The Tactical Officer is another great option – convert your Coordinate Action from Red to White ensuring you can use it without loading up on stress yourself.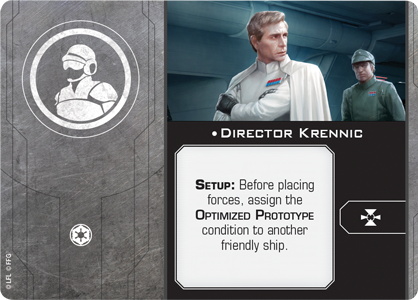 And finally we get a look at Director Krennic for 2.0. His Optimized Prototype ability could be pretty handy: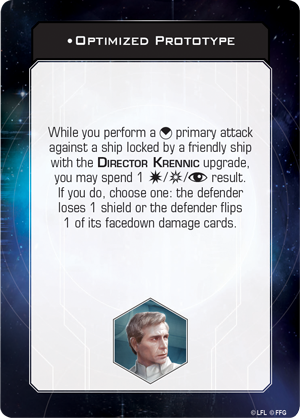 The option to spend focus tokens to flip facedown damage cards or just flat out remove shields is pretty nice. Just be sure to get that Lock first!
The TIE Reaper will be reporting for duty late in Q2 of 2018 – but it will be ready for 2.0 on September 13th!