Games Workshop is back with more Kill Team info as the Genestealer Cults sneak on the scene. Plus more rules reveals ahead – have you heard the call of the Four Armed Emperor?
Genestealer Cults are one of the sneakiest armies in the game so it's fitting that they use those infiltration and sabotage skills in Kill Team. So it shouldn't be a shock to anyone that their Tactics reflect those traits. If you want to launch surpise assaults like no other then the GSC would love for you to join their newsletter.
"Genestealer Cults Tactics are designed to complement their mobility and general sneakiness by offering short, sharp boosts to their offensive power – and shoring up their fragile defences."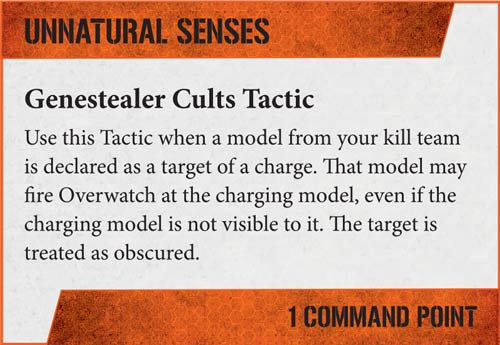 Unnatural Senses is up first. This Tactic is usable when a model in your Kill Team is targeted for a charge. It allows the target model to still fire Overwatch even if the charging model is not visible. The charging model is treated as obscured.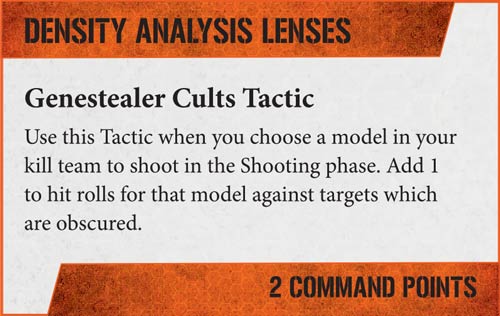 The Density Analysis Lenses add one to your hit rolls when shooting at a target that is obscured.  It costs 2 Command Points but when you REALLY need your Mining Laser to hit it just might be worth it!
According to the article:
"In Kill Team, obscured foes – that's anyone who's hiding behind cover – are much harder to hit."
Now these two Tactics also confirm a few things and lead to some more questions.
Overwatch is in the game
Overwatch requires Line of Sight (normal shooting rule)
Charging to engage in CC is also in the game
To Hit Rolls also function similar to 40k
Obscured foes are "harder to hit"
This has some implications. Does Overwatch still require 6s to hit? What about Obscured? If that makes hitting targets harder then does apply to the To Hit roll or the To Wound roll (assuming there is a To Wound Roll)? Are Charge distances random like in 40k or will they be fixed? How will Charging work with Alternating Activation? What about multiple models engaged in the same close combat?
Sure, a lot of these questions have been worked out in 40k, but we don't know about Kill Team. It really comes down to how much of 40k's ruleset (aka DNA) has been injected into Kill Team. The more we learn about the game the more questions I have. I really want to get my hands on the rulebook and compare it to 40k.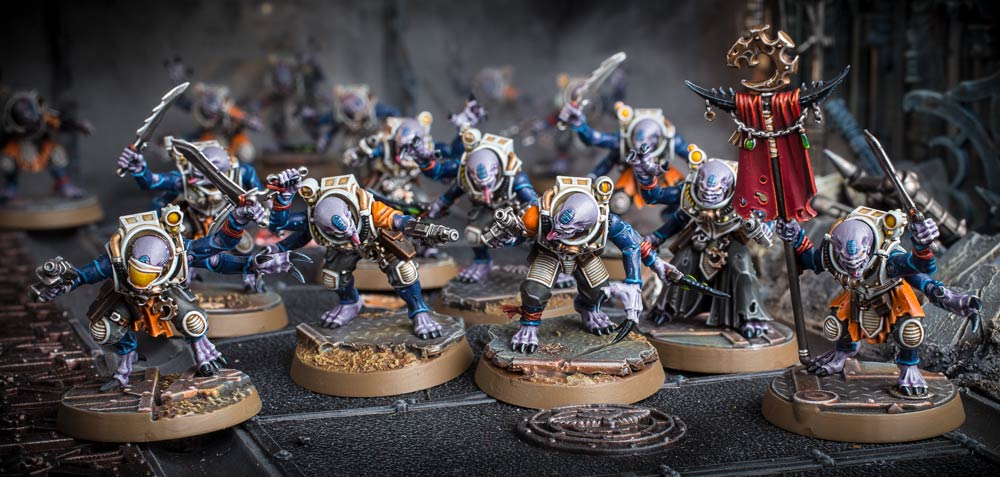 On top of those questions about the mechanics, we saw yesterday that the Ad Mech were getting to use their Canticles. Well today we're seeing that the Genestealer Cults are also getting their Cult Ambush rules:
"If you're a fan of cunning tricks and ploys, you'll love the Genestealer Cults – whether closing in on the foe at speed with their Cult Ambush rule or drawing on their various underhanded Tactics."
Are we just going to be playing Kill Team with the regular Codexes at the table, too? This is starting to sound like Kill Team might be Skirmish 40k with some alternate rules…that's not a bad thing! But can we really call that a rework from the ground-up? I'm skeptical – but I'm also trying to reserve judgement until we get the rulebook.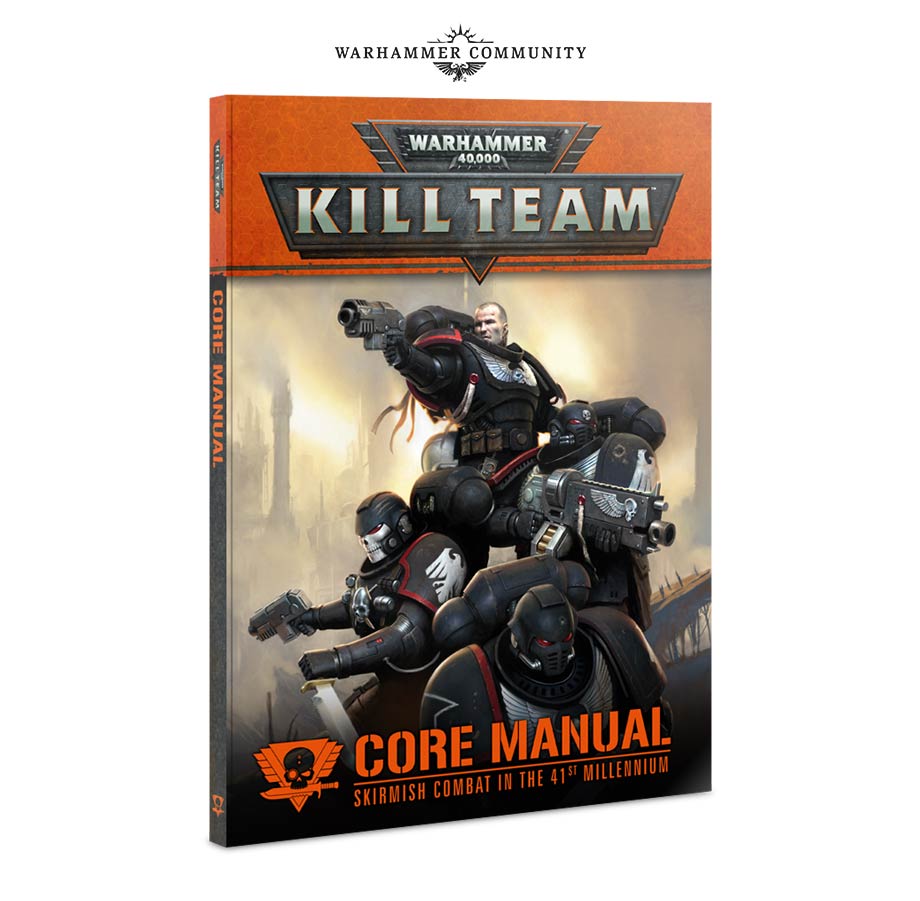 Regardless of the questions I have, I'm still looking forward to fielding a Genestealer Cult Kill Team. We'll get access to all the classic units – from Neophytes to Genestealers – and that's something to get excited about!

How do you think Kill Team is shaping up? Is there a faction you're eager to play in a Skirmish-Scale game?