Kill Team is shaping up to be more than just a one-shot Skirmish game – Alternating Activations, Multiplayer, Tactics, Missions, Open, Narrative, and Matched Play support. This game just might go the distance.
Well now the big announcement from Games Workshop is that Kill Team isn't just on the way – it's going to be a fully supported Skirmish game:
Fun video aside, the real news is that Games Workshop has some plans for this game. It's not going to be a one-and-done release either.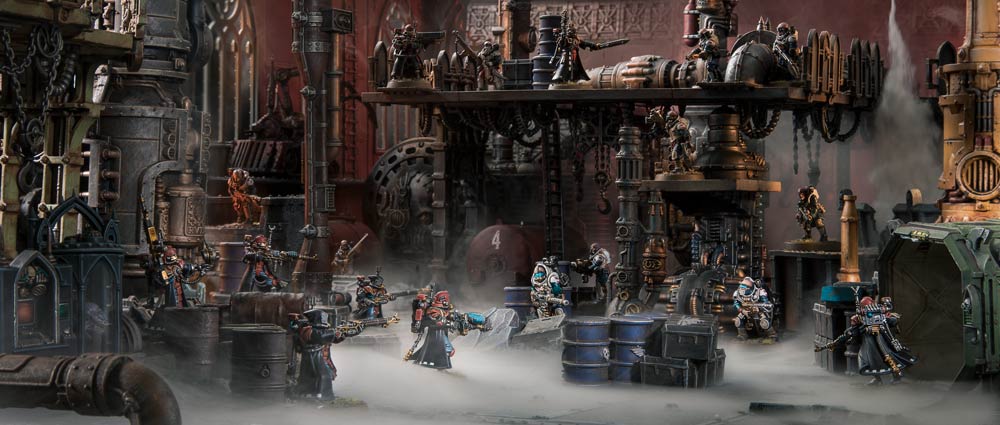 This is just the beginning for Kill Team. This is a fully fledged Warhammer system that we'll be supporting for years to come with rules, models, expansions and more – not to mention organised play, store tourneys and independent events. You can get started with Kill Team in confidence that we'll be providing continuing support for your hobby.
Yeah – that's right, Kill Team is going to get continuing support! This could be the idea skirmish game for 40k fans. Don't get me wrong, Necromunda is great and I liked playing Shadow War:Armageddon. However, Kill Team just might be the perfect intro game for new players because it's using the same models from the 40k side of the house AND it's going to have organized play as well.
Think about that – you'll be able to create 5-10 model skirmish forces for all your favorite factions. Pick up a Start Collecting Box and you'll be well on your way. If you like the army on the skirmish side, maybe you'll pick-up a copy of the codex next. And perhaps another unit or two… Before you know it, you've got an allied detachement and soon after a small army. All because you started with a Kill Team force.
Wait, What Is Kill Team?
Oh right – if you've been living under a rock you're probably a little dumbfounded or think this has something to do with Rogue Trader. Well it's a very different game than 40k. I'll let GW explain:
Here's Dave Sanders, who heads up the Kill Team rules project, on what you can expect from the game:

Dave: Kill Team is a standalone skirmish game set in the world of Warhammer 40,000. The game's focus is on covert operations – players hand-pick their kill teams of die-hard special operatives to get a specific job done, whether that be reconnaissance, sabotage or assassination. The games are fast-paced with a rapid back-and-forth between players (and can include up to four players). There's something in it for everyone: there are narrative missions and a campaign format for those who love telling their own stories, countless new challenges for hardcore gamers in the matched play rules, and for people new to the hobby, it's a great place to start – the game has a low model count, and with the fantastic generator tables you can get a really thematic kill team up and running very quickly.
Rules Wise, this game shares some common DNA with 40k, but it's a different beast entirely. For all you gamers out there that have been clamoring for Alternating Activations – here you go!
Kill Team uses a form of alternating activations – in some phases, you'll take it in turns to use each of your fighters, acting and reacting to transform every moment of the game into a tense battle of wits where a single mistake can be deadly.
On top of that Command Points are still going to be used as well – only we aren't getting Stratagems, we're getting Tactics: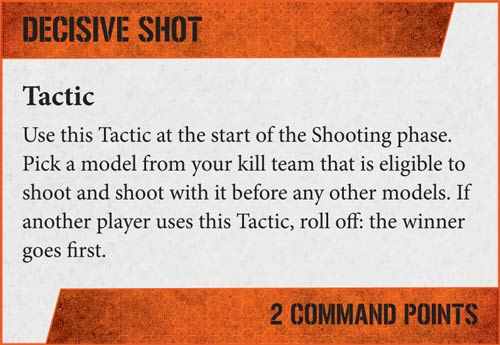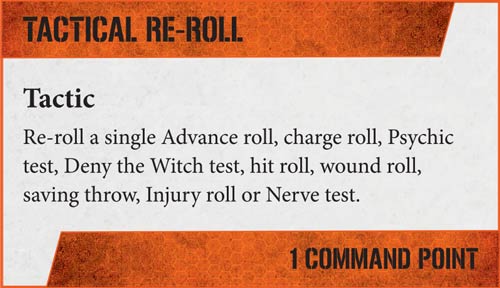 From the sounds of things in the article we're "only one Command Point a turn to spend" – but Decisive Shot costs 2 Command Points to use. Seems like Kill Team might be borrowing from AoS 2.0 as well…
Multiplayer and Missions
Kill Team games will support between 2-4 players. The idea of having 1, 2 or 3 opponents on one table is pretty exciting. It works for Shadespire so I'm betting we're going to see a similar balancing act for Kill Team as well. On top of that there are Missions in Kill Team that add to the narrative as well as the mechanics of the game.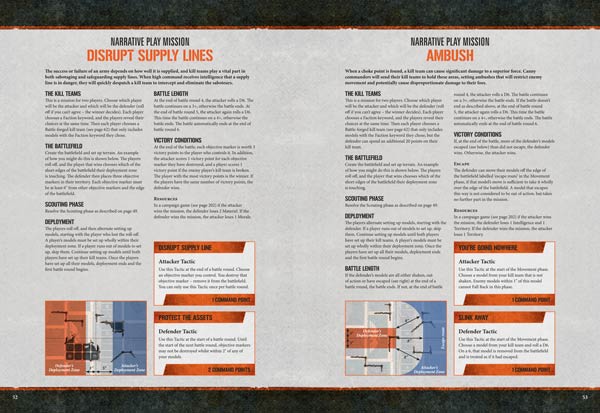 Disrupting Supply Lines is a great example scenario of this concept – Kill Teams are behind enemy lines messing with supplies. It makes sense from a narrative standpoint that it's just a small group causing some sabotage. And Mechanically, the mission has some tweaks from a typical "Take and Hold" the objective mission you'd find in a game of 40k. I dig it!
Overall, Kill Team is sounding like a Skirmish Game that offers a lot to all the different types of players out there. It doesn't matter if you're looking for a Narrative, Open or Matched Play experience – Kill Team does it all. And if Games Workshop keeps supporting the game for years to come, then Kill Team will be the perfect gateway game into the larger world of 40k!
Alternating Activations? Oh boy I know a few people who are going to be THRILLED.