Is that cough contagious? Probably. It's a gift from Nurgle after all! It's time to take a look at the gift-givers that keep on giving with the Kill Team Focus on Death Guard!
The servants of the Plague God are here to blighten your day with some gross facts about their entrance to Kill Team! It's Pox Walkers and Plague Marines coming to bring blessings from Nurgle.

The Units
Joining the fray for Death Guard will be the Plague Marines and Pox Walkers. Plague Marines are notoriously tough to kill and will bring all those lovely plague-spewing weapons. Pox Walkers, on the other hand, are going to be your cheap, disposable bodies that have some pretty nasty tricks.
If you're looking to have a smaller Kill Team based around the array of plague weapons of the Marines have access to, or if you want to flood the table with bodies the Death Guard can do that. One thing that you'll find no matter how you build our your forces is that the Death Guard want to win by attrition.
The Tactics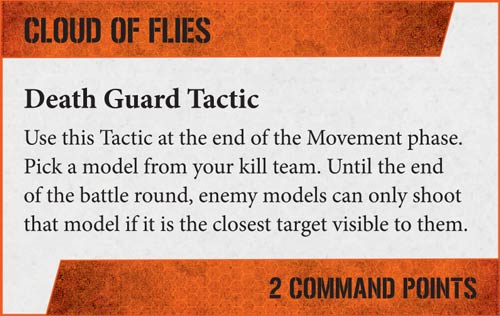 Cloud of Flies does something more than just causing your opponent to get a penalty to shoot at this model. For 2 Command Points, you can actually limit which model can be targeted. This is a extremely powerful ability as it allows a clever player to dictate the shooting engagement. That's huge.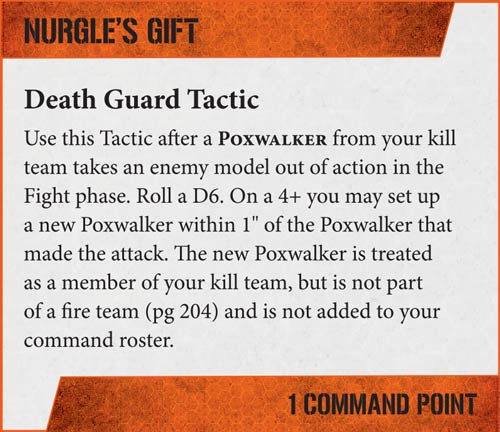 Poxwalkers blooms are a thing. Turns out in Kill Team, they still are! If your Poxwalkers happen to taken an enemy out of action in the fight phase then you can spend a command point and on a 4+ you get a NEW Poxwalker within 1″ of the the Poxwalker that made the attack. The Plague IS virulent after all…
The Death Guard bring a resilience and an array of weapons and tactics that make them unique. Are you ready to face them on the Kill Team Tabletop?
Wash your hands!