Age of Sigmar Second Edition is out in full force with Soul Wars and the General's Handbook 2018 available. Now it a perfect time to talk about how to put together your army for a Matched Play Game of AoS.
Matched Play List Building is a core component to the Age of Sigmar scene. Folks love to build a list and tinker with all the possibilities and synergies available to them. For many more players, building the list on paper is the first step – even before purchasing any models. They want to know exactly what their army will be before they start physically building it. I can't really blame them either! Who wants to make a bad purchase, right?
Understanding the mechanics of list building is very important and that goes double if you want to play in the competitive scene. Heck, for the community at large the default way to play is using the Matched Play rules. That's why we're going to go over all of them today.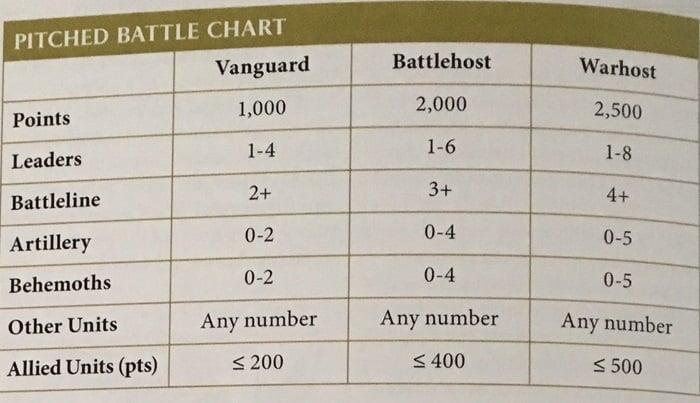 First off, the Pitched Battle Chart is your North Star. This is the reference point to which we'll be referring to for the rest of the article. It's important you understand how this works so familiarize yourself with it and get comfortable with what information it's relating.
Armies are built by deciding the size of the game: Vanguard, Battlehost, or Warhost. Games Workshop has a rough outline of how long each game size take but that can vary greatly. The big take away here is that the point size of the game institutes limits on the types of units you can take. For example, must take at least 1 Leader unit and can take up to 4 in a Vanguard sized game. You must take at least 2 Battleline units but can take up to as many as you can fit based on points. Artillery is not a mandatory choice, but in a Vanguard game, you can have a maximum of 2 Artillery units. Got it?
Allied Units work in a similar way – they are limited by points however. They also have a few more restrictions: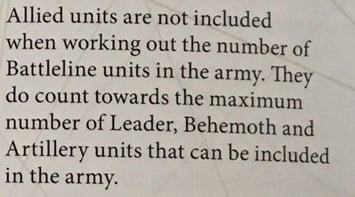 Keep that in mind – Battleline allies do not count toward your minimums for Battleline. Leaders, Behemoths and Artillery units DO count toward maximums.
Warscrolls are another mechanic you're going to want to familiarize yourself with. These are essentially formations you can choose to take with your army if your forces match the requirements on the warscroll: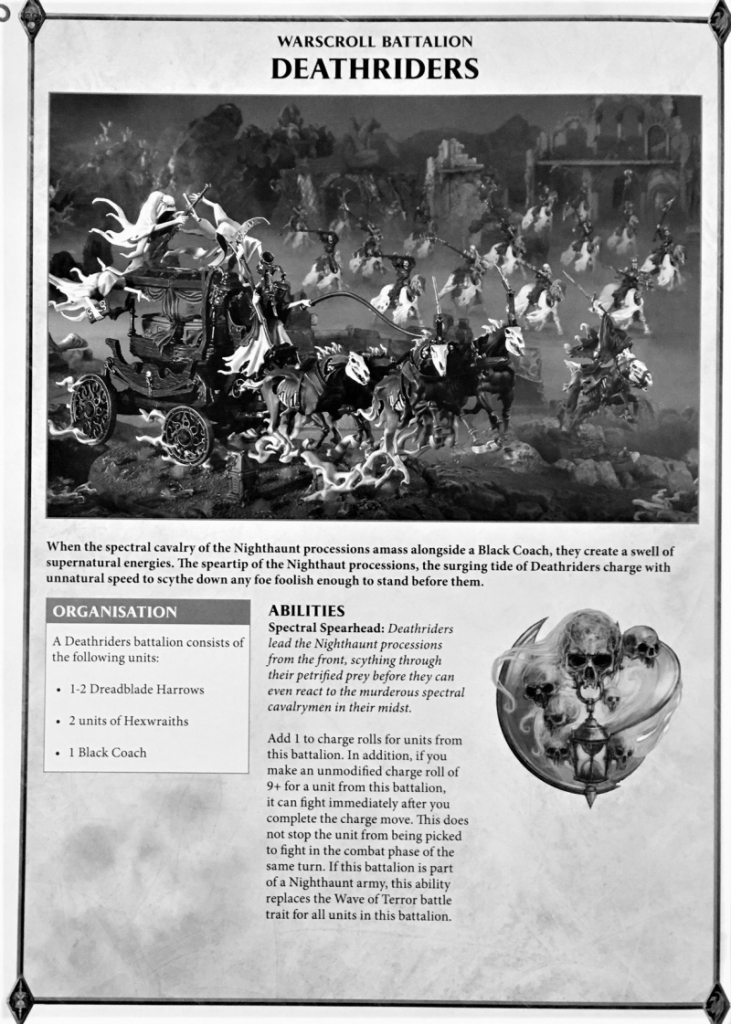 Using this Warscroll as an example, if your army contains 1-2 Dreadblade Harrows, 2 units of Hexwraiths and 1 Black Coach, then you can purchase this Battalion and those units would get the extra benefits of "Spectral Spearhead" – the abilities apply to all relevant units in the Battalion.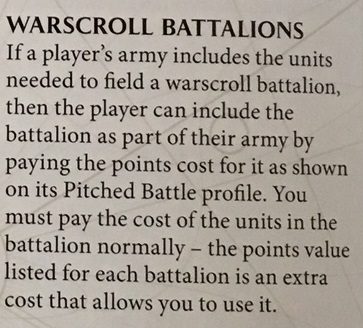 Again, these Battalions do cost points and those must be paid for you to get the benefits. You can still take the units listed in the Battalion as a part of your army without paying the extra points, you just don't get to use the extra benefits.
Pitched Battle Variations
Sometimes your armies don't fit perfectly at the listed point levels. In that case, if you and your opponent agree, you can modify the points of the game by plus or minus 250 points. So a Vanguard game can be either 1250 or 750 and a Warhost game could be 2250 or 2750. The points shift but the restrictions stay the same. This is really important if you agree to play a 2250 game as that could be either an upsized Battlehost game or a downsized Warhost game – always check with your opponent!
Army Roster And Open Information
Age of Sigmar is not a game where information is hidden from your opponent. If your opponent asks about what a unit is, you should be clear and helpful in communicating what is in your list. In fact, you're supposed to have your list written down and available for your opponent to see: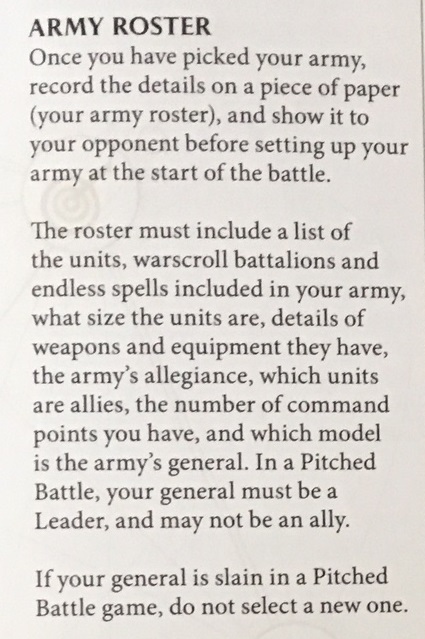 Additionally, unlike the basic rules of the game, in a Matched Play game if your General is slain you do NOT pick a new one.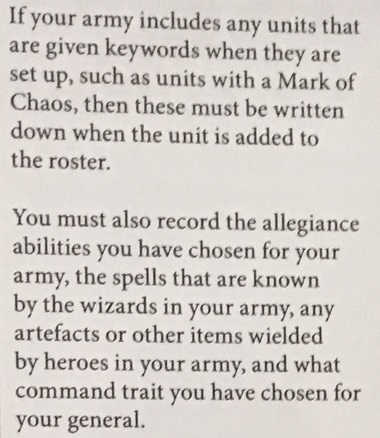 The Army lists are supposed to be pretty through. Pretty much everything you're using on the tabletop from allegiance abilities down to wargear should be included in your lists – nothing should be hidden from your opponent. If it's not on your lists, you can't use it. Now that might sound like you're being a bit harsh, and in a friendly game you might give your opponent some wiggle room – but if you show up to a tournament with missing stuff don't expect to use it. And if you do, you are risking getting hit with a DQ.
Command Points
The last key thing to know about are Command Points. These can be purchased additionally with left over points from your list building. For example if you're playing a Battlehost game but only field an army with 1850 out of 2000 points used, you can use the remaining 150 points to buy Command Points. These cost 50 points per 1 Command Point.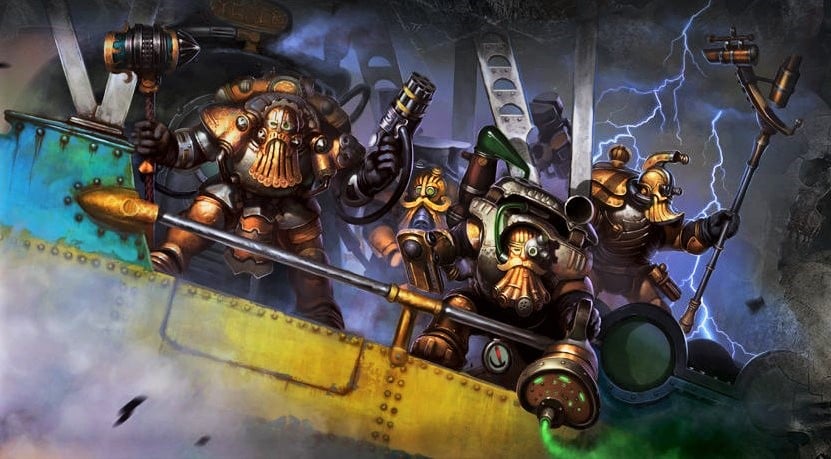 That's pretty much all you need to know for list building for Warhammer: Age of Sigmar. You'll still need a copy of your Battletome and access to the Pitched Battle profile points – those can be found in your Battletome at the back or in the General's Handbook 2018. If there is a points difference between the two, use the most current printing of the points! So if your battletome was printed in 2017, then the current General's Handbook supersedes your Battletome points.
Good luck and happy list building!