Asmodee's parent company Eurazeo has announced a sale that could be completed by the end of the year.

"Paris, July 20, 2018 – Eurazeo is pleased to announce the launch of exclusive discussions with PAI Partners for the sale of its stake in Asmodee, a leading international games publisher and distributor,based on an enterprise value of €1.2 billion.

As the publisher of some of the best known franchises internationally, such as Catan, Ticket to Ride, Splendor and Dobble/Spot it !, and a distributor of Pokémon and Magic trading cards, Asmodee has emerged in recent years as one of the highest performing and most innovative players in its market, globally.

Driven by Stéphane Carville and his teams and supported by Eurazeo, the company has transformed substantially, from a Franco-European distributor in 2013 to a global publisher today, capitalizing on the value of its intellectual property. In four years, revenue grew from €125 million, generated 48% in France,to €442 million, generated 75% internationally, representing an average annual growth rate of 37%. At the same time, publishing revenues increased to nearly two-thirds of games sales. The Group completed 20acquisitions during this period, representing over €140 million in revenue.

Eurazeo's sales proceeds from this transaction could total around €580 million for Eurazeo and its investment partners, and €435 million for Eurazeo's stake representing a return on its initial investment of 4.0x and an IRR of 35%.

Under French law, the signature of a purchase agreement is subject to a preliminary information and consultation process involving employee representatives. The disposal is could be finalized by Q4 2018, following the completion of this process and supervisory authority approval."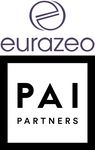 Eurazeo is a multinational, publicly-listed private equity firm based in Paris, France. They are the current owners of Asmodee.
PAI Partners is a major European private equity house and is the leading private equity investor in the French market.
Eurazeo often brings their wholly owned companies to market and cash's out via an IPO.  The sale of Asmodee to PAI Partners is a change from the norm. Asmodee after years of acquisitions now has a huge stable of products ranging from Catan to X-Wing. Note that PAI is the only buyer in talks with Eurazeo. The company hopes to have the deal done by Q4, so it must be quite advanced at this time.

Asmodee NA brands.