Eberron is here folks. And with it you get four new races–we'll be covering each one of them in turn as we go through the Races of Eberron.
Magical robots should be the only two words I need say in order to convince you that Warforged are one of the coolest pc races of all time. You're a sapient robot who's been forged–originally for battle–but now the war that you were built to fight has ended. What does that mean for you? Who are you as a person, if indeed, you even are one? These are the kinds of stories that you can explore as a Warforged.
Or, y'know, you can just be curious about humanity. Or a Magic Robot who does whatever they want. At any rate, you can find rules for the Warforged in the Wayfinder's Guide to Eberron, or the latest Unearthed Arcana.
They're a fascinating race. As they talk about in the video, the Warforged were designed by House Cannith to fight in the Last War. The first of them were little more than mindless automata, but as the war progressed and House Cannith's arcanists, artificers, and engineers devoted their time and energy to improving them, they became able to forge truly living machines. Breathing life and, depending on who you ask, a soul into these machines.
Every Warforged was built with a purpose. That's the interesting thing about this option to me. Your Warforged traits reflect this, with features like Integrated Protection offering you best-in-class AC just for existing. Integrated Protection lets you determine which of your "protective layers" are active, essentially any Warforged can configure themselves for light, medium, or heavy armor depending on if they meet the prerequisites.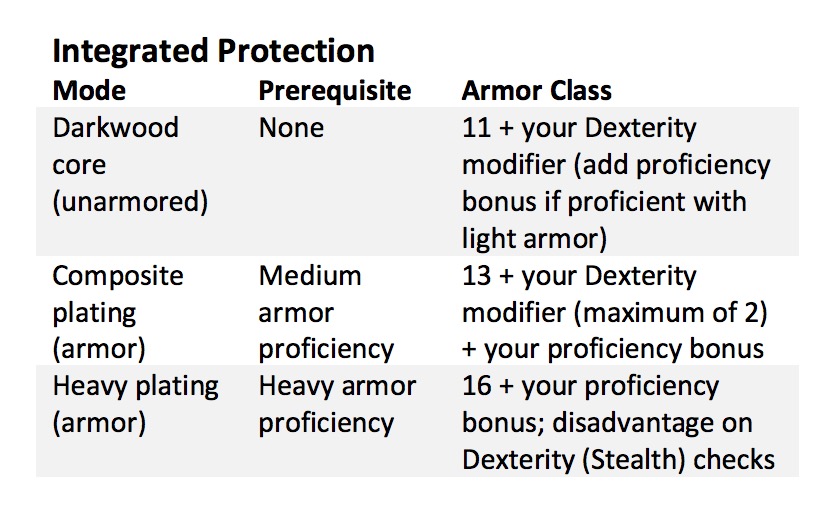 Of course, most of the discussion about Warforged seems centered around this one particular class feature. With one group of people thinking this is a little overpowered, and while it's certainly good–I want to remind you all that balance isn't really what you think it is in the game. The designers have admitted that they don't care about balancing each of the classes mechanically with one another–it's more about the narrative. Some of the community is up in arms because it is mechanically stronger at 1st level than certain characters can manage. But it all evens out as you get higher in level–it doesn't really make sense for a Warforged to outfit themselves with magic armor (why would they) and you can't really have it scale without relying on proficiency. It's an elegant mechanic that keeps them relevant and makes their being tied to the mechanics.
But I digress. The other standard stuff is all there. Warforged are Immune to Sleep and do not suffer Exhaustion owing to lack of rest (but that's it, so Frenzied Berserkers beware). You don't eat, drink, or breathe, and are immune to disease and resistant to poison. But what's really interesting to me are the Subraces.
As mentioned, every Warforged was built with a purpose in mind. Whether they were built as soldiers or scouts, or even highly specialized functions, every Warforged was built to fulfill a mission. That's really interesting to me. Because it gives you a backstory (assuming you're using standard Eberron as a backdrop, your mileage may vary in other settings) right off the bat. Did you succeed at your mission?
Did you fail?
If so, what does that failure mean for you? Or what does success mean for you? And what are you doing now that you've completed your task? Or now that you no longer need to do the thing you were built to do. Do you revel in your freedom, is it terrifying? What does it mean to be alive?
So often, RPGs give us opportunities to explore–whether it's other worlds, dark dungeons, or windswept, dragon-haunted vistas. But it's not very often we get to explore internally, which is why I like Warforged. They offer an opportunity to step outside of your normal experience and ask questions–OR if you don't like that you can just be, 'me but if a giant magic robot was me.' And there is room at the table for both.
But we were talking about Subraces, which for Warforged means a custom type of Warforged. Each one is geared for a different mission. You might be a Juggernaut, built for frontline combat.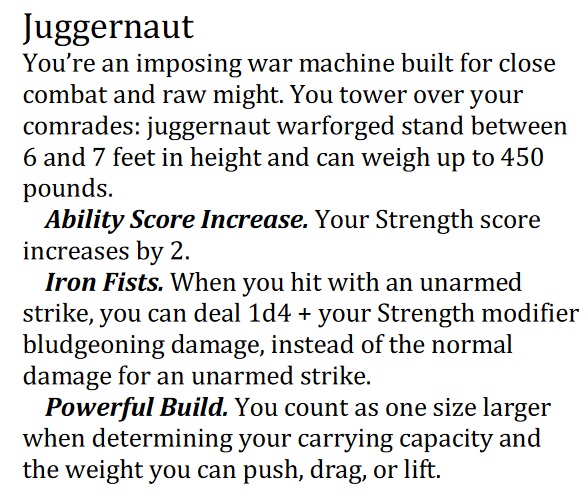 A Skirmisher built for scouting.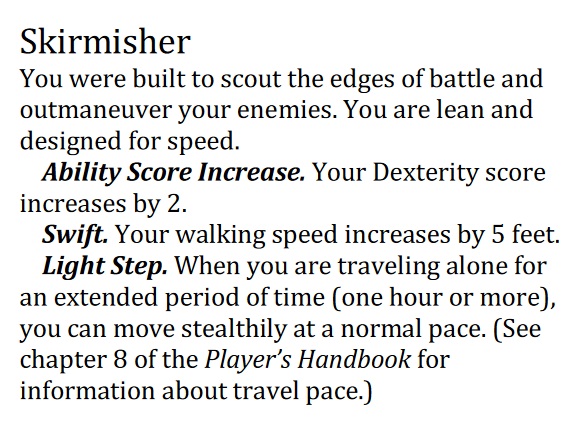 Or the rare Envoy, purpose-built for a dedicated task. These are the assassins and spies and entertainers (hey one of the examples they give is a Warforged named Lute that has a built-in magitek lute that folds out of an arm).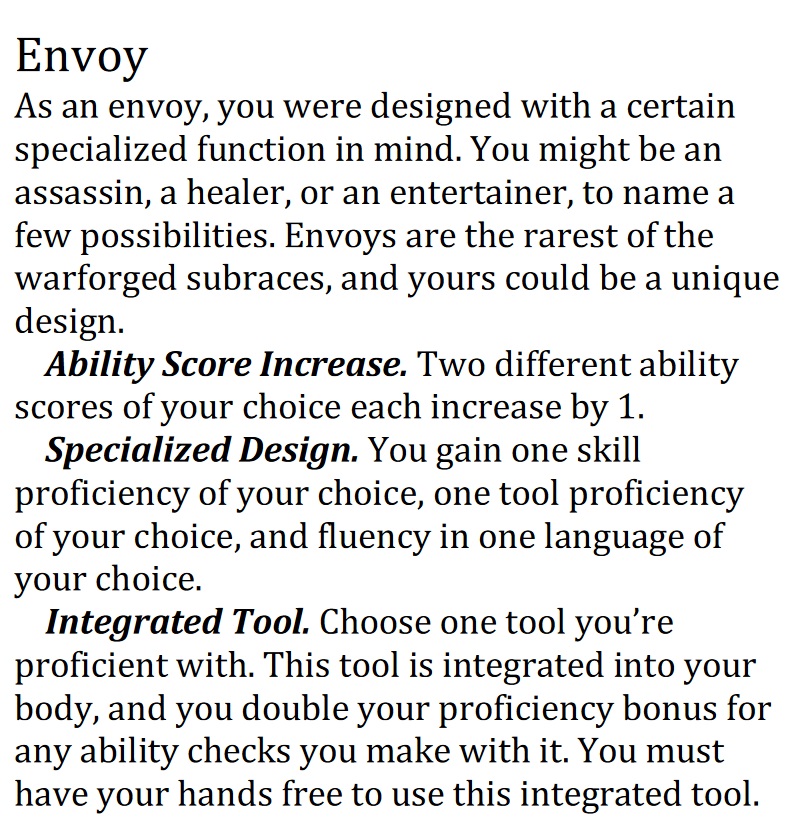 So for now, that's the Warforged. There's a lot to dig into with these robots. They have an interesting backstory and are one of the most iconic parts of Eberron (unless you're that rare class of gamer who loves playing vaguely lycanthropic creatures). Be sure and check back for more on each of the Races of Eberron.
Happy adventuring!