Duncan Jones has been teasing a new project for the last week. He's finally confirmed that he's making a movie about 2000 AD's blue-skinned Rogue Trooper.

A bit of background on the comic: Rogue was created by Dave Gibbons and Gerry Finley-Day in the early 1980s. the story focuses on the genetically created super soldier (he is immune to most toxins and can swim in acid, among other typically deadly things)  his search for the Traitor General. His is accompanied by three comrades that were once GIs, but have been stored in biochips after their death. Gunnar resides on Rogue's rifle, Helm on his helmet, and Bagman on his backpack.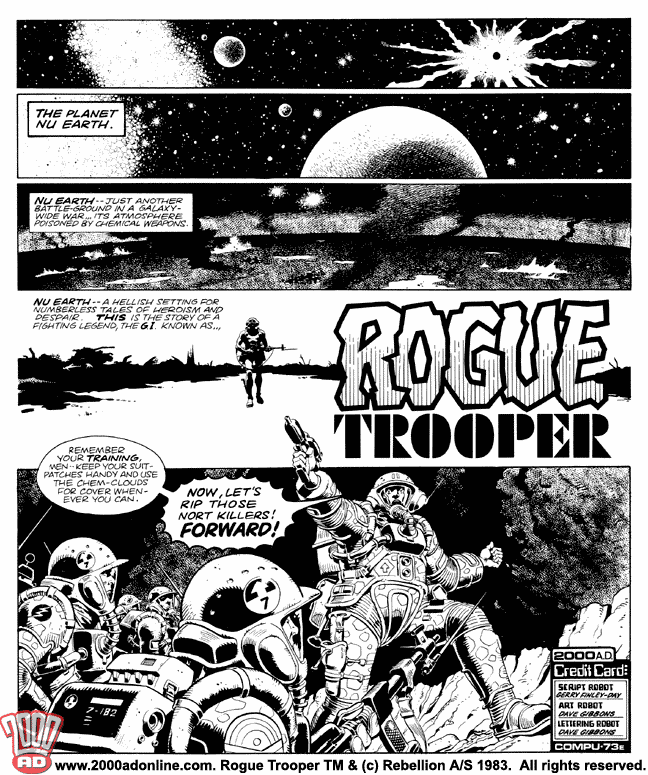 He's gotten a couple of reboots over the years; he has his own miniatures game, and is currently the focus of a video game that's out on a bunch of platforms. It's not the most obvious choice for a comic book movie, but that's not necessarily a bad thing. The character comes with an interesting story to work with, and he's different from what Marvel and DC has had to offer.
Incredibly excited to confirm I'm working on an adaption of Gerry Finley-Day & Dave Gibbons' 2000AD comic ROGUE TROOPER!
Lot of work ahead though, so we will NOT be at SDCC.
More info available at https://t.co/7bTNs5f1lM
#roguetrooper @roguetrooper @LibertyFilms @LibertyStu

— Duncan Jones (@ManMadeMoon) July 16, 2018
There's no word on if they're going with animated or live action on this – I could see it going either way. The drawback here is the director. Mute was near unwatchable, and Warcraft was a critical flop… but Jones made two good movies before that. It's a toss up, especially depending on who he chooses to work with. Hopefully he can live up to to fans' expectations.