Goatboy here again with a quick and dirty look at the new Kill Team release.
We all know how Kill Team came about – people thought about making a faster version of 40k they could play on a lunch break.  Well the new edition is that but it actually seems to be more then just a watered down version of our Apocalyptic Futuristic Gothic War.  I won't go into depth but look at what I would want to play when I get chance to throw some dice.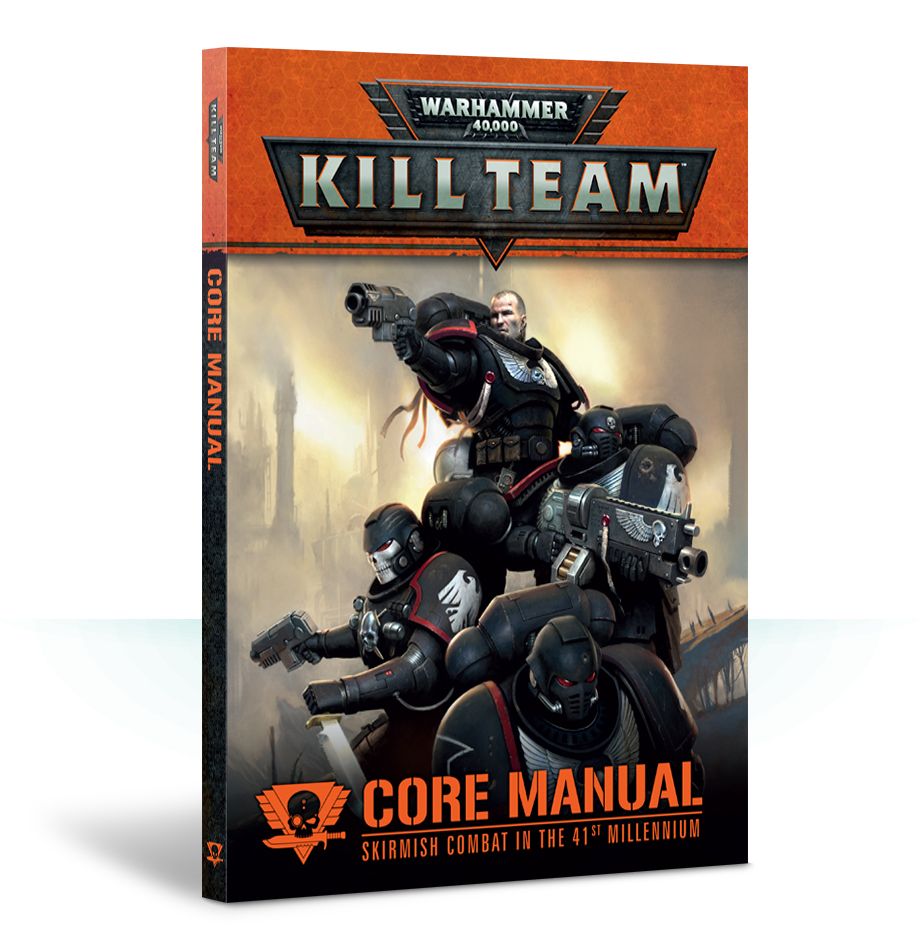 Going Over the Rules
If you haven't read my Monday article – I just had another beautiful baby boy on July 6th.  This means my time is extremely cramped with new kid, older kid, tired wife, real work, and finally commissions.  I still really want to play 40k so finding a version that is fast, simple, and lets me play models that are not always on the regular 40k table tops (Plague Marines, regular marines, non Custodes/Knights).  I also like how the rules are still 8th edition – but not a full copy of it.  There are bits and pieces of experimentation – that while not so good for 40k itself – work well in this smaller format.
I really enjoy the changes to movement phase and back and forth activations.  This feels much more like a true game of tactics as you have to figure out what you try to work and use first as you stack abilities/damage/etc.  The speed also makes this a game I would excel at as slowing down the game both frustrates me and usually has me second guessing.  If I can play by the seat of my pants I usually do better.  Or hung over – I seem to be amazing when I am hung over.
From there the changes to the movement phase is also neat as I did miss the whole – you have to fully go for a charge in the old days of Fantasy.  This lets you think the character has fully committed to charging in instead of the whole, move, shoot, and then charge we see in 40k.  It makes assault models very distinct as they are moving forward and trying to involved with their swords, claws, and fists.  I also like the idea of reading your self to shoot better/first.  This is another decision as you are not gaining any ground but hoping your opponent doesn't just hide from your readied shooter.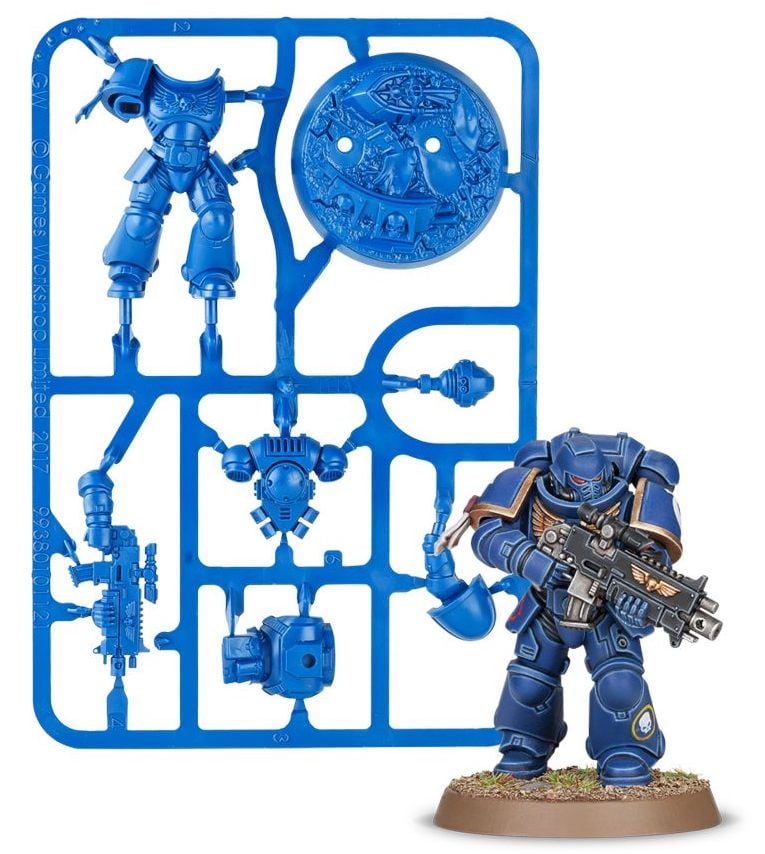 Hey man, the first one's free. You can stop anytime…
Gateway Drug to 40K
Beyond these things I think the game is a very good starting point for those interested in getting into 40k but only spending a little bit of money. Heck the amount of random stuff I have laying around means I can easily make most Kill Teams.  The only one I am kind of wondering why they are not here is the Daemon option – but I think they wanted to leave the "realistic" monsters that are not just pure form of emotions and thoughts.  Still some Blood Letters running around would be pretty neat.  I bet we see an expansion bringing some things in.

Goat Approved Kill Teams
Let's look at some Kill Teams I might throw down in the coming weeks.  Most of the points are the same as 40k with small tweaks for fighters/shooters/etc.  There are some extreme changes and I will list the points for the guys to show you how you build.  I am still unsure how much Command Points will be needed as you can easily set up to gain 2 a turn with a leader and the 1 gained from normal usage.  For those wondering – for ever 10 points you have difference in Kill Point totals – the lower player gains an extra command Point.  As most of the units available are not "tank" style options it gets hard to not have enough models on the field to do something each turn. Will see as the matched play meta starts to work out – but I suspect most players will run between 80-100 points for their kill teams.
Matched Play – Point total is 100.
Model min 3 – max is 20 models.  So you can't just take 30 Grots and call it a day.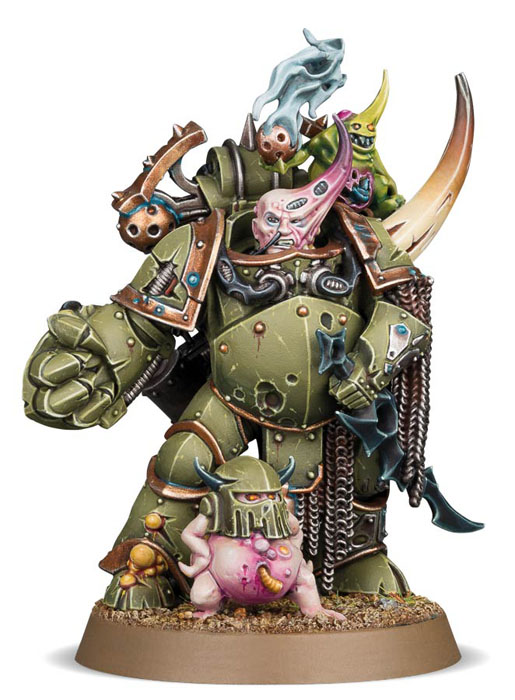 First army I looked at is the Death Guard.  I got a plethora of Plague Marines and painted Pox Walkers so why not start with them.
Kill Team – Poxillus Maximus yer Face!
Plague Marine Champion, Plague Sword – Leader Specialist – 15pts
Plague Marine Gunner, Blight Launcher – 18pts
Plague Marine Fighter, Flail of Corruption – Zealot Specialist – 19pts
Plague Marine Fighter, Flail of Corruption – Combat Specialist – 19pts
Pox Walkers X 9 – 27pts
This is a huge army with a horde mentality to try and move things around.  You don't get all the access to Specialists to make things pretty interesting – but you can just grind them down in zombies.  The two Flails of Corruption should do a ton of damage when they come in with 2-3 attacks each depending on if they charged or not.  The army will be slow so it needs to try and scout first when you do the scouting phase before you start the game.  I am wondering if using two gunners with the flamer option might be interesting – but this is the first army to look at it and give me a nice set of models to play with.  Plus I can do this whole zombie thing.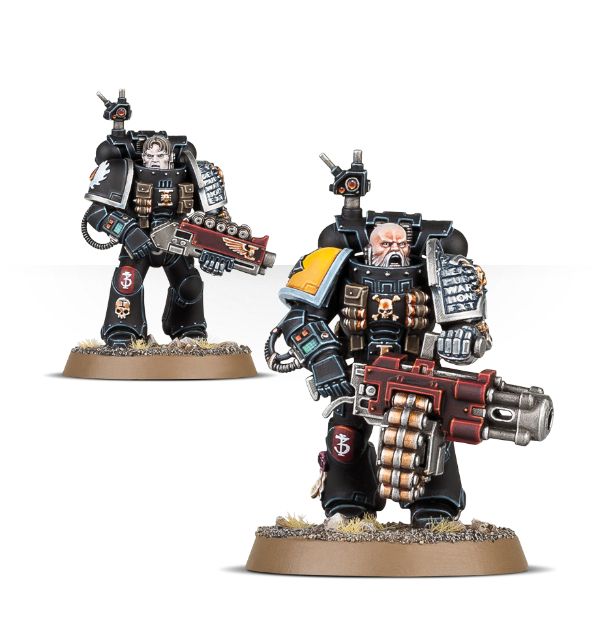 Next up lets look at an actual Death Watch Kill Team. They have some cool things as you can add an Intercessor/Reiver as you want.
Kill Team – Death Watch you in the Knee!
Watch Sergeant, Power Maul – Leader Specialist – 18pts
Deathwatch Veteran Gunner, Deathwatch Frag Cannon – Heavy Specialist – 21pts
Deathwatch Black Shield, Power Maul, Storm Shield – Zealot Specialist – 21pts
Deathwatch Veteran Gunner, Death Watch Frag Cannon – 21pts
Deathwatch Veteran – 14pts
Basically say you can see this is just a Death Watch Veteran box.  That is the biggest interesting thing out of this Kill Team game – it is basically just one box of stuff.  Maybe you can get lucky and use the snap fit models but overall its a pretty cheap game.  This is how they can easily get people involved with 40k, still have a matched played mentality, and let you finish a game beyond turn 4.
~What Kill  Teams are you looking at?  I am thinking of breaking out some Grey Knights to as massed Storm Bolters should be pretty rough for armies.  What other old units are you looking at bringing to the table top?