Games Workshop has more Kill Team and Age of Sigmar goodies up for Pre-order this weekend. Here are the pricing and links!
It's the weekly round-up of all the Games Workshop Pre-orders. Here are all the official pricing and links in one spot:
via Games Workshop
Kill Team: Drop Force Imperator – Astra Militarum Starter Set $50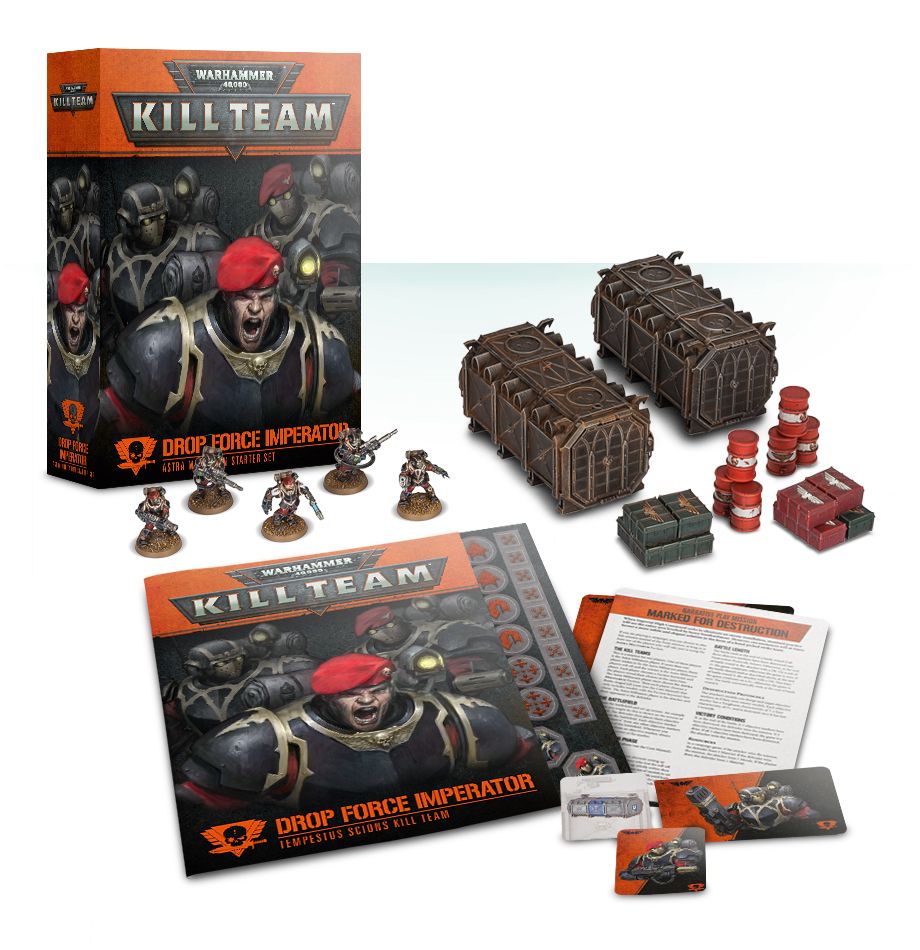 Few amongst the Tempestus Scions can match the exploits of the exemplary Zetic Tigers. Several regiments of these decorated killers have gone to war on the world of Vigilus, forming teams like Drop Force Imperator to respond rapidly to the many threats the Imperium faces there.
An expansion for Warhammer 40,000: Kill Team, this box includes 5 plastic miniatures, a scenery set (with exclusive rules!), and brand-new Tactics and Mission cards.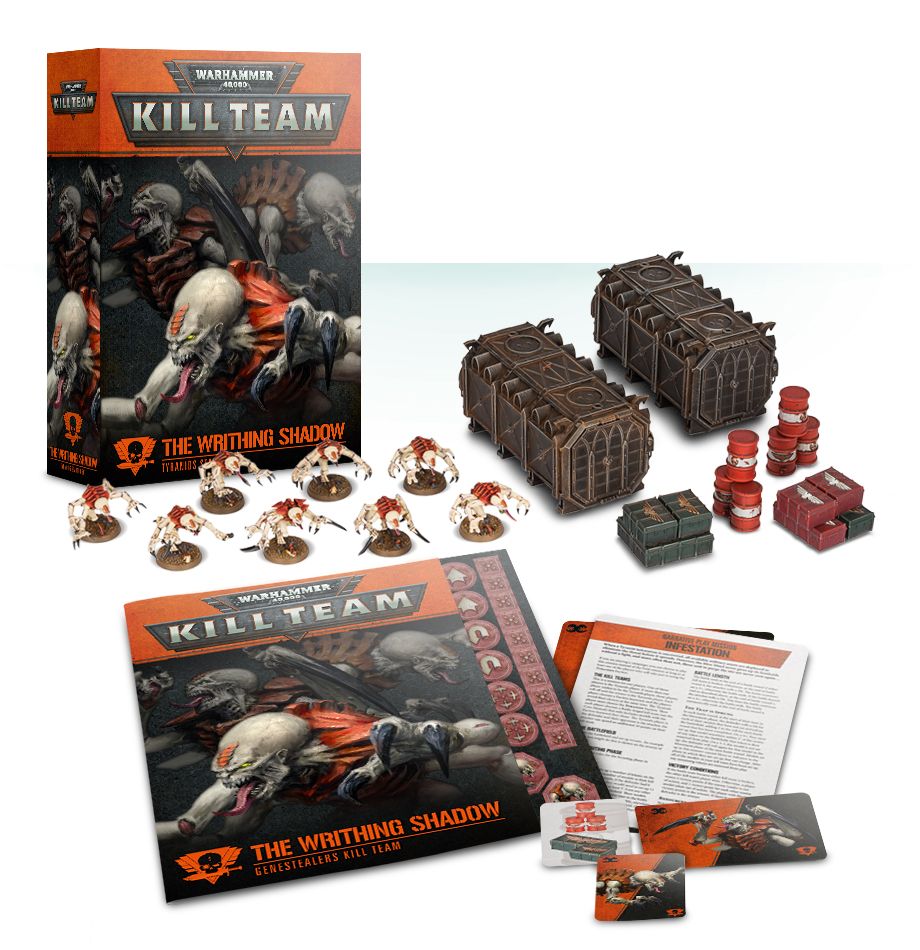 Tyranid vanguard organisms are often stealthy, and invariably lethal. When a string of strange disappearances and bloody murders led across the Nachmund Sector towards the planet of Vigilus, it was not long before an Inquisitor of the Ordo Xenos suspected such creatures' involvement…
An expansion for Warhammer 40,000: Kill Team, this box includes 8 plastic miniatures, a scenery set (with exclusive rules!), and brand-new Tactics and Mission cards.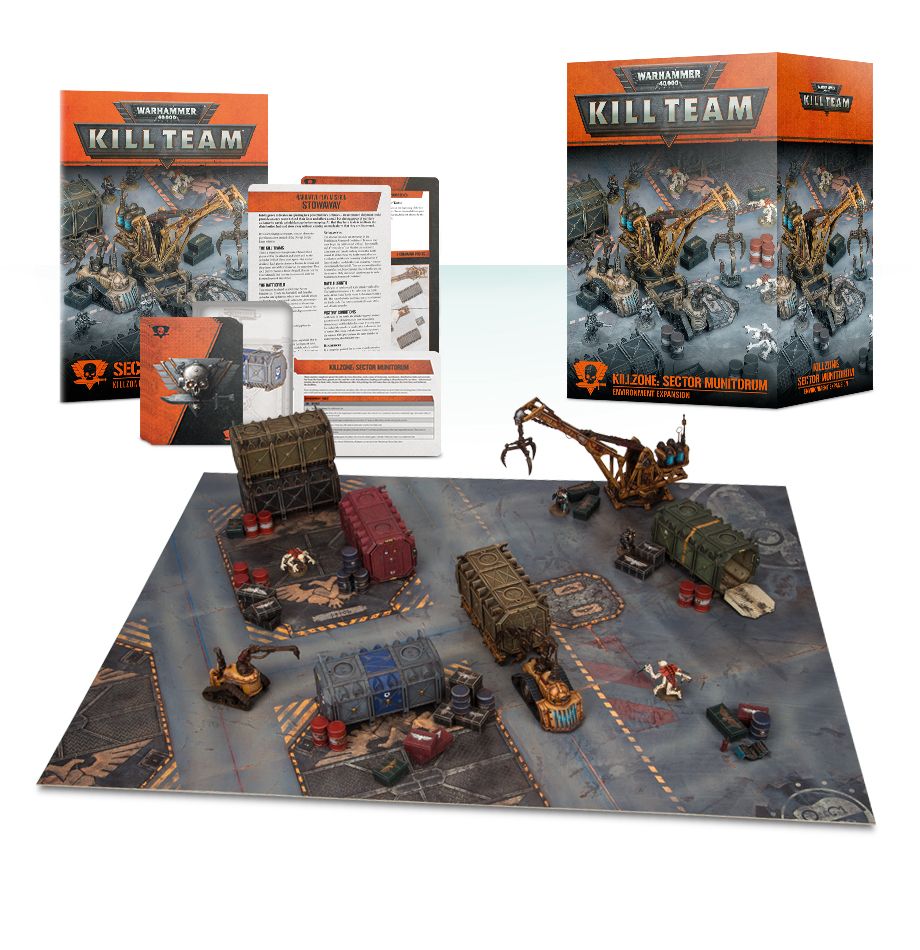 The immense supply districts known as Sectors Munitorum can be found across the Imperium of Mankind. They house the resources needed to power Humanity 's vast armies; millions of tonnes of munitions, equipment, weapons and fuel. Such priceless stockpiles draw the eyes of avaricious raiders, leading to brutal, close-quarter battles amidst looming canyons of rusted containers.
The Sector Munitorum Killzone Environment is an expansion for Kill Team – in the packed box, you'll find a gameboard, scenery, and exclusive rules that use the unique nature of Sector Munitorum terrain to introduce dangerous new missions and powerful effects to your games.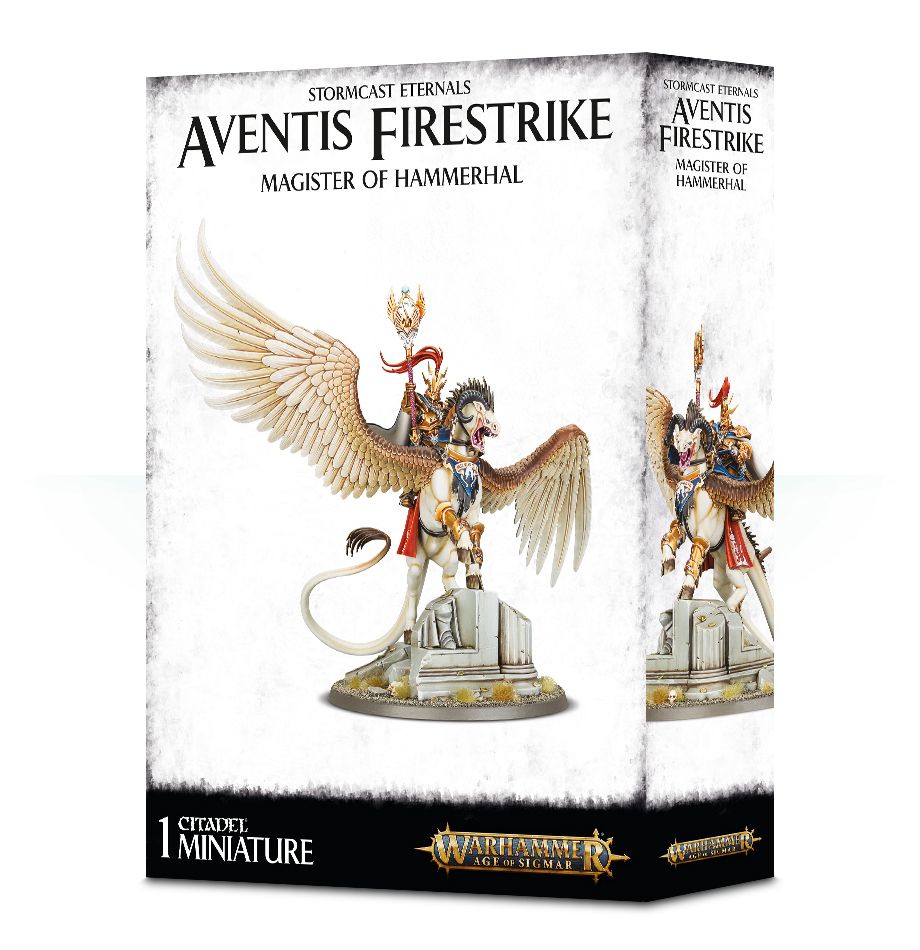 Just as the lightning shatters the oak to leave a pillar of flame in its wake, Aventis Firestrike is not only the stormbolt, but its burning aftermath, His power over the magic of the realms comes from a glowing coal of anger deep within his chest, which his many acolytes say is the source of his famously foul temper. When the Shyish necroquake cascased across reality he convinced his kindred spirit, the Tauralon Loithar, to return with him to his homeland; since then Aventis has won such acclaim that Sigmar has sworn him the Magister of Hammerhal.
This multi-part plastic kit contains the components necessary to assemble Aventis Firestrike, a Lord-Arcanum on Tauralon. Armed with the Staff of Hammerhal, he rides a specific Tauralon known as Loithar – this great beast has an impressively wide wingspan, with a dense skull and thick curled horns. This mount doesn't require a huge amount of armour, with but a few pieces of metal around its legs and a chestplate featuring scrollwork and a sigmarite comet. Aventis himself wears the Thunderhead Crown, an ornate helm featuring lightning bolt-shaped spikes, and carries spirit flasks as part of his sigmarite armour – this is covered in detailed iconography, as is the sword and scabbard at his waist. Loithar is modelled with one hoof standing atop the ruins that form part of the base. The kit also contains the components needed to assemble an extra Lord-Arcanum on foot – armed with an aetherstave and spirit flasks, he stands atop a base of sigmarite ruins, and can be modelled casting a lightning orb.
This kit can optionally be used to assemble an unnamed Lord-Arcanum on Tauralon instead of Aventis Firestrike – this has its own head, shoulder and leg options for the Tauralon.
This kit comes as 67 components. Supplied with a Citadel 100mm Round base for the Tauralon, and a Citadel 40mm Round base for the optional Lord-Arcanum on foot.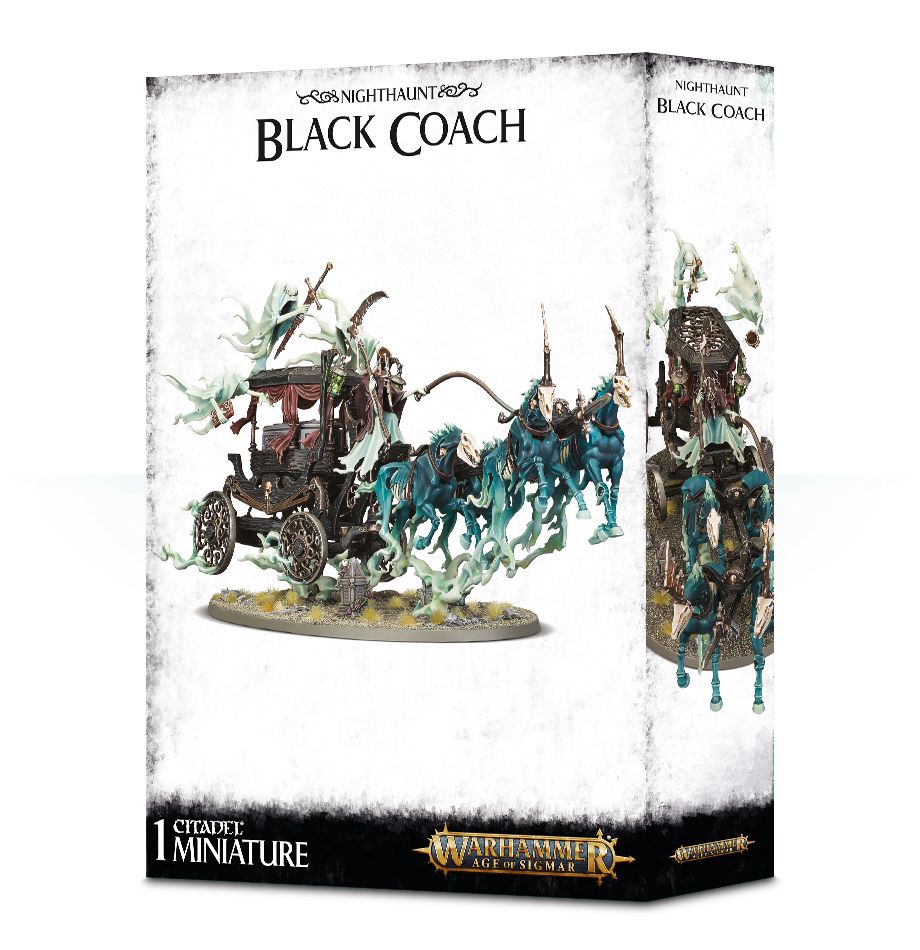 The Black Coaches are funerary carriages from the underworlds. Within these arcane carriages any tangible remains are gathered in a casket that offers a safe haven in which the banished entity can reform. The dormant occupant can feed upon the energies of death, drinking in agony and grief in order to grow strong. On first tasting death, the Black Coach speeds forward before shimmering jets of balefire extend from the wheels, acting like scythes to cut down enemies. When the coach is immersed in sufficient energies it flickers, allowing it to disappear and reappear in more advantageous positions. Onwards it rolls, growing ever more powerful until it becomes a nigh-unstoppable force of death.
This multi-part plastic kit contains the components necessary to assemble a Black Coach. Constructed from heavy wooden panels with rivets straining against the ethereal power within, this is a funerary carriage whose drapes are tied back, making a grisly casket within visible; this houses a bound vampire, who can be seen should you choose to model the casket with its lid off. The wheels are wrought from ornate iron – 2 small wheels at the front, 2 larger wheels at the back – with skulls and hourglasses representing death dotted symbolically around. 3 Relic Bearers are careening alongside the Coach, carrying a sword, book and goblet, the personal effects of the vampire being transported. A Cairn Wraith is driving the Coach forward, who can be modelled wearing either a hood or a crown – he can carry a soulreach grasp, a reaper scythe or be modelled with empty, gesturing hands. 4 Nightmares pull the Coach, borne aloft on wisps of ethereal energy – the 2 front Nightmares wear enormous spiked funeral crests.
This kit comes as 58 components, and is supplied with a Citadel 170mm Oval base.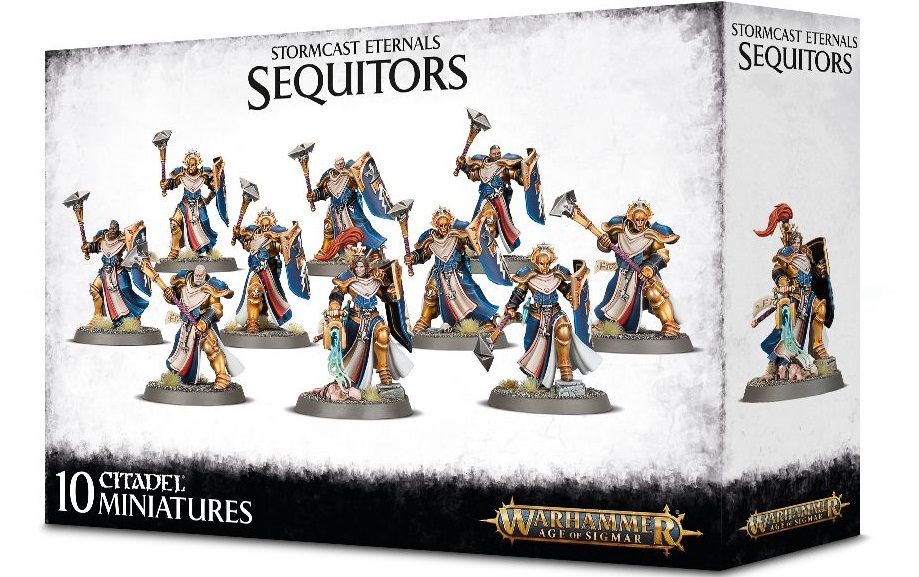 The line infantry of a Sacrosanct Chamber is comprised of its Sequitors, stern warriors who channel the tempest through the magical weaponry bequeathed to them by Sigmar. To be struck by such a warrior is to feel the energy of the storm discharging with thundercap force. Able to to channel magic into the armaments they carry, Sequitors specialise in switching swiftly between attack and defence, their mauls and maces capable of blasting apart gheists and daemons forever and their shields can turn aside even a Hexwraith's ethereal scythe.
This multi-part plastic kit contains the components necessary to assemble 10 Stormcast Eternals Sequitors. Specialising in the despatch of the ethereal enemies that haunt the mortal Realms, they wield stormsmite mauls and soulshields, or tempest blades and stormshields – enough weapons are provided for any combination of these you choose, with a further 4 stormsmite greatmaces available. 4 of the models are female with 6 male; all wear thick, heavy armour, long robes and tabards, with sigmarite icons hewn in metal above their helmets. Each model can be assembled with a bare or helmeted head, and can feature pointing arms instead of their shields, and feature a blank left shoulder pad allowing you to depict the symbols of whatever stormhost you desire.
4 of the models can be optionally built as Sequitor-Primes – male and female variants – who have options for redemption caches, shown depicting the soul of a Bloodreaver being torn from their bodies – stowed weapons are included should you choose to build this particularly evocative pose. The Primes have their own specific bare heads, tempest blades, shields, shoulder pads and collars.
This kit comes as 168 components, and is supplied with 10 Citadel 40mm Round bases and a Stormcast Eternals transfer sheet.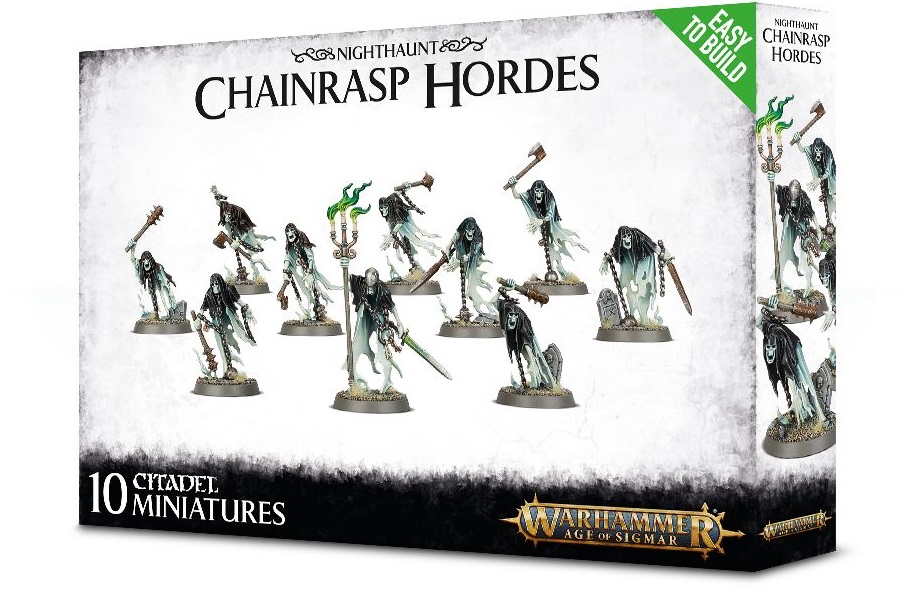 The most numerous of all the spirits that join Nighthaunt processions are the Chainrasp Hordes. These gheists are created from the spirits of the most vicious and irredeemable criminals to have lived in the Mortal Realms. They are lesser spirits, held together in the afterlife by nothing other than their own never-ending spite and all-consuming madness, a negative energy which saps the will of their enemies. Chainrasps may have thought death to be an escape from terrible imprisonment but, in truth, it was merely the beginning.
Designed to be as easy as possible to assemble for new hobbyists while being detailed enough for the hardiest veteran to appreciate, this kit assembles 10 Easy To Build Chainrasps. Push-fit, with no glue required, this kit is incredibly straightforward to put together.
As with many Nighthaunt, the Chainrasp Hordes are little more than wisps of ethereal form willed into reality by sheer force of hatred. Each of these models is essentially a floating hooded cloak, from beneath which a twisted skull-face glares; hung variously from each models' neck and arms is a heavy length of chain ending in an iron weight, a symbol of their deviant criminal history in life (1 model even has his wrist bound in stocks…) They are armed with malignant weapons – swords, axes and spiked maces – and the kit includes options for a Dreadwarden; this is the unit leader, face locked in an iron helm, carrying a large candelabra along with a set of heavy iron keys.
This kit comes as 20 push-fit components, and is supplied with 10 Citadel 25mm Round bases.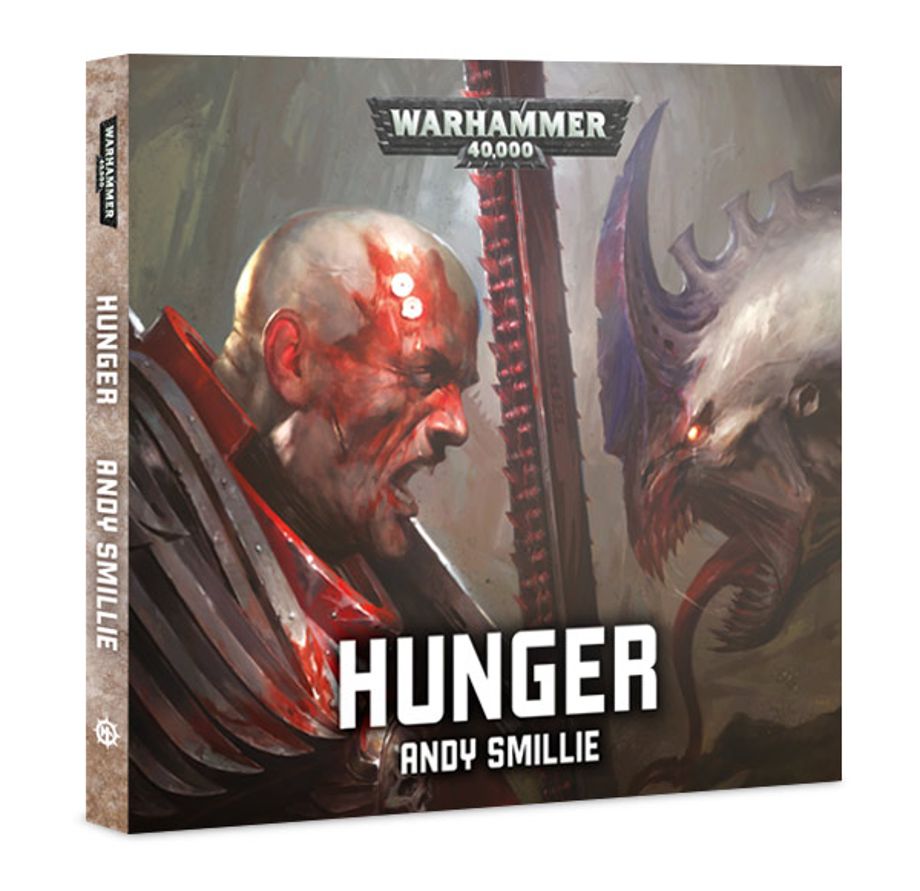 A Flesh Tearers audio drama
Aboard the confines of an ancient space hulk, the Flesh Tearers engage in a brutal struggle against a horde of alien genestealers – and their own nature. Can Gabriel Seth manage to stave off the Black Rage long enough to survive?
LISTEN TO IT BECAUSE
It's a fascinating look at the monster within the man, as Andy Smillie once again shows his mastery of what makes the Flesh Tearers tick.
THE STORY
Aboard the confines of an ancient space hulk, Seth and his Flesh Tearers engage in a brutal struggle against a horde of alien genestealers and their own natures. A hunger drives these warriors of the Blood, one matched by their alien aggressors. Hope remains while the Flesh Tearers can hold onto their honour, but what is the truth that lurks at the heart of this derelict ship and will Seth manage to stave off the rage long enough to discover it?
Written by Andy Smillie.
W00t! More Flesh Tearers!