Come take a look at the new two-player starter set for Infinity, available at Gen Con this year. Starters for two new sectorial forces, rules, and more await within.
Pretty much what it says on the tin, folks. We've got a first look at the new intro pack from Infinity. Rolling out from Corvus Belli in the next couple of weeks, this gives you everything you need to get started in Infinity and also introduces two new Sectorials, the Tartary Army Corps for Ariadna, and Operation S for ALEPH. There's also a limited edition model you can grab as well, a Wardriver Hacker, so let's dive in and look at these crazy future soldiers, just keep an eye out for AROs.
via Corvus Belli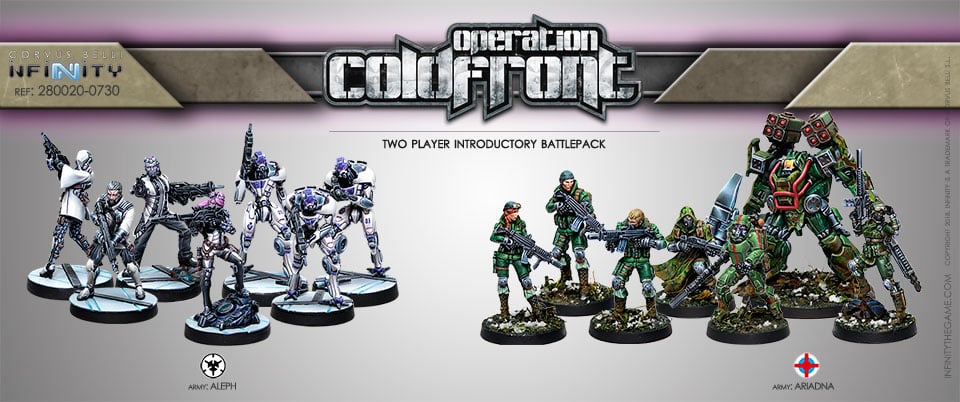 The New Two-Player Introductory Boxed Set, Infinity: Operation Coldfront

A battle pack with all the necessary parts to jump right into Infinity.
Corvus Belli presents two new sectorials: Tartary Army Corps (Ariadna) and OperationS (ALEPH).

Pre-Orders of the boxed set will also include an exclusive limited edition miniature (Wardriver Mercenary Hacker).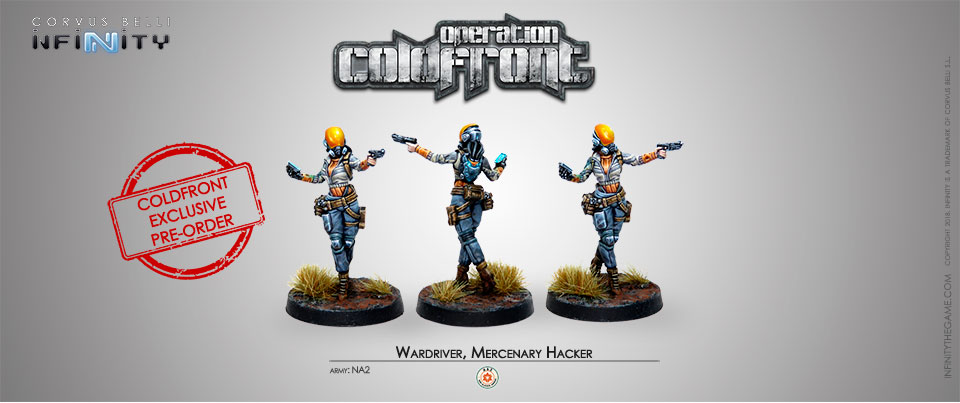 It will be available for pre-order from July 17th to August 6th with a MRSP of 89,95€.

Bueu, July 17th, 2018.- Corvus Belli Is happy to announce their new Battle Pack "Operation Coldfront". It includes all the necessary miniatures and accessories for two players to start playing infinity right out of the box!.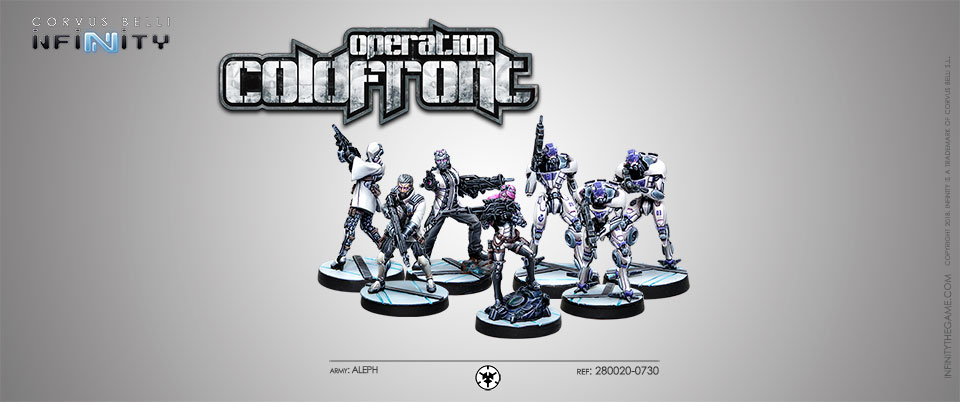 The boxed set will include two starter packs belonging to two of the most anticipated sectorials in the community: The Tartary Army Corps (TAK) from Ariadna and OperationS (OSS) of ALEPH. 14 high-quality metal miniatures that introduce new players to the most dynamic wargame on the market.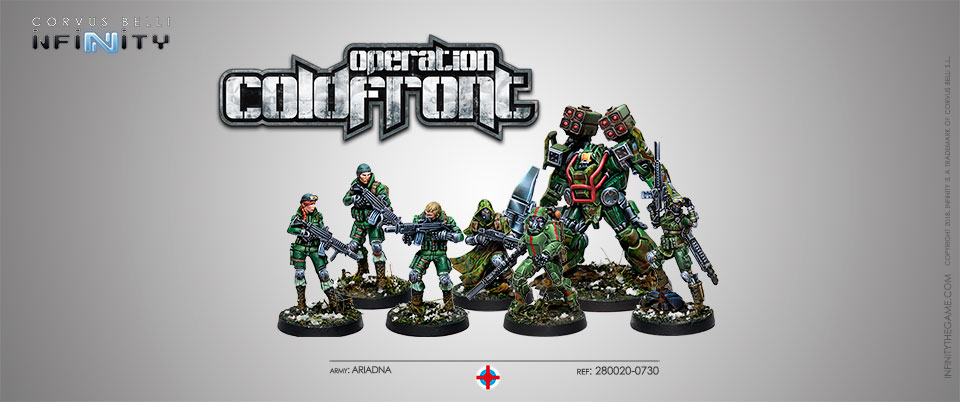 In addition to all of this, Operation Coldfront includes a scenery pack, a gaming mat, templates, markers, a ruler and six custom dice (three for each faction). It also contains a full-color introductory booklet that includes the background story behind Ariadna and Aleph's legendary conflict, five tutorial missions to learn the basic game mechanics of infinity, and all that each player needs to know about the Universe of Infinity.

This new box joins the other two boxed sets currently available, "Operation Icestorm" and "Operation Red Veil". This is another great opportunity for new players to dive into the game of Infinity in a fun and dynamic way.
Of course Operation Coldfront isn't the only thing you'll be able to get your hands on at Gen Con. There's also the new Advanced Pack which features an Asura Hacker, and a Kazak K-9 Unit.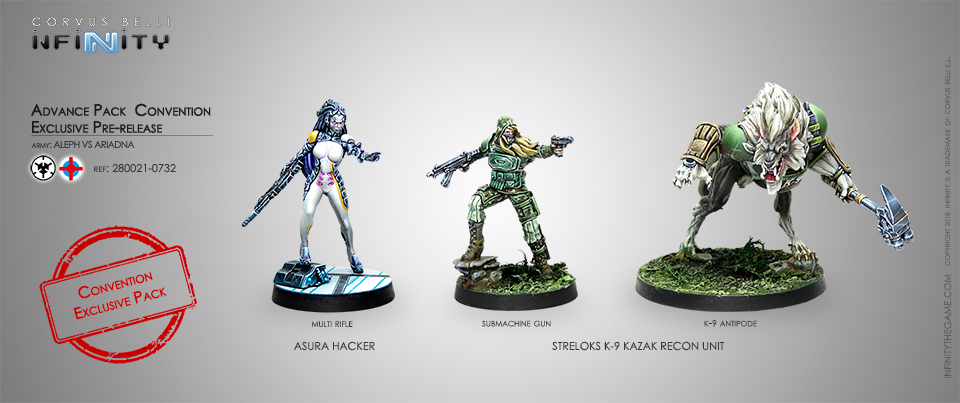 Only in Infinity does the K-9 unit come with a crazy wolf-man wielding a hammer. Shine on you crazy diamond you. Speaking of diamonds, diamonds are a girl's best friend, and probably something that Dart, the new Optimates Huntress is all too familiar with, caring little for material wealth and more about the thrill of the (posthuman) hunt.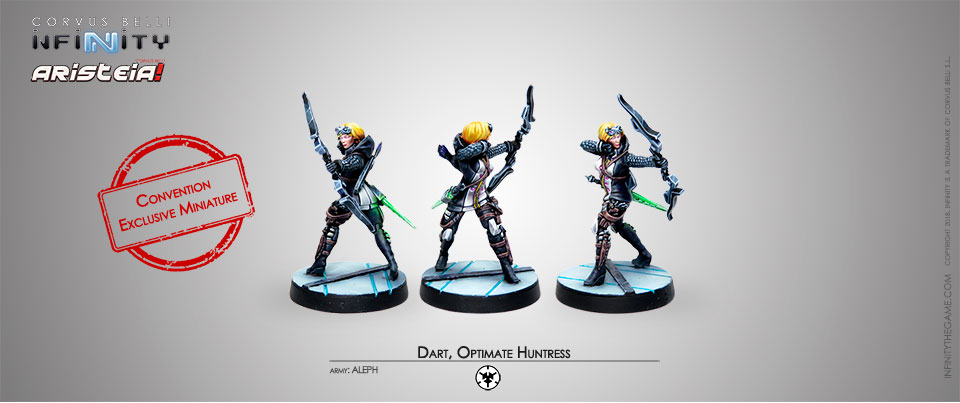 Dart is the rich heiress of a business conglomerate specialized in the manufacture of biochemical compounds. Her passion and dedication to extreme sports led her to enroll in Aristeia! as the icon of her own company, Aura Biochemicals, where she could finally enjoy the challenge of hunting the best aristos of the Human Sphere.

After she earned glory and fame, more than she could have ever imagined, ALEPH sent her a proposal: become Posthuman. Bored of Aristeia!, she accepted a position within the Optimates, a group of Posthumans that works hand by hand with the SSS. Since then, once again she can enjoy hunting aliens from the Combined Army in the jungles of Paradiso.
What are you looking forward to at Gen Con?