Got a special one for you this week, from Tabletop Fix–come check out the Muster Box, a display/storage solution that gives your minis an awesome home in an environment they'd enjoy. Check out this new Kickstarter today!
Hello everybody! Do you sometimes think your miniatures deserve a better place to live? Muster Box is the solution! I sat down with Andrew Lonon to talk about his new Kickstarter adventure – Enjoy!
Me: Hello Andrew, please introduce yourself.
Andrew: I am an artist living and working in Durham NC while periodically engaging in a software development, web design and such.  My art is mainly in water based clay, with the form of traditional figures or more creative reliefs.  This gives me the technical skills to conceive of and make the prototypes for Muster Box. At Muster Box I am the floor mopper, tech support, instigator and barrel rider. Its just me at this point.
Me: What is your "gamer credibility"?
Andrew: I played D&D and a lot of 'Chainmail' throughout the course of my chronological deficiency* and even had a sand table converted from an old HO scale model railroad box. However, later in life my gaming interest lapsed as I pursued art, and a succession of tech careers, including PC support, web developer, 3D animation, game developer, and programmer. Only in the last 10 years or so have I been able to play games again – casual, tabletop and role playing.
All the miniatures shown in the Kickstarter images were purchased and painted by me in the late 1970s and early 1980s.  The Dwarves in one shot are Citadel, but the rest of the miniature are vintage Ral Partha.
(* I am morally forbidden to make statements such as "growing up" or "when i was a kid" because such expressions imply some level of maturity)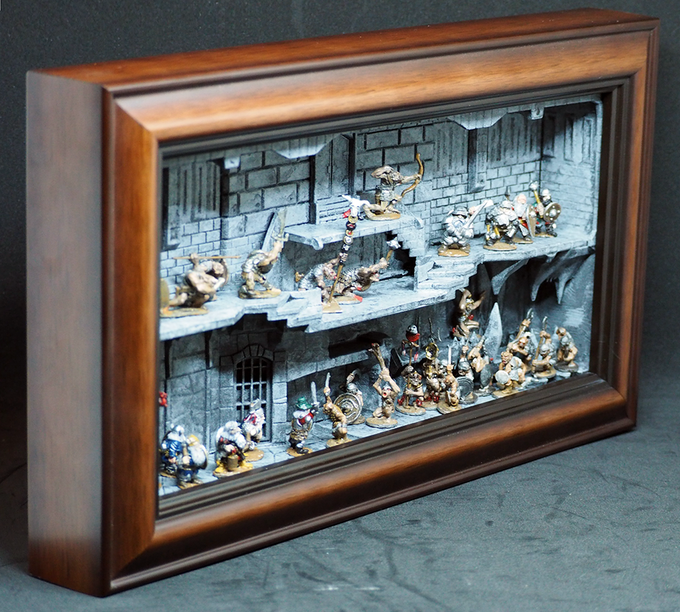 Me: Describe Muster Box in three words!
Andrew: Display Miniatures Tastefully
Me: Okay, now tell us what Muster Box is in as many words as you like!
Andrew: The core of Muster Box is a dedication to high quality – genre specific – display cases for game miniatures that are universally appealing. The problem which Muster Box seeks to remedy is:
How do I showcase my miniature painting skills beyond the workshop or game room?
The first answers to this question will be Double Dungeon and Manticore Manor, two frame inserts which are the focus of this first Kickstarter. These inserts a essentially tiny dioramas that fit within a shadow box picture frame. Insert + Frame + Plexiglas+ Your Miniatures == Muster Box.  Double Dungeon and Manticore Manor are available unframed (FIY Frame-It-Yourself: geared toward pros & painters who want total control over the look and presentation) or with the dark Walnut shadow box 'Deluxe' option which is essentially ready to hang on the wall. Future frame inserts will explore more genres and formats.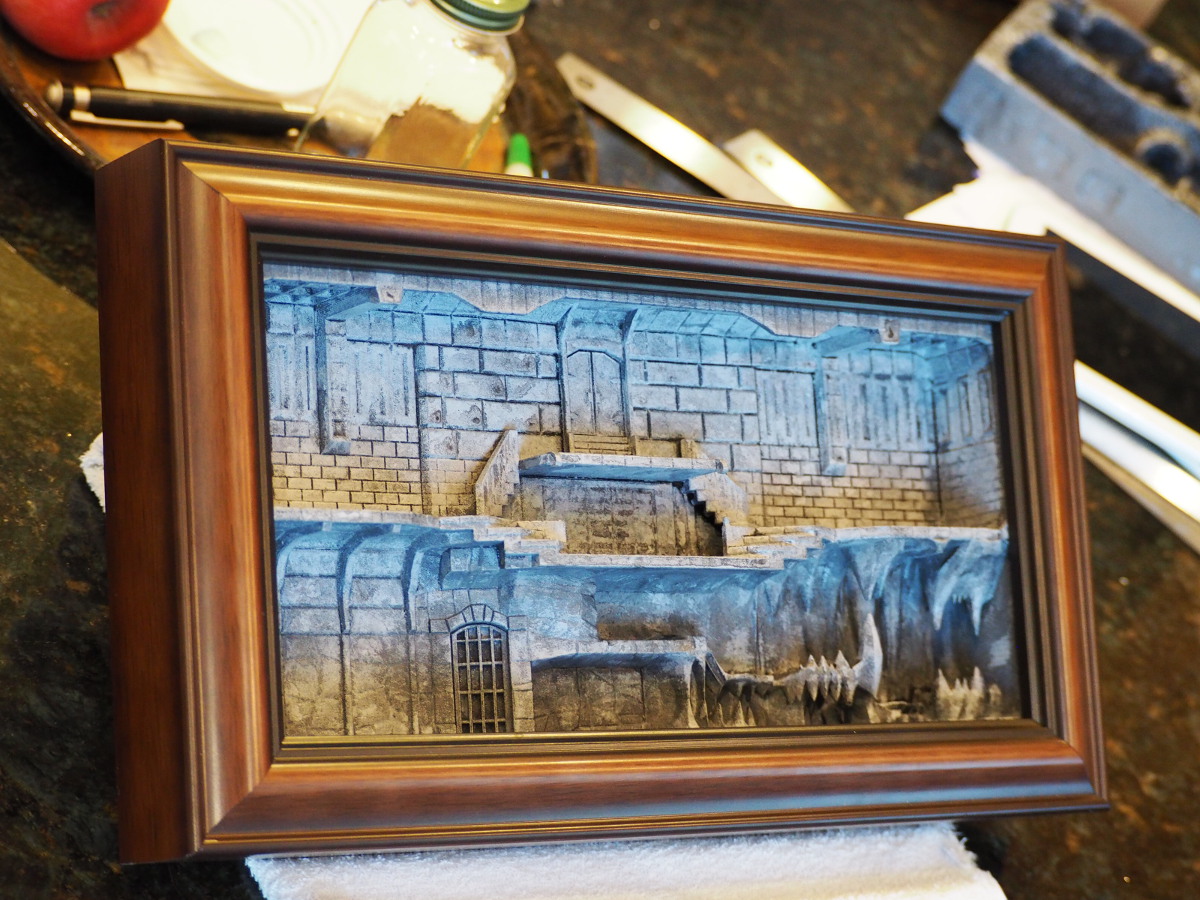 Me: What makes Muster Box better than other display case?
Andrew: Muster Box goes beyond storage and display, and elevates miniatures to the level of artistic presentation.  The D&D genre treatment of the current inserts provides an appropriate environment without getting in the way of the miniatures, which are the real focus.  The shadow box frame and non-glare lexan /plexiglas not only looks amazing, but it also establishes Muster Box as a art object that belongs on the wall.
Me: Can you tell us more about the magnetic sticker system?
Andrew: Miniatures are sometimes wobbly, and positioning the minis in the case and hanging the case on the wall, they can fall over.  Then you would have to take the frame back off and stand them up – not a huge deal, but it is a fixable problem.  The solution is to hold the minis in place with magnets.  The 'floor' sections of the insert are painted with two or more layers of what is marketed as "magnetic" paint.  The paint is not actually magnetic its self, but it does have a lot of iron filings in it.  The can for the paint is heavy. The actual magnets are non invasive stickers which you attach to the bases of your miniatures.  This holds them in place for tilts, minor bumps and the general positioning and setup process.  Easy-peasy. However, there are limits: the magnets are not strong enough for anything beyond that.  They will not hold the miniatures in place for transport.  They just make it easier to setup and you can prevent that one drunk Ork from keeling over by adding a little extra magnet coverage.
Me: How many miniatures can you fit in a Muster Box?
Andrew: Double Dungeon, the 152mm by 304mm (6 x 12 inch) insert, is designed to display 24 more-or-less standard 28mm miniatures with ample spacing and good visibility for each. The insert is deep enough that it will accommodate dramatic poses and oversized creatures – to a point.  Additionally, the balcony in the middle top does not extend all the way out, so miniatures with a extreme height element like a pole-arm, flag, or even wings will fit as well. Finally, if you just packed in the horde, you could easily fit 50-60 goblin or other moderately sized miniatures.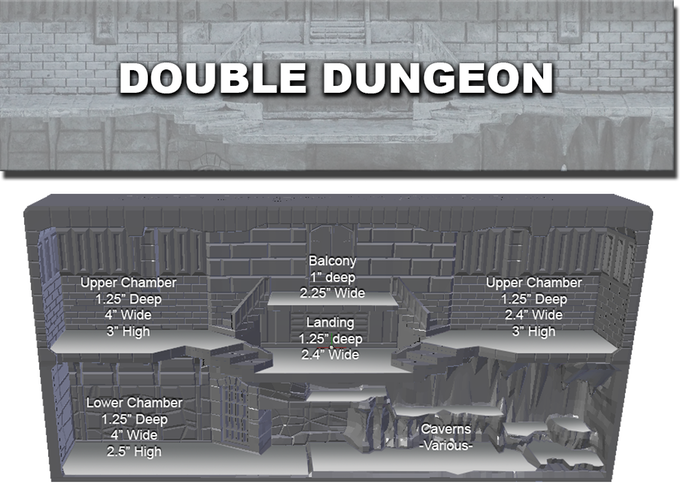 Me: When did you first start working on the project?
Andrew: In January 2018 I started working on a game idea which I wanted to bring to Kickstarter.  The game would have involved a 3D board which I would design and cast.  One of the explorative design iterations included hanging the board on the wall, and that idea stuck.  In a way, Muster Box is practice for that game.  With this project  I can also work out the details of Kickstarter and my production process – hopefully alternate sources – with a simpler project than a full game.  Right. That does not actually answer the question. I started working on Muster Box proper in May.
Me: What was your main inspiration for Muster Box?
Andrew: I am surrounded by art. My sculpture, my partners' paintings and our collection of friend's art. Why did I have my miniatures in a box in the basement?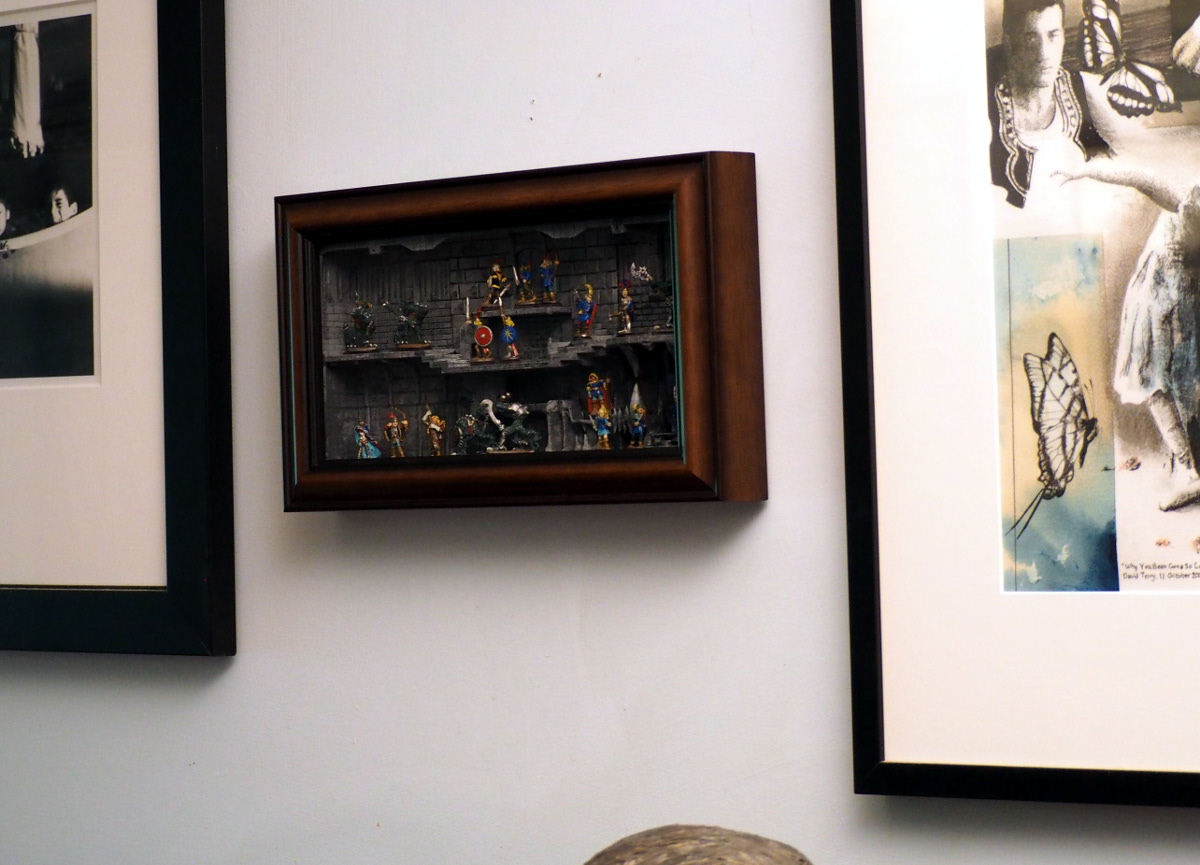 Me: Tell us about the main challenge during the design process.
Andrew: The initial challenge of this project was determining how to make the original model – the prototype.  I actually make the first one in clay like a traditional sculpture.  I also made several balsa wood and cardboard prototypes.  Ultimately, I settled on making the models in 3D and having them printed by a commercial service.  That took several iterations as well, as I learned my lessons. I have had to push back the launch date several times but I feel much better knowing I have a solid production unit ready to go for Double Dungeon, and I have strong confidence that Manticore Manor will go smoothly.
Me: You have just launched your Kickstarter, what can we expect from the campaign?
Andrew: I'm actually keeping things fairly simple on Kickstarter, and I'm keeping the funding goal low.  There are no stretch goals, only two actual products.  I have a solid prototype in pre-production for Double Dungeon  and i would like to get a few production models done this first week, maybe get some review press.  For Manticore Manor – I have the 3D model fairly complete, so it just needs some details and it will be ready for printing the initial prototype.  So both Double Dungeon and Manticore Manor should be ready for production by the close of the Kickstarter.  Then I can determine (by the number of pledges of each) how many production molds to make.
Me: Do you plan more styles of inserts, like SciFi? How about other scales, like 15mm or 54mm?
Andrew: Yes, yes and yes.  I have always leaned more toward war gaming, and there is definitely a Napoleonic  themed 15mm insert coming soon.  However, the next round will probably be dedicated to Warhammer 40K, which will be tricky dues to the prevalence of mid-level  augments and walkers.  So – those inserts will need to work well with the '28mm Heroic' infantry units as well as boss units and small vehicles.  One possible solution is to have a free standing – bookshelf or desktop case – with plexi on both sides.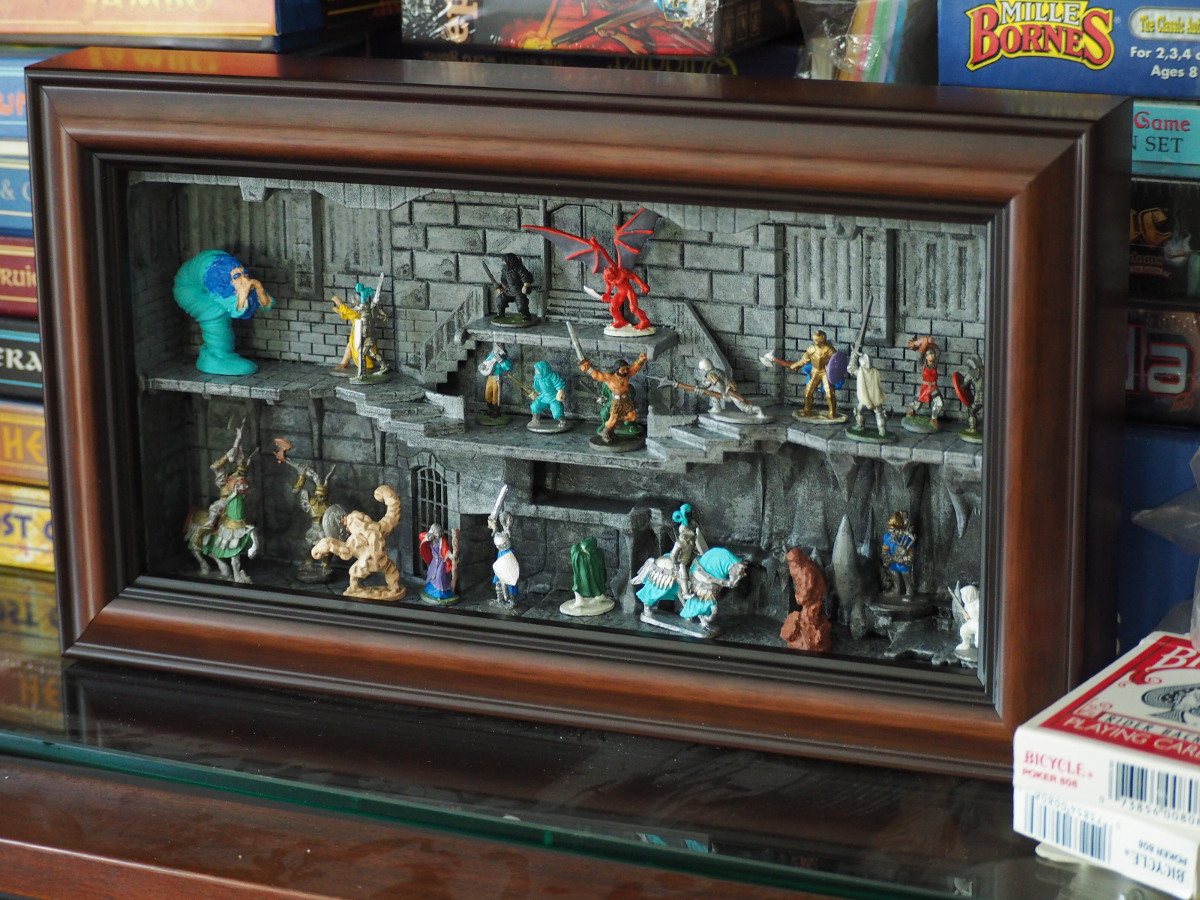 Me: What other plans do you have for the future?
Andrew: I am working on a semi autobiographical novel about a sensitive but devastatingly handsome young man coming of age in the 1980s… JUST KIDDING!  More Muster Boxes.  Probably another round or two on Kickstarter while I work out the demand and establish a market.  I am planning to offer inserts or even Deluxe models as promotional prizes in painting contests, or as contributions to miniature painters who are active on Patreon.  And of course there is still that game idea, although it has morphed quite a bit since it calved off Muster Box
Me: Well, thank you very much for taking the time and all the best for the project!

If you want to know more, please visit the Muster Box Kickstarter campaign!