Mezco's One:12 Batman trilogy continues with this fig of the iconic character in his prime. This is the Batman of present day, at the peak of his career. This is the Sovereign Knight.

Over the years Bruce Wayne has become an adept fighter; his skills, methods, and tech are at their apogee. He is ready to take on Gotham's dangerous criminals with a new augmented suit and an upgraded arsenal.
The 1:12 scale fig is fully articulated and comes dressed in a cloth suit with cape and utility belt. Three changeable heads sculpts give the option to display menacing, teeth bared, or battle damaged Batman. It also includes a host of weapons – from classic Batarangs to a sonic distributor.
This rendition is expected to ship Q1 next year.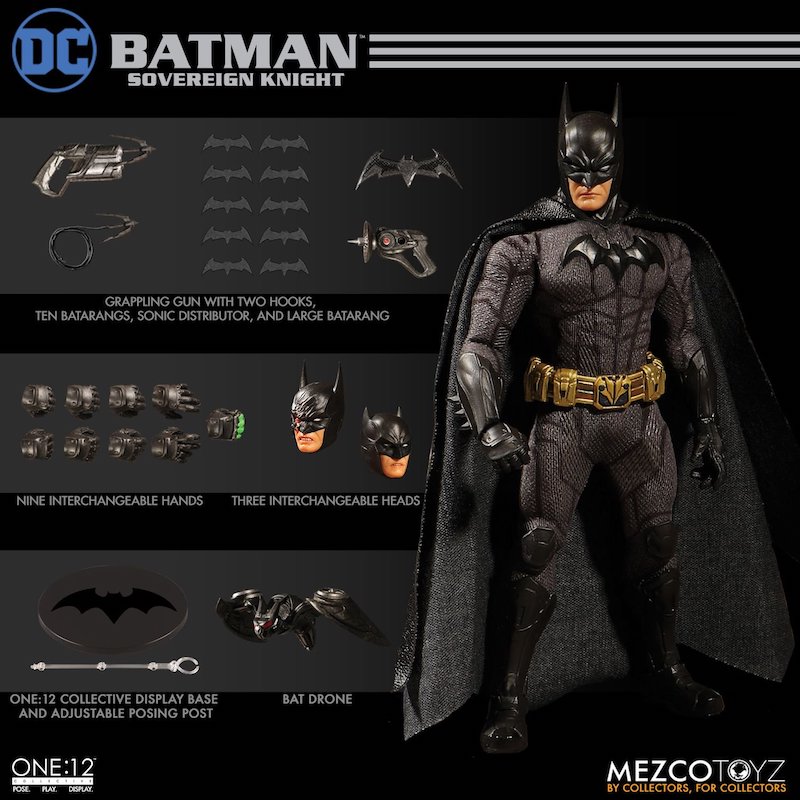 Batman: Sovereign Knight – $80.00
One:12 Collective body with over 30 points of articulation
Three (3) head portraits
Hand painted authentic detailing
Approximately 17cm tall
Nine (9) interchangeable hands

One (1) pair of fists (L&R)
One (1) pair of posing hands (L&R)
One (1) pair of gun holding hands (L&R)
One (1) pair of batarang holding hands (L&R)
One (1) kryptonite knuckle (R)
Costume & Accessories:
Cowled head
3D chest insignia
Leather-like cape
Fitted suit with body armor detail
SAP gloves
Utility belt with grappling gun holster
Tactical boots
Ten (10) small batarangs
One (1) large batarang
One (1) bat-drone
One (1) sonic distributor
One (1) grappling gun
One (1) grappling hook (inserts into gun)
One (1) grappling hook with string attached (inserts into gun)