Gladius- Relics of War is a new 4X Turn-Based Strategy Game set in the Warhammer 40,000 universe, here's what we think of it.
They've been making 40K video games for a long time, all the way back since Space Crusade in 1992. While these games have covered a lot of different genres and types, many of them have been turn-based strategy games. This makes a lot of sense when you think about it, 40K is its self a turn-based strategy (or maybe tactics) game, so it lends its self well to such adaptations. Despite more than two and half decades of games one of the things 40K has never done is make a 4x style game. Until now. Developer Proxy Studios and publisher  Slitherine Strategies has come together to make the first real 40K 4x game. Let's take a look at it.
The Basics
Gladius is set on the world of wait for it… Gladius. This once prosperous Imperial world, home to its own Space Marine chapter is going through a bit of a rough patch. If the Ork invasion that shattered the world wasn't bad enough, the whole plant has been cut off by some terrible warp storms, which has left it mostly on its own. Just as the local IG and Marine forces started working to take back the world from the Orks things get even worse as the Necron hordes sleeping beneath the surface of the world begin to wake up. Add in some deadly wildlife, and a bunch of ancient artifacts and the world is ripe for a massive war.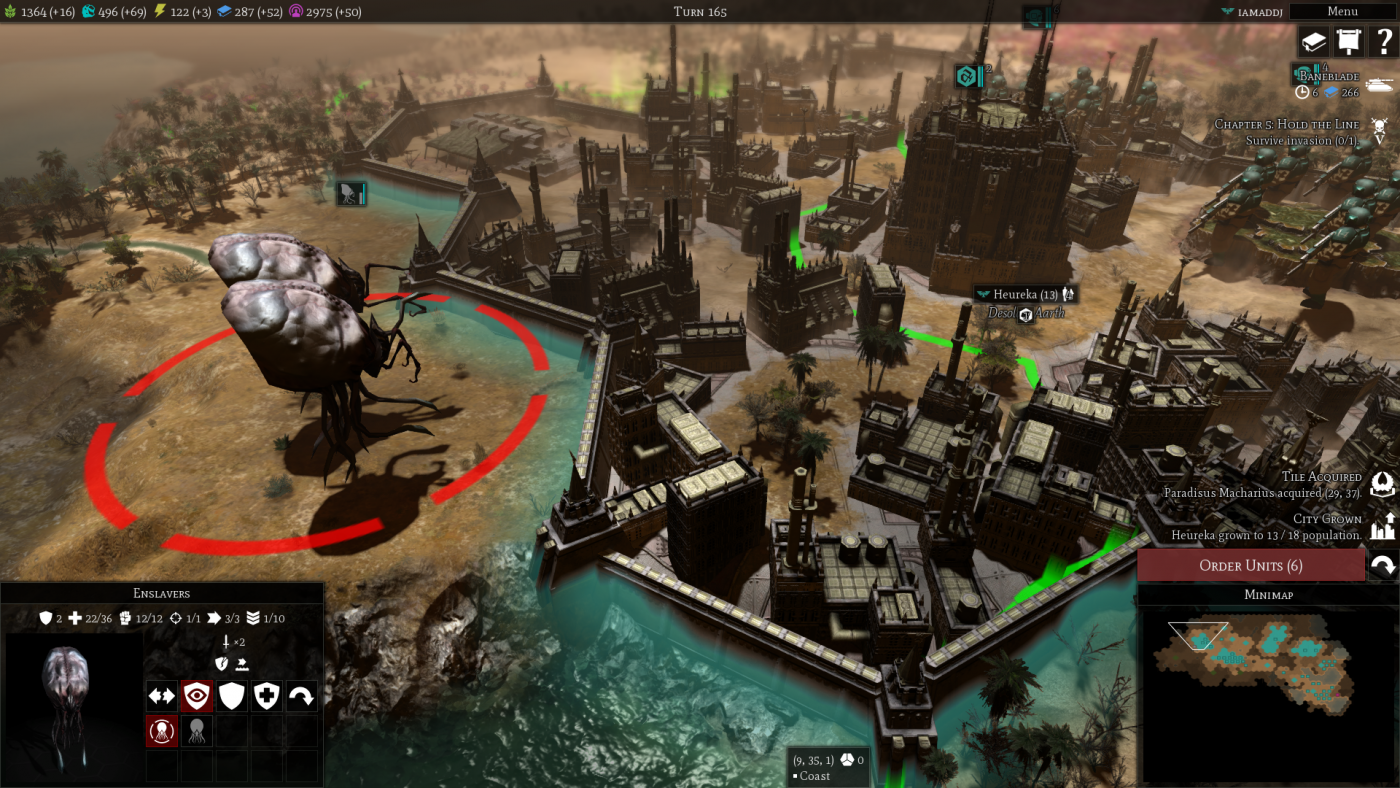 Enslavers are a big problem 
Into this is thrust the player. You get to take control of one of the four factions fighting for the world, Orks, Astra Militarum, Space Marines or Necrons, and battle things out in classic 4x style. If you've played other 4x games, such as the Civilizations series, you'll have a good idea of what to expect. You can explore the map, build cities, amass resources and troops, and, of course, wage war. Each faction has its unique play style as well as a series of in-game missions, completion of which leads to victory. You can of course merely opt to destroy your enemies as well. This too will grant victory.
Only War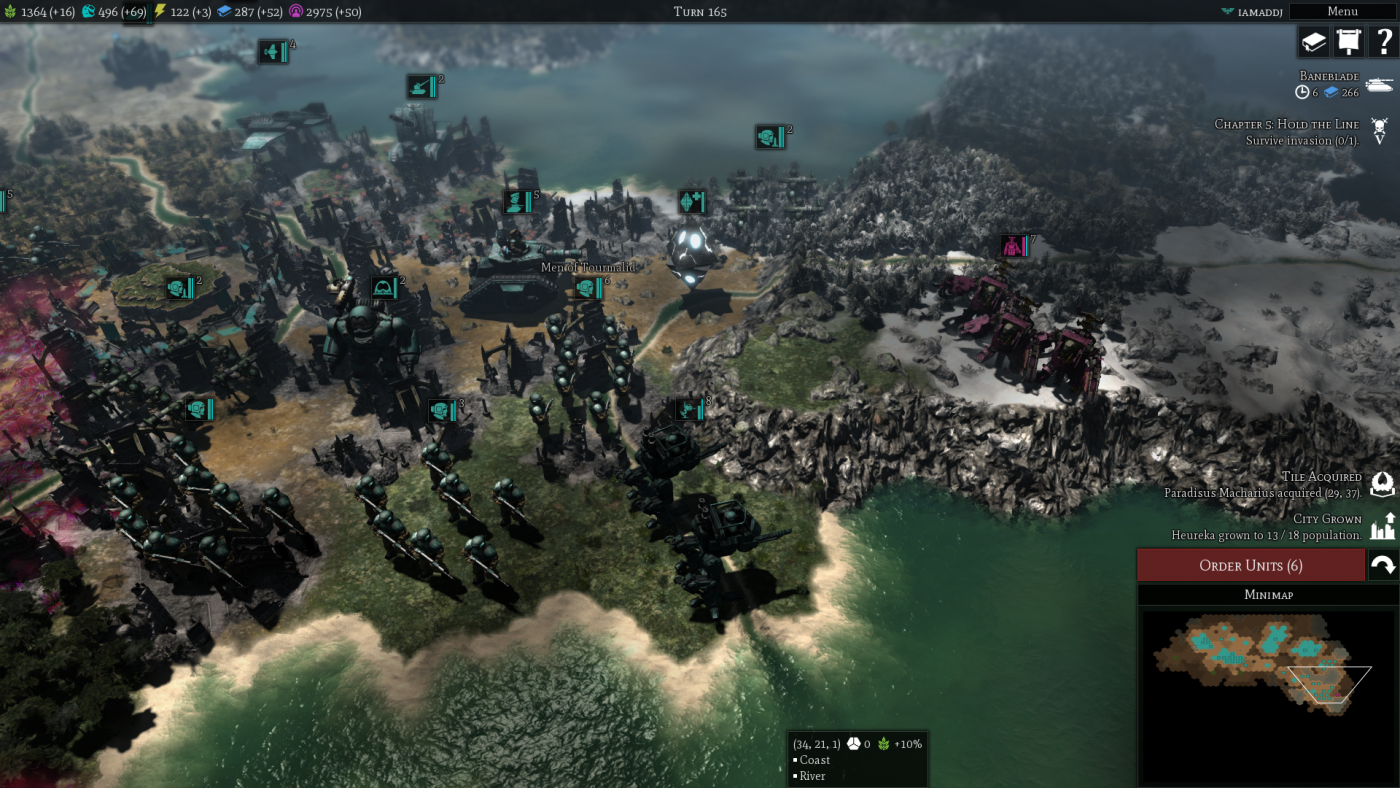 A large Guard army comes into contact with the Orks. 
The key selling point of Gladius is the combat in it. 40K is a dark and brutal setting, and unlike in other 4x games, Gladius has no options for diplomacy. You can set teams at the start of the game, and those are locked in, but outside of that, once the game starts… there is only war. Which again makes a lot of sense, it would feel pretty odd if my Space Marines rolled up to an Ork encampment and starting asking to discuss trade deals or research agreements. This is a game about warfare, and there is no room for that kind of thing.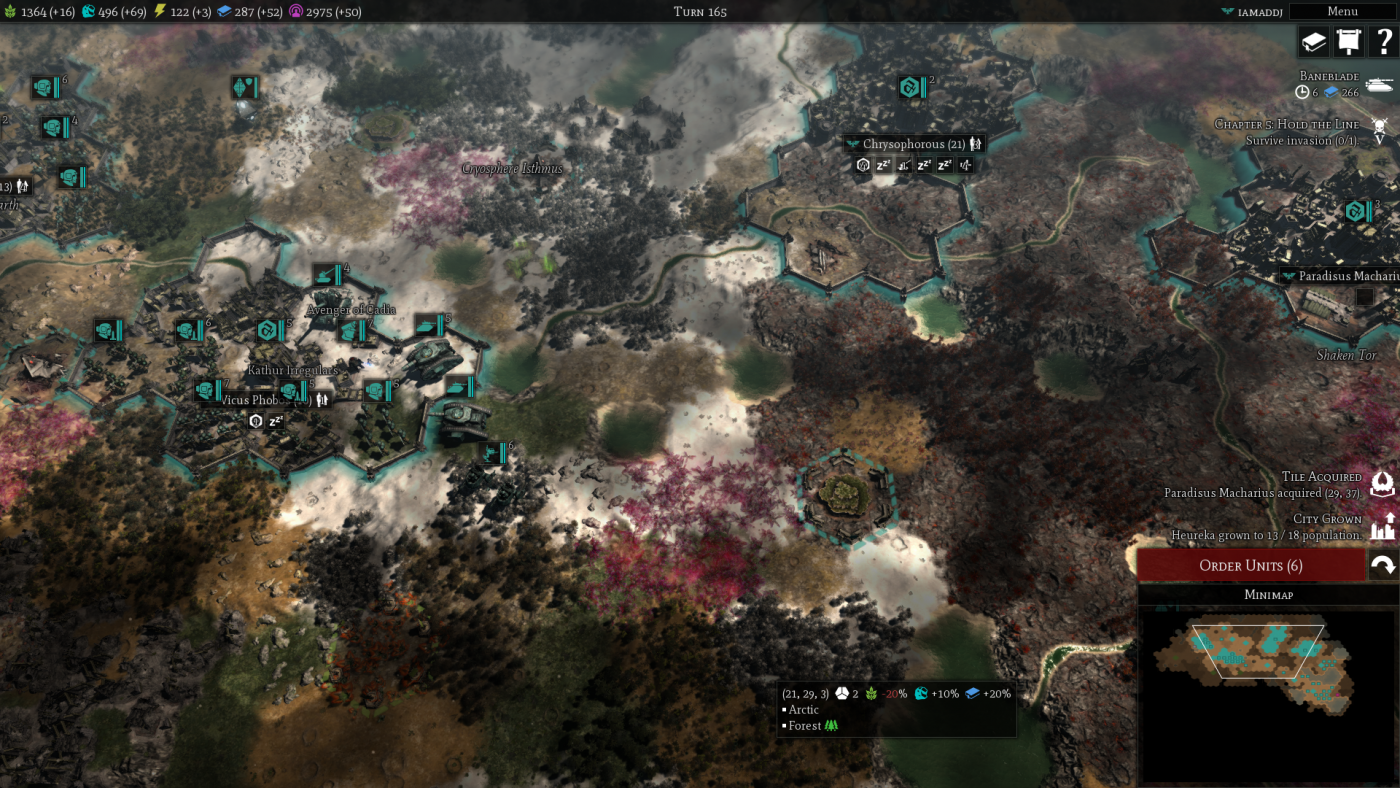 The Imperial Guard war machine keeps turning, even as I gather my generals in masses.
And the good news, great even, is that Gladius does its warfare right. Each faction has access to a pretty big unit roster, unlocked through a tech tree, and each unit has a good amount of depth to them. With the right upgrades and tactics, even your basic Guardsmen can be a viable endgame unit. Factors like terrain and hero aura buffs add a lot of nuance to the system. Like the newer Civ games, there is no unit stacking in Gladius, limiting you to one unit per hex. Unlike the Civ games, the Gladius map is a lot less cluttered with junk, allowing for some good maneuvering and nice battlelines.  The AI is also surprisingly good at working to preserve it units, pulling back wounded units to rest them up and replacing them with new ones. Overall its a fairly meaty and rewarding combat system.
Know What You Are Getting Into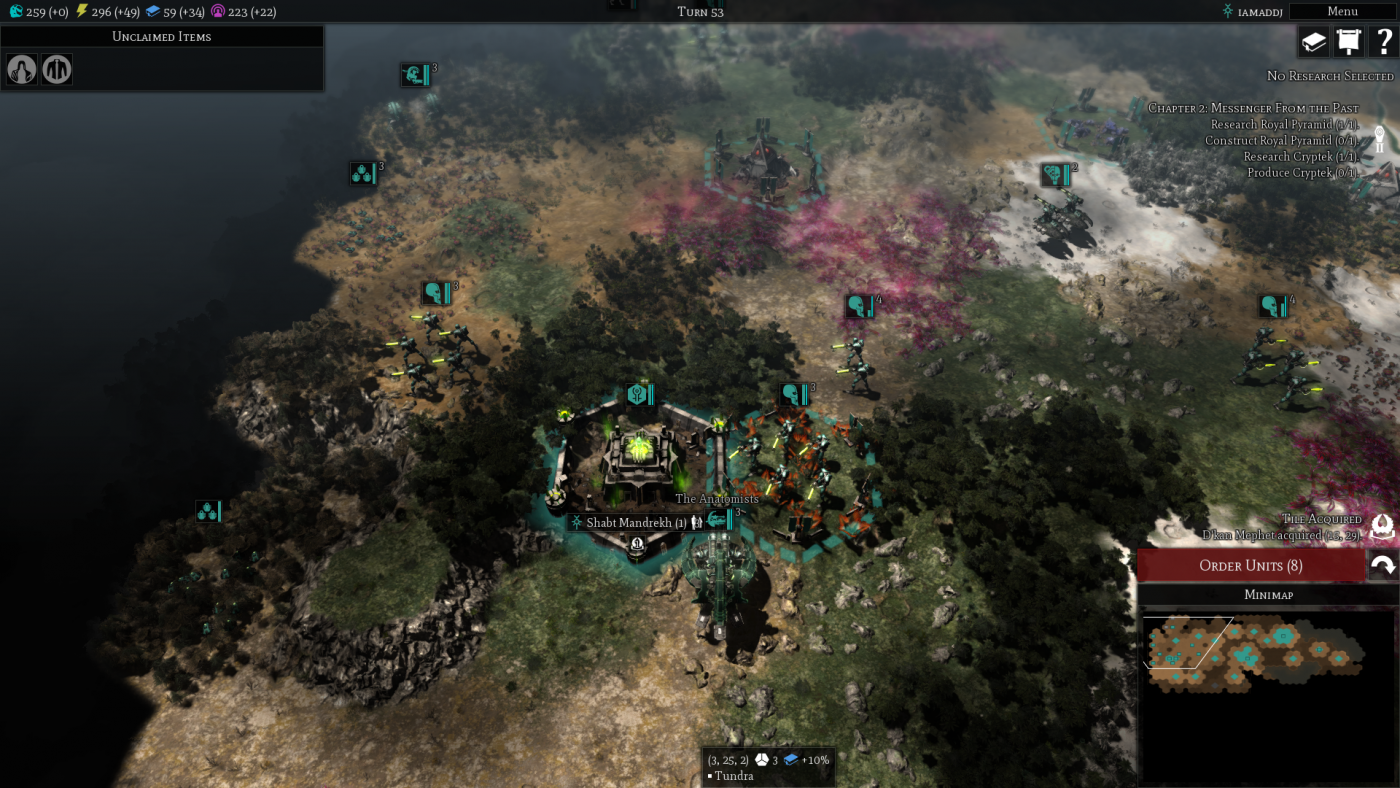 A baby Necron city is born. 
The downside to the only war approach is that there is not a whole ton to the game beyond the combat. There is some exploration, and a bit of resource management. Ultimately, however, all of that feeds into the combat, you build cities and buildings to manage your unit production and upkeep. You are here to build a war machine, not development a Utopian civilization. Moreover, even the fighting is really for the sake of fighting. In other games, you might wage war over strategic resources, or to support an ally, or to force a good trade deal on the enemy. In Gladius you wage war to destroy your foe. That's pretty much it. There is very little resource scarcity, and you can't capture enemy cities, only destroy them. It's war for war's sake.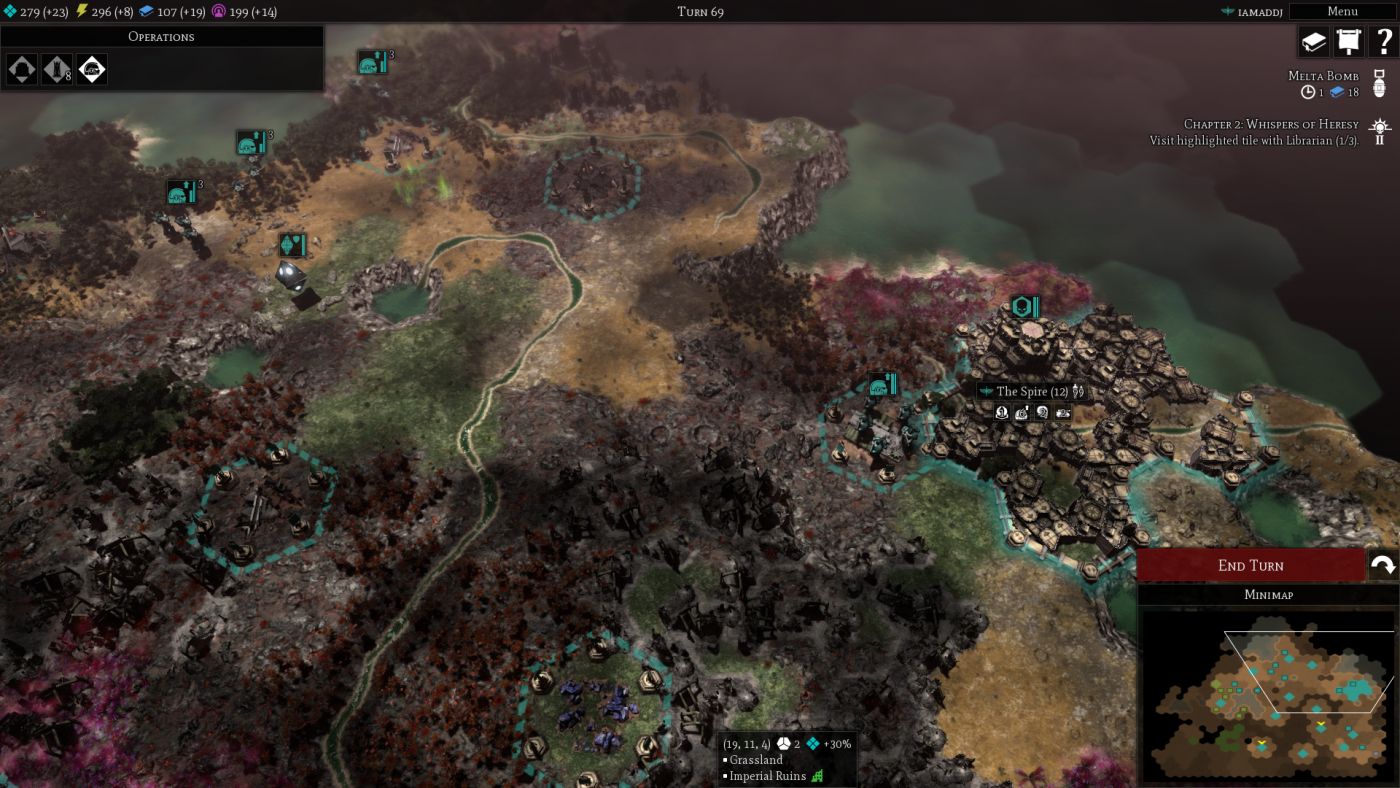 Having built my one city, I can explore and fight.
Now again, all of this is very 40K, and that is a good thing. The game does what it does very well; the combat is fun and tense. While I did wish for the ability to do a little more map manipulation, the ability to build say roads or trench lines would be cool, once I figured out what the game was it didn't bother me. And that's the key; if you come into Gladius expecting abroad 4x game with trade and diplomacy and peace, you are going to be disappointed. If you come into it expecting to wage brutal and unrelenting war, with access to more strategic choices, then most 40K games give you, you'll have a blast.
The Little Details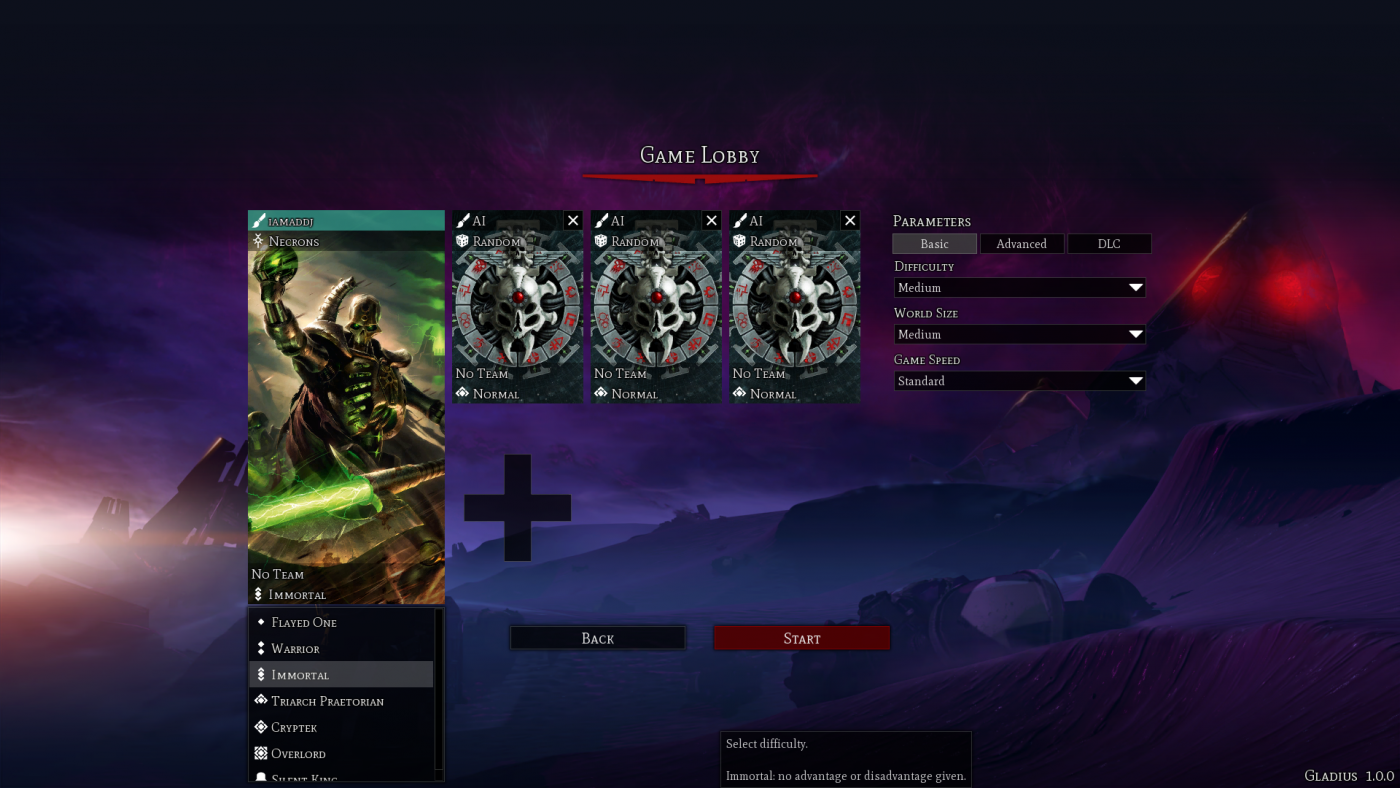 No one likes Flayed Ones.
Playing Gladius, I was very impressed by a lot of the little details put into the game. This is most obvious in how the different factions work, with each faction needing its own type of resources. Space Marines, for instance, need supplies of energy and requisition points to request new units from their Chapter. The Astra Militarum work differently; they need energy yes, but also ore to build tanks and food to feed their troops. The Necrons likewise need Energy and Ore, but of course, don't need food. Each faction felt a nice and different, and also true to the lore, such as Space Marines only being able to build a single city, their Fortress Monastery. Maybe the single nicest touch, to me, was the fact that the names of the various difficulty levels changes depending on which faction you play as.
Overall Thoughts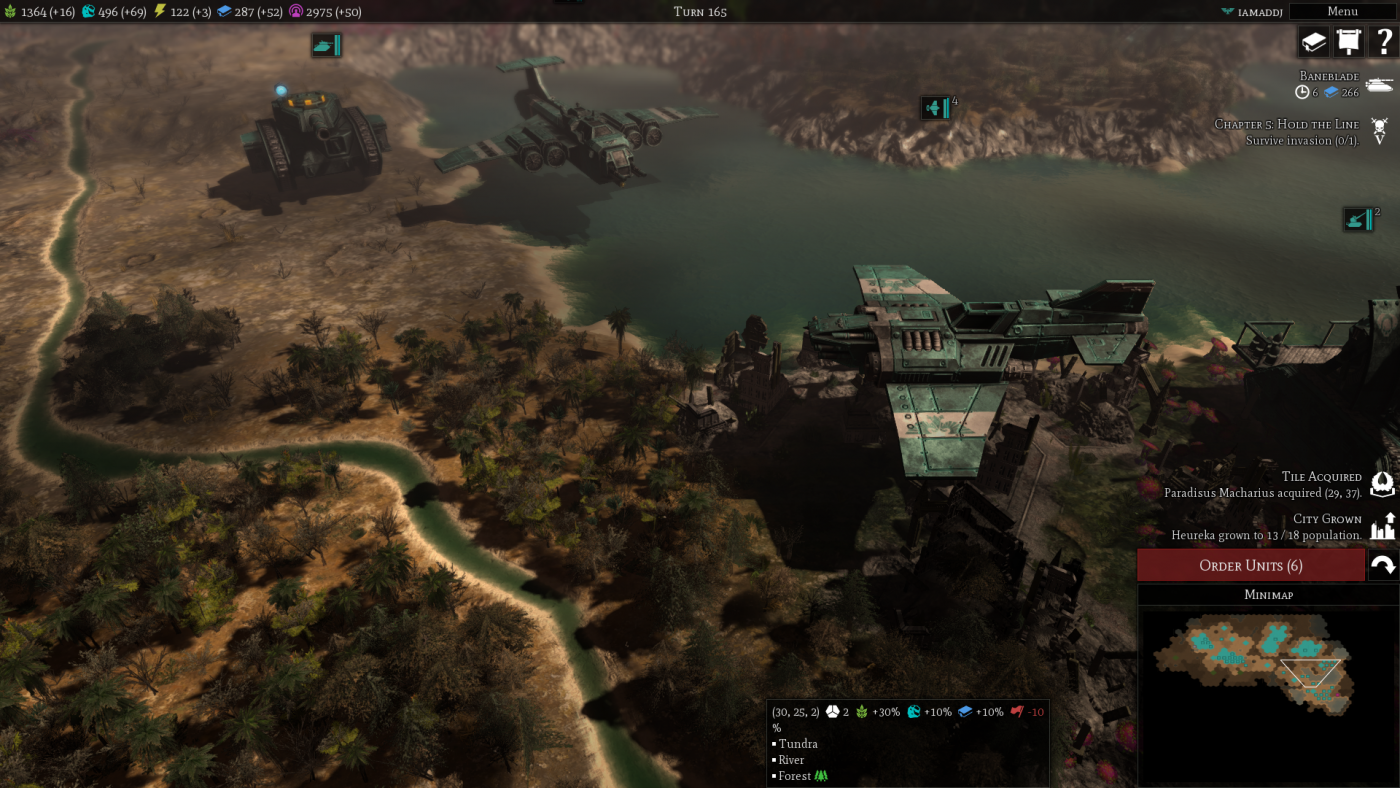 It's got my three favorite units in it, so I'm sold. 
Warhammer 40,000 Gladius- Relics of War is a solid turn-based 4x strategy game with a strong focus on combat and warfare. If you like 40K and 4x games you need to check this one out.  If you like 4X games but get frustrated with slow build-ups and diplomacy and want to cut right to combat, this is the game for you. It cuts a lot of the fat of 4X to hone down on the aspects it wants to perfect and presents a polished and fun war game.
Overall I give Gladius 4.5/5 IG Regiments dying for the glory of the Emperor.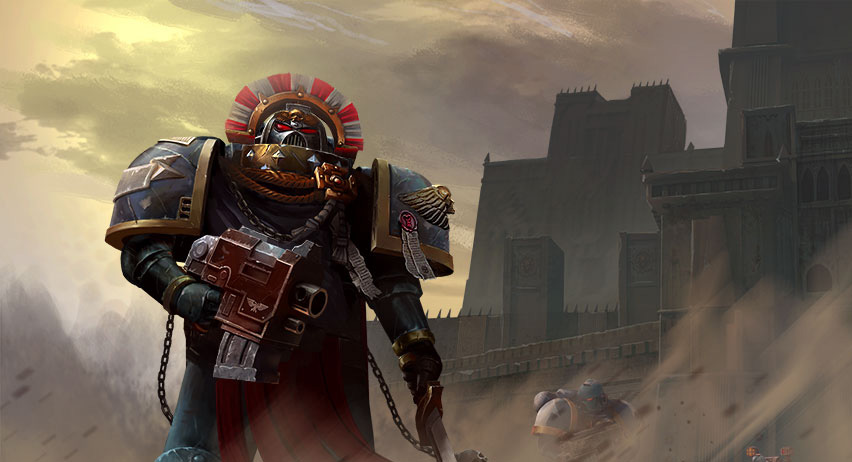 Gladius-Relics of War is available for pre-order.
Grab it on Steam and GoG.