Who's got the tooth and who's bringing the claws? Why not both! It's a brutal fight in the new boxed set from Games Workshop – come take a look at what's inside the box!
We got our copy of Tooth And Claw and we are excited to dive inside with you today. It's Hybrids and Abberants vs the Primaris Space Wolves in this great new set from Games Workshop:
First things first – Here's a list of all the models in the box:
Space Wolves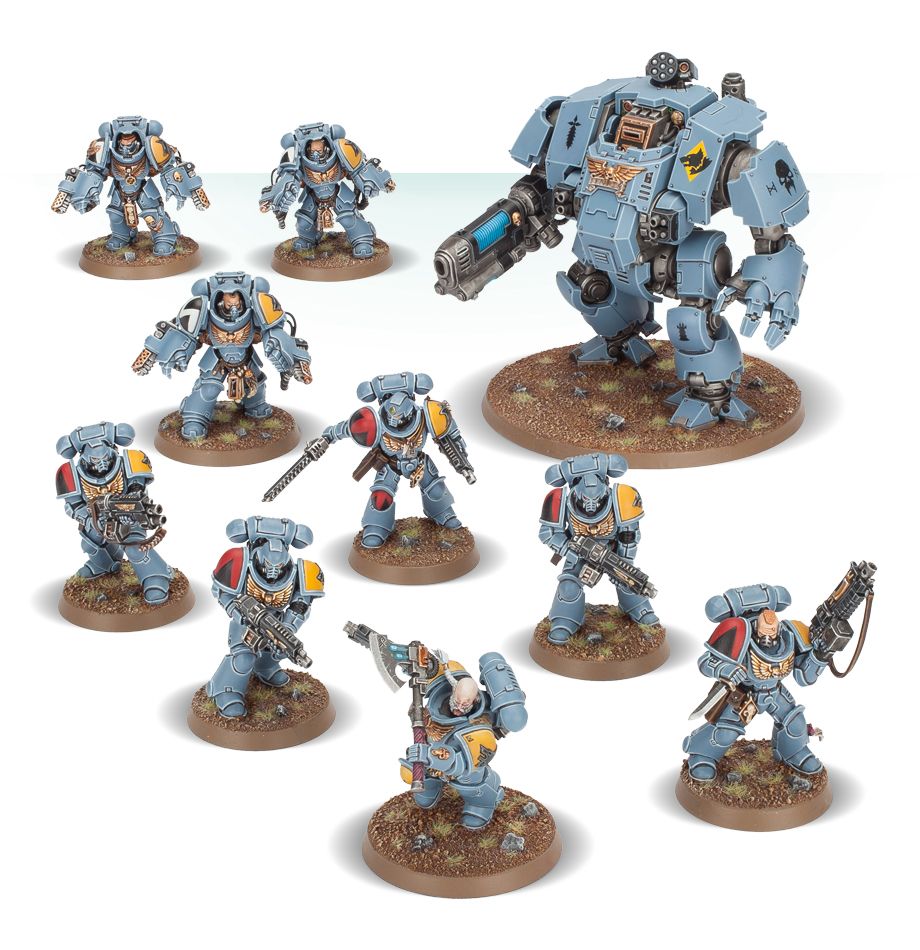 – 1 Space Wolves Primaris Battle Leader, representing Haldor Icepelt, who is armed with a bolt carbine and power axe. Posed storming forth with weapons primed, he can be modelled with or without helmet;
– A Primaris Redemptor Dreadnought, with a choice of gatling cannon or plasma incinerator on the right arm, with a Redemptor fist and heavy flamer support weapon or gatling cannon on the left, 2 chest-mounted fragstorm grenade launchers or storm bolters and a carapace-mounted Icarus rocket pod for aerial denial;
– 5 Primaris Intercessors, armed with a choice of 3 bolt rifle variants, with options for a Sergeant;
– 3 Primaris Aggressors, armed with a choice of auto boltstorm gauntlets or flamestorm gauntlets, with options for a Sergeant;
– A Space Wolves Primaris Upgrade frame, featuring 5 Intercessor shoulder pads, 1 Intercessor Sergeant shoulder pad, 3 Aggressor shoulder pads, 3 heads, unmistakably Space Wolf in origin – 1 helmeted, 1 with mohawk and beard, 1 with fully spiked hair, 1 right arm holding a chainsword, 1 left arm drawing a knife from its sheath and 7 accessories: 2 wolf tails, 2 pouches, 1 necklace, 2 diamond shaped amulets.
Genestealer Cults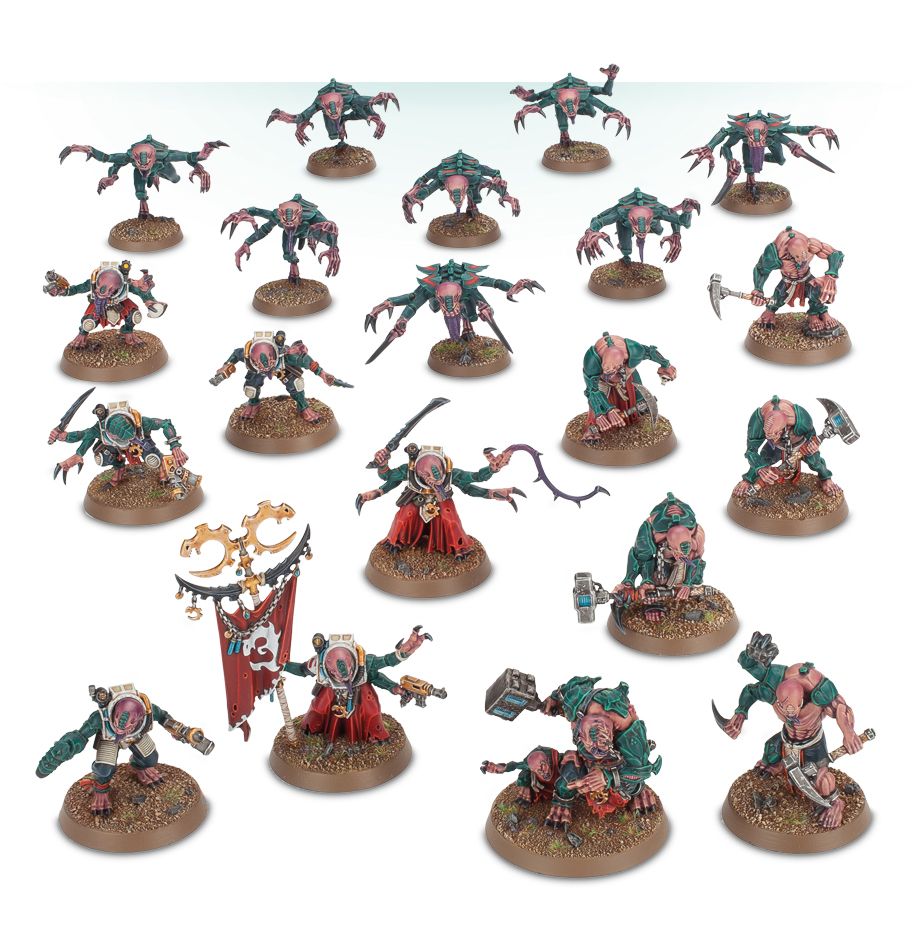 – 1 Genestealer Cults Abominant, a hulking brute in chains and shackles, accompanied by a mindwyrm familiar and clutching a power sledgehammer;
– 5 Aberrants, which can be armed with rending claws and either power picks or power hammers, depending on the arms you choose to model them with – this includes 17 (!) different heads and options for a Hypermorph;
– An Acolyte Iconward, armed with an autopistol and blasting charges, clutching hi cult's sacred banner;
– 5 Hybrid Metamorphs, armed with autopistols, Metamorph talons, blasting charges and rending claws. Included are hand flamers, a heavy rock saw, a heavy rock drill (with backpack), a heavy claw cutter and options for an Metamorph Leader, who can take a bonesaw;
– 8 Genestealers, multi-limbed monstrosities are armed with rending claws and scything talons, and the kit includes a number of toxin sacs along with an infestation node.
Bring On The Rules!
Secondly, the real question I know a lot of folks have is about points and what rules are included. In the box, all the points and rules for the models are included. So if it's in the box, you can bet it's got a datasheet. It does not include any additional rules (for example a point change for Neophyte Hybrids or points for Space Wolf Scout Bike, etc.) So if you were hoping for a mini-Genestealer Cult codex, that's not really what's in the box.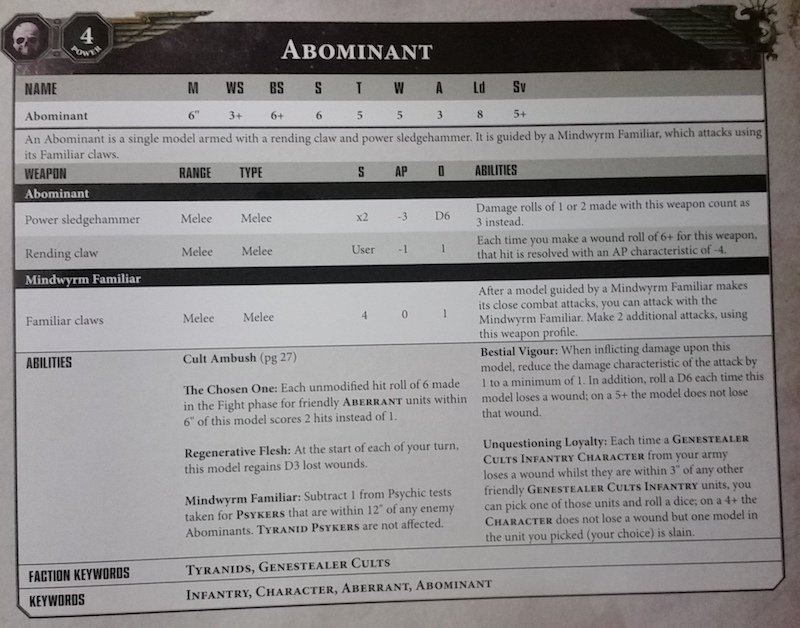 The Amobinant's Rules are included – and he's a wrecking ball!
Extra, Extra – More Accessories For Gameplay!
The box also has a 40-page softback which is both campaign book and rules book. It's got a bunch of new backstory to sink your teeth (or claws) into. It explains how the Space Wolves ended up on Vigilus and the War Zone the planet has become. It also touches on Haldor Icepelt's mission and how the Genestealer Cults have taken over the underground complexes that house the resources of the planet.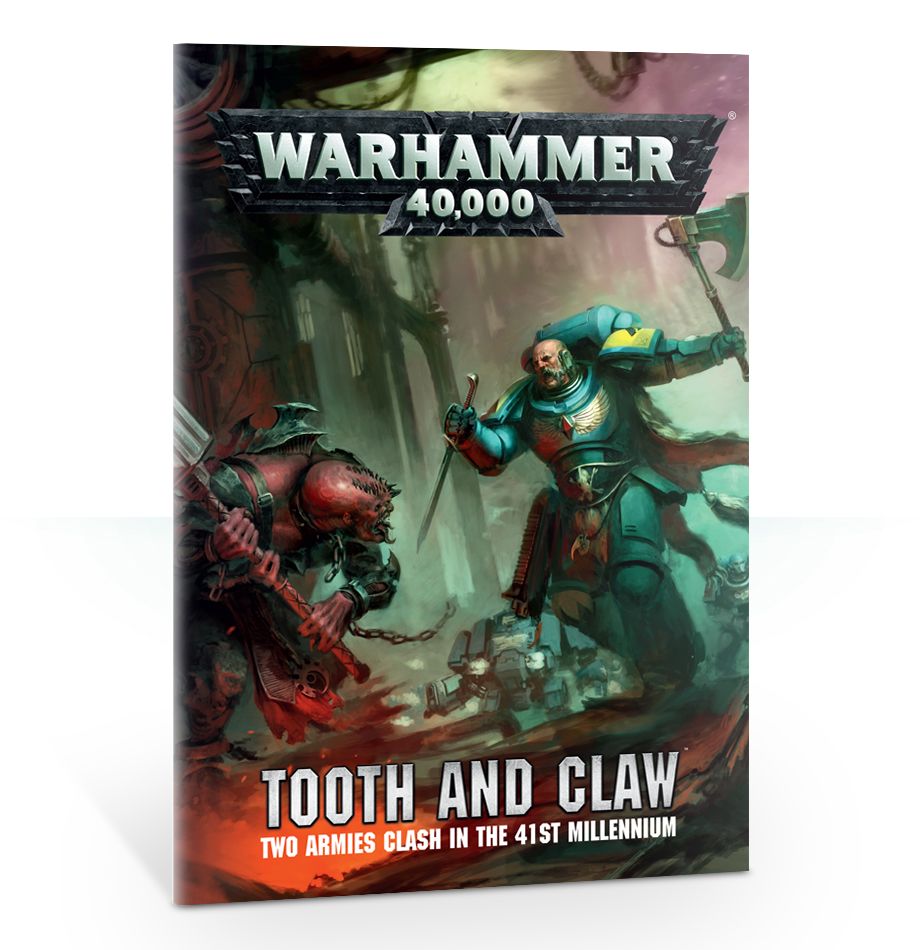 Also in the book are 4 new missions that are basically a self contained campaign you can run with just the miniatures in the box. These missions have special rules as well called "City of Traps" which were designed to recreate how the Genestealer Cult fights when they have the homefield advantage (hint: they fight dirty).
Tooth And Claw is up for Pre-Order now and should be in stores this weekend. Are you going to join the Battle of Vigilus?