Warhammer Conquest is a subscription service that's meant to bring new players into the 40K universe. We've talked a little about it before, but here's everything in the entire planned run so far. It's a lot.
By the time you've finished receiving the 80-issue run (at least that's what's planned so far) of Warhammer Conquest, you'll have enough miniatures and terrain to build a gaming table, field two armies–Death Guard vs. Ultramarines, and you'll have what appears to be a considerable savings. With the official launch of Warhammer Conquest well under way, it's time to dive inside this set and see what the coming issues hold for subscribers.
There's so much here. Thanks to Millest's Mediocre Meanderings, there's an image of everything that you can expect to see, as well as a pricing breakdown of some of the prices of the models.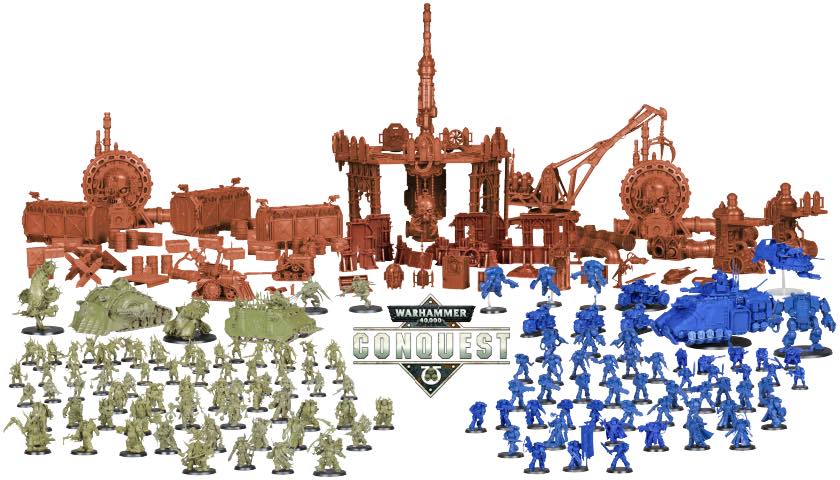 Again, these are set for 80 subscriptions.
After the first two reduced priced issues it will be 7.99 an issue. This means a total of £640 GBP for two complete armies and the terrain for them, as well as paints and brushes. In addition there are a number of free gifts like these: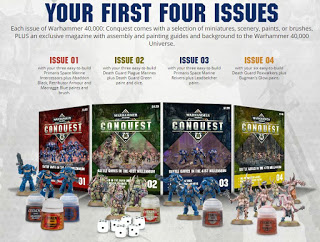 All of that adds up. You're getting a ton of models here. A Repulsor, Redemptor, Aggressors, Bikes–a Land Speeder, and that's just on the Ultramarines side. I see a Plagueburst Crawler, some Blight Carriers, and a whole host of poxwalkers. Now all of these will come in piecemeal, but for the two armies, and all the terrain you'll get as part of it, you're saving considerable amounts of money on the entire set. Here's Millest's breakdown of the prices on the Marines side.

And that's just a third of it. So an amazing value, even if it will take you a while to get them all piecemeal. It does mean you'll have a new project each week. So if you're looking for extra models/bits, or to get started collecting your armies, this is a fantastic way to get in the game.
Get ready for Warhammer Conquest.