Games Workshop has a new lore video that looks at the Titan Legions and the Horus Heresy. Ever wonder were all the Titans went? This new lore explains the 'Great Slaughter' of the Titan Legions.
The setting of the Adeptus Titanicus tabletop game is during the Horus Heresy and when you think about it, that makes a lot of sense. It was the last time the god-machines of the Titan Legions were so numerous and available for battle. But what happened? Surely they weren't all destroyed in the Heresy?! Well…
During the Horus Heresy, there were quite a few notable and famous campaigns. The Titan Legions participated heavily in wars and battles and they suffered great losses. Most of the lore we have currently focuses on the Primarchs and their respective Marine Legions. However, with release of Adeptus Titanicus, we're getting more information on the historic battles and campaigns from a Titan's point of view.
The first big campaign that is getting more info is The Death of Tallarn.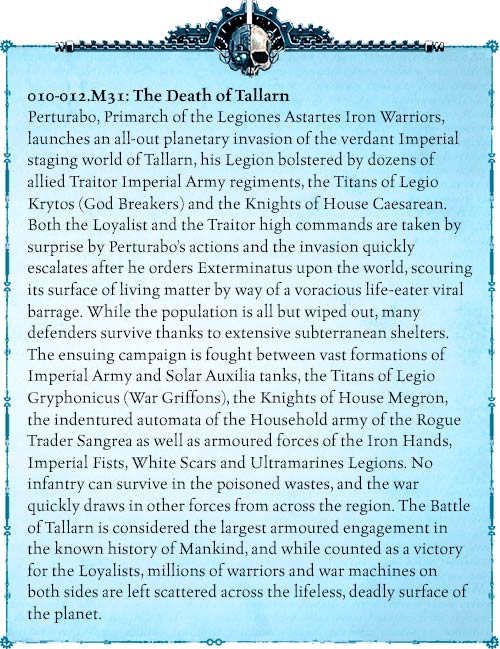 The war on Tallarn is a well know piece of fiction from that era. It was noted as the largest armored engagements in the history of the Warhammer 40,000 universe. Millions died and their war machines were broken and left to rust on the planet's deadly surface.
But that wasn't the only major engagement of the Heresy. Beta-Garmon is mentioned at various times in the Horus Heresy series. It was a staging ground for the Loyalist Forces – a bastion system that the Loyalists could launch attacks from and return for re-arming and repairs. It was also a pivotal step on the path to Terra. Horus and his forces couldn't ignore the mounting forces and so they had to launch an attack of equal size. Thus the Great Slaughter started: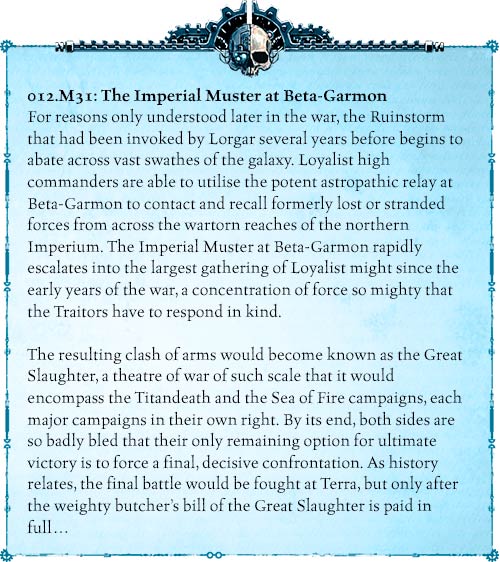 Beta-Garmon, Tallaran and hundreds of other battles await. It's no wonder the Titan Legions were so depleted. But the Heresy represents the last time the Imperial warmachine was at 'Peak-Titan' and that is why it's the perfect setting for Adeptus Titanicus!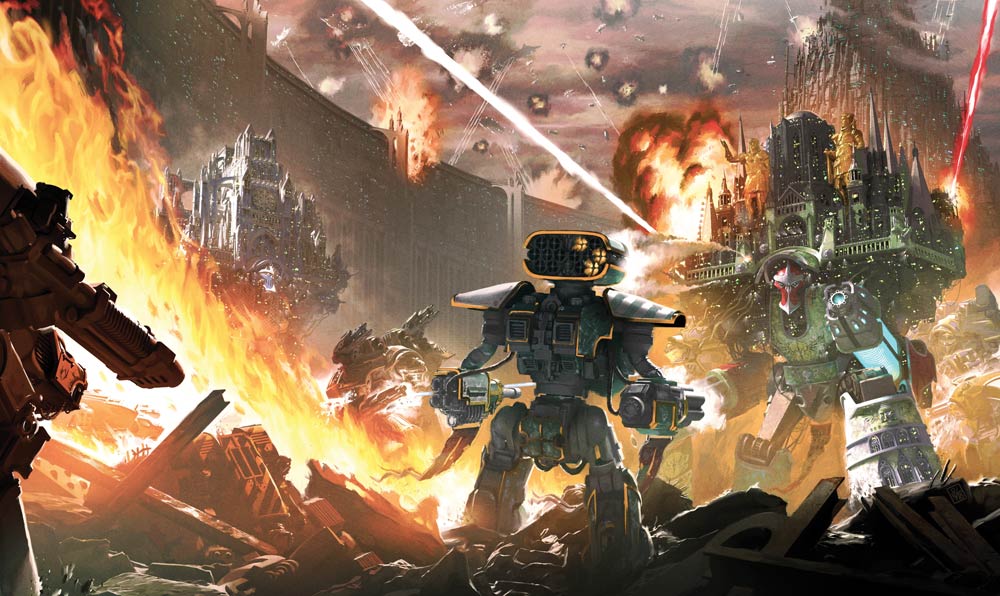 Who knows what the future holds for this game and setting. Personally, I think they could easily offer expansions that follow the history of the Titan Legions. After the Heresy is over, there are countless other battles and threats to the Imperium. Chaos, Orks, Eldar, Tyranids and more are all nipping at the heels of the galaxy's biggest warmachines. Bring them on!
There are many, many more battles to fight with the Titan Legions. Fans have been waiting for years to duke it out with these massive warmachines and on this scale.  Soon, we'll get to create our own narratives and Titan Legions to battle on the tabletop.